Original URL: https://www.theregister.co.uk/2013/03/28/orange_most_complained_about_telco/
Orange is the new TalkTalk of the broadband complaints league
Outstrips all competitors in race to the bottom. Again
Posted in Networks, 28th March 2013 11:59 GMT
Orange is once again the most whinged about telco in the UK, the communications watchdog Ofcom confirmed today.
The ISP provoked a barrage of gripes from bellyaching customers when it yanked its free broadband service away from punters who refused to pay line rental to the company.
Ofcom, which has compiled and published its latest quarterly complaints table for the final three months of 2012, said people were moaning less and less about TalkTalk.
The budget ISP had been at the top of the inglorious list, after vexed customers repeatedly sulked to the watchdog about the telco for months and months on end.
That said, one could argue that TalkTalk is only in second place as the most complained about telco because of a huge spike in grumbles about Orange's withdrawal of its broadband freebie; Ofcom said Orange generated 0.70 complaints per 1,000 customers, compared with 0.33 gripes per 1,000 TalkTalk punters during the quarter.
The regulator added:
The data reveals that complaints about Orange hit a peak in October. This relates to Orange's decision to withdraw its free broadband offer unless customers also purchased line rental from the company.

TalkTalk was the second most complained about broadband provider. Its complaints continued to fall quarter on quarter – from 0.35 to 0.33 complaints per 1,000 customers – although they remain higher than the industry average.

BT also generated above average complaints levels at 0.30 per 1,000 subscribers. Sky's broadband service attracted fewest complaints – 0.08 per 1,000 customers.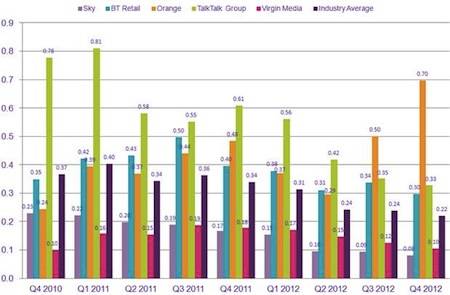 Fixed broadband complaints per 1,000 customers, October 2010 – December 2012. Source: Ofcom
This is the second time Orange has beat TalkTalk to the number-one spot for top moaned about broadband supplier in Britain. In Ofcom's previous quarterly report, the watchdog gave the same reason for TalkTalk being bumped by Orange - the withdrawal of the company's free broadband offer.
However, TalkTalk remained the most complained about landline provider in the three months to the end of December 2012. It generated the most grumbles with 0.36 complaints per 1,000 customers.
"TalkTalk complaints continued to fall quarter on quarter, although they remain at almost double the industry average, with consumers mainly complaining about service faults and customer service issues," Ofcom noted.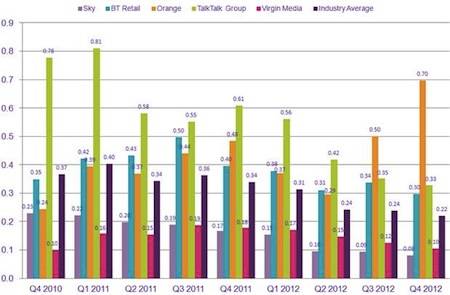 Landline telephone complaints per 1,000 customers, October 2010 – December 2012. Source: Ofcom
Unhappy BT customers also pushed complaints about the national telco's landline service above the industry average with 0.20 gripes per 1,000 punters.
On the pay-TV side of the telco biz, BT Vision was again the most complained about service with 0.24 complaints per 1,000 subscribers - six times greater than the industry average. Service provision was flagged up by the watchdog as one of the reasons why BT's pay-TV was in the dog house with its punters. ®