Original URL: https://www.theregister.co.uk/2013/03/28/gartner_it_spend_to_2014/
Gartner's gurus forecast future tech spending splurge
2014 IT dollars in a line would go to the Sun and back. Twice
Posted in Business, 28th March 2013 17:05 GMT
Gartner's analysts have used their highly-tuned abdominal sensing units and cerebral computing powers to forecast worldwide IT spending will rise to a whopping $3.92 trillion come 2014.
During 2012, global IT spend hit $3.62 trillion. This year, it will reach $3.78 trillion, reckon the Gartner market boffins, a rise of 4.1 per cent. 2014's total is 4.0 per cent higher still.
Those two year-on-year growth figures are small, but as 2012's spend was a mere 2.1 per cent higher than 2011's total, this is something of an improvement.
"Although the US avoided the Fiscal Cliff, the subsequent sequestration, compounded by the rise of Cyprus' debt burden, seems to have netted out any benefit, and the fragile business and consumer sentiment throughout much of the world continues," said Richard Gordon, one of Gartner's top market watchers.
"However, the new shocks are expected to be short-lived, and while they may cause some pauses in discretionary spending along the way, strategic IT initiatives will continue."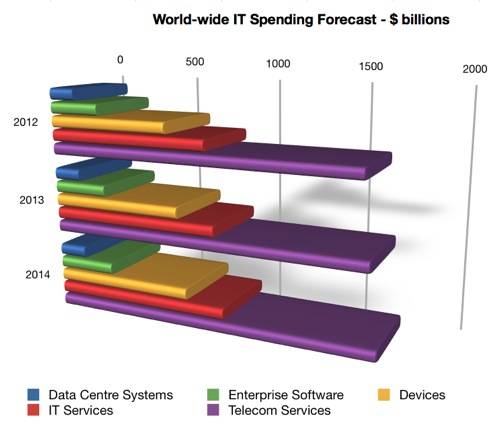 Data source: Gartner
The overall spend is sub-divided into:
Data Centre Systems
Enterprise Software
Devices (PCs, tablets, mobile phones and printers)
IT Services
Telecom Services
Worldwide device spending should reach $728 billion in 2013, up 7.9 per cent on 2012's total, before rising 5.7 per cent to $758 billion in 2014, as spending slows. A growth rate chart shows the annual sector spend changes: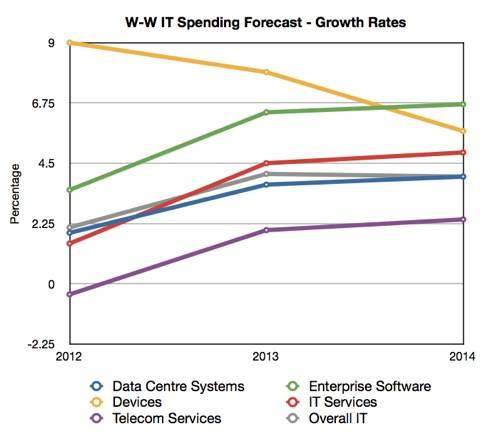 Data source: Gartner
All the other sectors have improving growth rates, with telecoms, the largest of the sectors, reversing the decline it experienced between 2011 and 2012. World+Dog is spending more on IT services than it is on data centre systems.
Gartner research VP John Lovelock said: "The Nexus of Forces — social, mobile, cloud and information — are reshaping spending patterns across all of the IT sectors that Gartner forecasts. Consumers and businesses will continue to purchase a mix of IT products and services - nothing is going away completely.
"However, the ratio of this mix is changing dramatically, and there [will be] clear winners and losers over the next three to five years as we see more of a transition from PCs to mobile phones, from servers to storage, from licensed software to cloud, and the shift in voice and data connections from fixed to mobile."
Even so, Gartner's gurus note the outlook for 2013 for data centre systems spending is forecast to grow 3.7 per cent in 2013, down 0.7 per cent from their previous forecast. "This reduction is largely due to cuts to the near-term forecast for spending on external storage and the enterprise in the economically troubled EMEA region."
Drinkers in city centre bars across mainland Europe have been heard chanting: "Euro, Euro, down the pan we go."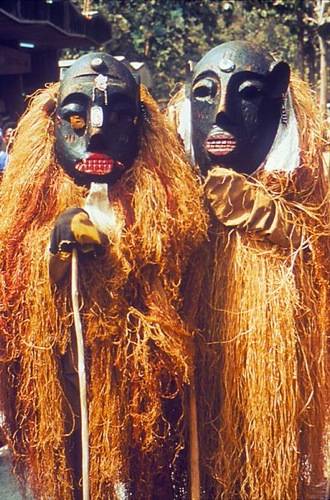 Gartner consultants in ceremonial dress
The Gartner gurus have stronger growth expectations for database management systems, data integration tools and supply chain management kit, which will compensate for slower growth in the IT operations management and operating systems software areas.
Overall, then, it's a case of reasonably steady growth, with warning bells sounding over slowing growth in the devices area as tablet sales overtake desktop purchases and, almost certainly, those of notebooks too.
IBM is looking ever more prescient for getting out of PC manufacture when it did, especially given that HP and Dell are both facing problems in their PC product areas. ®