Original URL: https://www.theregister.co.uk/2013/03/27/sun_telegraph_paywall/
Torygraph and Currant Bun stand by to repel freeloaders
It's a paywall - like the one at the grocer
Posted in Policy, 27th March 2013 13:55 GMT
The Daily Telegraph is to begin charging regular web readers for web access.
The Telegraph doesn't use the term 'paywall' in its announcement, which is fair enough, really. The P-word is really a propaganda word, as the FT's M B Christie has pointed out: "Why don't we call it paying for content, just like paying for milk or bread?"
Because information wants to be free, man - and we'll scream and stamp our little feet on Twitter all day unless we get everything for free.
Payw- er, digital subscriptions are actually becoming the norm for newspapers, rather than the exception. Two thirds of newspapers Stateside charge for online access, and the Washington Post became the biggest to introduce digital subs for regulars. The average number of articles permitted to non-subscribers is 11.2. And the trend to repelling freeloaders is accelerating.
The Telegraph will permit 20 articles, then ask for £1.99 a month - less than the cost of two editions of the paper Telegraph. To read the fondleslab edition, you'll need to pay £9.99 a month.
There is one flaw in this brilliant plan. The Telegraph's iPad app is consistently the most buggy and the least reliable of all the UK newspaper apps, and lies in abject, barely-supported neglect. It's actually so bad, they should be paying their loyal readers to install it. Or at least reverse the subscription tiers, so it's £9.99 for web access, but with an £8 inconvenience discount for users of the iPad version.
Don't believe me? Check out the reviews.
The Sun will be following suit later in the year, according to News International's boss Mike Darcey. The tariffs for the web and fondleslab editions of the Current Bun haven't yet been disclosed.
Many tech media experts and Cory Doctorow ridiculed the notion of charging for access when The New York Times imposed its subscription scheme two years ago.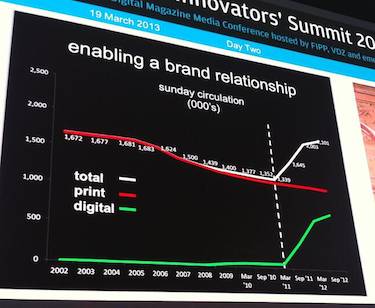 A canny subscription program saw both paper and digital revenues rise
But who's laughing now? ®