Original URL: http://www.theregister.co.uk/2013/03/27/geeks_guide_leo/
Blighty's revolutionary Cold War teashop computer - and Nigella Lawson
Nuclear missile with your sponge finger, sir?
Posted in Geek's Guide, 27th March 2013 13:27 GMT
Geek's Guide to Britain The Victorian offices were bulldozed long ago for a stack of flats and mirrored offices, and there's not a single indication to the significance of this site - or what happened here.
This isn't the scene of a lost battle, and the bones of a missing Plantagenet king do not slumber beneath the car park serving the offices.
Sixty-six Hammersmith Road in London, is the scene of a revolution - a revolution in computing that changed how business operated; a revolution during which Britain, briefly, led the technology pack.
That's because this site was once home to the LEO - the Lyons Electronic Office. You may already have heard of LEO, described as the "world's first business computer". It's a shorthand description, though, that makes the LEO sound about as fascinating and forgettable as a beige box running DOS.
But LEO wasn't a personal computer running Lotus 1-2-3: it was a hulk, a room-sized colossus built by J Lyons and Co to organise its bakery business; it ran its first program in 1951. The computer was jumped on by manufacturers, City stock brokers, nationalised industries and even apple growers who immediately recognised the machine's potential to save them time and money in the march to efficiency.
This was also the early Cold War era, and the LEO came to the attention of the military industrial complex. The business brain was quickly deployed to the front lines on both sides of the Iron Curtain. Although the LEO was used to build Britain's nuclear deterrent against the communists' warheads (the doomed Blue Streak missile project that ultimately never actually worked) the machine was also shipped to the very regimes the US and Great Britain were at loggerheads with.
War is hell, battle-hardened American Civil-War General William Sherman observed, but business is also business. The communists also had plenty of data to crunch, but no computers. It was, therefore, in the land of the people's commissars that Britain outsold the blue shirts of New York-headquartered IBM; LEOs popped up in the Soviet Union and Soviet-controlled satellite states including Czechoslovakia.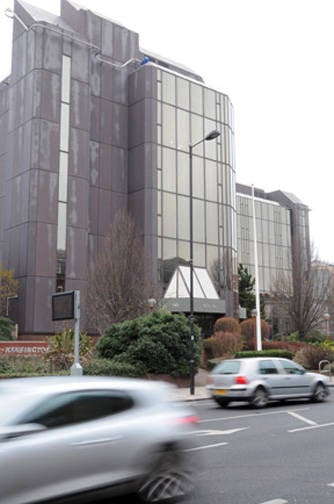 Scene of a revolution: The LEO's home today
The LEO's makers were pioneers in software development and testing, and they refined the processes needed to run very large and complex computing jobs. Later revisions of the machine could share processor time across multiple scheduled work, known as multitasking these days, utilising spare capacity to run different jobs; it was a feature the machine's designers eventually turned into a business. The team also engaged in business process engineering and use of real-time analysis before these entered the lingua bizza of today.
Also, the world's first woman business programmer worked on the LEO.
Yet, the computer wasn't the work of well-funded government engineers or university boffins, as was the fashion for other massive number-crunchers of the Atomic Era. The LEO was commissioned by one of the biggest catering and food manufacturers in the world, a company famed for biscuits, ice creams and teashops, serving that most noble of beverages - the cuppa.
And that business, J Lyons and Co, also happened to gave us Nigella Lawson. The celebrity chef is the great granddaughter of Lyons managing director Alfred Salmon and a great, great granddaughter of one of Lyons' founding members Barnett Salmon.
So, how did it come to pass that a biccie company, created in 1887, put Britain on the front line of business computing? The firm was headquartered in a two-acre manufacturing and administration operation called Cadby Hall; the main office number was 66 Hammersmith Road. From the start, Lyons was on the hunt for new ideas to improve its operations and stay in front of the competition.
The LEO's roots lay with the company's brilliant hiring of Cambridge maths whiz John Simmons nearly twenty years before the bulky computer actually ran its first job in 1951. Simmons' job was to find ways of keeping Lyons at the forefront of new ideas, so he set up a systems research office in 1932 staffed by engineers, business people and fellow mathematicians.
In 1946, Simmons sent Lyons managers Oliver Standinford and Raymond Thompson to the US on a fact-finding mission to report back on technology developed during the war, particularly in electronics. The pair met Herman Goldstine - one of the creators of the 30-ton ENIAC, the first electronic general-purpose computer. The ENIAC was a vast system announced in 1946 and built by the US military to calculate missile trajectories. In a paper to the Lyons board, Thompson called computers the key to office efficiency and reckoned Lyons could build a computer for £100,000 and cut annual office expenses by £50,000.
Thompson had been completely unaware of Maurice Wilkes' work on the early British calculator EDSAC at the University of Cambridge, but soon learned of the project. Lyons donated £3,000 to help Wilkes finish the EDSAC and to influence the design, and Lyons also put a man on the team to learn about the circuitry. The company hired a Cambridge graduate named John Pinkerton as an electronic engineer; Pinkerton became the LEO's engineering manager.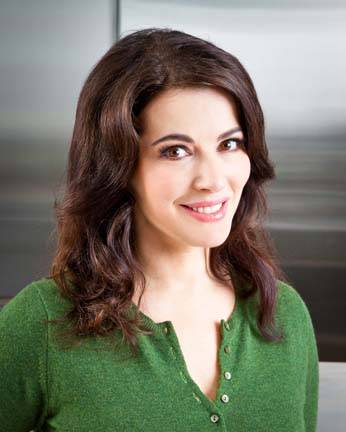 Nigella: The food geek with a computer in her past
(Photo: Hugo Burnand)
These were truly early days of computer manufacture: there were no assembly-line robots, silicon chip fabs and injection-mould plastics specialists forming a supply chain to build the LEO. Instead it was carpenters, plumbers, sheet-metal workers and engineers working on thermionic valves, switches, wires, ducting, resistors and power supplies. The LEO was built at a factory on Minerva Road in Acton, West London, and moved in crates to Cadby Hall, where it was assembled.
The LEO was more or less the EDSAC: it sported 3,000 electronic valves, 32 storage tanks that held 32 numbers of 17 binary digits, and executed 650 instructions per second.
Compare that to today's computing power: take an ARM Cortex-A8 processor core used in Apple's A4 system-on-a-chip on the iPad. That runs 2,000 million instructions per second (Dhrystone MIPS) at 1.0 GHz. Too fancy? Want more of a work-horse comparison? Try the Intel Core i7 875K that executes 92,100 DMIPS at 2.93 GHz. The iPad also packs 16GB or 32GB of memory. The Intel chip that helped ignite the PC revolution of the 1980s, and heavily out gunned today, the 80286, was capable of 2.66 DMIPS at 12.5 MHz and was capable of addressing 16MB of RAM.
Data was fed into the EDSAC on teleprinter paper tape via an electromechanical tape reader that, by 1950, was updated to a photoelectric reader. The output was initially through a teleprinter upgraded to a paper tape punch in 1951. For the LEO, its designers hoped to use magnetic tape for memory storage, but it never worked properly so mercury ultrasonic delay lines – acoustic signals travelling through the fluid to be later turned back into electronic signals - were used instead. These were capable of holding just over 1,000 combinations of characters. The operating system consisted of 41 data words of read-only memory.
A two-year bug hunt, decades before IDEs and such tools
Where the LEO differed to the EDSAC were in the modifications made by Lyons to make it business-ready. Input and output channels were added so LEO could read and write simultaneously, allowing it to multitask better, whereas EDSAC had a single channel for input and output. Lyons extended the basic operating system using macros written by an inexperienced team of computer programmers, who wrote special instructions for things such as addition, subtraction and currency conversion.
Every macro was written on a piece of paper, checked by another person, and overseen by the man who became the LEO's software research officer manager David Caminer - a veteran of the Second World War who lost a leg in North Africa. The programmers had varied backgrounds – Mary Coombs, the world's first business computer programmer, was a French graduate – while another coder called Frank Land was an economics grad from the London School of Economics (LSE).
Working on the first LEO (Photo: Peter Bird)
To work on the LEO, a developer had to pass various tests to prove they had the crucial skill of clear, logical thought. Land, who had worked in the Lyons statistics office, programmed the new apps; by 1967 he was the chief consultant responsible for the LEO systems teams across Britain.
Speaking to The Register, Land recalled that it was Caminer who drove the Lyons LEO team hard. Land said Caminer set the standard: "He, in a sense, invented software engineering of business processes – he was meticulous, he was a tyrant, but instilled standards in us that made things work. He made you write the documentation and if he didn't like it, he flung it at you."
The big date celebrated in the LEO's history is 5 September, 1951, when the first program was run - an application known as Bakery Valuations. The first LEO calculated the profits and costs of running its ovens, from the fuel needed to make the food to the ingredients, staff wages and distribution to the shops, cafes and restaurants. These calculations had been performed by Lyon's army of 5,000 accountants armed with calculating machines but the LEO broke the job down into small units, so if there was a problem it could be restarted without losing track of the data. The program went from being performed once a week to being executed in just a couple of hours.
It's this date that was celebrated in 2011 as the 60th anniversary of the LEO business computer. But the machine didn't actually become operational until 24 December, 1953. That was when Lyons bosses felt the LEO was reliable enough to trust it to run the business. Between 1951 and 1953, Land's team had to find bugs in the computer's apps, and they developed procedures to follow should the LEO break down mid-job. It was Pinkerton who over saw the work getting the LEO running properly and developing safety procedures.
"We developed ways to test the computer and ensure it worked and on how to overcome problems, and on the system side how to divide jobs, so if there was a breakdown it could be started without wasting what had been done," Land told The Reg. "We couldn't get anything on the computer until it had been checked by second programmer - the most pressing thing was computer time."
As with computers in business today, Lyons quickly found lots of different and probably unexpected uses for the LEO beyond cup-cake counting. The payroll for 10,000 staff went on the second LEO machine, LEO II, in February 1954. In October that year, data from Lyons' network of more than 200 teashops went into the LEO to manage the tea-time treats empire in real-time, or as close as possible to that.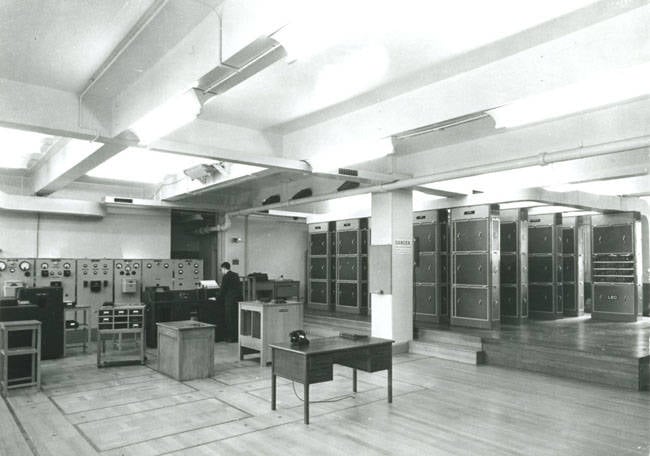 Lyons' LEO I at the Cadby Hall HQ in Hammersmith (Photo: Peter Bird)
Lyons was famed for its network of 250 tea shops in Blighty - these were meticulously designed and staffed by waitresses in smart black uniforms; you were never far from a Lyons teashop in town. It was said there was a Lyons teashop every 100 yards in the centre of London, with its cafes scattered around Piccadilly, Kings Cross and other upmarket surroundings.
Problem was, there wasn't much margin in a cup of tea – a cuppa cost about 2 shillings and 2 pennies or less than two quid today, while the shops slapped on plenty of costs: food was cooked, frozen and delivered across the country from central bakeries to prime high-street locations each day. Also, the teashops had an 80 per cent annual staff turnover, making calculating the payroll a moving challenge. Lyons hit on the idea to make and ship to shops only what was needed based on anticipated next-day demand.
So, starting in October 1954, the manageress – and, yes, they were all women - of each teashop would call the Hammersmith HQ from a pay-phone near her shop at an allocated time to relay her shop's orders. She gave the shop's code – starting with "A" for Piccadilly – each item's code and the quantity, recording just the deviation from a standard order. Each order covered milk, tea, sandwiches, cakes and cooked meals. The LEO calculated production requirements, delivery schedules, invoices and management reports - all done over night.
"This was as near a real-time system as you could get," Land told The Reg. "Thousands of individual pieces of data were coming in each day. By today's standards that was tiny but by standards of then that was miraculous. One lived in an era of excitement because every day we were doing something new."
The nearest competition, ABC's Teashops owed by Canadian businessman and philanthropist Garfield Weston, used hole-punch machines to computerise its operations - a clunky technology rejected by Lyons because it lacked the flexibility to deal with the business changes taking place.
The LEO also calculated the blends of tea, and how to mix them to maintain a consistency of flavour given the quality of the local water – it was decades ahead of Starbucks, which sweats to ensure its coffee-like beverages taste exactly the same in Leicester Square, London, as Union Square, San Francisco. Each week Lyons received data on tea from auctions, gardeners, growers and from its own people.
"The LEO kept track of movements of tea in the warehouse and costs of tea for use in blending process – this was done on a daily basis," Land said.
New plan, guys: Warheads, not butter
Other organisations got wind of the LEO thanks to Simmons rubbing shoulders with chiefs in his capacity as president and founder of the Association of Business Managers. The Metrological Office ran climate calculations on the LEO in December 1951, payrolls from Ford UK, Tate & Lyle, Kodak and the British Army found their way onto the computer, and the beast was used by British Rail to calculate the distance between each and every railway station in the country, 5,000 stations. The LEO team had to write an algorithm to process that specific job. All these calculations were run when Lyons wasn't using the LEO.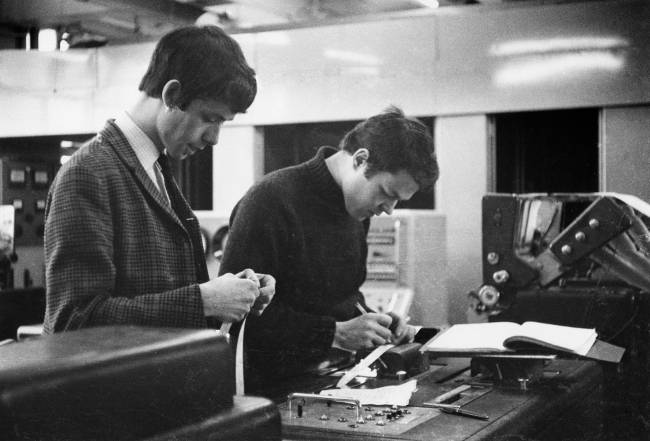 Reading tape from the LEO II/I computer in London, 1957 (Photo: Science Museum / SSPL)
It was in 1952 that the LEO joined the Cold War. Aerospace manufacturer De Havilland was building a medium-range ballistic missile called Blue Streak to hurl a nuclear warhead back at Soviets. When Lyons wasn't working out the profits on cakes, De Havilland's men would show up at Hammersmith, rope off the area around the LEO to keep out regular employees and run ballistic calculations. "We couldn't see what was going on," Land recalled.
Blue Streak, riddled with political and logistical problems, was scrapped in 1960 and De Havilland ended up buying its own LEO machine; but Lyons got a sniff of the potential. In 1954 Lyons created LEO Computers with T. R. Thompson as managing director; the biz built LEO I's successors, the LEO II and LEO III. The LEO III replaced valves with germanium transistors, and mercury delay lines with ferrite-core memory, creating a much faster, cooler and more reliable machine that backed its data up onto magnetic tape. It was what Caminer called: "A world-beating machine."
LEO Computers sold the electronic monsters and provide outsourced services – the bureau service - and it was Land's brother Ralph who opened the first LEO bureau, in Hartree House, Bayswater. It was Ralph Land, too, who took the LEO to the world, and particularly the communists, against American giant IBM at the height of the Cold War. Ralph, also an LSE graduate, said he joined Lyons because he'd seen his brother doing well on what he gamely described as "the computer side".
Ralph told The Reg of the moment the LEO's chief Thompson decided to punt the LEO to the communists: "Thompson told me: 'We are not doing business overseas, but we are selling the LEOs at home. We should develop the overseas business.' I spoke German, so it was decided I should take over the export business."
Thompson reckoned Eastern Europe was "the soft underbelly" of the continent ripe for exploitation because no one from the West was selling there due to restrictions in place during the Cold War. Ralph soon ran LEO Computers' Eastern European bureau with 80 employees. The first LEO III was sold to the Czech Ministry for Social Security and Czech Railways, doing clerical and scheduling. Ralph says he was outselling IBM, which had 250 workers in its central Eastern European head office in Vienna, Austria. Big Blue had just started to sell the first System 360 mainframes.
But Ralph had to tread carefully. The Cold War was in full swing, the US was gripped by McCarthyism, the Soviets had erected a great wall across Berlin, and Moscow and Washington were squaring off over missiles in Cuba. Laws controlled what could be sold to the USSR and its satellite states, similar to today's restrictions on sales of computer and engineering parts to Iran and North Korea. But the communists wanted LEOs and were prepared to use blackmail or bribery to get them.
"We had to be extremely careful that our people weren't got at and that we worked within the limits of the embargo," Ralph told us. "That let us sell LEO IIIs, although I had to go to the US State department to argue the case for selling the computers; but we built up a pretty subsidiary business - in a sense I always argued we had control over their economies. If their ministries relied on our computers and they did anything war-like, we could stop selling spare part."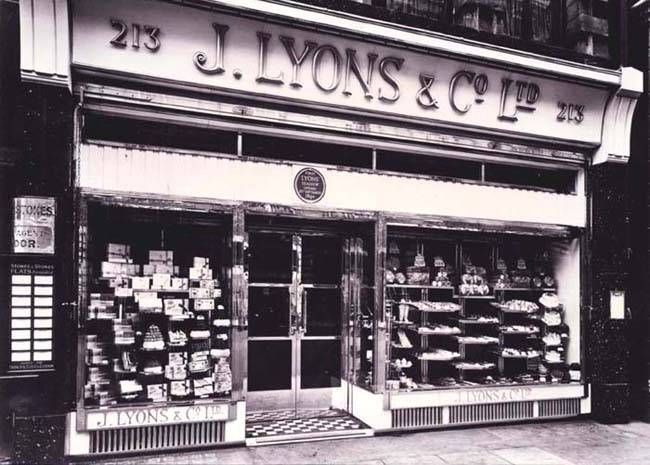 Behind the teashop: Piccadilly was Lyons' first sit-and-sip room (Photo: Peter Bird)
Ralph claimed LEO Computers was a more patient and flexible business than IBM. For example, it took two years and 19 different signatures, up to and including the Prime Minister, to straddle the Iron Curtain and sell a computer to the Soviets.
The communists, meanwhile, also lacked the hard currency needed to pay for the LEO IIIs. Ralph's answer was to institutionalise a system of bartering: the company accepted ball bearings from Romania and hanging baskets from Bulgaria as payment for machines, which the firm swiftly sold on.
When it came to flogging the LEO to Czechoslovakia, Ralph's team financed a movie made by a Prague-based film studio; once the flick was completed and shown, it earned foreign currency and LEO Computers pocketed the proceeds as payment for the computer.
"On the basis of this, sufficient funds were made available for the municipality to acquire and pay for the computer," Ralph said. At his operation's peak, he had nine people bartering.
"The trick in the barter trade is to find the customer who wanted it, so we never saw the stuff," Ralph said.
"We beat IBM, I think, because we were more flexible in dealing with the Eastern Europeans and USSR rather than the more ideological approach than the Americans," he added. "I said if we were going to counter-trade, let's do it properly – let's set up a counter-trade bureau."
The big battle with Big Blue
IBM's Vienna office was downgraded from a regional HQ to a country office in 2008, but the building is still a grand affair; a crisp, rectangle of blue-green glass on 95 Donaustraße. The office's status changed as IBM won the computing war. Vienna is now a business analytics centre and software lab specialising in the banking and financial sector. It operates as a cog within a cog of the Big Blue machine - part of the $7.9bn software business that forms part of IBM's global $104.5bn revenue. IBM doesn't say how many employees IBM Vienna has these days, but the tech giant has just under half-a-million workers globally.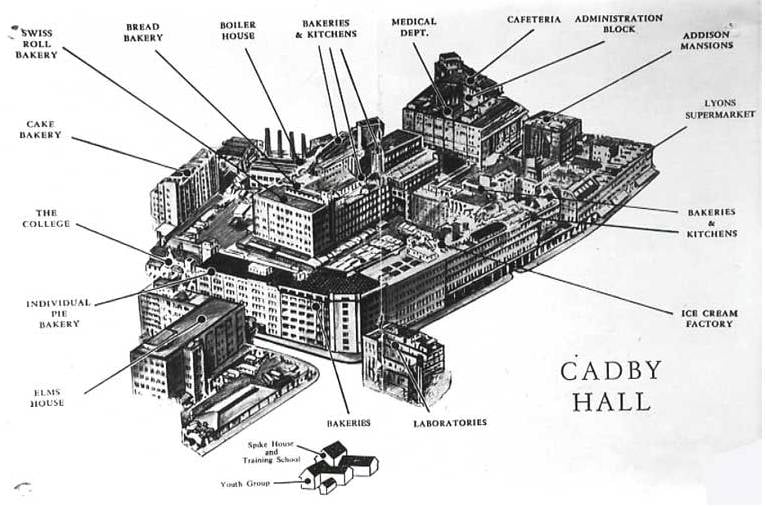 The two-acre Victorian complex of Lyons' Cadby Hall, the home of the LEO (Photo: Peter Bird)
On the other end of the scale is 66 Hammersmith Road. What hits you first is the space: Lyons' two-acre complex fell to the wrecking ball years ago and the area was massively opened up by the developer: on the site of number 66 is a nicotine-brown mirrored building named The Kensington Centre, with offices to let, fringed by shrubs, a small car park and a throbbing main road, the A315. The Kensington Centre is today home to various companies while behind it sits a layered complex of flats.
Ralph's adventure in Eastern Europe was an insufficient counterweight to IBM's global scale. The people running LEO Computers focussed too much on positioning and not enough on technology. The biz merged with the computer interests of English Electric in 1963 to form English Electric LEO, which became English Electric Leo Marconi (EELM) and finally, in 1968, ICL in a deal brokered by firebrand Labour MP Tony Benn, who was Harold Wilson's Minister of Technology.
Benn wanted to create a British computer industry to compete with IBM, so had arranged the forced marriage that created ICL. This was the era of nationalisation, when political orthodoxy held that choice and competition were best served by having a single service provider in each sector, from railways to airlines, the telephone to fuel – British Rail, British Airways, British Telecom and British Gas.
The best ICL could achieve was Europe's fourth largest IT company and, in 1990, Fujitsu took an 80 per cent stake. Talk of a spin out remained just talk, and Fujitsu finally shot the ICL brand in the head in 2001.
Lyons breathed its last breath in the decade before. The teashop titan had loaded up on debt to fund a round of massive expansion that bloated it during the 1970s. Lyons bought into ice creams and booze with Baskin Robbins and Pedro Domecq of Spain among others, in addition to running a network of 44 hotels. Lyons also doubled down on baking and shipping foods, investing in new regional bakeries.
The company closed teashop after teashop, but this alone wasn't enough and in 1978 it was bought by Allied Breweries to become Allied Lyons. But these were grim economic times, and a struggling Lyons was finally broken up in the 1980s during the reign of the Conservative Party and Blighty's Chancellor Nigel Lawson, the father of the aforementioned Nigella. Lyons' ice cream and lolly biz became Lyons Maid and was sold to Nestle; Lyons Cakes was sold to the firm that owns Mr Kipling and Lyons Biscuits was sold in 1994, ending up with Burton's Foods.
Nobody can say whether the LEO lived up to Thompson's promise to cut expenses or whether it helped Lyons become efficient - I asked Frank and Ralph, and they reckon nobody really knew. Certainly, Lyons hadn't absorbed Thompson's message of efficiency through computerisation, and the company's failings were the making of flawed human decision-making and business models.
At best, the LEO extended Lyons' life as post-war labour costs shot up thanks to a growing demand for semi-skilled and clerical staff - the kind of employees the LEO was replacing. But the computer alone was unable to compensate for the humans who made bad business decisions or who failed embrace the practices in business computing and business process engineering they'd begun.
"Lyons' management were extremely innovative... but were unprepared to change the basic model of the teashop operation," Ralph said.
Where the LEO succeed was in tapping a demand. Organisations had always amassed sales and other business data, but using it in a way to cut costs while delivering what the customer wanted and doing so at low price? That was the rub. The LEO helped businesses and governments realise this.
Had Lyons taken their passion for new ideas to its fullest extent and bet on computers rather than cakes, then LEO Computers might still be here and a peer to IBM. But food was its trade, and Lyons was flogged into the ground while the British government and various LEO management teams spent too long organising and not enough time executing.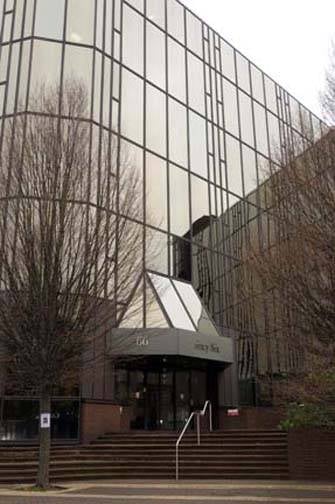 66 Hammersmith Road: Imagine Cadby Hall standing here
"The LEO story is where, for a little slice of time, this country led the computer industry," Ralph said. "We ultimately failed because not enough money was put into it and we were outsold by the volume of effort our rivals could put in rather than the quality of the product.
"Where we did outsell them, that was due to our approach in a different environment. We had a much more flexible approach and we could outsell them in Eastern Europe."
Today, you can view the site of 66 Hammersmith Road from the comfort of of a pub and several eateries opposite. There's the Albion which specialises in pizzas; a few doors down Café Paradiso serves tea, coffee and sandwiches; and there's a Thai place called Kanna. Carry on and you soon hit the shops and gastro pubs of Hammersmith. Go in the opposite direction and you reach the Mirabell Cucina for Mediterranean food and in a few minutes you'll be at Olympia, home of the conference venue and scene to tech events.
Next time you shopping in Hammersmith or are itching to get away from that tech confab at Olympia, take a short walk along Hammersmith Road. Grab a bite to eat – better still, a cuppa - and, remember and reflect: it was on this spot, among the flour of cakes and leaves of tea, that Blighty stumbled into a revolution. ®
The LEO is the subject of a forthcoming permanent display at the Science Museum, opening in September 2014. More details are expected in April.
GPS
51.494784,-0.212688
Post code
W14 8UD
Getting there
Nearest tube: Barons Court, Piccadilly Line and District Line; West Kensington, District Line.
Other resources
LEO: First Business Computer, by Peter Bird