Original URL: https://www.theregister.co.uk/2013/03/26/geeks_guide_adastral_park/
Inside Adastral: BT's Belgium-sized broadband boffinry base
Drive-by bragging rights
Posted in Geek's Guide, 26th March 2013 10:28 GMT
Geek's Guide to Britain Adastral Park is BT's global research and development centre, one of the world's most pioneering centres of technology and telecommunications.
Like other visitors to the area, I've gazed at the Le Corbusier-inspired building and its iconic tower cube rising out of the surrounding flat Suffolk farmland. It announces its modernising mission to passengers staring out of the windows of cars hurtling along the A12 past Ipswich and on to the east coast.
The site has a rich history of military invention and technical achievement, and is now home to thousands of engineers not just working on the frontier of boffinry but also turning new ideas into practical services.
BT calls Adastral Park "the home of UK broadband", and some insiders claim there's enough high-powered telecoms and computer kit on site to "run Belgium" – which is just a short hop across the North Sea. The park is a place that BT will open up as a science campus and a Suffolk ICT cluster if development plans are approved.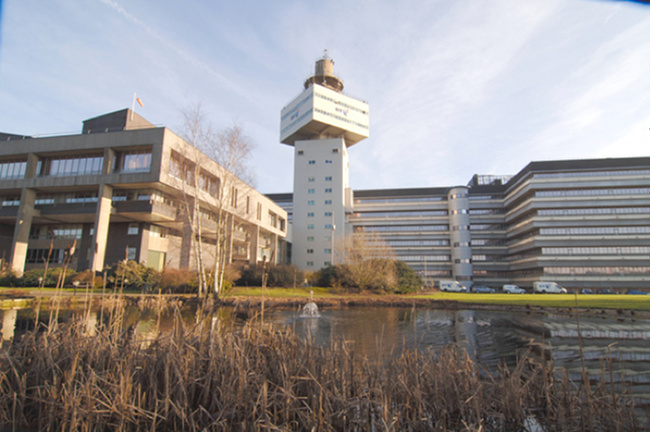 BT cubed: BT Adastral's iconic tower is immediately recognisable, Photos by Dave Wilby
Yet the public knows relatively little about the site's rich history or what's there now. That's mostly because Adastral Park can only ever be a name to you for now – it's off-limits to most visitors. A glimpse from the A-road is the closest most will come. As part of The Reg's Geek Guide to Britain, though, I was welcomed to the machine.
But, let's go back to the beginning.
The site has a long history of innovation. At the dawn of flight and aerial combat, a Royal Flying Corps aerodrome was established in 1916 in the village of Martlesham Heath. This became the Aeroplane and Armament Experimental Establishment, the main RAF airfield for the testing of prototype aircraft between 1924 and 1939. It witnessed the first flights of the Spitfire and the Hurricane.
In World War II it became an operational airbase and home to fighter aces such as Douglas Bader. In 1942 the airfield was taken over by the US Air Force and became the location of experimental military ballistics, electronics, rocketry, turbo engines and landing equipment before it was decommissioned in 1965.
Soon after the RAF moved out, the Post Office Research Laboratory relocated to Martlesham from Dollis Hill in London. The new telecommunications arm of the Post office had blossomed since the end of the war, and Suffolk offered plenty of space for experimentation by physicists, chemists and engineers who had been instrumental in crucial projects such as the Colossus computer.
The open local countryside was ideal for testing radio-based communication systems. By 1975, site was officially opened as BT Laboratories by the Queen, with the iconic tower building housing 1,700 BT Research staff.
Prestel, the world's first interactive commercial "videotex" data subscription service, was launched at Martlesham in 1979. In 1982, shortly after BT was privatised, its research site hosted Europe's first satellite transmission service, run by Eutelsat. BT Research demonstrated the world's first instant speech recognition and translation service in 1987 and as early as 1995 BT trialled a video-on-demand (VoD) service to thousands of customers in nearby Ipswich and Colchester using ADSL-over-copper to early set-top boxes.
From 1999 work to extend optical fibre transmission led to the launch of the UK's first commercial broadband internet service in June 2002, turning what had long been an academic technology into an engineering reality that British organisations, businesses and consumers could use.
Today, the renamed Adastral Park is BT's global innovation and development centre, an engineering HQ that takes top-flight technology and works out how to deploy and operate it the real world.
It is a modern science park with more than 43 companies on site including some of the biggest names in IT: from Fujitsu and Ericsson to Samsung to Cisco. The site is also one of two worldwide Network Management Centres for BT Group, providing a 24-hour "follow-the-sun" service - the other being in El Segundo, California.
It's also home to 4,000 IT professionals, 3,700 working on research, design, operations and consultancy.
As "the home of UK broadband", much of the work conducted on-site continues to explore the physical limits and practicalities of deploying a national standards-based super-fast broadband network at scale: how to actually get fibre to customers affordably and with the best possible performance.
Everything BT rolls out onto its network is tested to full operational standards across Adastral Park before it is deployed. In effect the park hosts a £500m scale model of BT's full global network, replicating every single piece of kit developed by BT and its interoperable vendors and suppliers – from cables and routers to digital multiplexers and telephone exchanges.
After negotiating a secure registration area, my introduction to Adastral Park was a landscaped campus surrounding that iconic Orion building and Pegasus tower complex. Many of these buildings are dedicated to research; its teams are trying to overcome communications challenges such as delivering fibre networks to telephone masts, monitoring conversations on social networks to improve services for customers, or designing smart communities and cities. Crucially, there is a real engineering function sitting behind the proof-of-concept systems.
Trip around the closely guarded "Four Acre Site"
But perhaps the most closely guarded area of Adastral Park that I was guided around is known as the "Four Acre Site" - a playground for physically testing and extending its new products, technologies, concepts and industry standards so that they are ready and optimised for deployment to real-world customers. One senior manager told me that Adastral Park nurtures one of the largest test and reference models in the world – "enough equipment on one site to run Belgium", as he put it.
Most of the work I was shown by BT's head engineers revolved around super-fast broadband and accelerating that last mile to homes and businesses. Technology is literally being tested in the field here, with new street-side junction boxes for fibre-to-the-cabinet and fibre-to-the premises projects sitting alongside weathering tests for long fibre runs.
I was shown the very latest designs in fibre cabling, blown using smart air compressors to blast the micro-textured fibre coating. This hands-on research in a Suffolk field is critical to BT delivering on its promise to deliver fibre broadband to two-thirds of the UK population by 2014. Just like me, staff from vendors and suppliers visit the site to gain confidence in how solutions would operate and adapt in real applications.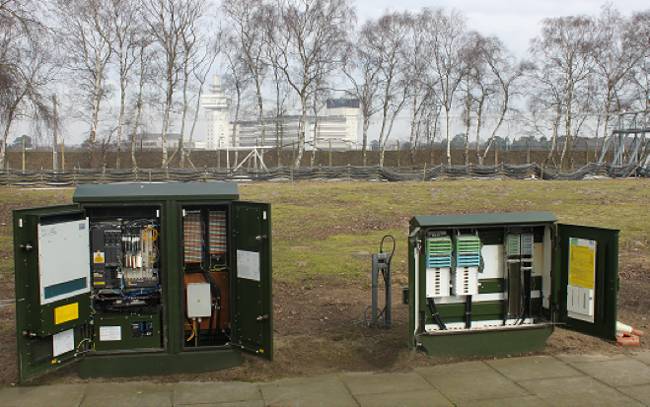 Technology moves from labs to outside testing, building a decentralized BT network with boxes like these
Back inside, Adastral Park's modestly titled Innovation Showcase puts the technologies BT and its partners are working on into context. It can be a nebulous thing, discussing and selling an infrastructure or a service, so this facility lets BT show leading vendors how the physical products actually work.
Like an industry technology scout, I was able to play around with transparent and eyeball-tracking adverts, and foot-fall and movement analysis in mocked-up shops. Super high-definition displays are placed in living room sets; other rooms are dressed for demonstrating technology in healthcare, hospitality, government, banking and pretty much any other market where there's a commercial interest. Whether it's integrating telecare into a patient's home entertainment system, or making product information available through augmented reality glasses, there's a showcase on tap.
Education is also a major part of BT's work at Adastral Park, which tries to foster practical ICT, business studies and project management skills for future careers in the communications and IT sector. The company is a major employer in the area, so it is in its interests to make sure the right skills are coming through the education system and that a career in engineering and technology is attractive and accessible. In 2012 Adastral Park recruited about 70 graduates and 30 apprentices from nearby colleges and universities.
Members of an enthusiastic BT Education team told me they want children to be creators of technology again, not just users. They believe that while schools help children use software and devices, the youngsters are not encouraged to think about designing and developing products and technologies. The team now has a full licence to invest BT's cash in helping young Brits discover their creative spark and gain a passion for tech. I was able to have a quick play with some of the robotics challenges and interactive Lego projects being taught; in 2012 more than 4,300 young people from 70 schools and universities benefited from BT's education outreach programme in Suffolk.
BT is now working on plans to create 2,000 new jobs and provision for up to 2,000 homes by 2025, by opening up areas of Adastral Park as a science campus. The idea is to create a Suffolk research centre - a regenerated research and development facility that encourages the growth of an ICT cluster in Suffolk. The scheme is still dependent on support in the county for the development.
As I mentioned, Adastral Park is not generally open to the public, although it does welcome more than 60,000 invited visitors each year. The most you can hope for today is a drive by, pointing out to your fellow car passengers that strange rectangle and cube tower seemingly frozen mid-rotation. But it's worth the fleeting eyeful you'll get and chance to explain what lies behind this most modern of facilities.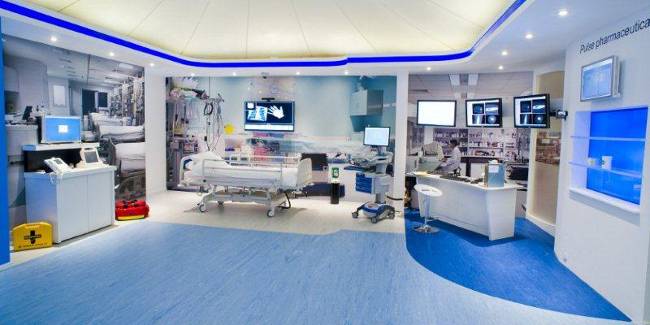 Displays like this in medical showcase innovations in displays, data, interactivity and tracking, photo by BT
That means you can squeeze in a drive-by en-route to other destinations and attractions. Adastral Park is within a very short drive of a number of historic East Anglian towns including Ipswich and Woodbridge. You can take the family to clamber on a castle at Colchester or Framlingham, get lost in the forests at Rendlesham or Thetford, take in the beach and brewery at Southwold, or grab a slice of culture at Aldeburgh or Snape Maltings, where a Santa lands via a Thames Barge every Christmas.
Refreshment is close by, too. Just out of sight of Adastral Park, yet signposted all the way, is The Maybush pub at Waldringfield on the banks of River Deben. It's a very friendly place to grab a great pint and some decent grub while watching the boats and wildlife float by. Slightly further afield but also on the Deben, is the historical town of Woodbridge, with a broad choice of inns and eateries, such as the 16th century pub Ye Olde Bell & Steelyard, or The Waterfront Café in the ancient tide mill.
If you're looking for accommodation near Adastral Park, there are some great inns in Woodbridge such as The Crown, or the luxury four-star Tudor hotel set at nearby Seckford Hall. But if you've made the trip this far east, then why not go the whole hog, head to the coast, and get yourself a guesthouse, hotel or holiday cottage in a cosy seaside hideout in Southwold, Dunwich, Walberswick or Aldeburgh? ®
GPS
52.058032,1.2795
Post code
IP5 3RE
Getting there
By car: A14 from the Midlands and North until you have crossed the Orwell Bridge, then the A12 north to the turning for the park at Martlesham Heath. From London or the South, take the M25 and then A12, crossing the bridge on the A14, before re-joining the A12. Train to Ipswich, and shuttle from bus station
Entry
Not open to the public
Other resources