Original URL: https://www.theregister.co.uk/2013/03/25/concrete_jewellery/
No, really: Austrians develop hi-tech jewellery made out of concrete
Mmm, darling, it's just so ... grey
Posted in Personal Tech, 25th March 2013 06:05 GMT
A Viennese designer has just snagged a prestigious international award for his new line of jewellery, which uses a new high-tech process to fashion the ornaments out of concrete.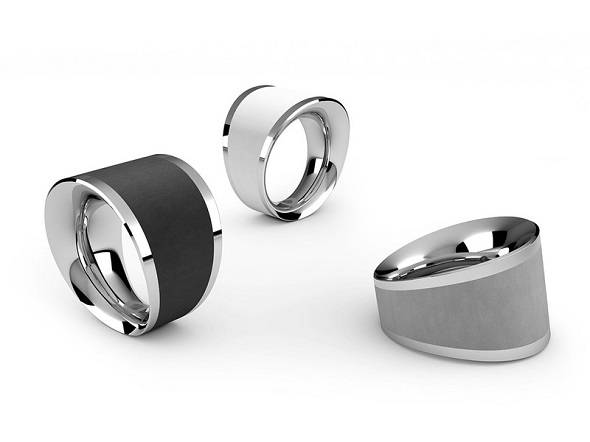 Can it be that I hold here in my mortal hands ... a lump of purest grey?
"Concrete has incredibly beautiful aesthetics. As a material it can do a lot more than you would think," enthuses Thomas Hauser of Viennese jewellery house Atelier Allure, which has just secured a win in the watches and jewellery category of the well-known Red Dot design awards for its concrete offerings.
"The jury took a close look and avoided being dazzled by just the bling, and instead looked beyond the sparkle and glitter and used their eyes and hands to look for quality in the jewellery," says Hauser.
Atelier Allure concrete rings, earrings and so on aren't just hewn out of regular lumps of construction-grade material. They're more in the nature of reinforced concrete, with the actual grey stuff supported on an underlying metal structure - though in this case exotic palladium rather than rusty rebar. The concrete itself is applied as a coating using a radical new process developed at the Technische Universität Wien (Vienna University of Technology).
"One major challenge we faced was getting the viscosity of the concrete right," explains TU Wien construction engineer Johannes Kirnbauer. "It needs to be sufficiently low viscosity to flow well, but also viscous enough to ensure that a sufficiently solid layer adheres to the ring."
A TU Wien statement explains:
The concrete block that is sprayed on in several layers is only slightly more than one millimetre thick. The concrete is then glazed and polished at the end of the process. A string of experiments are needed to get the mix of concrete right – a process that is aided by computer simulations.
Hauser refers to this material as "noble concrete", and says that far from being heavy his palladium-and-concrete confections are one-seventh the weight of gold jewellery.
It's hard to say how successful the idea of concrete bling is going to be, but this kind of materials tech often winds up in personal gadgetry. It may not be too long before we're being offered concrete-clad fondleslabs, phones or laptops, should the idea catch on. ®