Original URL: https://www.theregister.co.uk/2013/03/22/genachowski_to_step_down/
FCC Chairman Genachowski to step down
Why? He didn't say – yet
Posted in Policy, 22nd March 2013 19:26 GMT
Julius Genachowski, chairman of the US Federal Communications Commission, announced at a Friday-morning meeting that he will step down from his position as referee in a number of ongoing telecommunication battles, one of the hottest being internet control versus internet freedom.
"I called this all-hands meeting of FCC employees because I have an important announcement to make," he told his staff. "I'm tied for first place in the FCC's March Madness pool.
But seriously, folks... "Today, I'm announcing that I'll be stepping down as FCC Chairman in the coming weeks."
Genachowski gave no reason for his departure, not even the traditional "to spend more time with my family" nor "to persue other interests." Neither did he reveal that he's leaving to work in the industry that he's now regulating, as did former commissioner Meredith Baker.
Instead, he spent a goodly portion of his 2,700-word exit statement recounting the FCC's accomplishments during his tenure, and restating the challenges he sees ahead.
"Four years ago, there were questions about whether the FCC was up to the challenges before it," said Genachowski, who was nominated to the post by President Obama in 2009. "Fortunately, we were blessed with world-class engineers, economists, lawyers and others."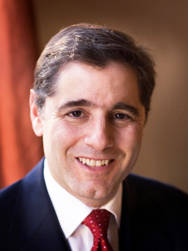 So long, Julius, we hardly knew ye
Obama issued his own statement on Genachowski's departure, also focusing on accomplishments. "Because of his leadership," Obama said, "we have expanded high-speed internet access, fueled growth in the mobile sector, and continued to protect the open internet as a platform for entrepreneurship and free speech."
In the anti-regulatory environment swirling through Washington these days, Genachowski's tenure has been at times a rocky one. His push for stronger net neutrality rules, for example, met with stiff opposition from wireless carriers – and from Genachowski's fellow commisioners, as well.
But in his Friday-morning statement, Genachowski showered nothing but sweetness and light on those commissioners, both former and current, Democrat and Republican alike. "Yes, on some issues we had differences," he said. "We had disagreements, but never dysfunction."
In the case of net neutrality, those non-dyfunctional disagreements led Genachowski to issue his "Third Way" compromise, which attempted to steer its way – or Way – through net-neutrality proponents and opponents. As is often the case in such attempts at balance, however, the Third Way garnered brickbats from both sides of the argument.
Perhaps Genachowski is leaving simply because after four years he has had it up to the proverbial here with the unending strife of monied Washingtonian warfare. ®