Original URL: https://www.theregister.co.uk/2013/03/21/review_htc_one_2013_android_smartphone/
Review: HTC One
The Apple iPhone 5 Samsung Galaxy S4 killer
Posted in Personal Tech, 21st March 2013 10:00 GMT
A year ago, I finished off my review of HTC's One X by predicting great things for it and its maker. And then Samsung's Galaxy S3 merrily outsold it ten to one. Thing is, that wasn't a case of me being a colossal twit. The One X is the better phone - it's better made, better looking and better to use.
Luckily for HTC, the new One is loaded with some cool headline-grabbing features to lure S3 owners and potential S4 buyers its way, including front-facing stereo speakers, a screen with a spectacularly high pixel density, a camera with a massively pixel-packing sensor, a Qualcomm Snapdragon 600 chip that goes like stink and an all-new version of HTC's Android overlay, Sense, to name but a few.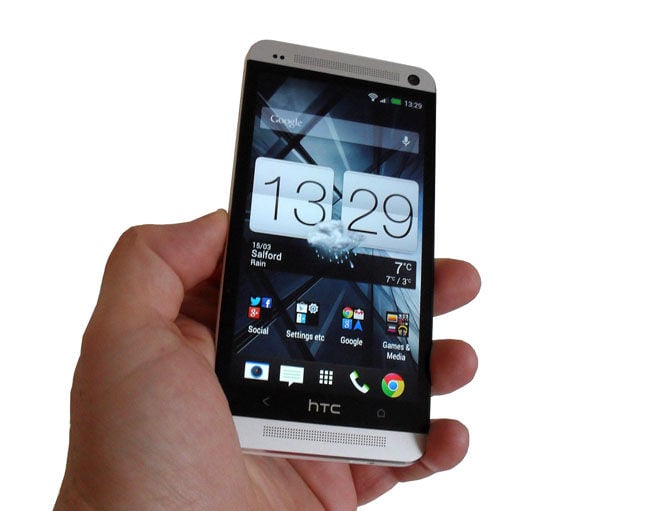 HTC's One: a truly lovely bit of kit?
Right away it's clear that physically the One is a truly lovely bit of kit. I'm not going to dignify the accusations that it looks like an iPhone 5. It only does to the blind or terminally dim. The aluminium unibody feels cool and solid, and despite housing a 4.7-inch screen and a 2300mAh (fixed) battery weighs only 143g. It's just a gnat's pizzle over 9mm thick.
As a compromise between usability and premium heft it's bang on the money. So is the brushed aluminium and white colour scheme. The absence of a camera shutter key is its only design failing.
As is becoming the norm, the 4.7-inch screen is a 1920 x 1080, Full HD affair with a whopping 469dpi pixel density. It uses HTC's favoured "Super" LCD tech rather than Samsung's "Super" AMOLED. This means that while the colour palette is more natural when it comes to still images and video, hues are less eye-poppingly vivid the rest of the time.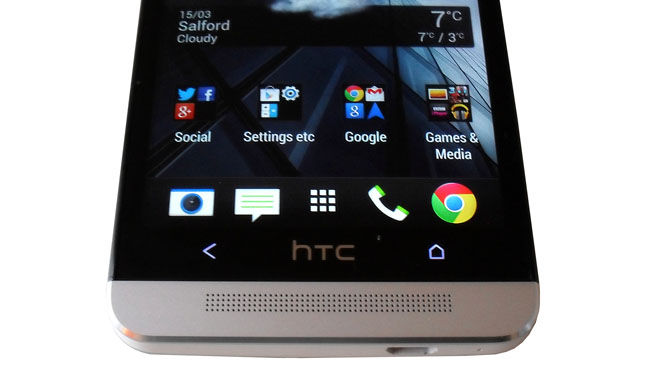 The HTC logo is entirely decorative
Which you prefer is a matter of personal choice. I often use my phone to watch video so I prefer the more natural look of LCD. Either way, the panel wants for nothing in terms of brightness or expansive viewing angles and is almost supernaturally sharp.
While some Android phone makers still insist on physical buttons, HTC is busy ditching even the virtual ones. The One only has two below the screen - Back and Home - flanking the purely decorative HTC logo. If you want to launch Google Now, you long-press on Home or double-tap to see your recent apps.
I'm not entirely sure using the HTC logo as the Home button wouldn't have been a better solution, but I imagine I'd get used to the new layout in short order.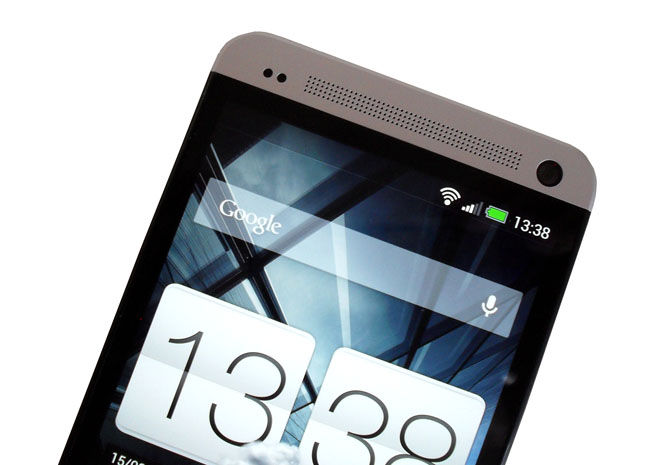 The upper speaker and the rather good 2.1Mp webcam
Modern smartphones are getting so ludicrously powerful that spending time banging on about benchmarks scores is pointless. Thanks to its Qualcomm APQ8064T Snapdragon 600 chipset, which incorporates a quad-core 1.7GHz Krait-class CPU with 2GB of RAM, the One is faster and more powerful than a smartphone has arguably any real need to be.
The SunSpider browser score of 1182 was more down to earth but in day-to-day use that's not something you are ever going to notice and is more a reflection of the fact that Chrome just doesn't excel at JavaScript rendering.
Fast runner, cool runner
The AnTuTu synthetic benchmark returned a score of 24,205 which, if nothing else, proves that the One is possessed of savage amounts of raw power. From what I've can gather, the Galaxy S4's Exynos 5410 Octa chipset beats that by around 1000 points but at this level the difference is irrelevant.
Thankfully, the One isn't blighted by excessive heat emissions when putting its shoulder to the wheel. It still gets a little warm under stress but the rising temperature is far less noticeable here than it is with the Google Nexus 4 or the Sony Xperia Z, both of which can get quite toasty when running graphically demanding games.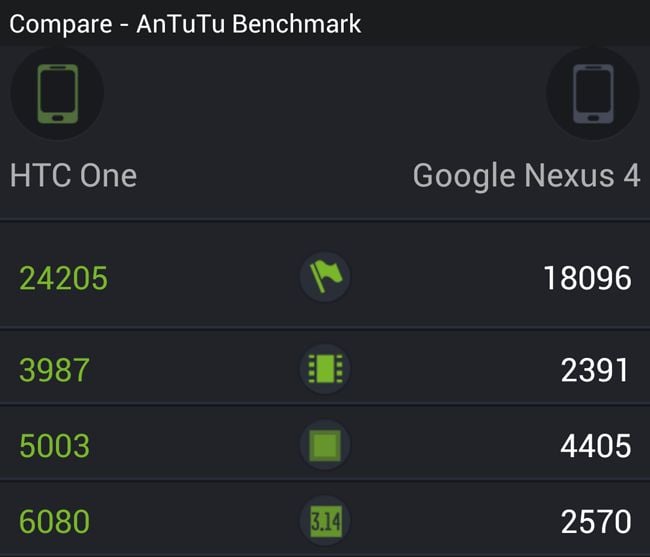 See those speakers at the top and bottom of the facia? According to HTC, they generate 93dB of sound. And Beats Audio processed sound at that. The upshot is a phone that produces a terrifically loud and superbly composed soundscape when playing music and video, or when being used as a hands-free chat box.
Trust me when I say you have never, ever heard a phone make a sound like this.
Of course the potential for annoying the bejeezus out of people on a bus, train or plane with this setup - called, rather alarmingly, BoomSound - is simply vast but antisocial behaviour aside, the One's speakers are truly superb.
It's fair to say that stylistically HTC's Sense had gotten more than a little long in the tooth so the new iteration is most welcome. The entire UI had been given a redesign and now looks much more modern and clean. This is Sense á la Jelly Bean rather than á la Froyo and is much the better for it.
There are now far fewer widgets, but the key ones are still present. Pride of place now goes to what HTC calls BlinkFeed which is a full-screen RSS and social network aggregator that gives you a quick taste of what's going on in the world in the blink of an eye. Hence the name.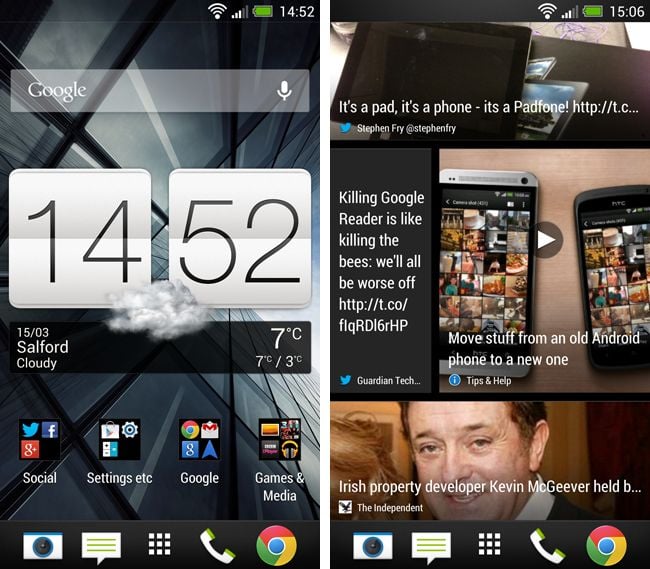 HTC's Sense 5 is an big improvement on its predecessors, and Blinkfeed (right) is a nice social network and news aggregator
As it stands it's a bit limited in terms of the ability to curate content - though as the two main UK news sources are the Independent and the Grauniad, I'm not complaining - but I found myself checking it more and more often the longer I had the One in my possession.
The Blink Feed panel can't be removed but you can reassign it to another home screen if you want.
The interesting thing about the One's camera is that it uses pixels that are 2µm across or nearly twice the size of those found in most phone camera sensors. To put that into context, a good compact like Canon's Powershot S110 uses 3.5µm pixels, while those in the Nokia Lumia 920 camera are 1.4µm across.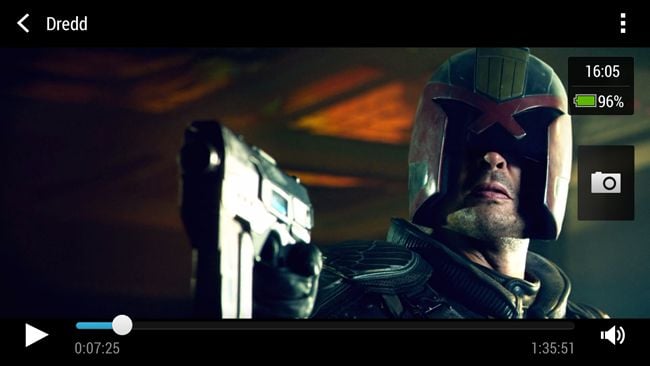 The Law is even more fearsome at 469dpi
HTC calls them UltraPixels and they are important because the bigger the pixel the more light can land on it so the brighter the image: more signal, less noise. The downside is poor bragging rights - the camera is only a 4Mp (2688 x 1520) affair - but the up is very good low light performance and more subtle and natural looking results in good light. To further improve low-light performance, the One's camera - like that in the Lumia 920 - has physical optical image stabilisation, a 1/3-inch sensor and an f/2.0 lens.
Now I'm no photographer but it's perfectly obvious even to me that this is the best camera ever fitted to an HTC handset and one of the best ever fitted to a mobile phone. A more visually astute reviewer may tell you that the Nokia has the edge in some circumstances but the differences would, I suspect, be negligible.
The 2.1Mp webcam is pretty darned impressive too, making the One, like the Xperia Z with it's 2.2Mp secondary camera, a great device for video chatting.
American Zoetrope
A couple of other features worth mentioning are the built-in infrared remote, which lets you use the One to operate your telly - it worked a treat with my Sony - and something called Zoe, which is short for 'zoetrope'.
In a nutshell, a Zoe captures three-and-a-bit seconds of 1080p MP4 video from 20 photos whenever you press the shutter key. Around half a second is recorded before your finger actually presses the shutter presumably thanks to some sort of buffer.
This is the sort of thing you end up with. The effects, the editing, the music are all entirely the work of the phone. I just took the shots and uploaded the end result to YouTube:
The One's gallery offers numerous options to mess about with your Zoe videos and stills to create 30-second vignettes with visual effects and music. Think of it as video Instagram. Using it is very much a matter of trial and error because, bizarrely, the One's PDF guide makes no mention of Zoe whatsoever.
To be honest, I'm not sure I see Zoe ever being more than a novelty even if the Daily Prophet-esque animated images it creates will amuse your Facebook friends. Which, I suspect, is entirely the point. The IR remote is very handy though, and the Zoe function can easily be disabled.
When it comes to battery life, the One couldn't quite match my Motorola Razr i's two full days on a charge but it didn't fall far short. So you certainly won't need to charge it up every day. Looping a 1080p video turned in an impressive runtime of five hours and 20 minutes.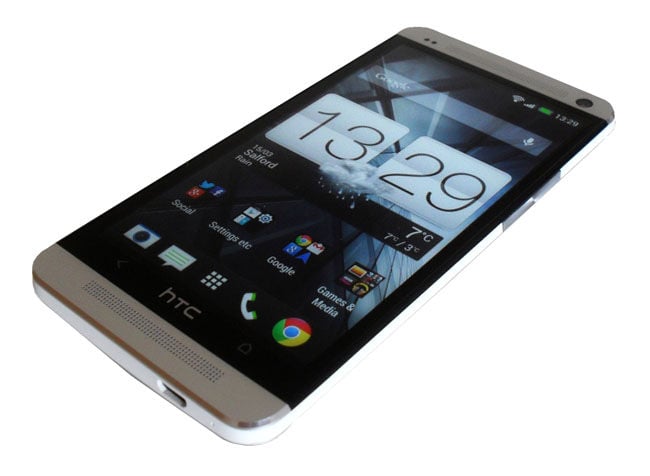 The micro USB port is MHL and On-the-Go compatible
Before I wrap up I should make it clear that the One lacks anything in the way of storage expansion, but with only 32GB and 64GB versions available that's not too much of an issue. The micro USB port supports USB On-the-Go and MHL media output. Call quality - thanks to active noise suppression - and signal reception were well up to snuff. And Wi-Fi reception was more than up to snuff - it was extremely good, by far the best I have ever encountered in any mobile device. My home office is a bit of a Wi-Fi black spot, which is why I run my laptop off a Powerline connection, but the One showed a robust signal in it at all times.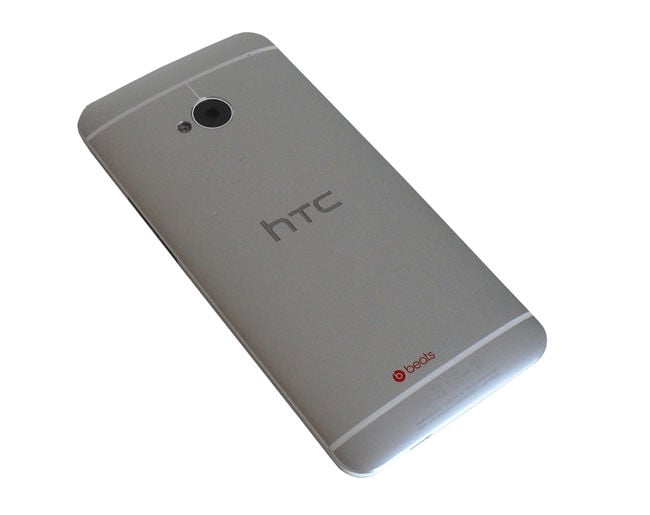 The fact that the One supports the new 802.11ac standard is worth remembering too.
The Reg Verdict
Let's not beat about the bush, the HTC One is a supremely classy, capable and stylish handset. It's as powerful as you could possibly want, lovely to look at, pleasant to hold and easy to use. The new camera is arguably the best fitted to any current smartphone. The 1080p screen's a cracker. Battery life more than acceptable. I'm giving the new Sense 5 launcher a thumbs up too. All HTC needs to do is get out there and promote the daylights out of the thing so that world+dog don't end up buying the Galaxy S4 or the iPhone 5 by thoughtless default. In short, the One deserves to be a success and if you are after a new smartphone in 2013 you really have to include it in your shortlist no matter what your OS allegiance.
On a final note, the fact the One is made in democratic Taiwan rather than China may not matter to you, but it does to me. ®