Original URL: https://www.theregister.co.uk/2013/03/21/nvidia_frocks/
Nvidia's skirt-chasing chips ogle babes, eyeball Twitter and YouTube
Like what that stranger's wearing? Snap a pic for image-matching GPU
Posted in HPC, 21st March 2013 11:46 GMT
GTC 2013 Nvidia CEO Jen-Hsun Huang's GPU Technology Conference 2013 keynote was a typical whirlwind slideshow of all the pies the graphics processor maker has its fingers in these days.
These addresses are usually chock-full of demonstrations showing where we are in terms of state-of-the-art graphics, scientific and technical computing, entertainment, and now: finding dresses. In this demonstration, Huang leafed through the latest edition of In Style magazine.
While the models are svelte, the magazine definitely isn't, weighing in with 594 pages of ads. A dress from one of those adverts was chosen, its picture was taken on stage by an Nvidia engineer, and the image was sent off to some software for product matching.
What came back was a set of likely matches that the graphics biz's tool found via eBay. (This can be seen in the semi-blurry picture taken from my third-row perch below.)
Using this GPU-accelerated technology, shoppers can snap pics from magazines, newspapers, clothes people on the bus are wearing, stuff on the shelves in the high street, or anything they take a fancy to; and then almost immediately pull up similar or matching products to purchase online. Or media giants could use it to detect copyright infringement online. The key thing is the speed at which this takes place; Nvidia would like you to believe that its GPUs hasten the processing.
With some minor technical tweaks (mainly checking different boxes), your correspondent imagines it would be quite possible to match many other types of items. I'm thinking handbags, blouses, shoes, skorts, and even jorts for those needing to feed their denim demons.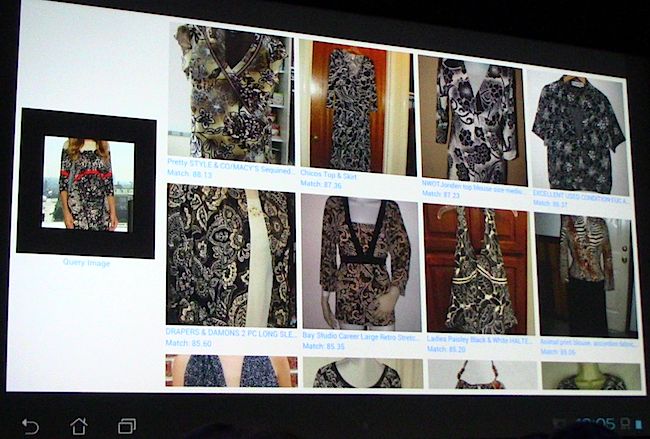 An Android tablet running Nvidia's clothes-matching code.
If it was running Microsoft's OS then we could have called it Windows dressing.
(Click to enlarge)
The company also demonstrated that it's possible to capture a particular pattern and then search for clothing that has the same, or a similar, look. To my untrained eye, it looked to do a pretty good job. It didn't find exact matches, but the selection shown came pretty close to the mark.
The impressive thing about this tool is its accuracy and speed. On each demo it not only returned the correct type of garment, but the results were surprisingly close to the original image in terms of look and general configuration. And it took only a few seconds – not much longer than the loading time for a web page.
There are already a fair number of images on the internet, and users of Facebook add something like 300 million more per day. On the video side, there's something like 72 hours of video added to YouTube per minute. Over time, this is going to add up. There will be an acute need for more sophisticated image searching and matching technology.
So – aside from everyone who likes to shop for clothes – who will use this technology? The online shops that want to make it quicker and easier for potential customers to comb through their vast inventories of goods. With our increasing reliance on communicating via images, the ability to search, sort, and match is going to become more important over time. ®