Original URL: https://www.theregister.co.uk/2013/03/20/emc_ii/
EMC2 is now EMC II, too
Aye aye, skipper, it be time for a name change
Posted in Storage, 20th March 2013 04:22 GMT
EMC has made a telling change to its brand.The company's full name, "EMC2", is now the master brand for Pivotal, VMware and EMC II. Here's a slide that shows the distinction.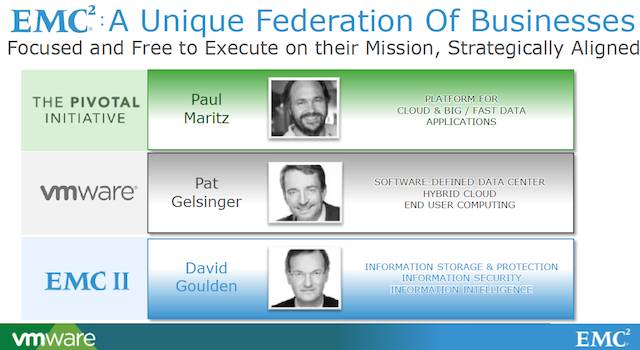 The new scheme seemingly means EMC, the purveyor of storage hardware and associated software, is now called "EMC Information Infrastructure", which thankfully spares us any EMC 2.0 silliness.
The change emerged at last week's "Strategic Forum" where the EMC II brand popped up on a few slides describing the outfit's core storage business. EMC's senior global veep for Global SE confirmed the change to us today and said EMC II is pronounced "EMC aye aye".
Here's an example of EMC II in use, in the context of a slide analysing storage revenue, by segment.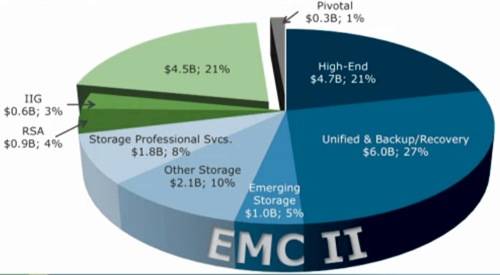 No-one ever pronounces "EMC2" as "EMC squared" when referring to EMC. We hear "Evil Machine Company" more often. And not just from competitors. We're therefore unsure just who will call EMC II "EMC aye aye", other than on talk like a pirate day.
Also notable is that RSA now fits in as a slab of EMC II revenue, rather than having the status of a discrete business as was previously the case. The fact RSA's domain now resolves to www.emc.com/domains/rsa/index.htm shows it has been forced to walk the the plank.
The outfit's new penchant for talking up big data as a critical part of its effort to collect and analyse signs of security threats is also telling, as big data is a very EMC II theme.
Last year those efforts would probably have been called "a global security intelligence network" or similar. If only that kind of language could be refreshed too. ®