Original URL: https://www.theregister.co.uk/2013/03/19/review_sony_xperia_z_flagship_android_smartphone/
Review: Sony Xperia Z
The new flagship with tattered sails?
Posted in Personal Tech, 19th March 2013 12:03 GMT
How it must gall Sony to find that along with the likes of HTC, ZTE and LG it is now firmly in the second division of Android phone makers, floundering in the spume and wake of the global sales monster that is Samsung.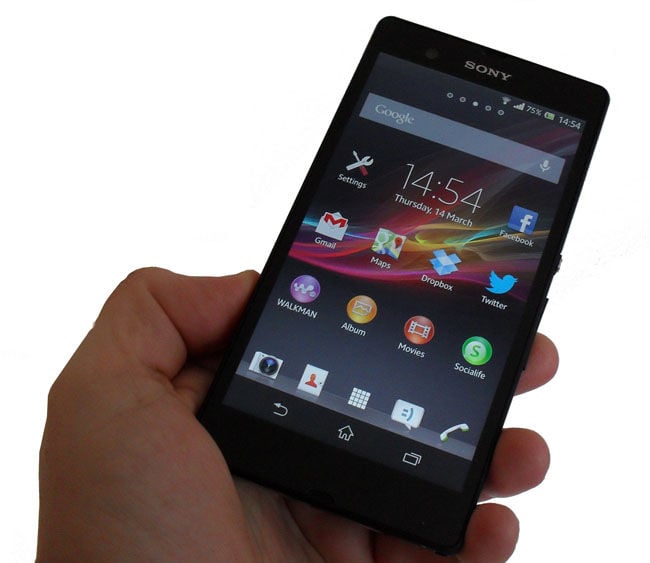 Xperia Z: a bit of a slab
Personally I blame a ludicrously complex model portfolio as much as lacklustre hardware. Can anyone list the current crop of Xperia handsets off the top of their head? No? Thought not. The opportunity to make things simple after the ditching of the Ericsson brand was squandered so it's back to the drawing board we go.
Indeed, the first thing you notice about Sony's new flagship, the Xperia Z, is that the firm's designers have ditched all the familiar Xperia design language in favour of something startlingly generic. The Xperia Z is frankly a bit of a slab.
Now let me qualify that by saying it's a very elegant and well proportioned slab. Any device that can house a 5-inch, 1920 x 1080 screen in a body that weighs 146g and measures only 139 x 71 x 7.9mm gets a thumbs up from me. Keep in mind that's only 0.3mm thicker and 12mm wider than the diminutive 4-inch iPhone 5.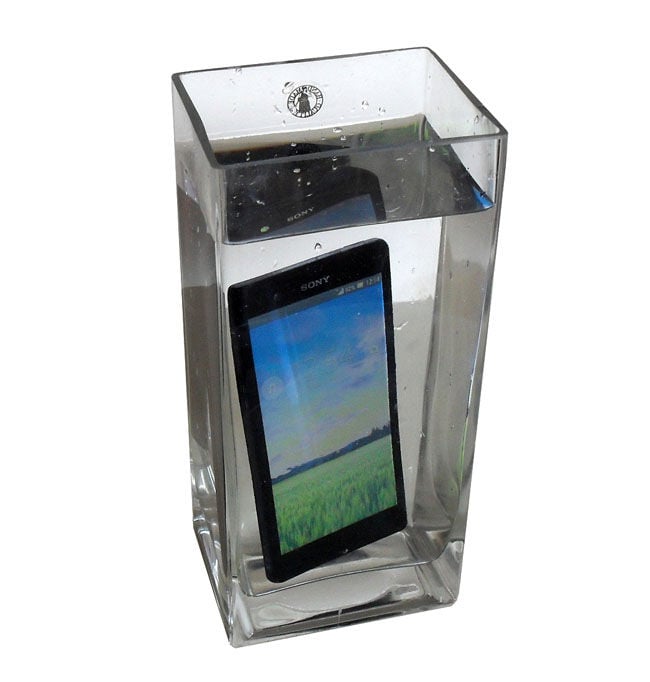 Yep, it's waterproof
As an exercise in packaging it's a top effort and Sony deserves kudos for the excellent placement of the large on/off button and volume rocker, which fall to hand very easily even when holding something this size.
But it is a tad plain and featureless when you look at it alongside the iPhone 5, the HTC One, the or the Nokia Lumia 920, let alone the Galaxy S4. Sony seems to have reacted to criticism that previous Xperias were overdesigned by underdesigning the Z.
And I'm a little worried about the narrow gap between the screen and chassis that includes the earpiece and mic cut-outs. It collects dandruff, dust and other nonspecific detritus.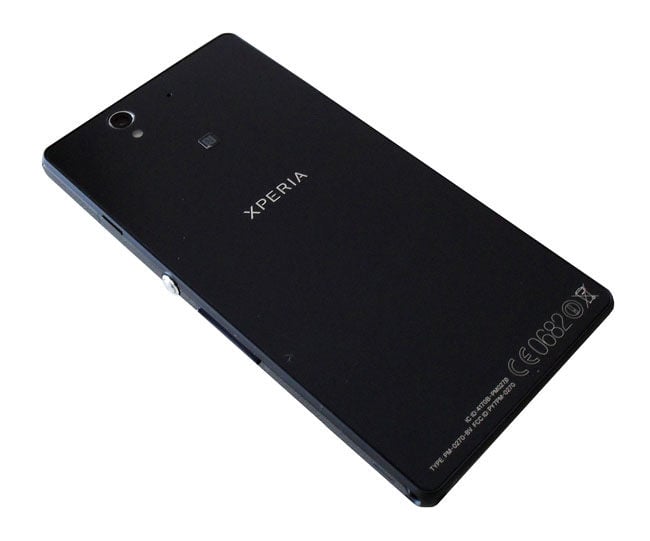 The back, like the front, is all glass
On the plus side, it's as solid as you could possibly desire a handset to be and it has IP57 certification for water and dust resistance. That means flaps covering all the ports and sockets but at least once you've prised them open you get an MHL-enabled micro USB port with USB host support and a micro SD slot to back up the 16GB of internal storage.
Like any handset covered with glass front and back - it's not Gorilla Glass but some other type of toughened, shatter-proof glass - the Z is a fingerprint magnet and can sometimes get to feel a bit sticky. Buy the black one and you'll be forever polishing it. I'd suggest going for the white unless you are happy looking like you have OCD.
The 441dpi screen looks very impressive. Put it alongside any 1280 x 720 Android or Retina iPhone display and I guarantee you will be impressed by the crystal clarity and ultra-sharp definition. The latest version of Sony's Mobile Bravia Engine further enhances proceedings by sharpening images and reducing noise when you are looking at still pictures or video.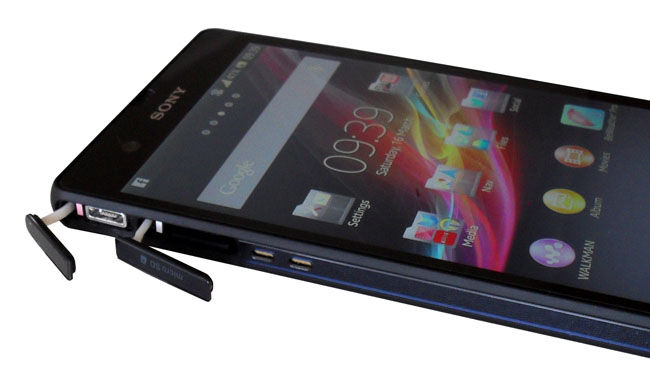 Covers keep the ports free of fluff
Reflections are kept impressively at bay too thanks to some jiggery-pokery concerning the way the various layers of the screen are bonded together.
Portable powerhouse
Currently running the show is Android 4.1.2 though Sony is promising an upgrade to 4.2 in the near future. For hardware you get a Qualcomm S4 Pro 1.5GHz quad-core Krait-class CPU with 2GB of Ram and an Adreno 320 GPU. That's a combination that makes the Z go like a privy door when the plague's in town.
To put some hard numbers to that statement, the AnTuTu synthetic benchmark returned a score of 20,450 which is the highest I'd ever seen on a smartphone until the HTC One landed on my desk.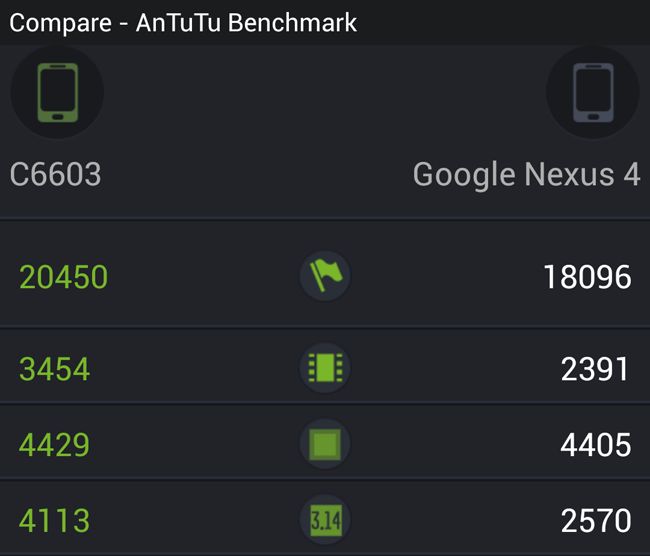 The SunSpider browser test produced a more average figure of 1328. Better than the Google/LG Nexus 4 but not as good as the iPhone 5 or Nokia Lumia 920. Chrome does seem to struggle a bit with JavaScript tests compared to Apple and Microsoft mobile browsers. Tested with BrowserMark 2 and Vellamo, the Z does much better.
Of course this being a Sony you get Android with a serious cosmetic make-over. Sony's rather aged launcher design - the icons look much the same as they did on the very first Android Xperias back in early 2010 - doesn't detract from the user experience but nor does it really add to it.
It's change for change's sake if you ask me and strangely the widgets and icons don't rearrange themselves automatically in the Sony launcher even though that is now a native feature of Android.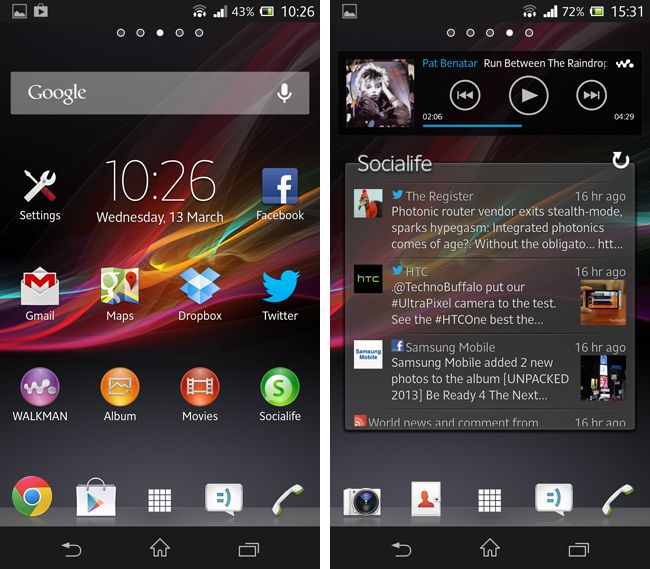 The Sony UI is looking dated
There are quite a few pre-loaded Sony apps which can't be removed unless you root your handset. Most, like the Walkman music player, picture gallery with built-in photo editor and excellent Gracenote-connected video player, are welcome. Others, including the various media stores and rather flaky Socialife (sic) social networker aggregator less so.
A flagship Sony with a half-arsed camera would be unthinkable so the Z boasts a 13Mp main snapper and a 2.2Mp webcam. The latter is a blinder and makes the Z a superb device for video chatting to any friends, relatives or inamoratas in remote places.
The Big Idea in the Z's camera is what's called Superior auto. It's essentially an automatic scene selector which changes colour saturation, contrast, light metering and such like depending on what it thinks it's looking at.
Most of the time the system interferes to the benefit of casual point and snap picture quality but flicking back to basic Automatic mode is a one-touch operation if you think it's got it all wrong. Image quality is generally pretty good if not exceptional while the LED 'flash' is the usual puny and near pointless affair unless you press it into service as a torch.
I'm old enough to remember when flagship Cybershot phones had Xenon flashes and hardware camera buttons. Those were the days.
In terms of wireless connectivity, the Z ticks all the boxes. It supports every GSM, HSPA and LTE band known to man, and comes with Bluetooth 4.0, 2.4GHz 802.11n Wi-Fi and NFC, the last offering one-touch DLNA screen mirroring with new Bravia TVs. Reception was solid across the board and thanks to wideband HD Voice and dual-mic active noise reduction so was call quality.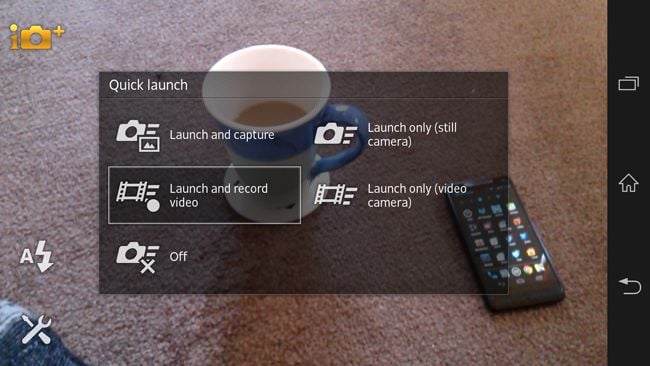 Does the Launch-and-Shoot feature actually work?
While most Android phones running 4.0 and above depend solely on the MTP connection protocol, the Z gives you the choice between that or MSC, which lets you access the memory card card in situ. This means an easier life for Mac and Linux users.
Trouble at mill
The fixed 2330mAh battery givers the Z a solid 36 hour hour usage cycle - or 75 per cent that of my trusty Motorola Razr i, which is my benchmark in such matters. Looping a 1080p video, I got four hours 25 minutes from a charge: pretty decent, I reckon. Battery life then is better than the Nexus 4 but don't expect miracles.
So far I may have given the impression that all is rosy in the Xperia garden, but there are some technical greenfly about.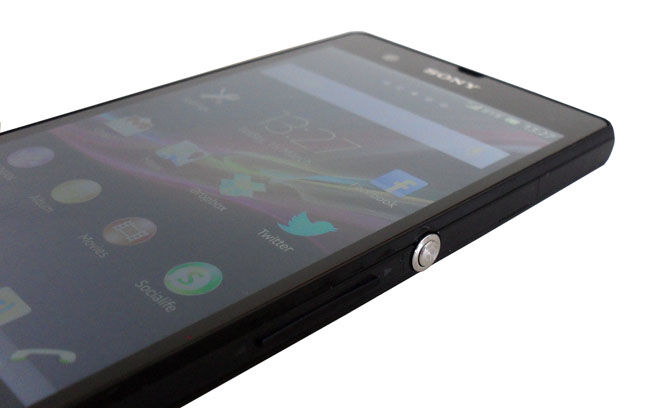 The power and volume controls are very well placed
Firstly, the screen lacks contrast and colours look weak when the Bravia engine isn't doing its thing. Viewing angles aren't that robust either, a problem the Z shares with the Xperia T. In short, despite the super-sharp 1080p resolution, it's a good display rather than a great one. This is probably down to it being a plain old TFT panel rather than IPS LCD or AMOLED.
Next, the loudspeaker sounds painfully raucous at higher volumes. With its large HD screen watching video is surely one of the reasons you'd buy an Xperia Z in the first place so a low rent single speaker really lets the side down. The speaker is also set into the bottom right hand edge of the device in a near perfect place to be covered by your hand.
Turning to the the camera, though boasting an impressive resolution to my eyes it really performs no better than the 8Mp cameras fitted to the iPhone 5 or Nokia Lumia 920 and in low light it's significantly worse than the Nokia.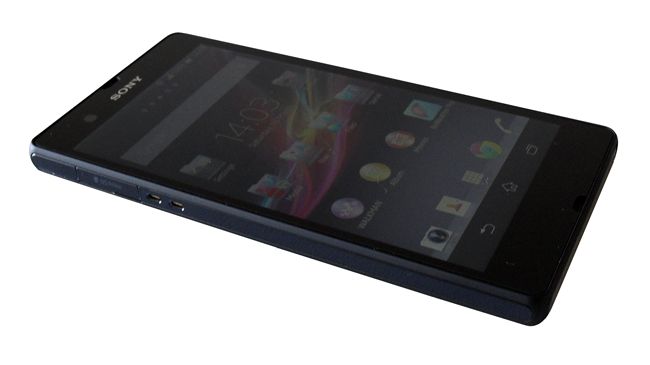 The screen's viewing angles aren't magnificent
And some of the camera software doesn't seem to work. Try as I did I couldn't get the automatic launch and snap function, a handy feature on a phone with no physical camera button, to do its thing.
It's not the fastest launching phone camera I've ever come across, either. It takes more two seconds to get its act together from cold. And it can only capture 1Mp stills when recording video. That's poor.
Finally, like the Nexus 4, the Xperia Z gets rather warm when worked hard, playing games like NOVA 3, for example. Say what you like about Qualcomm's high-end chipsets, they can't half pump out the thermals when they get busy. I demand many things from a mobile phone but keeping my nuts warm in the winter isn't one of them.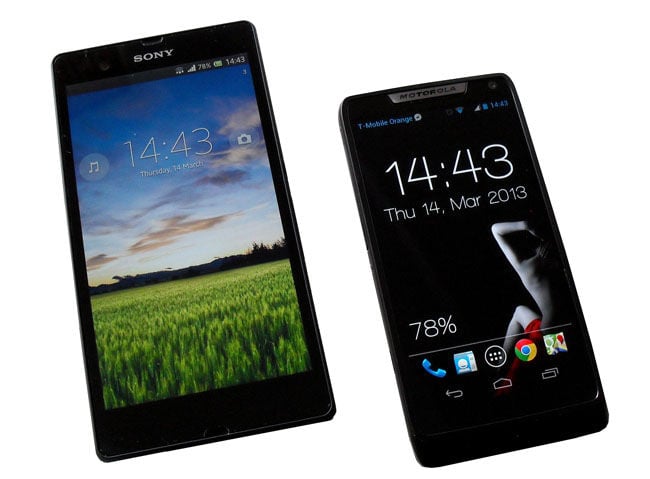 Side by side with the Motorola Razr i
Of course a warm back when gaming, a slightly wishy-washy screen and a good but not stellar camera are not the end of the world. But the last two are parts of the puzzle that Sony should excel at. On balance, the Z is a very good, but I was rather hoping for greatness.
The Reg Verdict
There's a lot to like about the Xperia Z not least the build quality, waterproofing and very efficient packaging. But I'm not wholly sure that's going to be enough to see off the competition from HTC's One - smaller, 4.7-inch screen notwithstanding - or the Samsung Galaxy S4. The Xperia Z is just a bit plain when compared to the HTC, which offers some unique features like the excellent front-facing speakers and the equally excellent 4Mp big pixel camera.
The S4 meanwhile is loaded with so many trick - if perhaps unnecessary - features I don't know where to begin. I expected the Xperia Z to trump both with a class-leading screen and a class-leading camera but frankly it doesn't, and you have to tolerate an Android overlay that's starting to look just a wee bit dated. ®