Original URL: https://www.theregister.co.uk/2013/03/18/feature_build_a_bonkers_pc/
Build a BONKERS gaming PC
Money to burn? Put it to use building a monstrously powerful games rig
Posted in Personal Tech, 18th March 2013 12:03 GMT
Feature There is a select band of gamers who will only be satisfied by a huge amount of graphics and processing power. For them, the only thing to do is build a bonkers gaming PC.
In my opinion, the tricky part of the job is organising the pile of parts that you'll use for the build. While we 'Build a Bonkers...' writers don't worry too much about money, I don't want to encourage waste.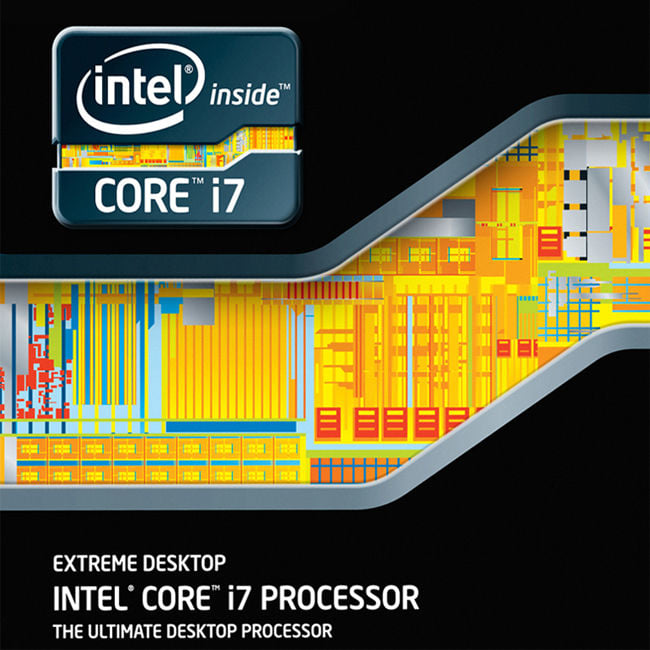 The sensible and cautious way to proceed, then, is to do things in stages. Buy the case and power supply; install the motherboard, CPU and memory; hook up the cooling; bung in some storage followed by a few graphics cards and - voila - you have a bonkers PC. The slow and steady approach will take you a few weeks but should avoid commonly made mistakes, such as buying a 200mm fan for a case that only provides 120mm and 140mm housings.
Alternatively, you can finalise your plans, go for broke and order a stack of hardware in one hit and that way keep the carriage costs to a minimum while also saving time.
Crazy CPUs
Let's start with the processor, as that has a massive bearing on performance, as well as dictating your choice of motherboard chipset. The fundamental question is whether you buy from AMD or from Intel. On paper, AMD's Socket AM3+ Bulldozer FX-8150 looks convincing. It has a clock speed of 3.6GHz and eight physical processing cores, all for a mere £150.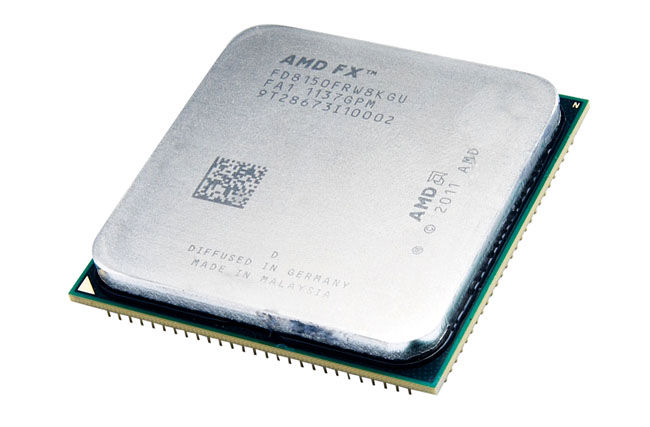 AMD's FX-8150 Bulldozer is giving ground
In practice, the FX-8150 disappoints and in the 3D Mark Vantage benchmark turns in a CPU score of 18,994. Even an aged Intel Core i7-2700K can manage to rack up 24,721 points. Using the latest, 2013 edition 3D Mark Fire Strike Extreme benchmark, the AMD achieves a Physics score of 6709 while the Core i7-2700K weighs in at 9226.
Just as significantly, the AMD system with a single Radeon HD 7950 graphics card draws 250W of power under load while the Intel equivalent only needs 190W. So the AMD draws more power and delivers less performance than Intel's previous generation of processor, Sandy Bridge. It looks even worse compared to Intel's newest platform, Ivy Bridge, which has slightly higher levels of performance - approximately five per cent - than its predecessor, as well as improved efficiency that saves about 20W under load.
So AMD is out of the equation.
The obvious starting point for the gamer with one eye on the budget is the Core i7-3770K, a 3.5GHz part with four physical cores and Hyper-Threading technology to make it appear to have eight. However, we want a bonkers processor so my chosen piece of silicon is the Sandy Bridge Extreme. This CPU is based on previous-generation Intel technology, but you get six physical cores which Hyper-Threading takes to 12, and a quad-channel DDR 3 memory controller. This requires a larger, LGA2011 processor socket, an Intel X79 chipset and £800 out of your wallet.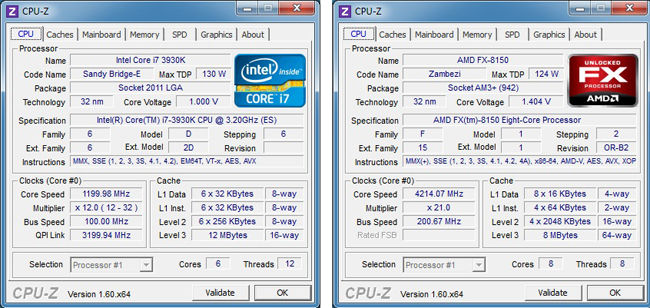 CPU-Z readout: Intel's Core i7-3930K and AMD's FX-8150
In return, you get a 3D Mark Vantage CPU score of 36,699 marks and a Fire Strike Extreme Physics score of 12,560, while the PC power draw is a reasonable 245W under load - ie. the same as the AMD Bulldozer, which scored rather less well in those benchmarks.
It is far from clear whether Intel will release an Ivy Bridge Extreme processor later this year or simply move straight on to Haswell, its next-generation processor architecture.
Fruitcake form-factors
Once you have settled on a processor you need to give thought to the form-factor of your PC as that will drive your choice of motherboard and case. It's a fairly safe bet to plump for a regular ATX model - 305 x 244mm - but you might need to consider going a bit further if you want lots of graphics cards - and being a builder of Bonkers PCs, you do, don't you? In which case E-ATX (Extended ATX) is the logical choice.
WATX (Workstation ATX) can be safely ignored unless you plan on using two or more processors. You might like to take a look at the £560 EVGA SR-X dual-socket LGA2011 motherboard for a truly insane motherboard.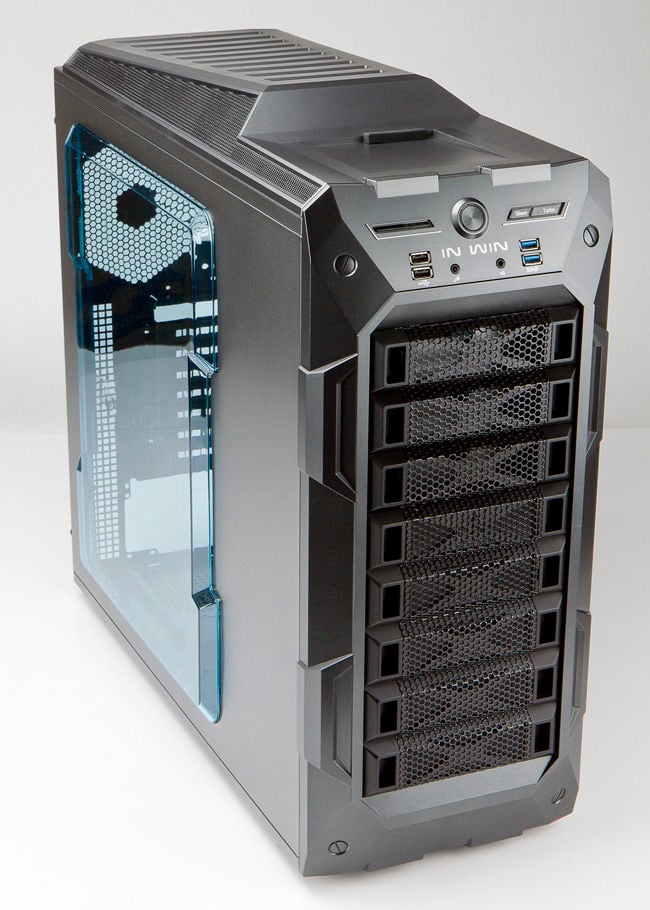 Case hardened: In-Win's GRone 5
Maniac motherboards
Time to select a motherboard. You need the correct chipset for your chosen processor and at the high end that boils down to Intel's X79 for LGA2011, Z77 for LGA1155, or AMD's 990FX for AM3+.
Problems are likely to arise if you feel a yearning for a beloved piece of legacy hardware such as a sound card or an obscure peripheral that demands a particular port or interface. There is a usually a solution to the problem, but once you start to add items to the 'Features I simply must have' list, you can rapidly find your choices become restricted. For instance, if you want to build an Intel LGA2011 system and need a PCI-X slot for a Raid card, you'll find your choice of motherboard is restricted to server motherboards, such as the Supermicro X9SRE-3F.
Or you might be smitten by the rather good Sapphire PURE Black 990FX motherboard and its six PCI Express (PCIe) x16 slots but feel unwilling to ditch your PCI Sound Blaster card, in which case you will have to change your plans.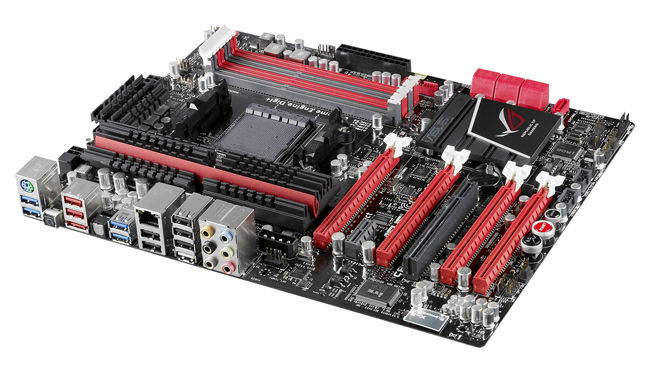 Asus Crosshair V Formula
You'll avoid these problems if you can start your build from scratch and do away with legacy devices such as IDE optical and hard drives. You should count USB 3.0 as your friend and ignore any expansion card that pre-dates PCIe.
The big four enthusiast motherboard brands are, in my opinion, Asus, EVGA, Gigabyte and MSI, with Sapphire right behind them and ASRock, Foxconn, Intel and Zotac bringing up the rear. I have had good experiences with every one of these brands but also occasionally look at a motherboard and wonder what the heck the designers were thinking.
I have never - that is NEVER - had a bad experience with an Asus Republic of Gamers motherboard and consider that to be the default choice for anyone who is prepared to pay top money for decent hardware.
The main features you need to consider when you choose a motherboard are the chipset, processor socket and the number of PCIe 3.0 graphics slots. If you want to use more than one graphics card, you should pay careful heed to the split of the PCIe lanes between the various slots. Some boards give 16 lanes to the primary slot and make the other slots fight among themselves for the remainder, while other boards split the lanes eight each between the first two slots. Premium motherboards should provide enough bandwidth for every slot.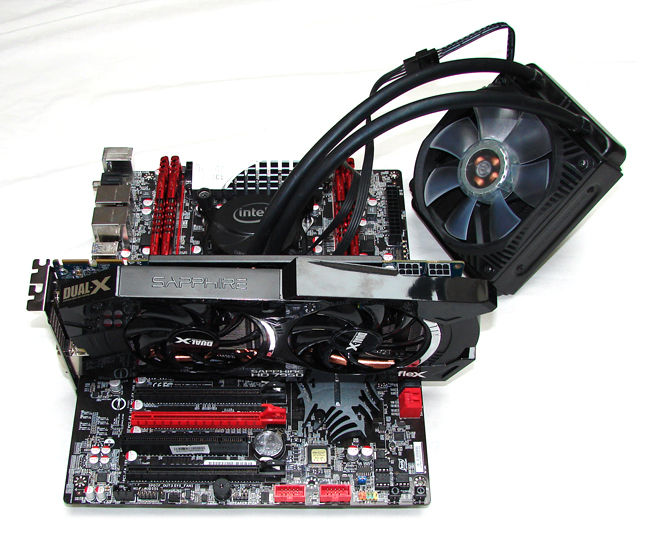 Foxconn's Quantumian-1 motherboard: good performer
Pay close attention to the headers, connectors, debug display and micro buttons and consider whether they will be available for use or covered over by your second or third graphics card. You shouldn't have any issue with the number of Sata connectors but would be wise to check that they are laid down flat, rather than standing vertically, to ensure the cables feed away from your graphics cards and can be easily connected.
Naturally you will want a decent number of fan connectors. Once you get beyond three connectors you have probably got enough cooling and most high-end motherboards now support five or six fans.
Mental memory
You'll need a decent amount of DDR 3 memory for your bonkers PC. In theory, you can populate every memory slot in a motherboard but this can cause instability even if the memory is guaranteed for that particular motherboard. If you want an easy life, use two modules in a dual-channel LGA1155/AM3+ motherboard and four modules in a quad-channel LGA2011 system.
Crucial has some superb tools on its website to suggest memory that will work best with your PC components, but the key point is that a dual-channel 16GB kit of 1866MHz DDR 3 will cost about £100 and a 32GB quad-channel kit will be double that. I went for the G.Skill RipJaws Z RAM set because it delivers very decent performance, the funky heat spreaders looks good and the price is fair.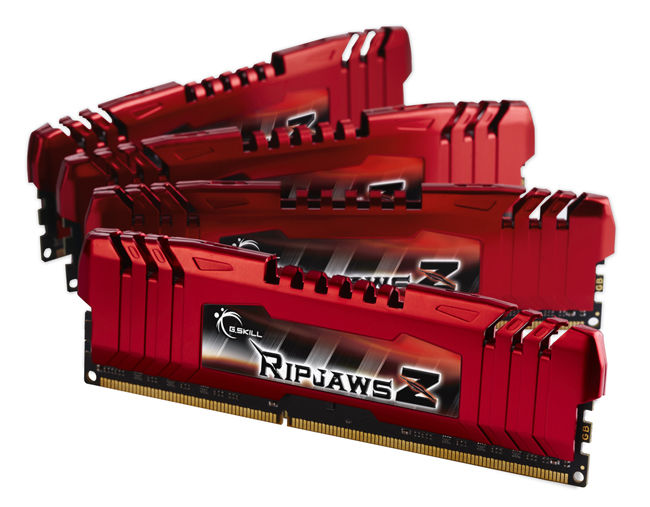 G.Skill RipJaws Z RAM memory
Off-your-conkers cases
The next step is choosing a case. A decent case is much more than a plastic, steel or aluminium box that holds the components, and will cost you about £100 without power supply.
The case needs to be large enough to accommodate your motherboard and graphics cards but other than that you have a clean sheet of paper. The features I look for are a decent opening in the motherboard tray to give access to the rear of the motherboard once it is mounted in the case. This improves cooling and it also allows you to swap CPU coolers and back plates without dismantling your PC. Cable management grommets allow you to feed cables around the PC without creating a tangled mess that looks ugly and restricts airflow.
You should look for a case that supports USB 3.0 ports as USB 2.0 is a thing of the past. The tower of drive bays will very likely accommodate eight or more drives which is far more than any of us need. The smart case designers break the drive towers into modules that you can remove to create more space inside the case for longer graphics cards. Plenty of cases offer near tool-free assembly. The side panels are secured with thumbscrews, the front and top panels pull off and the drives are secured with clips that pop into the screw threads on either side of the drive.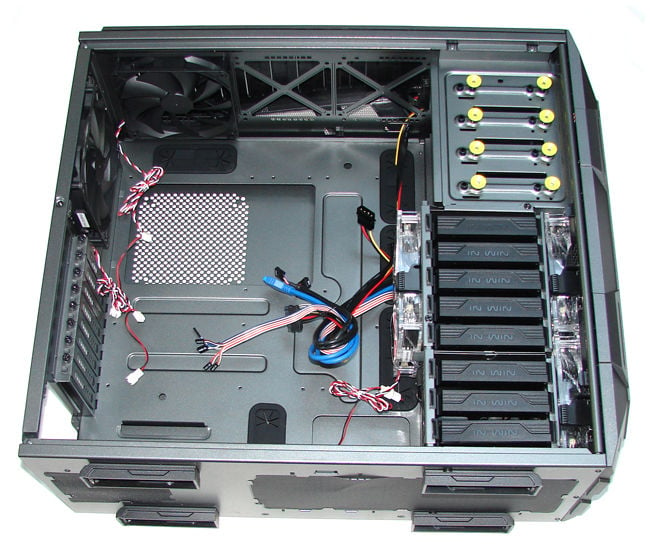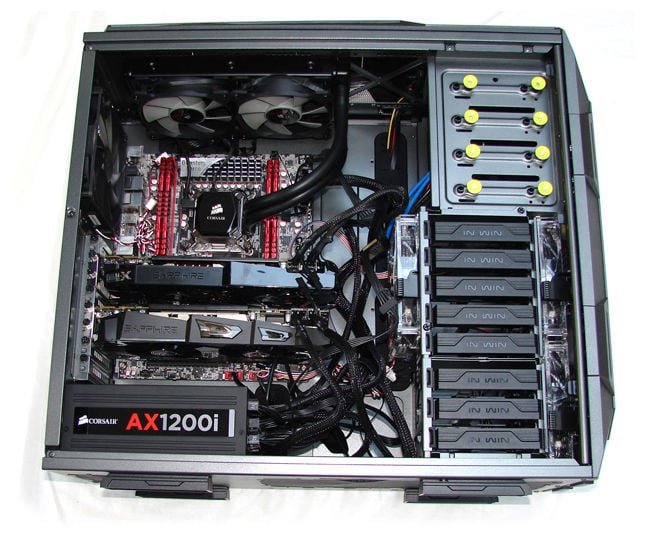 Easy access: In-Win's GRone 5 case empty (top) and full
Some people like to buy a case that offers the maximum potential for cooling, with two fans in the front, top, rear and the bottom of case, and these will be a minimum of 120mm in size with options for 140mm and perhaps a monster 200mm fan in the top of the case or the main side panel. I prefer to avoid buying a case that resembles a piece of Swiss cheese and instead choose one that offers discreet vents that allow the air to flow without too much noise.
Any decent case should include dust filters that prevent the innards of your PC from getting yucky.
Preposterous power supplies
When I tested the Sandy Bridge Extreme PC with three AMD Radeon HD 7950 graphics cards, the maximum power draw figure I saw at the mains plug was 500W so it seemed that an 800W power supply unit (PSU) would be more than adequate for the job in hand. I made a call to Corsair for an AXi PSU and was surprised to receive a monster 1200W AX1200i that costs a jaw dropping £265.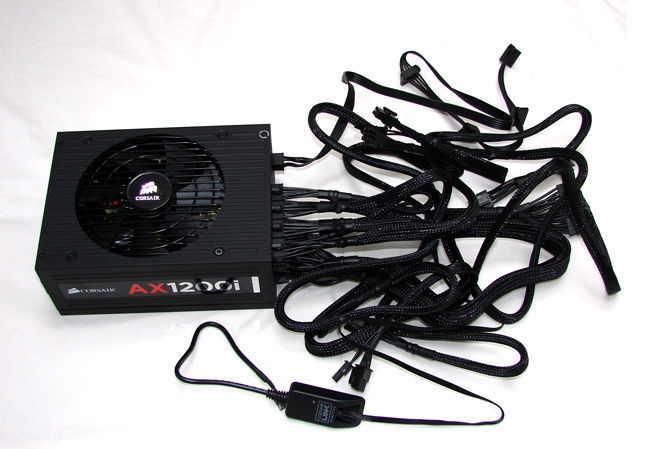 Corsair's cable monster: the AX1200i PSU
Unfortunately, the AX1200i turned out to be rather less extreme than I first hoped and is actually rather sensible. This 1200W PSU has detachable cables so you can plug in a selection of six peripheral cables, six PCIe cables and the motherboard power cables. In addition, the PSU has a self-test function and it is rated at over 90 per cent efficiency which is all very laudable but not exactly unique.
Where the AX1200i and its 760W and 860W brothers go completely off piste is the command and control technology. This is by no means a review of the AXi but it's worth noting that this PSU has integrated DSP (Digital Signal Processor) and a control cable that looks like it might be used for fan control. In fact, this is the Corsair Link USB adaptor, which hooks up to the Corsair Link software so you can, for instance, view your real-time voltage regulation and fine tune the amperage on your PCIe connectors in order to give more to the primary video card and less to the secondary card.
Cuckoo coolers
When it comes to processor cooling my favoured hardware used to be a beefy air cooler from the likes of Noctua with one or two large, quiet fans. More recently I favoured air coolers with heatpipes that make direct contact with the CPU heat spreader such as the Akasa Venom Voodoo. However, I'm now a firm believer in closed-loop water cooling. Systems such as the Antec Kuhler H2O 620 are neat, compact and efficient, and mean that you don't have a kilo of metal hanging off your motherboard and heating up the centre of your PC.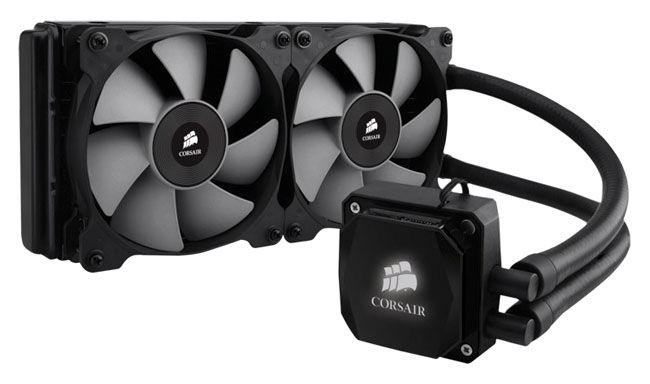 Coo, water scorcher: Corsair's Hydro H100i
The heat exchanger for a water cooling system is usually sized to replace one or two 120mm or 140mm fans, so my chosen In-Win GRone case was a natural for this PC build as the roof of the case can accommodate three fans in a row. Corsair sent me a Hydro H100i water cooler which has a 240mm radiator which occupies two fan housings. However, it turns out this piece of hardware also has some tricks up its sleeve, which lift it above the rest for me. The pump unit has a number of connection points that tidy up the cabling for the two fans that draw heat away from the radiator, but it also has a USB port to hook the H100i into the Corsair Link system so you could use the cooling system to monitor temperatures. Or you could go the whole hog and use it trigger the Link software to make LEDs in your case flash red if the CPU temperature went over a chosen limit.
Screw-loose storage
The only sane choice for storage is to use an SSD as your boot drive and to store your games. The problem is that a large SSD has 240GB or 480GB of capacity and that simply isn't large enough for most folk. I love the performance of the SanDisk Extreme as it combines a SandForce controller with Toggle Flash memory, but a 4TB data drive from Hitachi, Toshiba or WD is useful as secondary storage.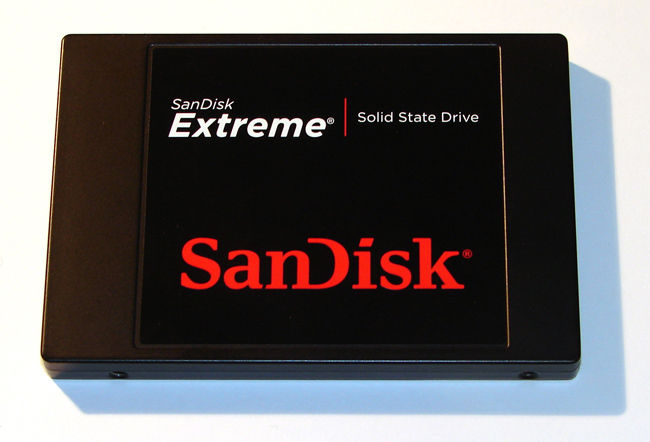 SanDisk's Extreme: speedy SSD
The final chunk of cash goes on graphics cards. Provided you have laid your groundwork and have two or three PCIe 3.0 slots on your motherboard, plenty of space inside your case and a bunch of PCIe power cables, you'll find this part is easy.
The more money you spend, the more pixels you can push. However, you rapidly hit a barrier of diminishing returns. For this build I happened to have three Radeon HD 7950 GPUs. They are decent pieces of hardware, but no one would claim they are the ultimate graphics card.
With the Intel Core i7-3960X and 16GB of quad-channel DDR 3 G.Skill RipJaws Z RAM I saw the following figures: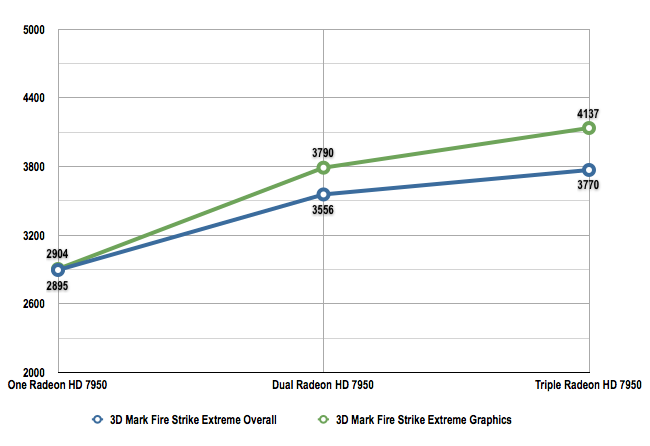 Higher figures are better
Three Radeon HD 7970s will deliver more grunt than HD 7950 - and raise the cost from £700 to £1000 - but we're only talking about a few extra percentage points. You can avoid using two cards by plumping for a Radeon HD 7990-based board such as the Asus HD 7990 ARES 2, which is a water cooled graphics card with two HD 7970 GPUs for a 'mere' £1200.
On the Nvidia front, a GeForce GTX 680 will deliver about 20 per cent more performance than an HD 7970 and will cost around £400 for a single card. Or you can go for a dual GPU GTX 690 at £900 that will deliver similar performance to HD 7990.
For a truly bonkers PC you also need to consider the GTX Titan which uses a single Kepler GPU to deliver similar performance to the dual GPUs in GTX 690. It costs £900, however, and the workstation orientation of the GPU means it is stronger in some benchmarks and games than theGTX 680 or 690, but weaker in others. But let's not dwell on common sense and logic. GTX Titan is utterly bonkers and therefore it is my GPU of choice. ®