Original URL: http://www.theregister.co.uk/2013/03/15/samsung_galaxy_s_4_rollout/
Samsung's new Galaxy S 4: iPhone assassin or Android also-ran?
Software distinguishes 'a life companion for richer, simpler life'
Posted in Phones, 15th March 2013 03:37 GMT
After weeks of hypegasmic drum-beating at a level unusual for the South Korean consumer-electronics giant, Samsung unveiled its Galaxy S 4 at an embarassingly over-the-top, show-biz–infused gala on Thursday evening.
Held in New York City, the extravaganza overshadowed the fact that the Galaxy S 4 appears to be a fine Android phone, and although it may not put all other Android mobiles to shame, it does make Apple's iPhone 5 look like yesterday's newspaper.
No matter how you spin it – be you fanboi or fandroid – Tim Cook & Co. have a heavy-hitting competitor on their hands, despite some pundits' predictions and Apple-executive smokescreening.
Before we dip into the Galaxy S 4's software-based advances – and knowing that Reg readers are more interested in fact-based geekery than razzle-dazzle glitziness – let's first roll through Samsung's new smartphone's tech specs, beginning with the should-be-obvious fact that it's based on Google's Android OS; version 4.2.2 Jelly Bean, to be exact. That base system, however, has been enhanced with a host of Samsung-only features which we'll get to in a moment.
During the event, no mention was made of the processor running the Galaxy S 4, but in the company's release detailing the handset's specs, Samsung says that the phone will come in two basic versions, a 1.9GHz quad-core and a 1.6GHz "Octa-Core", to be sold in different markets.
That quad-core processor's provenance is unknown at this moment, but it may be a 1.9GHz version of the 32nm Exynos 4 Quad SoCs in the Galaxy S III and Galaxy S III LTE, which have four ARM Cortex-A9 compute cores.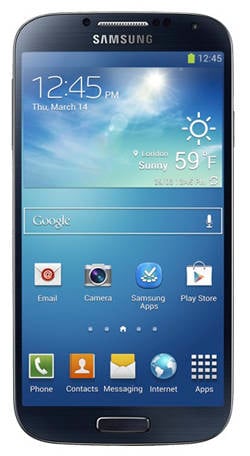 That's S 4, not S4 nor S IV
On the other hand, it may be, as Xbit reported late last month, a Qualcomm Snapdragon 600 APQ8064T, which contains four Qualcomm Krait 300 compute cores, an Adreno 320 GPU, and other SoC niceties.
The "Octo-Core" processor's daddy, however, needs no paternity test: that would be Samsung's new Exynos 5 Octa application processor. This 28nm SoC is based on ARM's "big.LITTLE" architecture, which in the case of the Octa marries four Cortex-A7 cores to four Cortex-A15 cores, with the lower-power A7 cores handling such mundane matters as email and web browsing, and the more-muscular A15 cores kicking in when more oomph is needed.
Imagination Technologies has confirmed that GPU duties in the Exynos 5 Octa are being handled by its PowerVR SGX544MP3 IP – an interesting step away from ARM's Mali-400 MP4 GPU in the 32nm Exynos 4 Quad.
The Galaxy S 4 has 2GB of LPDDR3 RAM, along with 16, 32, or 64GB of storage that can be supplemented by up 64GB of storage on a microSD card. The number and type of sensors aboard the S 4 is impressive: accelerometer, RGB light, compass, proximity, gyroscope, barometer, temperature, humidity, and gesture – more on that last one later.
As for network connectivity, the Galaxy S 4 covers the waterfront with a veritable alphabet soup – integers included – of available services:
2.5G (GSM/GPRS/EDGE): 850/900/1800/1900MHz
3G (HSPA+ 42Mbps): 850/900/1900/2100 MHz
4G (LTE Cat 3 100/50Mbps): up to 6 different band sets, depending on where it's being sold
Local wireless connectivity includes, as is to be expected in any modern handset, 802.11 a/b/g/n Wi-Fi. But in a bit of a pleasant surprise, zippy 802.11ac is also included. You'll also find NFC, Bluetooth 4.0, GPS (GLONASS), and an IR LED for use as a remote control.
All of this hardware – and the display – is powered by a 2,600 mAh battery. It's removable, so you can bring along a spare should you plan to be firing up all eight cores of the Exynos 5 Octa for any extended amount of time.
The Galaxy S 4's display is – on paper, at least – a high-res stunner. The 4.99-inch Super AMOLED panel (which, of course, was touted as "a full 5 inches" during the consumer-focused rollout event) has a pixel resolution of 1920-by-1080, which produces a mind-boggling density of 441 pixels per inch.
That display, protected by Corning's Gorilla Glass 3, sits nearly edge-to-edge in the Galaxy S 4's polycarbonate case, which is 136.6-by-69.8-by-7.9 millimeters, and which weighs 130 grams. Although the event's hosts repeatedly reminded us of how the S 4 is lighter and thinner than its predecessor, the differences are slight – the now-superceded Galaxy S III is the same length, 0.8mm wider and thicker, and 3 grams heavier. We'll let you decide whether those differences are worth shouting about.
Oh, and the case – with "finish and craftsmanship [that] are really something to see and feel" is available "in two stunning colors: black mist and white frost." That'd be black and white, to those of us who don't shout marketing brouhaha over the Radio City Music Hall–filling musical stylings of "Kim Scharnberg and the fantastic Broadway Orchestra!"
Now, about that software...
The handset's main camera has received an upgrade from that of its predecessor as well, with a bump up to 13 megapixels from the 8 megapixels of the S III. The new camera's capabilities lead us to the software features that Samsung's head of IT and mobile communications, J.K. Shin, assured his audience will make the S 4 "a companion that helps us experience life to the fullest; a life companion for richer, simpler life."
Hype aside, Samsung's camera-support software does offer a few interesting features. For one, a new Dual Camera function enables you to shoot video or stills using the front-facing 2-megapixel camera and the main camera simultaneously, and to switch between them at will. Similarly, the Dual Video Call capability allows you to use both cameras while making a video call – the person with whom you are videoconferencing can see both you and what you're looking at.
The camera's software includes a dozen different image-manipulation modes, including the ability to blend multiple images into a single time-lapse Drama Shot – nice if you're working on your golf swing – and an Eraser ability to selectively and automagically edit people out of images.
"So theoretically, if I were taking a picture of my wife and her mother entered the shot, I could get rid of her?" one presenter asked another. When told that he could, he snarked, "But I can only erase her from the picture, not from my house, right?"
That's the cymbal-crash level of humor that peppered the evening's event.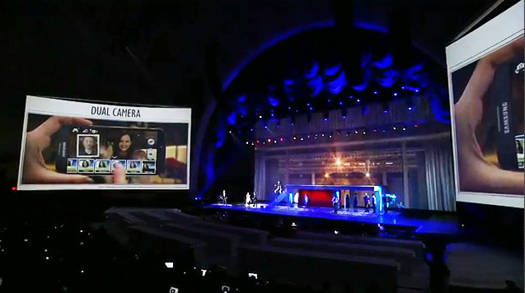 Just a small, intimate gathering among close friends
The camera and image-management software also allows you to create and share albums on the fly, or allow them to be automatically created by timeline, event, or geo-tags, and to order hard-copy albums through Samsung's partnership with Blurb.
Sharing was also emphasized in a demo of the "new and improved Group Play feature" that lets users of up to eight Galaxy S 4s share music, photos, documents, game-play, and the like from phone to phone without a Wi-Fi or cellular network connection. The Share Music part of Group Play even lets you distribute surround sound speaker-by-speaker among five phones – the subwoofer signal of 5.1 surround sound, presumably, would be patently absurd to attempt to play on a Galaxy S 4.
One other audio-centric feature of the S 4's software: if you have an internet connection, Wi-Fi or cellular, S Translator will provide a near-instananeous translation of what you speak or type into the phone, and will then translate the response of the person with whom you're conversing into your language. Both text-to-speech and speech-to-text are supported, and S Translator understands nine languages – "ten if you include American English and English with a British accent" – including French, German, Italian, Latin American Spanish, Chinese, Japanese, Korean, and Brazilian Portugese.
A related technology, Samsung Optical Reader, will scan a document and provide a translation. Or, for that matter, it can merely read the document itself and turn it into text for messaging and the like.
As The Reg reported last week, the Galaxy S 4 will also allow you to scroll pages by flcking your eyes down the display – Samsung Smart Scroll – and can pause videos when you look away – Samsung Smart Pause. When reading, you can choose to simply tilt your Galaxy S 4 to turn a page.
There's also proximity-induced Air View previewing of emails, images, and the like so that you don't have to actually touch the display, you merely need to wave at it. Air Gesture that lets you change music tracks, scroll text, or answer the phone by waving your hand – although exactly at what distance wasn't made clear.
All these features – plus Samsung Knox dual-identity B2B security, in-car–specific features, a pile o' accessories, health-monitoring doodads, IR remote capabilities, and more – demoed well, but long experience has taught us that demos are not to be taken as gospel. No new capability, however, inarguably catapulted the Galaxy S 4 over other top-end Android-based phones such as the HTC One, Google Nexus 4, or whatever phone you've chosen to grace your pocket or purse.
But a more interesting question in terms of the market-share wars is whether the Galaxy S 4 will enable Samsung to coax a hefty herd of users out of the iPhone 5's walled garden after it begins to ship in late April. The Reg's answer to that billion-dollar question is a firm, unequivocal, "It depends."
Sorry, but that's as unambiguous as we can honestly be today.
One size emphatically does not fit all
The Galaxy S 4's Exynos 5 Octa processor will likely outperform the iPhone 5's dual-core Apple A6 chip – we'd be gobsmacked if it doesn't – but to many users, pure processor power is not a game-changer since they use their smartphones mostly for email, simple browsing, casual games and ... oh, yeah ... phone calls. In that usage model, the Octa's Cortex-A7s are likely to perform as credibly as the iPhone's A6.
Then there's the Galaxy S 4's 5-inch, 1920-by-1080 pixel, 441ppi Super AMOLED display versus the iPhone 5's 4-inch, 1136-by-640 pixel, 326ppi "retina" display. We'll have to see the AMOLED's brightness, contrast, and viewing angles before we're able to adequately compare the two, but it's obvious that Samsung offers more display acreage than does Apple.
But is more always better? For many, yes, but for others a smaller, more-compact display is more easily navigable in one hand, more pocketable, and thus preferable. Many users have no need for a video screen nor a game machine.
Which leads us to overall size and weight. The Galaxy S 4 is marginally thinner and lighter than the S III, but still a bit heftier than the iPhone 5. There's really no big difference either way, to be frank, so we'll call that a draw. The iPhone 5 is lighter by about an ounce, but you'd have to be quite the delicate flower to really care.
Camera? The Galaxy S 4's main camera pumps out 13 megapixels, while the iPhone 5 is limited to eight. Here again, though, numbers can be deceiving. As any shooter will tell you, more megapixels are all well and good, but it's the lens assembly, image sensor, and image-processing firmware that make all the difference.
Until we see side-by-side, controlled comparisons of Samsung and Apple's image quality in a wide variety of lighting conditions, and in shooting scenarios that stress such geometry challenges as pincushioning, it's simply inappropriate to say that one camera is better than the other.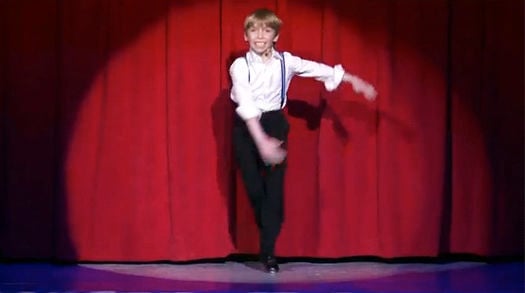 When planning a technology event, would you include a tap-dancing eight-year-old? Thought not.
Then there's software – both operating system and apps. Truth be told, we're of the firm opinion that as much as any fanboi or fandroid loves to flash their new shiny-shiny hardware to impress their friends, it's the software that makes a smartphone relationship last – that, and the amount of apps in which you have already have invested for your platform of choice.
After what we saw on Thursday, in terms of features and – to coin a term, "shareability" – the Galaxy 4 S makes the iPhone 5 look like yesterday's news. It used to be that we could confidently predict that the next version of iOS – that would be iOS 7, likely to be revealed mid-year – would be a solid step forward, but after recent relatively tepid releases, not to mention the oft-mentioned crap Maps app flap, we're not so sure.
But when all is said and done, software and "gotta have'em" features are simply matters of taste and preference. Sure, one can wave useability studies about, trumpet number-of-clicks-to-task statistics, or prattle on about nifty new features – even, in Apple's case, crappy ones such as Siri – but those who champion iOS over Android (and vice versa) are really championing their own personal taste over another's.
Your Reg reporter, for one, couldn't care less about the camera tricks that the Galaxy S 4 can perform. But you, dear Reg reader, might find the idea of a time-lapse Drama Shot the proverbial cat's meow. And we'd both be right.
So here's a radical thought, and one that's likely to generate a bit of heat in Comments: if you happen to prefer Samsung's offerings to Apple's – or vice versa – more power to ya. For chrissake, iOS and Android fanatics, it's just a frickin' phone.
As the late, great, megalomaniacal visionary Steve Jobs – on one of his better days – once said when Mac addicts fumed at Bill Gates, the Great Satan, "We have to let go of a few things here. We have to let go of this notion that for Apple to win, Microsoft has to lose." So it is with Android and iOS, Samsung and Apple, the Galaxy S 4 and iPhone 5.
Now if only that type of thinking would take hold in the executive suites of Cupertino, California, and Suwon, South Korea. ®