Original URL: https://www.theregister.co.uk/2013/03/15/game_theory_playstation_4_aliens_colonial_marines_tomb_raider/
Trip the fight fantastic
Tomb Raider, Aliens Colonial Marines, Crysis 3, Metal Gear Rising: Revengeance and more…
Posted in Personal Tech, 15th March 2013 10:04 GMT
Game Theory After a gap of five weeks or so since my last column the games industry has suddenly become a whole new animal. The next generation - well, Sony's at least - has been revealed, and games publishers are finally able to talk about developing for a new breed of consoles without resorting to coded, barely voiced communications.
It's here where we start then, before plumbing the depths of recent releases that read like a who's who of major franchises, even if one or two are starting to grow a little whiffy.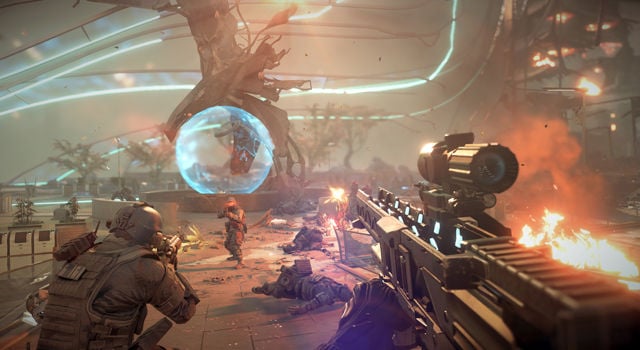 Killzone: Shadow Fall
If you've been living in a lead lined cave for the last few weeks you might just have escaped news that Sony has unveiled the PS3's successor.
The PS4 certainly looks a step up in terms of horsepower - though, from the footage shown, its capabilities are perhaps not beyond the remit of a generously crafted PC. It also looks to offer the equivalent of a Swiss army knife as a controller, the slightly heavy-looking DualShock 4 pad coming equipped with seemingly everything but a power glove.
Despite the inevitable hooting and hollering for the likes of Killzone: Shadow Fall, Infamous: Second Son, Drive Club, Destiny and Watch Dogs, it was the Media Molecule and Jonathan Blow sections of the presentation that really held my attention.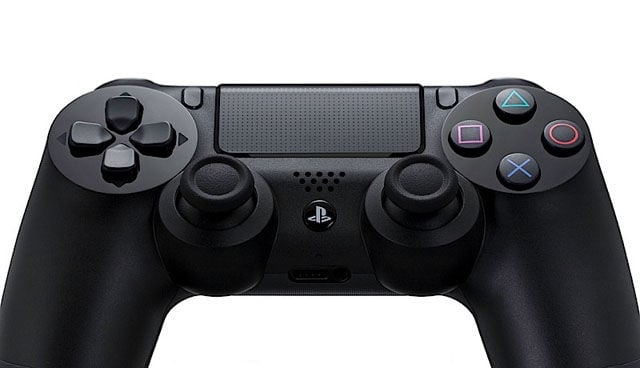 DualShock 4: the Swiss army knife of controllers?
Media Molecule's Alex Evans appeared on stage to push his vision of a "creative console". The PS4 is apparently powerful enough to allow users to "create our dreams" in a similar way to his studio's LittleBigPlanet franchise. He illustrated the point with a demonstration of players carving sculptures, before conducting a puppet show of sorts with a shake of the PS Move. A little far-fetched perhaps, but an idea that moves us beyond what we currently think of as a videogame.
Jonathan Blow, he of Braid fame, also graced the stage to showcase his next project, ironically enough after the explosions of Killzone had barely finished shaking the room. The Witness, a whimsical study of the 'a-ha' moment as he put it, shows that even in this next generation of gaming the enterprising small games studio might still stand shoulder to shoulder with the big boys.
That Sony would show off graphically impressive first-person shooters, driving games and sandbox action games at its PS4 announcement was inevitable. The fact that said games looked to be peddling the exact same gamplay as we're currently used to seeing, however, was a tad disappointing. Credit to the likes of Evans and Blow then for daring to show us something different.
Aliens: Colonial Marines: the wrong kind of bug hunt
How can it be that Gearbox got Aliens so wrong? James Cameron had all but made the videogame himself by portraying Ridley Scott's creature as but one of a hive of intelligent and relentless nightmares, from which instant death was the most merciful escape.
He was even generous enough to throw in "ultimate badass" future marines - best not call them space marines or else Games Workshop might sue - equipped with shotguns, pulse rifles, sentry turrets and more. Next he gave these hot-headed jarheads movement trackers, complete with the most terrifying heads-up display and bleep sound ever to grace film.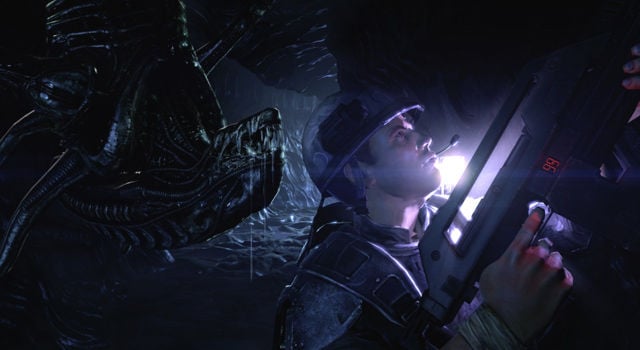 'There's nothing back here'
But, rather than craft tense standoffs versus these lithe, cunning adversaries, Gearbox have treated us to xenomorphs without any semblance of intelligence. And, copout of copouts, they've even thrown enemy marines into the mix, who think nothing of charging down corridors towards your stream of hastily fired bullets. Not the most auspicious of starts to a FPS then.
That's not to say you won't die - and often on higher difficulty settings. The sheer numbers of enemies, coupled with porous cover and aliens that sink into the glitchy scenery will see to that. But never will you be out-thought, or out-manoeuvred, which is more the pity.
Close encounters
The scenery clipping is far from the only bug too. As sentry turrets materialise out of thin air, enemy grunts rush blindly past you - presumably because you've reached a point in the mission without tagging their trigger point - and pressurised containers explode without damaging anything within their vicinity.
And though such issues may be fixed via patches, that won't cure Colonial Marines' most unforgivable flaw: that the xenomorphs here have been cursed with staccato movement, the very opposite of the sinuous, fluid flexibility that was so terrifying in the movies. Perhaps the most damning criticism to be made is that even the 'greasy' Alien: Resurrection xenos looked better than this collection of cardboard cut-outs.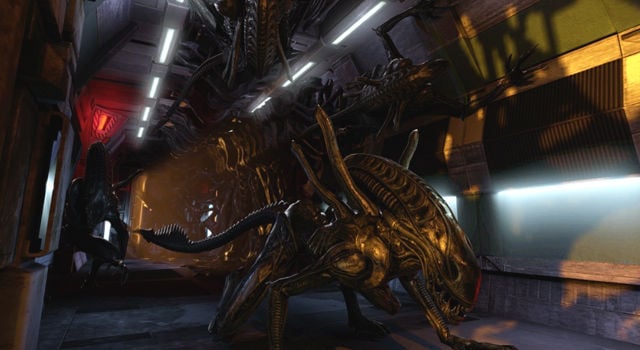 Ultimate killing machine? Not in this game
The rest of the game looks much as if it has walked out of the PS2 era too, a problem compounded by bland environments and identikit bad guys. No wonder the preview events showcased the PC version which, while still less than stunning, is at least slightly better looking.
I'm not suggesting that Gearbox went into this to make anything but a good game, but six years of indecision, a constantly shifting release dates and seemingly a loss of direction has unfortunately turned the product into something to lament. After all, in a similar way to how we're now stuck with Prometheus as the "definite" precursor to Alien, we're now stuck with this as the gaming's official sequel to Aliens.

Dead Space 3: a story of assumed identity
Following hot on the heels of Aliens: Colonial Marines was Dead Space 3, a game which most had long suspected was set to take Visceral Game's claustrophobic horror in a new direction.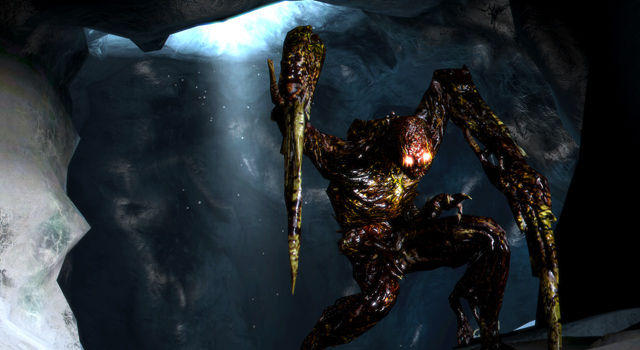 Oh eye
Sure enough, that's was exactly what we got, with long-suffering engineer Isaac Clarke being once more lured into battle against the corrupted necromorphs. His affair with the mysterious Marker – which set loose his tormentors in the first place – coming to some kind of conclusion in the process.
It offers co-op mode for a first time, as well as human enemies equipped with guns and even locates the action within more open environments, Clarke taking a trip to a snow-covered planet during large sections of the game. These foreign concepts twisting and transforming Dead Space 3 into something resembling Uncharted with zombie aliens, a marked departure from the atmospheric survival horror of before.
For that change, the game was attacked rather ferociously by the gaming press. While I can see why some criticism was due, there comes a point when you must judge what's on the disc - not what you hoped was on the disc. After all, we don't lambast Aliens for not being similar in concept to Alien do we?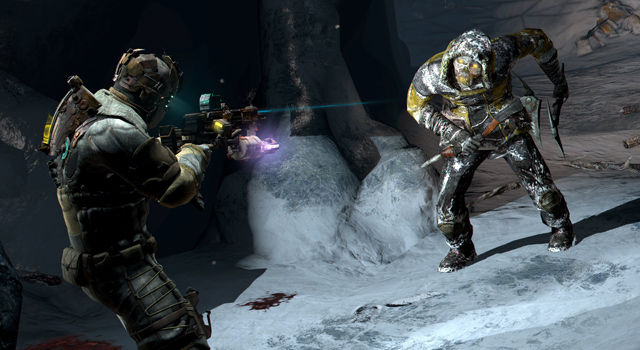 Light him up
With that in mind I'd like to put it on record that I had a good time with Dead Space 3. Not quite as good a time as I had with its predecessors admittedly, but by upping the tempo while preserving the series' seamless design, Visceral have pulled off an action horror which walks all over the likes of Resident Evil 6.
The only downsides are a reliance on unoriginal boss fights and puzzle sections to which the solution is to find three keys for three slots – a gameplay mechanic that the industry really needs to start moving away from if you ask this grizzled gamer.

Crysis 3 out for an easy Prophet
Welcome back to New York. This time covered in shrubbery and once more featuring a Nanosuit-clad super soldier, though now sporting a bow and arrow – something of a theme this month.
The cynical ones out there - you know who you are - might say that Crysis 3's release confirms Crytek's milking of its existing CryEngine 3 engine for all its worth. That's before CryEngine 4 emerges on next-generation systems with the inevitably of night following day.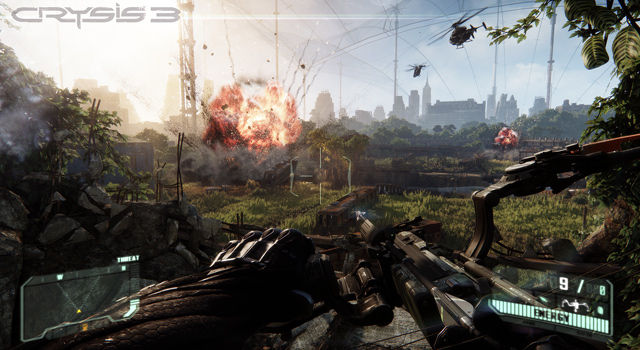 Boom, boom, shake, as they say, the room
If I'm being overly harsh it's because this is a growing issue. The likes of God of War: Ascension, Gears of War: Judgement and quite possibly Assassin's Creed IV: Black Flag all following suit. The major publishing houses each looking to squeeze just one more game out of their existing setups before the licensed technology gets usurped by the next evolution in game design.
Owners of ninja PCs will no doubt scoff and claim that their machines are already next generation, and they might well be right. But does it mean that just because your game looks like the canines gonads you're not also deserving of a new experience?
As I've alluded to already in my PS4 announcement breakdown, there's little to be wholly enthusiastic about when charged with playing through almost identical situations as before. And here you're asked to pay full whack for the privilege too.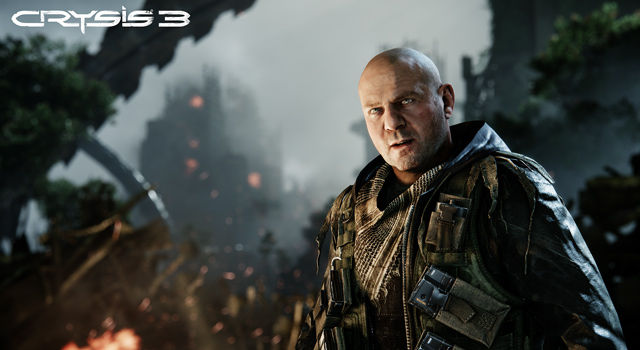 'Hair are your aerials to the cosmos. This is why bald-headed men are so up tight'
For what it's worth Crysis 3 does offer a perfectly adequate contemporary shooter action, with a decent mix of interior and exterior sections. There's also a quite lovely unveiling of the overgrown New York City in which you'll while away the hours.
The returning hero, Prophet, feels like a real force too. His Nanosuit's armour and cloaking modes adding tactical layers to encounters as before. Even if the bow and arrow, a weapon Prophet can fire yet still remain cloaked, feels like the unnecessary addition of a studio clutching at straws.
However, the feeling that nothing has progressed is hard to shake, with the game relying on all the same mechanics of cover, energy recharge and enemy AI as previously. As an add-on to Crysis 2 this might have passed muster. As a full-on sequel, however, there is simply not enough new material to recommend purchase.

Tomb Raider reboot leaves Lara at odds with herself
The Tomb Raider reboot throws a younger Miss Croft onto a mysterious island straight out of Lost - then proceeds to get her all dirty as she wades through mud, blood and God knows what else in a bid to survive.
Crystal Dynamics clearly had one eye on Uncharted during production – Lara's adventure borrowing much of the climbing and platforming approaches that Naughty Dog perfected during the crafting of its masterpiece. Where Tomb Raider ups the ante, however, is in its camera angles: close-ups and tracking cameras infuse a sense of claustrophobia as Lara squeezes through gaps and evades the island's unfriendly locals.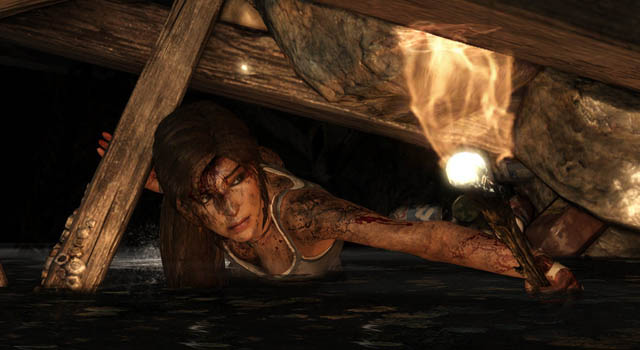 In tight space no one can hear you squeeze
The general flow improves upon Uncharted too. Lara's shifting environment ensures that she's forced to move ever onwards by distinct changes of pace. One minute she's balancing on a bridge, say, before the next sends her plunging down a waterfall – the action ratcheting up from walking speed to full-on sprint in a beat.
So far so good. The problem comes when Lara starts to encounter enemies on a regular basis. As you play she'll soon come into possession of the standard tools for killing: a bow, firearms and even a hand axe for those close encounters. But it's how the combat is implemented that holds her adventure back from greatness.
Stick it up your Janus
In the midst of a game where we're meant to believe the protagonist has agonised over the death of the first human she's ever killed, it's something of a stretch to then have her suddenly forget all about that and happily smash in the skulls of every person she comes across in a blood frenzy.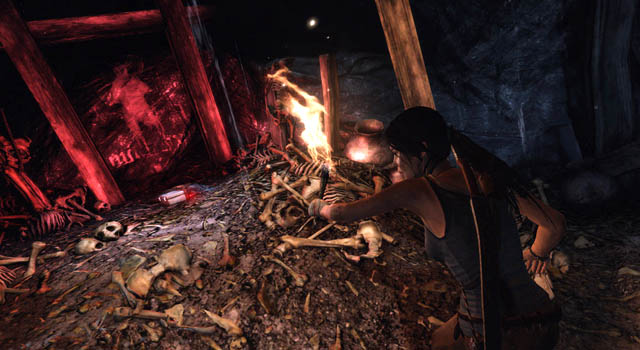 Unlawful charnel knowledge
The schizophrenic Lara then switches back to worrying about her sense of self-preservation, despite the fact she's clearly got the killing power of the Terminator. It presumably stems from a disharmonious blending of gameplay and script, the gameplay director only being brave enough to keep the action realistic for so long before gifting Lara the equivalent of superpowers.
I'm positive that most won't see a problem. Games are games after all and we expect to suspend a certain amount of disbelief while playing. But when story and action are so contrasting it's hard not to wonder why and how the design team failed to spot such a glaring contradiction. Especially when you consider that a stronger focus on non-lethal stealth would have benefitted both the experience and the believability...

Revengeance is a dish best served cold
And so we come to Metal Gear Rising: Revengeance, my pick for best game of the last few weeks. Not only because it's so darn cool - just look at that name - but because it shows how an established series might be reimagined by a different developer and so transplanted into a whole different genre. This is something I'd like to see more of by similarly brave publishing houses.
That the developer in question is Platinum Games should tell you the type of reimagining Revengeance is. The game going down the Bayonetta route as it places the returning Raiden at the heart of a game that swaps Metal Gear Solid's stealth for outrageous action.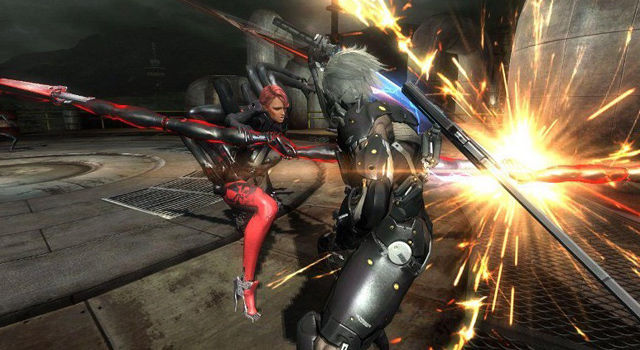 Rule one: never fight in high heels
At its heart is Raiden's sword, the samurai (by now more machine than man) capable of slicing his enemies apart limb-by-limb. Indeed harvesting rival cyborg's cleaved parts forms a large part of the action, hands yielding ID tags and other innards replenishing energy.
Successfully parrying attacks is the key to the game, a good defence opening hostiles up to more powerful attacks, including the chance to take advantage of Raiden's attuned senses to gain the illusion of slowed time where katana blows can be aimed more accurately.
As was the case in Bayonetta, the challenge is to combine moves, with practiced players soon cutting a trail of destruction through enemy lines. And, unlike the contrary Tomb Raider, this game's plot even sees fit to challenge such a thirst for blood. The touch of Metal Gear creator Hideo Kojima is apparent during scenes where Raiden considers the rights and wrongs of bloody vengeance.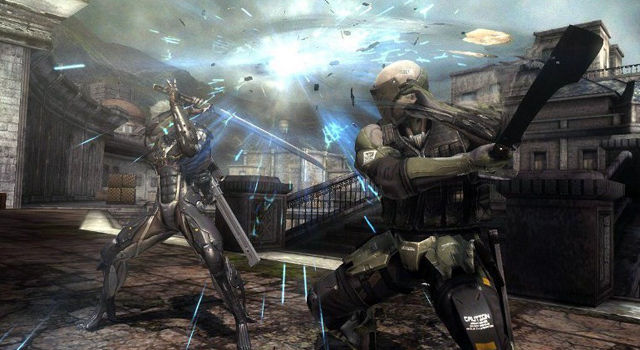 Spark keeper
Revengeance isn't without its issues. Enemies could do with having more model variation, the camera is a tad cumbersome - though I like to think of that as Raiden having a blind spot - and the game, while not as short as some gamers would have you believe, certainly could have used some added scenes.
Repeated play-throughs do prove rewarding, however, with the combat so frenetic that fights rarely conclude in the same way twice. Perseverance will also hone your own technique to quite ridiculous levels too, and for the first time since Bayonetta - with the possible exception of DmC: Devil May Care - you're left with an action game that provides both ingenuity and a genuine challenge.
It's a return to form for Platinum Games following the disappointing Anarchy Reigns - and a warning shot to genre pretenders that Bayonetta 2 is coming to get them.