Original URL: http://www.theregister.co.uk/2013/03/14/antique_code_show_simcity_4/
SimCity 4
Well, burgher me backwards
Posted in Personal Tech, 14th March 2013 12:04 GMT
Antique Code Show There's a prevalent feeling throughout the whole of SimCity 4 that this is the game that Will Wright and Maxis would have liked to have made from day one. That is if graphics technology and PC hardware had been up to the task when the original SimCity was in development.
The 2003 release was expanded in both the macro and the micro sense, so creating the fullest experience yet as mayoral and godly powers were blended. On the one hand players were suddenly handed the power to craft mountains the size of Olympus Mons, valleys as wide as the Red Sea and given free reign over multiple regions of land to develop upon simultaneously. On the other, Maxis' cogs and gears driving the simulation underneath the hood grew ever more complex.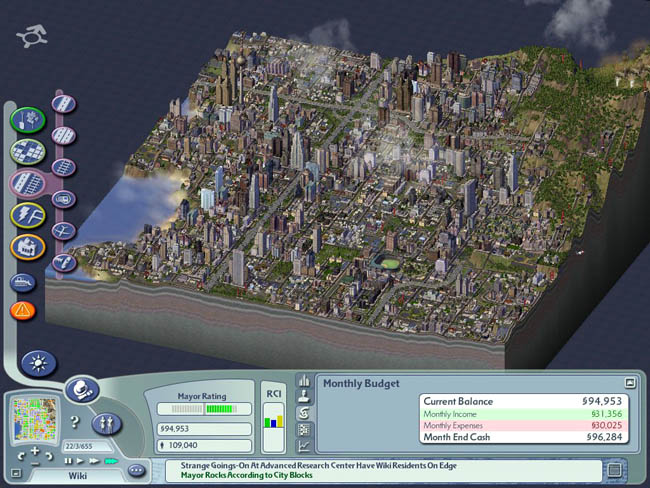 Superiority complex: SimCity 4 had a more detailed engine and bigger ambitions
It was here, as an unceasing yet largely unnoticeable torrent of data was generated, that SimCity 4 really sprang into life. From plotting the navigation of a removal van through the streets, to calculating whether an industrial plot developed into a hi-tech science lab or a pollution spitting smelting plant, all was controlled by this invisible database of numbers and percentages.
Such an abundance of constantly processed information was also discernible in the graphical overlays that used a traffic light like system. Greens and reds allowing you to instantly assess where the placement of a park or school might have the greatest effect. Of course similar systems were in place before SimCity 4, but here they just seemed that bit more relevant, and the information offered not only deeper but also easily more read and understood.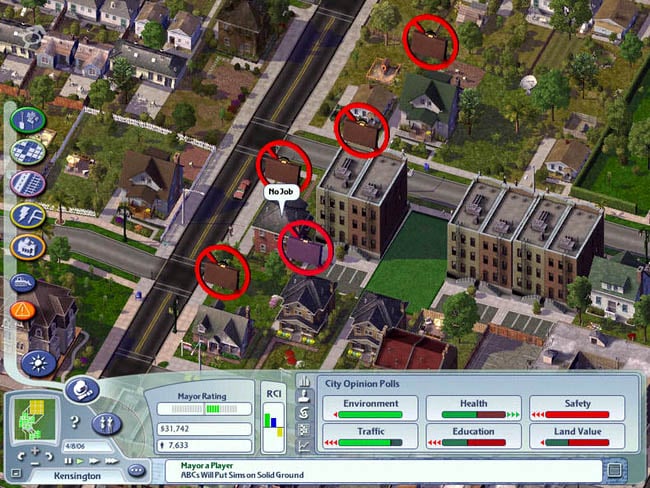 Ah, social commentary...
It all made for a more tangible feeling of ebb-and-flow as the passing of time made even your smallest improvement have a big impact on your creation's future composition – the butterfly effect in action. Your city didn't just develop and expand as in earlier games, but it actually responded, and in predictable patterns that the series' prior entries just didn't convey.
The move from the old-style fixed 2D engine to a more flowing 3D engine was a further boon, especially when it came to creating eye-catching natural scenes for your population to bask in. Disasters too were overhauled, with tornadoes, volcanoes and giant robot attacks more 'authentic' to behold. The day-to-night cycle meant that players got to see their towns lit up for a first time, so making the push for skyscrapers all the more rewarding.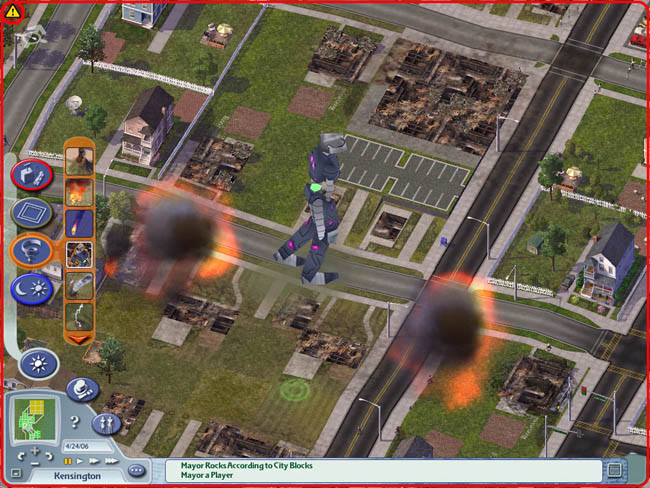 Robot wars
Maxis also found time to add multiple styles of buildings: Chicago circa 1890, 1940s New York, 1990s Houston and contemporary European all being taken as inspiration. Whether you stuck with one type of building, or let the game pick from all combinations, was up to you. But the opportunity to create identical copies of real life cities was there to be had for anyone with enough talent - and time - at their disposal.
An exhaustive tutorial greeted the first time mayor with guides to zoning, traffic management, taxation and redevelopment of existing cities. The overlying message being to force home that though SimCity's usual mayoral aspect was there, it had been bolstered with total control over the very shape of the land.
Any municipal of yours...
Flipping between the two main modes of play, 'God' and 'Mayor', quickly became second nature. God mode was only really useful on undeveloped regions, but by crafting mountains, valleys and lakes, before seeding them with your choice of trees and wild beasts, you could shape the land in your own image. A move designed to encourage affinity with the region before a brick had even been laid.
Once happy with your masterpiece it was over to Mayor mode to begin the usual SimCity building processes. The ubiquitous residential, commercial and industrial zones were all there as you might expect, but each had altogether more user-friendly tendencies. The street layout of zones was planned out for you automatically for example, while individual house plots were marked more clearly than before, even containing a helpful arrow to indicate which direction they faced.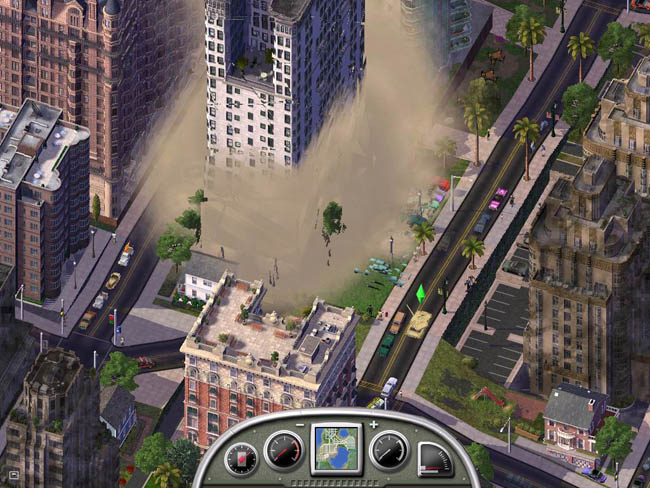 It ain't like dusting crops, boy
It was a small change, but an important one, as the city took shape organically and saved the player from dragging the cursor about the city in the unceasing chore of road building. Not that roads were made redundant – highways and avenues still needed to be designed and their placement considered carefully – but you were spared building every single street, across every single region.
Taxation was given a similar overhaul, as every conceivable financial tweak was possible in the struggle to balance the budget. Education, fire response, police coverage and health services could all be adjusted to suit the needs of your (hopefully) growing populace, with coverage rings pointing out exactly where such facilities would reach.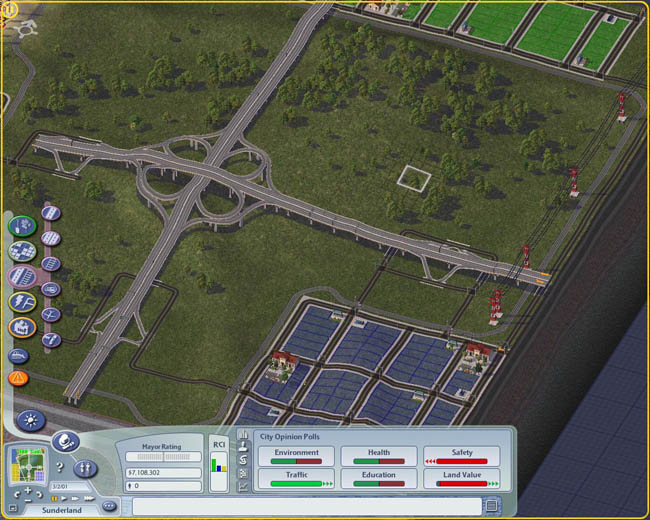 Road to nowhere
Maxis even linked SimCity 4 in with the hugely popular The Sims – 'My Sim' mode, as it was known, letting you transplant your own sims (or random ones if you run out) into your city's homes and properties. From then on you could stalk them at your leisure, watching them work, rest, play and even die – their heirs assuming the deeds to the house in an ever growing family tree of descendants.
Truth be told, it was little more than a gimmick which, like the ability to drive around your city – an add-on provided by the Rush Hour expansion – won't be high on your priorities list. Especially true when you consider how rich and entertaining the actual city building component was.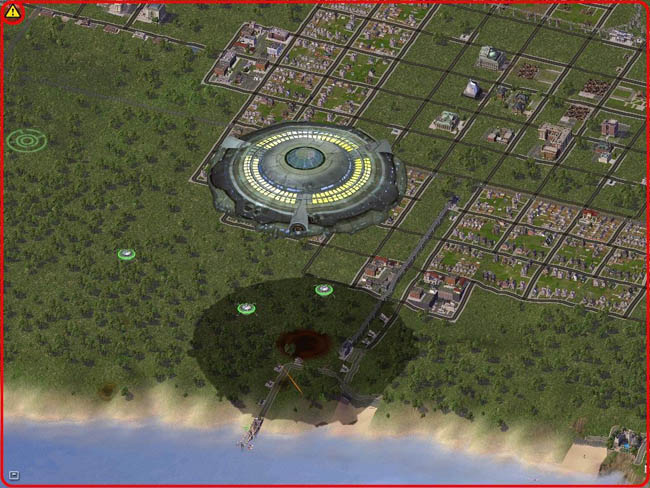 And still no escape from flying saucers
Ultimately it was that quality of entertainment that ensures SimCity 4 remains great to this day. And, now that processing power has moved on by degrees, the engine chugging that dogged its initial release is a thing of the past.
Series fans will have their personal favourites of course - for me it's still the retro perfection that is SimCity 2000 - but, while the new SimCity sorts out its own issues, the fourth in the series still has the qualities to keep budding mayors happy. ®
Release 2003
Developers Maxis / Joseph Knight and Michael McCormick
Publisher EA
Platforms Mac, Windows