Original URL: https://www.theregister.co.uk/2013/03/12/review_roundup_ten_ten_inch_tablets/
Ten ten-inch tablets
When only five-sixths of a foot will do
Posted in Personal Tech, 12th March 2013 12:04 GMT
Product Round-up Does it make sense to own both a smartphone with a 5-inch screen and a 7-inch tablet? Arguably not. I can't think of anything that I can do on my Nexus 7 that I couldn't do equally well on a Samsung Galaxy Note II. Granted, the Nexus 7 makes a perfect partner for my Motorola Razr i, but if I used a Note II as my 'phone' I'd want a Nexus 10 as a tablet. In short, a big phone dictates a bigger tablet.
So, following on from my recent look at the current crop of monster phones, it's time to have a quick shufti at the best big tablets to go with them.
Big here means a tumescent ten inches of technology to stroke and fondle. Before I take a kicking from the pedants, yes, I know none of these tablets are actually ten-inchers. Two have a third of an inch too little between the corners, and eight have a tenth too much. But what's a fraction of an inch between friends?
Putting this list together today rather than six months ago was made a lot easier by the long overdue demise of the Apple-Google tablet OS duopoly. After the misfires that were the BlackBerry PlayBook - if it had sold then, pound-to-a-penny there'd be a 10-inch version by now - and the HP TouchPad, a third alternative was sorely needed.
So say what you like about Windows 8 and RT, at least Microsoft's new swipe-enhanced operating system means that round-ups like this no longer need consist of one iPad and nine Android tablets. Finally some real choice for those who don't like what's on offer from either Cupertino or Mountain View.
Acer Iconia Tab A210

Acer has knocked out so many lookalike 10-inch Android tablets over the years it's well nigh impossible to keep track. The A500, the A510, the A580... how many of you actually spotted the last isn't an Acer tablet but a road linking Manchester and Liverpool? I rest my case. The A210 is, on the face of it, another par-for-the-course 10.1-inch, 1280 x 800 Android tablet but it has two things going for it: price - the 16GB version can be found for £250 if you look hard enough - and a full-size USB 2.0 port.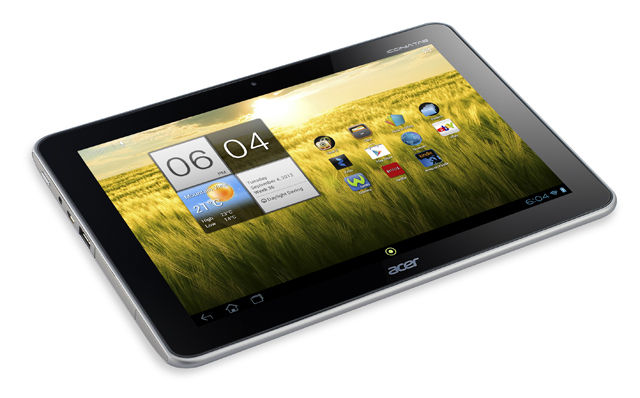 Personally I like the ability to plug in a USB stick or external HDD to watch my video collection without having to worry about adaptor cables and such. There are a couple of other useful hardware touches too, including a physical screen lock switch and covered Micro SD slot. The 3260mAh battery is a bit gutless - you'll get five hours of video playback but no more - and as a device it's a wee bit thick and heavy. But if the price is right, that USB socket makes it worth a look.
Price
£250
More Info
Acer
Apple iPad 4

Unimpeachable build quality, a selection of tablet-optimised apps that's second to none, epic battery life, a screen that you can't level any serious criticisms at, and bricks and mortar support from your local Apple Store that redefines what what we Brits understand by 'customer service'. It really isn't hard to understand why world+dog+fleas wants one of these things even if all they use it for is ebook reading, social networking and browsing the web.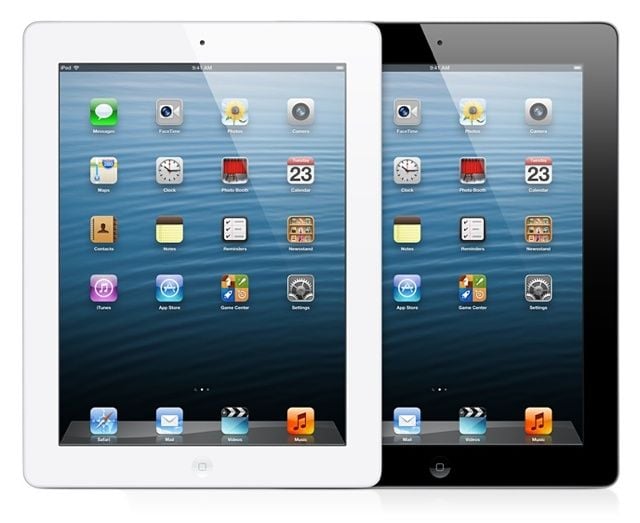 In the negative column, it's locked down tighter than a Tory MP in a massage parlour, it's hugely expensive - prices start at £399 for the 16GB version, though that does at least represent much better value for money than the £269 iPad Mini - there's no storage expansion and Apple's iCloud looks limited to anyone used to Dropbox, Google or Microsoft cloud services. There's no GPS radio in the Wi-Fi version either, though to be fair it's not something Windows tablets offer.
Price
£399-739
More Info
Apple
Archos 97 Titanium

If you want an Android iPad then this is what you buy. With a 9.7-inch, 2048 x 1536 IPS LCD screen, the 97 Titanium matches the iPad 4 pixel for pixel, inch for inch. And thanks to the 1.6GHz dual-core CPU with Mali 400 graphics and 1GB of Ram, it doesn't perform all that differently either. There's only 8GB of storage but there is a MicroSD slot to fix that particular failing, and the OS is reasonably up to date: Jelly Bean 4.1 in near enough stock form. The 5Mp main camera is a bit weak but the 2Mp webcam is well up to snuff.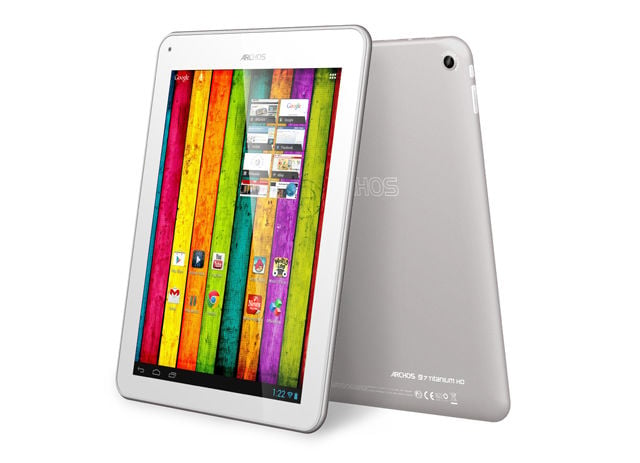 If music and video are your thing, the Archos' media players will play just about everything out of the box, from Flac to 1080p MKV. Naturally for £230 certain sacrifices have been made. The screen, though sharp and colourful, lacks the iPad's oleophobic coating so fingerprints show up badly. The entire device has a rather built-to-a-price feel to it. But of course it has been built to a price, so what do you expect? Credit where it's due, it's thinner than Apple's baby but only 18g heavier. All in all, not a bad effort.
Asus Transformer Infinity

Age has not withered Asus' HD Android tablet one iota. Nearly a year on and it's still the best dockable 'droid tablet on the market, though it's not cheap. The 64GB version with the dock will punch a man-sized hole in £600. Still, at least for your money you are getting something that looks and feels like a genuinely high-end device. And the GPS works properly, which was something you couldn't always say of Asus's Transformer Prime tablet. If fondleslab snappery is your wont, the 8Mp camera is a cracker =- one of the best fitted to any current tablet, in fact.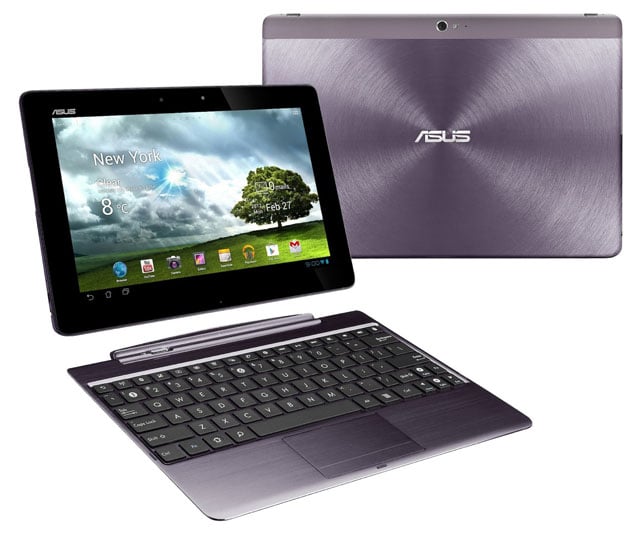 Not only does the IPS LCD screen boast a resolution of 1920 x 1200 so you get the full 1080p banana even when the menu bar is showing along the bottom, but when wound up to 11 it radiates 600cd/m² of brightness which is enough to make the fluid in your eyeballs boil. The 1.6GHz quad-core Nvidia Tegra 3 at the heart of the beast provides a perfectly fluid user experience, and Asus has been reasonably prompt with updates from the launch Ice Cream Sandwich to Jelly Bean 4.1. I'd bet 4.2 isn't far around the corner.
Price
£600
More Info
Asus
Asus VivoTab Smart

Uniquely among tablet makers, Asus has hedged its bets and gone with both forms of Windows 8, using RT for the 10.1-inch VivoTab RT and full Windows 8 for the 10.1-inch VivoTab Smart and 11.6-inch VivoTab. Externally the VivoTab Smart is spiritually akin to Microsoft's Surface, with a magnetic keyboard that talks to the tablet over Bluetooth and no secondary battery. Running Windows 8 proper on an Intel dual-core 1.8GHz Atom Z2760 CPU with 2GB of Ram, the Smart ought to to be a bit of a sluggard but that's not the case: it runs surprisingly smoothly.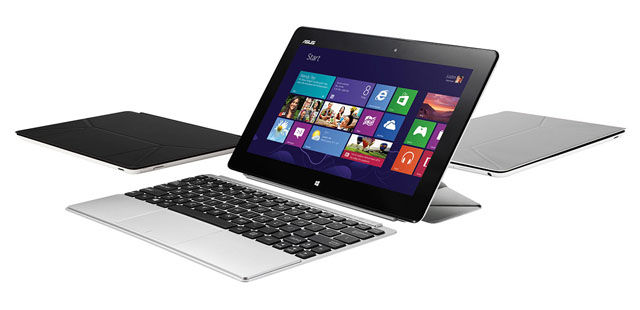 The keyboard and cover-cum-stand will set you back £90 but both are rather clever and well worth having. The keyboard is light and thin but still very pleasant to type on, while the cover part can be folded up origami-style to work as a stand. The screen's resolution is the standard 10.1-inch Windows 1368 x 766 but being an LCD IPS panel it's brighter and rather more colourful than the norm. In fact, it looks and behaves much like the screen used in the Android Transformer Tablet and Prime, which is no bad thing. A 64GB SSD and 8MP main camera are the cherries on the cake.
Price
£399
More Info
Asus
Barnes & Noble Nook HD+

Granted, the Nook HD+ is more an e-reader from the planet Krypton than a tablet but anything with a 9-inch, 1920 x 1280 screen, 16GB of storage and a price tag that's less than £230 has to be worth a closer look. And if you plan on using your tablet mainly for reading it's worth keeping in mind that, at 515g, the Nook HD+ is the lightest tablet here by some margin. With a UI based on a heavily skinned version of Android Ice Cream Sandwich, the HD+ is idiot proof to use and for my money a more pleasent device to spend time with than its arch enemy, the Kindle Fire HD 8.9. Not that we Brits can actually buy the Fire HD 8.9 at the moment.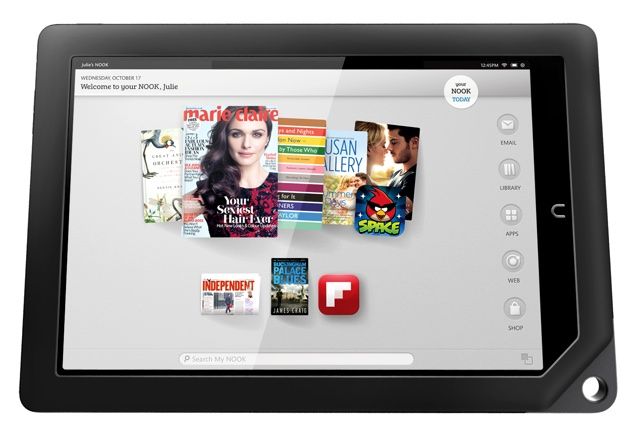 There's no doubt that videos, whether streamed from the Nook store or using Netflix, look good on the HD+'s 256dpi screen though the sound is a bit tinny at higher volumes. When UltraViolet becomes more common, the tablet's built-in support for the online movie locker system will be handy too. The absence of a webcam seems a strange decision though when many folk want to make Skype video calls on their slab. Like Kindle's tablet offerings, you only get the apps Nook wants you to have rather than the whole Android smash, but most of the non-Google apps you are likely to want are present and correct.
Price
£229
More Info
Nook
Google Nexus 10

If you want a shed-load of pixels - 2560 x 1600 or 4,096,000 of them, since you ask - and Android in its purest, no-I-don't-want-water-in-my-whiskey form then this is the tablet for you. And thankfully there haven't been many Nexus 4-style supply cock-ups, so you can actually buy one of the things if you have £320 lying around. With a 299dpi pixel density, the Nexus 10's screen is the sharpest of any tablet here and, thanks to a Samsung-made 1.7GHz dual-core ARM Cortex-A15 chip, it goes like a scalded cat.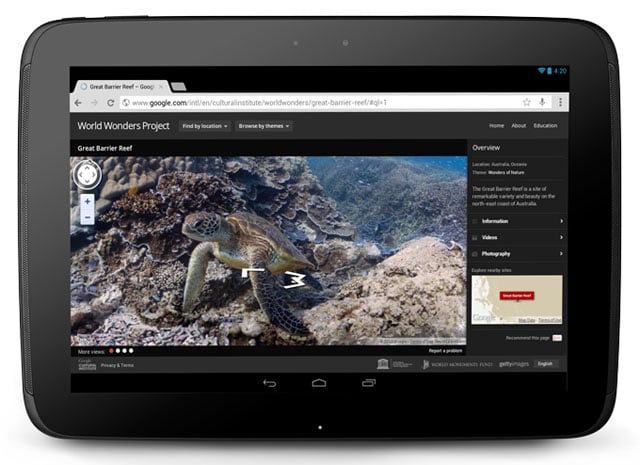 The whopping 9000mAh battery gives iPad-like run times between charges while the rather fine front-facing speakers make it a top notch media and gaming device. The slender but curvaceous profile and matte plastic body make it a more comfortable hold than the sharp-cornered iPad or the super-smooth Galaxy Note 10.1 too. The only serious fly in this otherwise fragrant ointment is the lack of a Micro SD slot. With that in mind, spending the extra £70 for the 32GB version is clearly the clever thing to do.
Lenovo ThinkPad Tablet 2

The first ThinkPad Tablet was an Android affair and though not a bad slate, I always got the impression Lenovo thought Android was a bit below the ThinkPad brand. Looks like I was right because for version 2 Lenovo has ditched Android for full-fat Windows 8. The new tablet is lighter than the old, has a bigger battery and with its Intel Atom Z2760 engine feels faster than the old Nvidia Tegra 3 model too. You get the distinct impression Lenovo has delivered its A-game this time around and built a device it's proud of.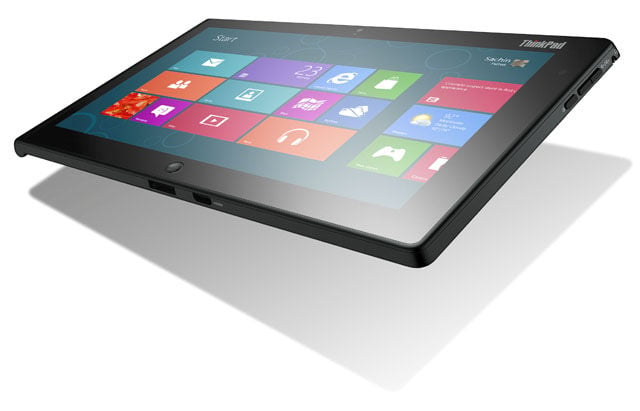 Where the ThinkPad Tablet 2 really scores big is with build quality and battery life, both of which are super, and the accessories. The Bluetooth keyboard is by far the best Windows tablet keyboard around right down to the red ThinkPad thumbstick, excellent trackpad and click bar combo. It has a typing action that feels just like a proper - and very good - laptop. There's also something called the Enterprise Dock which adds three USB 2.0 ports, HDMI and Ethernet to the tablet's single full-sized USB connector. And don't forget the optional Wacom digitising pen, VGA adapter and tailor-made sleeve to keep it all shipshape.
Samsung Galaxy Note 10.1

The Galaxy Note 10.1's big selling point is the Wacom-made S Pen stylus, which brings with it the same nifty writing, drawing and previewing features that it adds to the tablet's smaller brother, the Galaxy Note II. It also supports the same multi-window functionality so you can run discreet apps side-by-side in windows just like, well, Windows. It's not a function that applies to all apps, though, only the ones Samsung has provided support for. Multi-window apps are launched from a collapsable dock that rather jars with Android's fundamental design even when dressed up in Samsung's own TouchWiz UI.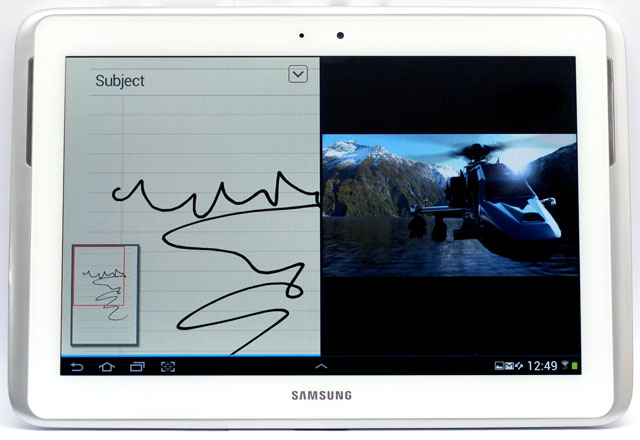 Thanks to a 1.4GHz quad-core Exynos 4412 CPU and 2GB of Ram, the Note is quite the performer. The forward-facing speakers are very impressive, though their placement and indeed the overall design has as much to do with keeping Apple's lawyers in their box as anything else. Sadly, the 1280 x 800 screen is more than a bit vin ordinaire and the glossy plastic body isn't the most pleasant thing you'll ever hold in your hand. If you want the S Pen tech and windows feature it's a solid purchase. If not, I'd suggest the cheaper, purer Nexus 10.
Sony Xperia Tablet Z

Over the years, Sony has tried all manner of odd designs with its tablets - remember the clamshell Tablet P and door-wedge Tablet S?. Fortunately, the new Tablet Z it seems to have settled on some fundamentals: keep it thin, make it water resistant and fit it with a 1080p-capable display. Only 6.9mm front-to-back and weighing a feather-light 495g, the Tablet Z ticks the thin'n'light boxes with a vengeance. NFC ditto, added to allow data exchanged with the Xperia Z smartphone. The Japanese models are LTE-enabled, so fingers crossed for a European 4G version, though there's no sign of one just yet.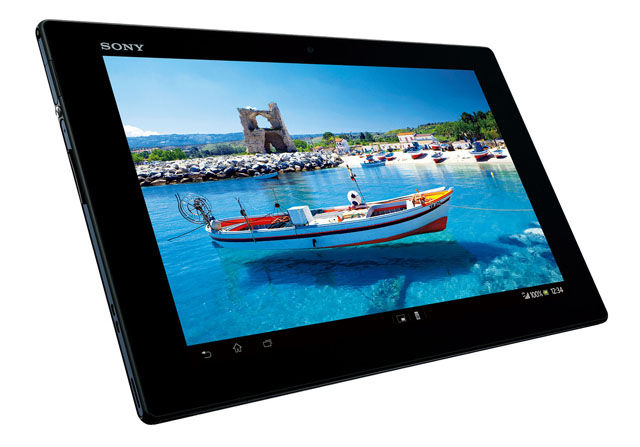 Being a Sony, the flat-sized Xperia Z gives you a very nice 8Mp camera at the back, while the 10.1-inch, 1920 x 1200 LCD screen is set to be a rather snazzy affair driven by the same chippery as Sony's high-end smartphones. Side-mounted stereo speakers are driven by virtual surround sound tech. If you are in the habit of dropping your kit into puddles or sand dunes, the IP57-certified dust and water resistance rating will be an attraction. The 6000mAh battery should give you a decent run-time between charges too. What's the asking price for this wafer-thin slice of fondleslab excellence? Sony isn't saying, but I'm going to guess somewhere in the region of Not Cheap. It'll be out by June.