Original URL: https://www.theregister.co.uk/2013/03/12/nasa_to_announce_drilled_sample_results/
Curiosity's MYSTERY MARS find: NASA reveals THE TRUTH
Strange dust may today unlock secrets of Martian life
Posted in Science, 12th March 2013 15:39 GMT
Pic NASA will show the world today just what its Curiosity rover discovered in its study of the first Martian rock powder sample.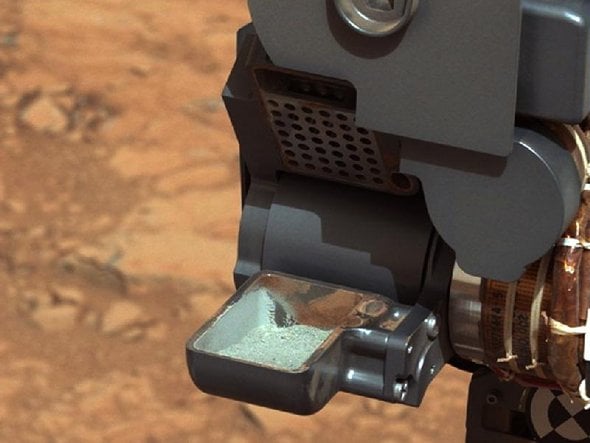 SCOOP! Yes, Curiosity scooped up this soil from Martian surface
The space agency will hold a press conference at 1700 GMT (1000 PDT, 1300 EDT) to reveal the results of the roving robotic science lab's analysis of the grey-green dust it drilled from a rock on 8 February.
The powder is the first of its kind ever collected from Mars as Curiosity is the first rover with a robotic-arm-mounted drill to penetrate the Red Planet's stones.
After the nuclear-powered droid bored into the Martian surface and collected the sample, the resulting oddly hued powder has been through its chemistry and mineralogy instrument and its built-in sample analysis components to figure out what it's made of.
The sample-drilling is part of Curiosity's ongoing two-year mission to see if Mars has ever had or could ever support microbial life. The powder comes from a fine-grained, veiny sedimentary rock named "John Klein" in honour of a Mars Science Laboratory deputy project manager who died in 2011. The rock was chosen because it could hold evidence of wet environmental conditions on ancient Mars.
The press conference will be streamed live on NASA TV. ®