Original URL: https://www.theregister.co.uk/2013/03/11/idc_storage_tracker_q4_2012/
EMC rakes in more and more storage biz, followers fiddle feebly
Big Blue in second place with less than half EMC's biz
Posted in Storage, 11th March 2013 22:04 GMT
EMC continues its seemingly inexorable raking in of more and more storage business, according to the trackers at IDC, which also places most other mainstream players far behind the global juggernaut.
IDC's Worldwide Quarterly Disk Storage Systems Tracker, to honor it with its full name, lists mainstream suppliers' revenue market share in the external controller and total disk storage systems markets. EMC dominates both.
The Tracker for the fourth quarter of 2012 lists EMC as having a 30.7 per cent share of the external disk systems market – networked arrays, basically. This market saw annual growth of 2.3 per cent to slightly more than $6.7 billion.
IBM was next with 15 per cent, then NetApp with 11.6, HP with 9.3, and Hitachi/HDS with 8.8 – those last two being a statistical tie, according to IDC. "Others" accounted for 24.6 per cent, which was down on the preceding quarter, probably because IBM was sharply up in what looks like a repeat of a seasonal upsurge.
Within this external disk storage systems market, IDC identifies an Open Networked subsection of NAS combined with open/iSCSI SAN, and says it grew 2.6 per cent annually in the fourth quarter to just over $5.7 billion in revenues; EMC had a 34.2 per cent share and NetApp 13.7 per cent.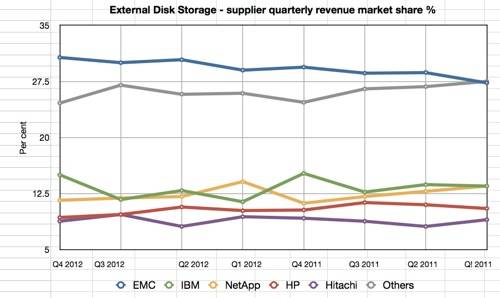 IDC data (the latest figures start on the lefthand-side of the axis)
NetApp issued a release saying its Data ONTAP was the leading branded operating system during the whole of 2012 according to IDC, having a "15.8 per cent revenue share and 21.4 per cent capacity share within the open networked disk storage systems market." Although EMC's share was bigger, it was split between different operating systems – Enginuity, Flare, and so on. So NetApp sold more FAS systems than EMC sold Enginuity VMAX systems or Flare VNX systems or Isilon systems. Great; consolation prize awarded.
The trend for NetApp in these IDC figures is down. In the first quarter of 2011 its share was 13.5 per cent; now it's 11.6 per cent. The company may well have the largest share by operating system but, overall, it is losing market share, as are HP and Hitachi.
IDC says the NAS market increased 8.8 per cent in this quarter compared to a year ago; EMC leads with 48.2 per cent and NetApp is second with 28.3 per cent.
In the total disk storage systems market, bringing in server-attached storage, EMC is last ... no, we're only joking; it leads again with a 24 per cent share, as the chart below shows.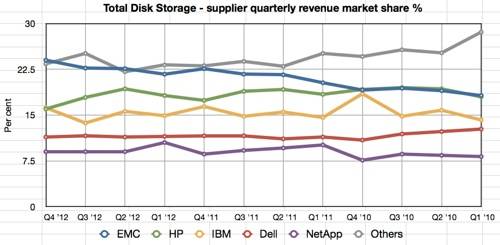 IDC data (the latest figures start on the lefthand-side of the axis)
HP is next, trailing a long way behind with a 16 per cent share, having been as high as 19.5 per cent in 2010's third quarter and 19.3 per cent in 2012's second quarter. IBM has 16.2 per cent, second place as well in another IDC statistical tie, having a lumpy trend line but generally increasing is share slightly while HP's share is decreasing.
Dell appears in this category, in fourth place with 11.4 per cent, down pretty steadily from 12.7 per cent in the first 2010 quarter. NetApp is fifth with 9.0 per cent, down from 10.5 per cent in the first 2012 quarter but more than the 8.2 per cent IDC recorded in the first 2010 quarter. Overall, Netapp's trend line is up, which should put a smile on Sunnyvale's face. ®