Original URL: https://www.theregister.co.uk/2013/03/11/ethernet_switching_wlan_router_q4_2012/
Ethernet switch pitch less of a b*tch as 2012 comes to a close
10GE starts to ramp and the 40GE shows some backbone
Posted in Networks, 11th March 2013 10:35 GMT
The Ethernet switch market picked up a tiny bit as last year came to a close, according to various box counters, and the prognosticators at Infonetics Research and IDC were projecting that 2013 would see stronger growth as the move to 10 Gigabit Ethernet begins in earnest in the data center and companies start contemplating using 40GE switches as their new backbones.
Infonetics has just kicked out its report analyzing the fourth quarter 2012 wired Ethernet switch market, and says the quarter ended pretty much as the year did overall.
The company calculates that global Ethernet switch sales were up 5 per cent sequentially from Q3 to $5.1bn and up a smidgen year-on-year. For the full year, the market expanded by nearly $1bn, hitting $19.8bn and growing 4.7 per cent over levels set in 2011.
Interestingly, all of the top vendors in the Ethernet switch market were able to increase their sales – in order of revenue size that is Cisco Systems, Hewlett-Packard, Juniper Networks, Dell, and Brocade Communications – in 2012 in the Ethernet switch.
That said, they did not all grow at the same pace as the market overall, and some smaller players were able to get a tiny bit more market share. Still, by the math done by Infonetics, Cisco and HP together have over three-quarters of the Ethernet racket wrapped up, so competition is fierce.
"Given the finicky economic backdrop, weakness in Europe, and lower spending by public sector customers, Ethernet switches turned in a solid performance in 2012, returning to modest growth," said Matthias Machowinski, directing analyst for enterprise networks and video at Infonetics Research, in a statement. "And signs are pointing to a healthier road ahead as discounting returns to normal levels and buyers seek higher-value products like Layer 3 switches and higher-speed ports."
Almost all of the growth in the Ethernet switch market is being driven by the move to 10GE switching. That has been made possible by the advent of less expensive switches (not nearly cheap enough in El Reg's opinion) and integrated 10GE ports on Xeon E5 servers, which first shipped last spring, as well as the adoption of 10GE ports on other servers too.
Machowinski said that server virtualization and cloud build-outs are driving 10GE switching in the data center (the more bandwidth you have on each network interface card, the more VMs you can put behind that NIC on the server). In some cases, companies are moving their data center backbones from Gigabit to 10 Gigabit Ethernet for other reasons, such as trying to get lower latency. The upshot is that 10GE port counts are up 66 per cent, year on year.
And while 40GE port counts were up by a factor of 10 in 2012 compared to 2011, the base was miniscule and is still pretty small, regardless of what all the switch vendors may hope who are peddling 40GE kit. A lot of you will be retired before 40GE links are adopted and then retired. (A funny thought, isn't it?)
On the wireless LAN front, which is tracked separately from wired Ethernet switching, revenues rose 4 per cent to $1.1bn in the fourth quarter of 2012, and for the full year, sales were up more than 20 per cent to over $4bn.
All geographical regions, even trembling Europe, managed double-digit revenue growth for WLAN access points, controllers and WiFi phones. Infonetics expects this WLAN market hit $6bn by 2017.
You can't think about switching and not think about routing, but this is apparently what some customers are doing. They are coping with the switching demands that clouds, with all of their east-west traffic between servers, are causing and they are putting off upgrading the routers that link their offices and data centers together.
Machowinski said in a separate statement that while the routing market did better in 2012 than it did in 2010 (which was not a great year), the $3.5bn in global router sales worldwide last year was down 3 per cent off 2011's levels and still well short of the $4.3bn level in 2007 before the Great Recession took an axe and cut the IT market off at the knees.
Cisco, with 71.5 per cent market share in 2012, still commands the router space where it got its start and even gained two-tenths of a point of market share last year.
The view from Framingham
Over at IDC, the numbers for the wired Ethernet switch, WLAN, and routing markets are similar, but are not quite the same and are diced and sliced differently (at least in the public statements that mere mortals can get their hands on).
"While growth in the Ethernet switch market will largely come from 10GE and 40GE in the coming years, it is encouraging to note that the market for Gigabit Ethernet is holding its own, largely in campus, aggregation, and network edge deployments," said Rohit Mehra, vice president of network infrastructure at IDC, in his statement accompanying his Q4 2012 stats.
"While enterprise mobility is no doubt the focus for IT and network managers, the underlying wired infrastructure is also continuing to get mindshare in the context of a holistic approach to the network in delivering applications to end-users."
Layer 2 and 3 switching gear sold worldwide accounted for $5.7bn in revenues in the fourth quarter, up 7 per cent sequentially but only up a half point over last year's final quarter.
It's all about 10GE
IDC reckons that Western Europe stomached a 12 per cent decline in Ethernet switching revenues at the Layer 2/3 level year-on-year during the quarter, while Asia/Pacific was up 15.6 per cent, the Middle East and Africa was up 13.8 per cent, and Latin America was up 12 per cent. Sales of Ethernet switching gear was up only 3.5 per cent in Japan during Q4, and actually fell 1.1 per cent in North America.
IDC reckons that 10GE port shipments were up 43.9 per cent to just under 4 million ports, and revenues during Q4 broke through $2bn for the first time, up 14.9 per cent year-on-year.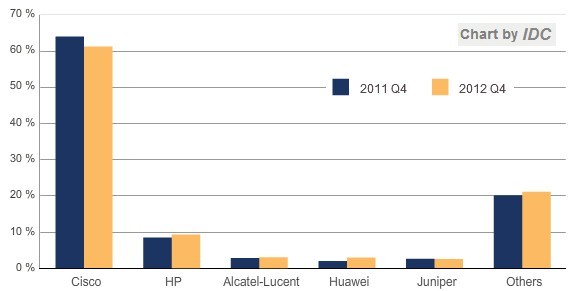 Cisco still ruled the Ethernet switching roost as 2012 came to an end
Switching products further up the network stack in Layers 4 through 7 generated $421m in the fourth quarter, up 9.1 per cent.
In terms of enterprise wireless LAN sales, IDC thinks the global market grew by 28.5 per cent in the quarter, to $1.07bn, with Cisco accounting for just a tiny bit more than half the market and North American customers accounting for a little more than half of the buying.
Aruba had a 10.6 per cent share of this market after growing 16.4 per cent in the quarter, and eating share. That was in contrast to Hewlett-Packard, which lost 1.4 points to grab a 5.1 per cent piece of the pie. Upstart WLAN supplier Ruckus grew a whopping 47.8 per cent so it just barely edged out HP. Motorola Solutions lost a bit of ground, and other vendors made up about a quarter of the overall WLAN market as gauged by sales.
IDC believes that the router market was down two-tenths of a point in the final quarter of 2012, but up 5.6 per cent sequentially from Q3. IDC did not provide a revenue number. ®