Original URL: https://www.theregister.co.uk/2013/03/08/dot_hill_spc_1/
Dot Hill: Performance isn't everything... check out our, er, cheap capacity
Storage array pusher gets creative with SPC benchmark rankings
Posted in Storage, 8th March 2013 08:29 GMT
Mid-range storage array vendor Dot Hill has presented its SPC-1 performance benchmark results in a left-field way to make it stand-out from the crowd, saying it leads as the best performer on a $/GB (capacity) measure.
It's announced "exceptional value for mid-range customers," with its AssuredSAN Pro 5000 Series storage array producing 39,041.81 SPC-1 IOPS at a cost of $2.96 per SPC-1 IOP.
This array has with real-time tiering between SSDs and disk drives with hot data being served up from fast flash and not slow spinning rust, so, okay, it should be good, but we couldn't see any "exceptional value" ourselves, not at first sight.
Dot Hill says mid-range systems are those priced (list priced) between $30,000 and $200,000. We graphed midrange SPC-1 benchmark results to see where Dot Hill ranked in IOPS terms:-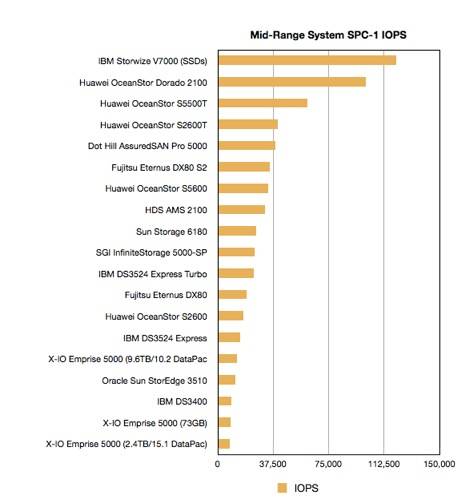 Mid-range storage array SPC-1 IOPS
Nothing exceptional here: the AssuredSAN box was fifth, good but no way exceptional. So we looked at the cost per IOPS ($/IOPS) and graphed that, looking to see if Dot Hill stood out.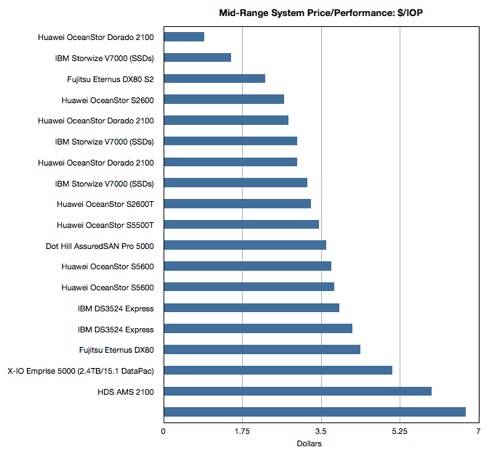 Bottom system on the chart is a X-IO Emprise 5000 (9.6TB/10.2 DataPac)
It didn't, it was placed 11th from the top. What's going on? Dot Hill's array isn't a performance (IOPS) leader or a cost/performance leader either. Where does this exceptional value come from? We tried looking at both IOPS and $/IOPS in a scatter graph to see if the AssuredSAN stood out from the crowd in that way.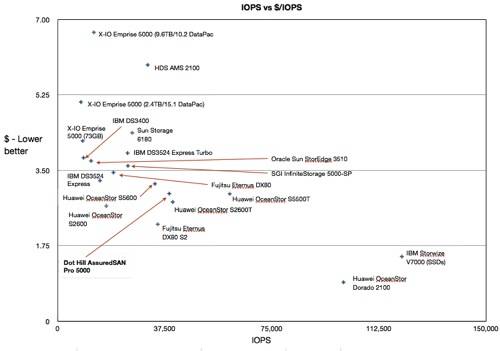 Click on this chart to get a larger version. Dot Hill entry in bold text.
No way, Jose. It doesn't stand out in this presentation either. We gave up and asked Dot Hill to explain. It sent us its own graph and, sure enough, it stood out from the masses: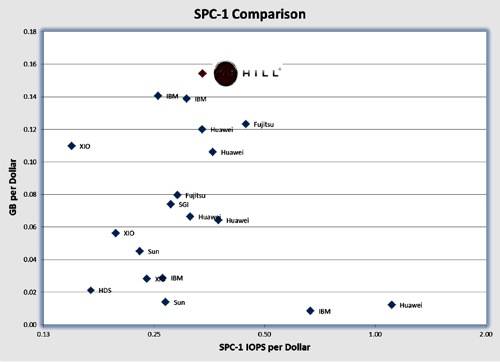 Click on chart again to make it bigger
It's top of the heap with the best balance of cost and performance and can justifiably claim exceptional value. How has it managed that? The vertical axis is GB per dollar of storage and not $/IOPS which we used in our chart above this one. The horizontal axis is also different, being IOPS per dollar and not IOPS which we used in our chart.
Dot Hill hasn't taken advantage of the newest 4TB drives to get the cheapest disk capacity either: the disks in its SPC-1 config are 600GB, 10,000rpm jobs.
Is this a valid way of presenting SPC-1 results? We think so, although it is a bit left field. You certainly have to hand it to the firm's number strokers for being creative. ®