Original URL: https://www.theregister.co.uk/2013/03/06/open_garden_mesh/
Open Garden releases v2.0 of 'crowd-sourced' mobile wireless app
But what's this - you can't turn it OFF?
Posted in Networks, 6th March 2013 12:39 GMT
Startup Open Garden has a new Android version out, allowing anyone to create a mesh network without rooting, and share that network with the world too.
The idea of Open Garden is to use all available internet signals from various devices at the same time via a mesh network to deliver an efficient and consistent mobile internet connection.
It's not the first mesh network for mobile devices, but Open Garden's 2.0 release supports Windows and Mac as well as Android devices, and will happily create a mesh network without prompting and load-balance wireless connections for speed, not to mention sharing that connectivity with all and sundry in the interests of ubiquitous connectivity.
In contrast to other mesh-radio projects, Open Garden is focused on ease of use, and we were able to get a mesh up and running in minutes with Wi-Fi connectivity stretched into previously blank spots simply by strategically placing hardware around the garden: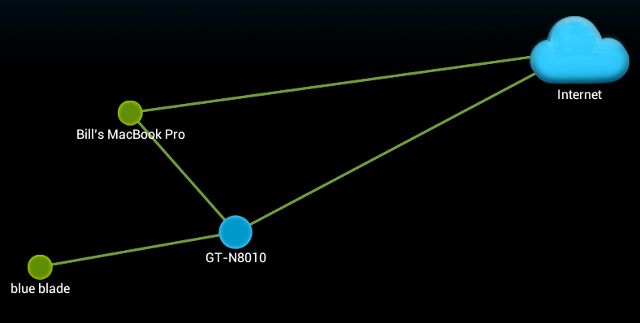 Wireless connectivity where there was none, in this case hiding round the corner from the access point
Not that Open Garden is limited to Wi-Fi, it will happily make use of Bluetooth or wired connections where they're available and thus doubles as a tethering application - sharing a phone's internet connection with a laptop or tablet - but be aware that Open Garden's socialist roots will make such connectivity available to anyone nearby who also has Open Garden's software installed.
Our own connectivity was established using a combination of Wi-Fi Direct, traditional Wi-Fi and Bluetooth, and worked well enough to browse web pages and stream audio. Open Garden warns that some Android (and Mac) apps won't work, as they ask the OS whether Wi-Fi or cellular is available before attempting a connection, but applications which just forge ahead and ask for a socket work fine.
Using cellular frequencies would be better of course, but the legality would be very questionable - one's mobile phone broadcasts a signal only with the acquiescence of the licence holder, which approved the hardware. Using the same hardware to broadcast a different signal would almost certainly be in breach of something in the terms and conditions.
We've seen other mesh networking experiments, particularly on Android and using Wi-Fi, but Open Garden is the first we've seen which combines ease of use with cross-technology connectivity and once working it is very impressive and worth seeing in action.
The normal caveats apply: it is beta software which hopes to fund itself with sales to network operators and handset manufacturers, and might destroy your hardware - though we had no problems. It also can't be switched off, only uninstalled, so the Open Garden is somewhere one can go, and leave (by uninstalling), but don't expect to be able to drop in only when it suits. ®