Original URL: http://www.theregister.co.uk/2013/03/06/feature_the_connected_car_is_coming/
Honk if the car in front is connected
The networked car is coming sooner than you think
Posted in Personal Tech, 6th March 2013 12:00 GMT
Feature Connecting cars to the internet and to each other seems to be inevitable, whether or not you approve - and plenty don't. Let's face it, though, everything else is connecting to the internet, so why not your favourite drive? By 2017, according to ABI Research, a market watcher, some 50 million connected cars will be sold every year. Penetration of factory-installed safety and security telematics in new cars will this year reach 15.7 per cent of all vehicles sold. Like it or not, it's all part of the humongous Internet of Things, and it's happening now.
Car makers talk up a number of benefits for car connectivity, the main one being improved safety. You'll also get notifications of emergency speed limits, traffic jams and accidents further up the road, not to mention access to entertainment in the cloud. You'll be able to check the status of your car long before you slip in behind the wheel.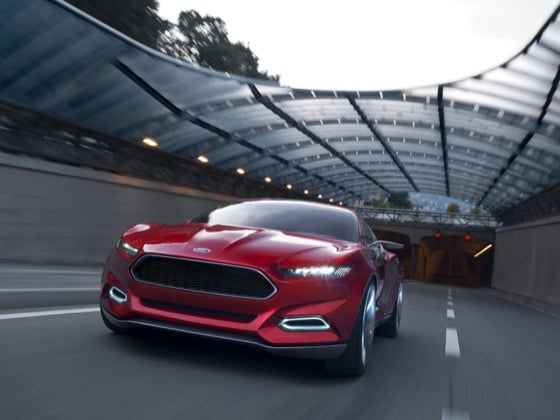 Ford's Evos concept: a car designed with connectivity in mind
And in the longer term, with cars actively connected to each other, with sensors collecting data about the car's immediate environment, and with an increasing number of ways in which the car can take control of the driving process - think adaptive cruise control and lane departure correction systems - the ultimate goal is the self-driving car, Google-stylee. I'll get to that.
All the major car makers are at it. Audi, GM and Ford all even made announcements at this year's Consumer Electronics Show (CES), for example, showing the degree to which connected car technology is moving into the mainstream.
According to Professor Pim van der Jagt, managing director of Ford's European Research Center, car makers' development efforts are focusing on two main areas of research. The first is about connecting the car to the internet, which can house data such as your music library or movies to keep the passengers occupied. At CES, Ford announced an open development platform that will allow developers to build applications for its connected cars.
As an example, Ford's Sync AppLink will allow the car to act as the interface between the likes of Amazon and your phone, allowing you to stream music through to the car's speakers.
Cloud-streamed content or another game of I Spy?
More interesting though is the two-way car-to-car communication systems on which all car makers are working, using a dedicated, short-range communications network, not the internet. This is a car-to-car network that, according to van der Jagt, allows each car to tell other vehicles where it's going and what driving conditions it's experiencing.
There's a very clear benefit to this. "If 100 per cent of vehicles had this we could improve safety dramatically," says van der Jagt. Getting this kind of technology into every new car is an ambitious goal, but it has to be fitted to the vast majority of them to make a difference. "All car makers believe in this but we need it to be installed in 80 per cent or more of the fleet."
Recognising that a single-make car-to-car network isn't useful, the car makers banded together to develop a car-to-car communications protocol that will allow all makes of car to talk to each other. Ford is one member of the CAR-2-CAR Communication Consortium, whose mission is "the development and release of an open European standard for co-operative Intelligent Transport Systems and associated validation process with focus on Inter-Vehicle Communication Systems".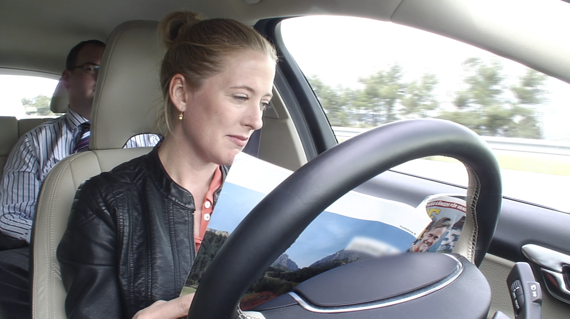 Reading at the wheel: not a sight you'll see for some time
Filip Sergeys from Honda's Government Relations and Regulations division in Belgium reckons that the car makers have agreed on a common roll-out plan. "If one brand went first, the customers would have no other vehicles to talk to or be locked into the single brand," he says. "So it needs a quick ramp-up, with same benefits from all new cars."
Being able to steer clear of traffic jams could become a reality, and perhaps even the jams themselves could be made a thing of the past. As traffic starts to build up, cars whose average speed is slowing down broadcast to cars on the opposite carriageway - who then pass this information to cars approaching the jam. Prewarned, they can take evasive action well ahead of the jam, potentially preventing a simple slowdown becoming a gridlock.
A major contribution to road safety
Even if the traffic still jams up, semi-autonomous systems can establish a common speed impossible to attain among dozens and dozens of human drivers, to keep the traffic moving. Slow progress is better than no progress, and better able to keep drivers' tempers under control than start-stop movement, even if the bursts of speed are high. Volvo and car automation specialist Ricardo, working under the auspices of the European Union's Project Sartre (Safe Road Trains for the Environment) have shown this kind of thing works.
Cars won't just be communicating with each other but also with the infrastructure. So in cities, they will be talking to the traffic management systems with the aim of making everyone's journey as smooth and as quick as possible, and with the overall aim of reducing emissions and fuel consumption.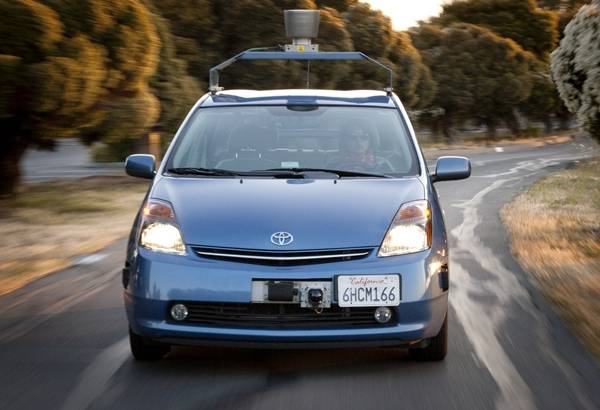 Google's driverless car: a long way from showrooms
You can expect connected cars to start appearing in showrooms some time in 2015. They won't be self-driving. Far from it, in fact, as there's a whole host of legal and practical issues that must be addressed before that happens. Instead, they'll use their car-to-car connectivity to help make motoring more safe.
According to Ford's van der Jagt: "We will start with warnings about roadworks, traffic jams and emergency vehicles. This is easy to implement. Vehicles can take that information, inform the driver and pass it on to any other vehicle within a 300 metre radius."
Further down the road, he reckons, "you will know about all the cars around you, such as those that have stopped, or those that are invisible because of obstructions, and we can take action on all those scenarios".
Back-seat drivers
This begs the question of how far the driver will be involved in future. Are we destined to become passive passengers in our own cars?
"We could get to a point where the completely automated car could arrive," muses van der Jagt, "but full autonomy is very, very far out. So you can't fall asleep in the back seat - there's no legislative framework for that."
Semi-automated cars will be here sooner than you think. There's already a range of cars available, from makers as diverse as Audi, Toyota, Ford and Kia, that can park themselves. Add car-to-car connectivity, and controlled situations such as slow motorway flow lend themselves to automation.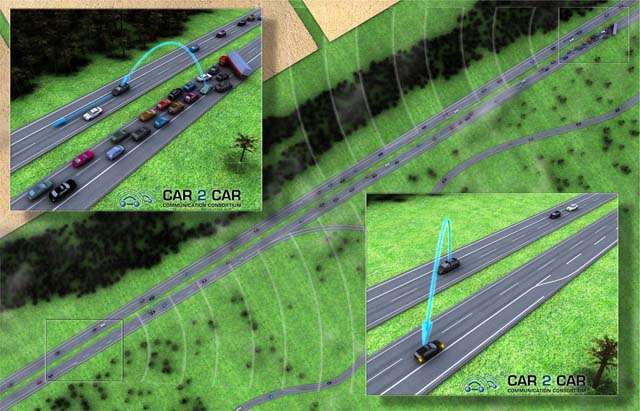 Jam session: avoiding gridlock, the ITS way: free-moving cars warn vehicles approaching the slow-down
Source: Car-2-Car Consortium
"Most people would like to have a Mondeo that drives itself," says van der Jagt. "In controlled conditions in a motorway jam, the car could take over." You can expect that to arrive within ten years, he predicts.
Van der Jagt wouldn't be drawn on which Ford will be first to sport interconnectedness, saying only that the new features will arrive in the course of the normal rhythm of car updates; but he didn't argue when I suggested it might indeed be a Mondeo.
Selecting the right network
The most obvious conduit to use for connecting cars is the cellular network, but this is wholly unsuitable, say car makers, because of its non-deterministic nature.
Imagine yourself in a queue of cars on a greasy road. A car you can't see because there's a big white van between the two of you performs an emergency stop 100 metres ahead. Within milliseconds it informs every other car within a 300 metre radius, and your car is able to warn you in enough time to stop safely without fuss.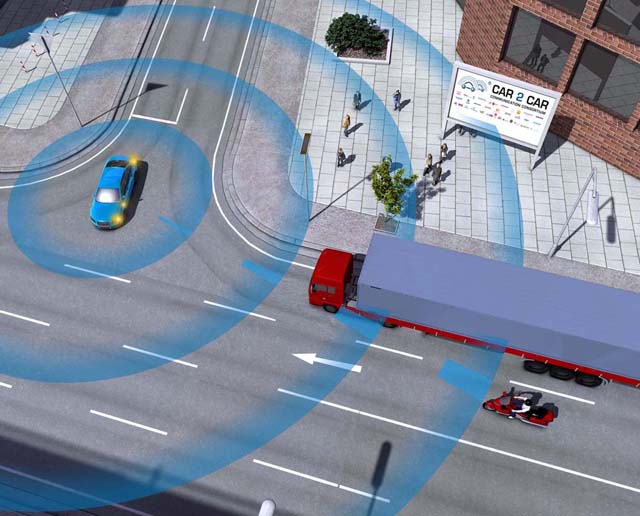 Hidden hazard warning: the truck warns the car about the overtaking motorbike
Source: Car-2-Car Consortium
Or you're trying to pull out into a busy road with parked cars blocking your view - and there's a motorbike coming, which you can't see. The bike's systems warn your car of its presence, the car warns you and an accident is averted.
The cellular network can't deliver the necessary speed of response. Messages from cars can't be prioritised and would be subject to delays, depending both on the number of connections to and the distance from the cell's base station.
So instead the CAR-2-CAR Communication Consortium has developed a 5.9GHz radio network protocol, known as DSRC (Dedicated Short Range Communications), with a reach of around 500 metres in clear air. Between 30MHz and 75MHz of the 5.9GHz band has been officially assigned to transportation systems by the US and European regulators.
Banding together
"The network is a global standard," says van der Jagt. "The current system has a short range but even on four-lane motorway, there could be thousands of cars in an area. If you used the mobile network, the radius would increase so you would get information from 5km away, which is not as useful. Instead, the car needs to analyse information from 3000 cars in a few milliseconds. I need to be able to reject cars that are not in my path and narrow the data down to cars that could be a threat."
Each car can send messages - which are about the car and its environment, not the driver - at between one and ten times a second, depending on circumstances and urgency. The cost of these souped-up car radios is expected to be low, adding around £65 or $100 to the cost of a car.
Honda's Sergeys reckons that historically, technology innovators have viewed the car as "an isolated metal box". But now, hje says, "with this technology, the inputs won't just be the driver peering through the windscreen and getting information from the wheel and seat. They will be part of a network where cars talk to each other without the driver needing to know, until they need to be warned."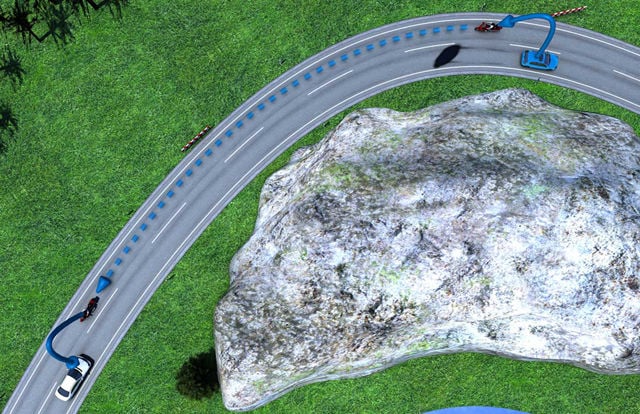 Hidden hazard warning: beware, fast moving Fireblade coming in your direction
Source: Car-2-Car Consortium
The legal basis to permit the use of what the EU calls Intelligent Transport Systems (ITS) is already in place. According to Sergeys, ITS has over 100 stakeholder groups in Europe, including government bodies, standards organisations, automotive industry OEMs, suppliers and service providers.
All this technology doesn't come without disadvantages. Ford's Van der Jagt reckons that, eventually, like electronic stability control in modern cars, you won't be able to turn ITS off - and it could even become a legal requirement. Although, as was the case seat belts and emissions control equipment, owners of older cars are unlikely to be forced to retro-fit, the insurance industry is likely to levy lower premiums on cars perceived as safer.
Mis-use fears
Some pundits though have raised the issue of privacy, and whether drivers will be able to remain anonymous. Others fear the use of the technology for commercial uses. Some readers of the motoring enthusiasts' website Pistonheads, for instance, recently raised the issue of whether busineses will be able to zap direct marketing information at passing cars.
"How long before that data gets sold on to someone else and before you know it you're getting spam emails for restaurants that you drove by a few weeks prior?" asked one forum member.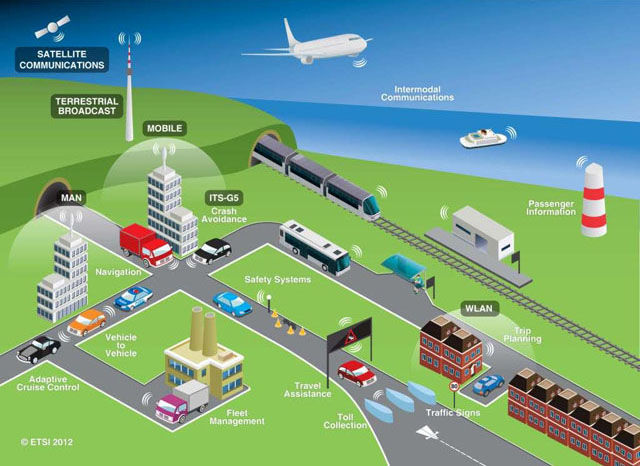 The wireless highway is coming
Source: ETSI
Some were concerned about obsolescence: "Cars built on extensive technology will simply become out dated and incompatible too and much quicker than older simpler cars."
Distraction was a worry too, as one Pistonheader commented: "If it's optional, I don't think I'll like sharing the road with [ITS users]. People seem to be whittling their concentration spans down to zero and it seems it's an increasing possibility that 'learning skills' is passé thanks to computers doing everything for you."
Not every driver is against the technology, however. One poster expressed a more nuanced view: "I for one am quite happy being 'unconnected', though I do find myself checking Facebook and the like on my phone quite often, I often switch it off just to get away from it. I think having the option for internet-based connectivity in cars is a good one, as long as it's not forced down throats and it can be used only when needed or wanted."
Honk if your car's connected
Ford is convinced, however, that such systems will be a sales attraction for its vehicles, according to Jack Bergquist, from IHS, a research company. He told the BBC: "Ford has categorically stated that this is selling more cars for them."
We love technology and we love our cars - and with applications that will be able to tell you about the nearest, cheapest petrol station, help you find a parking space, or even just tell you when the traffic light up ahead is due to change, it seems likely that connected cars will prove to be a sales hit. Certainly, telcos are hoping to use their shiny new LTE networks as conduits to deliver data to cars. Expect to see wireless services, including breakdown rescue; service alerts such as MoT, maintenance and product recalls; rear-seat video and remote diagnostics all being waved at punters either by car makers, by car sellers and by service providers like the AA and RAC.
And according to ABI Research, you can expect to see connectedness being used in many new ways, including driver behaviour monitoring to improve driving skills and reduce the risk of accidents; insurance telematics as an incentive for safer driving; and prognostics and preventive maintenance to avoid breakdowns and reduce repair costs.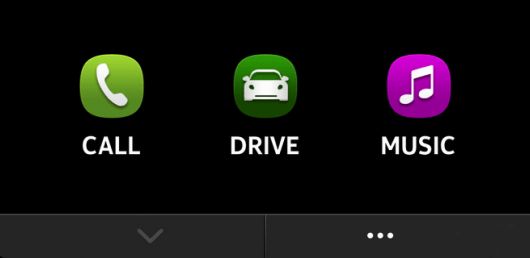 Are our cars destined to become smartphones on wheels?
Other potential uses include road charging, car sharing schemes, road condition alerts, and pay-as-you-go insurance. And although nothing has officially been announced, it wouldn't be surprising to find connectivity being used for law enforcement at some point down the road, your own motor grassing you up for going too fast.
The real question is whether those of us who enjoy driving will still feel able to call it driving - or will it be more like being in semi-charge of a smartphone on wheels? And when the fully automated car finally arrives, will they build roads for the rest of us to just go and have some fun? No, I don't think so either. ®