Original URL: https://www.theregister.co.uk/2013/03/05/review_toshiba_satellite_u920t_ultrabook/
Review: Toshiba Satellite U920T Ultrabook
Windows 8 - it's not going away, people
Posted in Personal Tech, 5th March 2013 12:30 GMT
Whatever you might think about Windows 8, when it comes to taking the top down on the new ranges of convertible laptops, it's certainly not boring. Every single one I've encountered so far has a different take on how to make the laptop-tablet duo dance work and Toshiba's Satellite U920T Ultrabook offers yet another approach.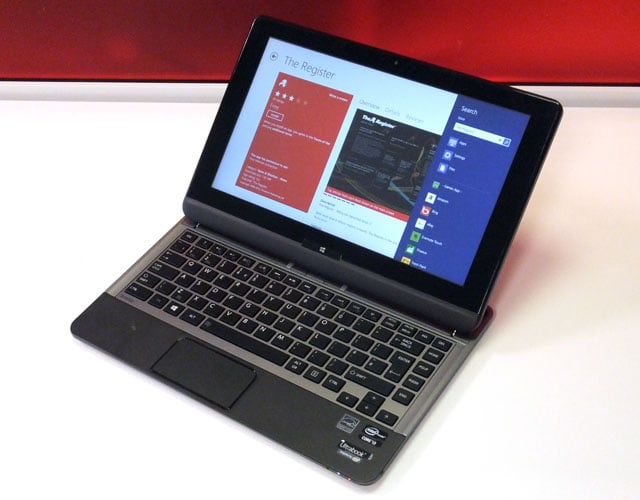 Core i3 convertible, anyone? Toshiba's Satellite U920T Ultrabook
Here, the conversion from tablet to laptop involves sliding back the touchscreen, revealing the keyboard beneath. You push it back all the way to the hinge before it can be tilted upright. This arrangement does at least allow for any screen angle covering around 90 degrees, as the hinge holds firm very well. That said, if you try to partially close the screen to get to sockets at the back you're going to find it a habit that needs breaking so that hinge doesn't.
Returning to tablet form does involve lying the screen flat before sliding across, so while it all functions well enough, you do need to apply a bit of thought to hurriedly putting it away. You can't snap it shut like a laptop as the screen doesn't fold that far and leaving it open is bulky and potentially vulnerable. Indeed, having a 12.5in, 16:9 aspect screen means there's plenty of it for you to want to pack away neatly.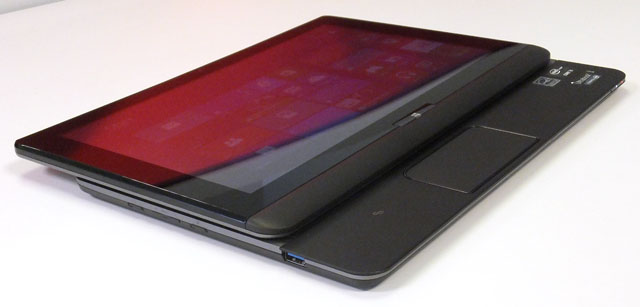 Slide to open: It actually clicks into this position so you can use the camera on the back and the trackpad to fire the shutter
Toshiba offers the Satellite U920T with either a 1.8GHz Intel Core i3-3217U CPU or a 1.7GHz Core i5-3317U. While there are 4GB or 8GB of RAM options, the Samsung SSD provided is only 128GB, which leaves a mere 67GB out of the box, although this does include a recovery parition. The screen resolution on all models remains at 1366 x 768, which actually works out quite well for some touchscreen work. Even though it might not appeal to all inclined to use it as a laptop, it does output full HD from the HDMI port.
There are two USB 3.0 ports with one allowing charge during sleep, which is handy. The mic-headphones combo socket is next to the SD card slot, that's well hidden behind a plastic cover. If you're less than thrilled by the SSD limits, the SD card slot can take up some of the slack for movies, music and suchlike. The 1Mp webcam is nothing special but easy to overlook is the rear facing 3Mp autofocus camera on the back of the screen that's closed off in tablet mode. Alas, this is no great shakes either.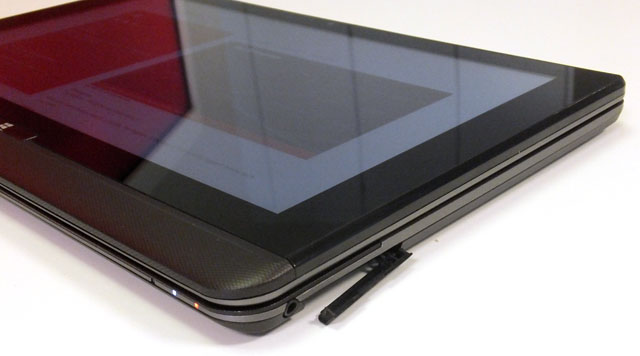 Easy to miss when in place – a plastic cover hides the SD card slot
Curiously, Toshiba doesn't provide any photo apps, yet stuffs Nero 12 Essentials media backup and authoring wares on this Ultrabook, even though it lacks an optical drive. You'll need to get to the Modern interface to use the standalone Camera functions. This opens the possibility of being lured into finding other photo apps on the Store as you seek out Skype and more.
Unplugged
So there's GPS and NFC on this machine and, unless you make audio accessories, the latter lacks inspired development for other applications. It feels like Bluetooth printing all over again. Personally, I find the lack of Ethernet here a real drag though. When setting up new machine there's usually around a gigabyte of cumulative updates and a wired connection is going to pull it all in faster. Toshiba touts this Ultrabook as a business model, so having an adapter in the box would seem obligatory when you're paying over £1k for a Core i3 machine. Talking of updates, I don't know what Toshiba did when it sent this model out for review, but I couldn't update anything or even add a new user account.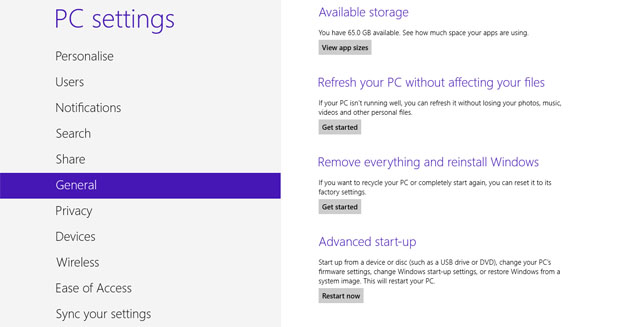 Easy access to restore options from PC Settings
The only way forward seemed to be a wipe and restore, which is delightfully pain-free. Unlike Lenovo and Sony, Toshiba foregoes a dedicated button for such a task, as you can just follow the restore options in the PC Settings control panel. If you go for the full wipe, the complete restore is done in around 35 minutes. And then on to the updates, which don't always prompt for a restart, when doing so would reveal another slew to be applied.
When it comes to updates though, the worst offender here is the Microsoft Store for the Modern apps. I like to monitor the progress of the these incoming apps, but the Store gets bored of showing this and wants you to go back to browsing for stuff it can sell you. Once it's made up its mind, checking out the download progress becomes impossible. The prompt showing the number of updates disappears and you end up in some no man's land. It's not a Toshiba issue, it's the same on all of these convertibles I've tested and doesn't inspire confidence.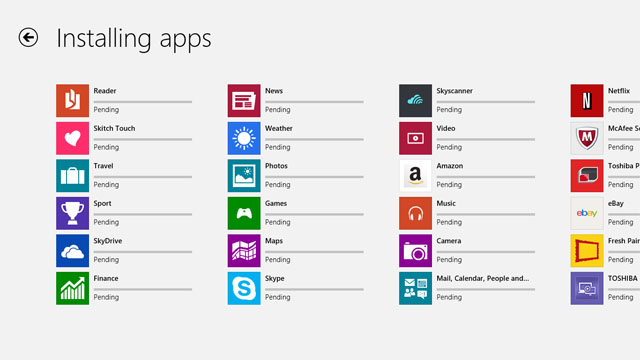 Updating Windows 8 Modern apps can turn into a bit of a mystery
Another thing that doesn't inspire confidence is Toshiba's website. It has the Core i5 model down at £1078 whereas the Core i3 model that I'm reviewing with an otherwise identical spec is £1139. Shurely shome mishtake? As for those prices, we are in Ultrabook country so don't expect bargains. Also, this Toshiba certainly doesn't feel cheap and flimsy. It's solidly built and at 1.5kg, you feel it when in tablet mode. This form factor prerequisite does bulk it out slightly too, as the screen margins are wider as a result. The overall size works out at 327 x 213 x 20mm, although it doesn't actually seem too thick due to some thoughtful tapering in places.
Toshiba describes the Satellite U920T as having a "precious silver finish with brown woven texture... on silver metal base." It's nicely understated and the texturing feels good in the hand being more grippy on the outer shell. Despite its cogs and struts at the back, the overall impression is that it's fairly sturdy and will take the knocks.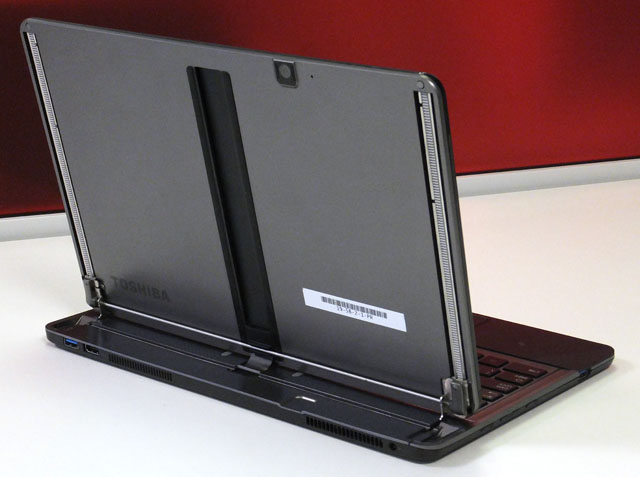 The line of teeth gearing the slide mechanism could well appeal to Steampunk fans
Indeed, even the slightest knocks can be a problem with Windows 8 convertibles, as screens all too easily flip between portrait to landscape modes. In this respect, without doubt, the screen orientation detection on the Toshiba Satellite U920T is the best I've encountered. There is a momentary pause, which seems quite deliberate, as if it's determining if you really intend to stay in this position. It works for me and as far as avoiding toe-curling frustration goes, it gets my vote on this refinement alone.
Key concerns
If only the keyboard could match this touch of class. Admittedly, those broad screen borders give rise to a larger base, which provides for more space for the keyboard. So this isn't too cramped and there's room enough for a decent sized trackpad. However, those backlit tile keys feel so lifeless. The spacebar is the worst culprit here, having so little travel that it's hard to ascertain if you've pressed it hard enough. In the end, I just had to consciously dig in more to avoid words running into each other.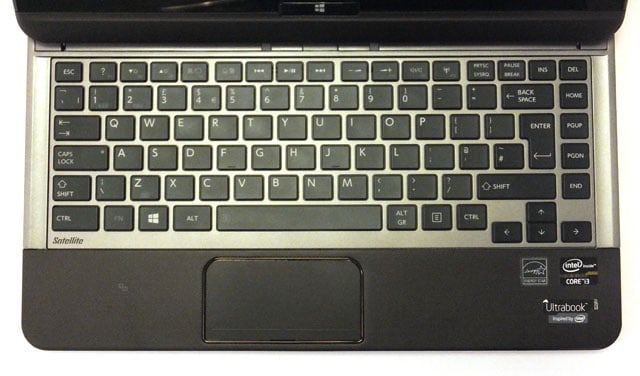 The keyboard is reasonably well spaced but feels rather lifeless in places
Sure, you do get used to it eventually, but you might want to try this out first to see if it bothers you, especially as there's some flexing as you get toward the middle of the keyboard. On the plus side, there are some useful shortcut keys along the top including media transport controls and decent sized navigation keys too.
The Toshiba Satellite U920T boots to the login screen from cold in nine seconds. Tests with PCMark 7 notched up a balanced settings score of 3189 and when set up for performance, this shot up to 3816. The benefits of having an SSD on-board helps the numbers here and it's not such a bad score compared to over 4700 from the Core i7 Sony Vaio Duo. It doesn't feel sluggish either, although some Flash heavy web pages could take their time to show.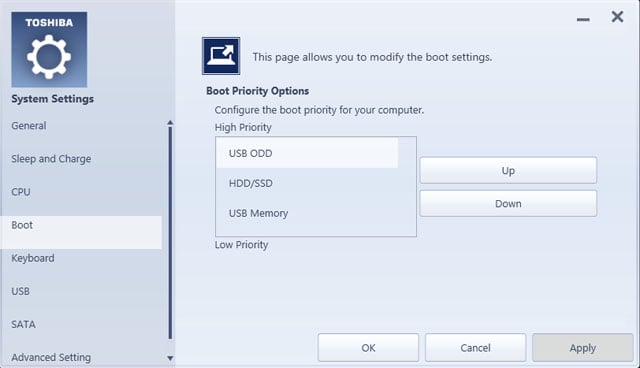 Booting from external media is made easy with the Toshiba System Settings control panel
There's only the HD 4000 Intel integrated GPU on this model which will suffice for most tasks, but this is no gaming machine. However, it does run Linux with an Ubuntu 12.10 Live CD working with the Wi-Fi but not the accelerometer. The touchscreen allows mouse movement, but taps do not fire up applications nor open folders. The battery life with PowerMark shows how a lower powered CPU can really deliver advantages when it comes to the duration game. Here it managed 2hrs 51mins which in real world use is easily double that.
Occasionally, the touchscreen would need repeated swipes – particularly for closing apps – but showed no obvious latency issues. Video playback was smooth and while not exactly dazzlingly bright, it was certainly sufficient although tablet mode in direct sunlight could prove to be a challenge.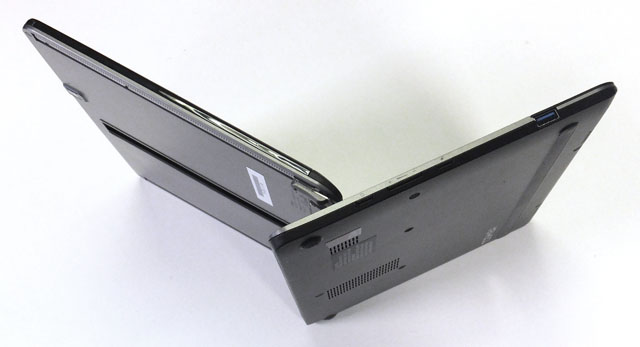 Having Intel inside demands vents on the bottom too
As for audio, the speakers are in the base at the front and don't make much of an impression until you fire up the SRS Premium Sound 3D control panel. SRS has been performing miracles with small speakers for decades now and this software makes a huge difference to the overall output. It certainly sounds louder, but you can get those tweaks from VLC Player. The fun starts when you click on the Advanced section, as it takes you beyond the presets for music, movies and 3D so you can tweak for improved dialogue intelligibility and bass enhancement, among other things. If you're hooked up to external speakers or headphones, there are options for these too.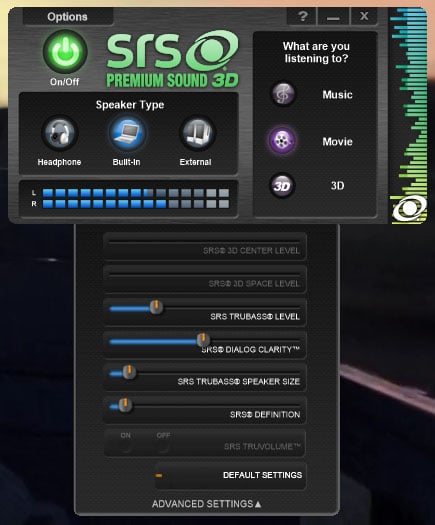 SRS Premium Sound 3D control panel helps boost small speaker performance
The Reg Verdict
The Toshiba Satellite U920T is a very likable convertible Ultrabook, although it took me a while to realise why. The reason, I'd say, is that it doesn't come across as some toy-like novelty item – it errs more on the sensible side. Even so, I still want to tilt the screen forward at times and its fold flat and slide convertible mechanism must be obeyed, which can be a little bothersome for speedy getaways. Still, this Ultrabook feels reassuringly solid and has a battery life that should get you through the day. Some will bemoan the lack of a full HD screen though, which leads to the biggest worry: the price. It's something that dogs all convertible Ultrabooks and the state of the premium portable PC market. ®