Original URL: https://www.theregister.co.uk/2013/03/05/feature_ten_arcade_classics/
Twenty classic arcade games
Cabinet reshuffle
Posted in Personal Tech, 5th March 2013 12:00 GMT
I'd better say it from the outset: picking 20 all-time arcade game classics is a nightmarish task, not simply because of the almost endless array of titles available to choose from, but because of all the really good ones you have to omit.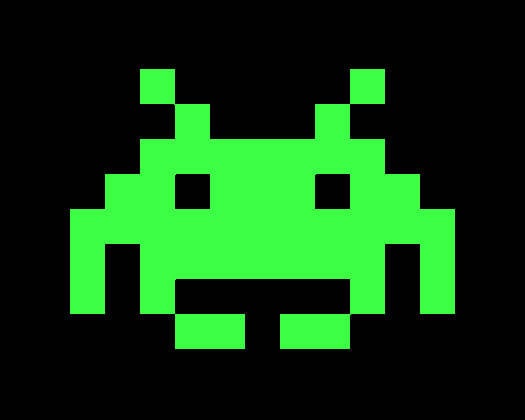 Here then, are the titles that made the cut, either because they have had a particular impact on modern videogaming, or because they're shamelessly among my own favourites that simply shouldn't be forgotten. The fact that many El Reg readers will have (many) treasured alternatives to those list is testament to the fondness in which we hold the arcade games of our youth.
So, if you disagree, great - that comments section is waiting just for you... but whatever your opinion, do enjoy those memories!
Space Invaders

The game that caused a shortage of ¥100 coins and wrote the rule-book on many standards of computer gaming: multiple lives, high score tables, enemy sprite intelligence. Reputedly, arcades were set up running numerous machines of this game alone, and US doctors were diagnosing new conditions such as "space invaders' wrist". Phenomenal.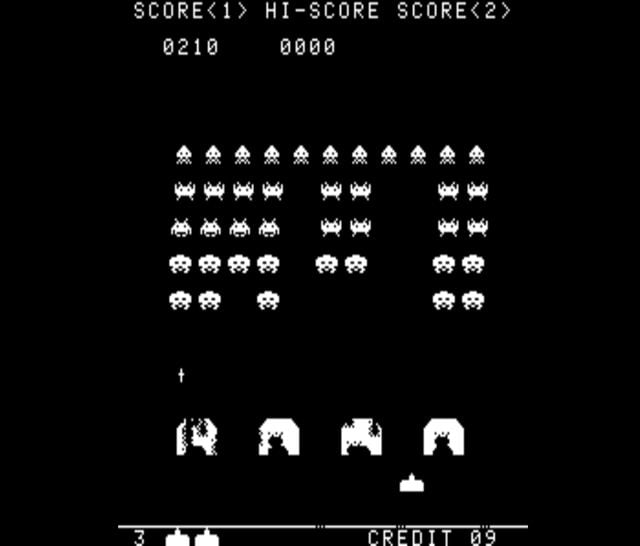 Release 1978
Publisher Taito
Defender

Considered to be the first example of a side-scrolling shooter, you were never going to get very far on your first play of Defender – yet the game's realistic motion and complexity made it a competitive arena for the more discerning gamer. Upping the standardised 256 x 256 resolution of the time to 320 x 256 gave the widescreen perspective desired by its developers, and such silky-smooth scrolling and motion physics really were very special back then.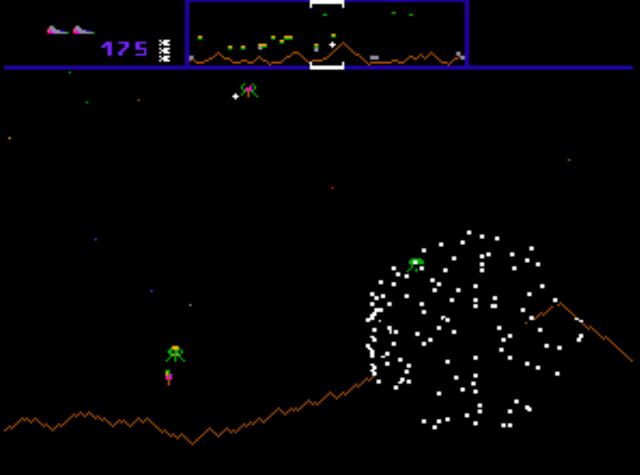 Release 1980
Publisher Williams
Donkey Kong

When Mario – or 'Jumpman' as he was first known – took his first tentative steps up those iron girders, jumping barrels and climbing ladders, little did anyone know that he'd be leaping around for the next 30 years. This title, ace developer Shigeru Miyamoto's first, virtually laid out the blueprints for platform gaming.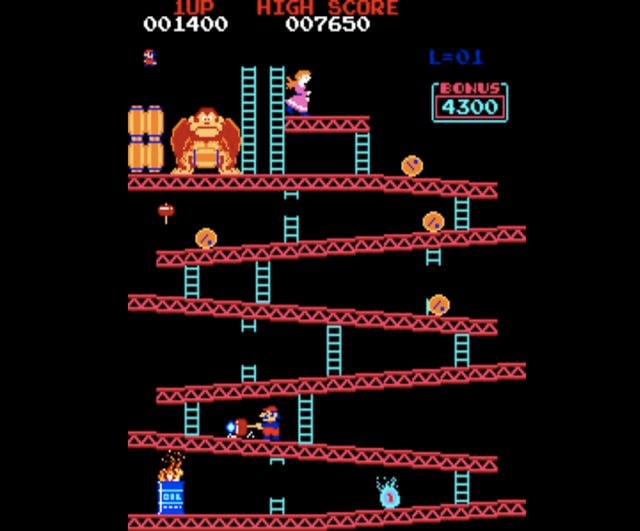 Release 1981
Publisher Nintendo
Frogger

A bizarre concept, yet devilishly addictive and notable for its outlandish lack of player-instigated violence. All you had to to was guide frogs over road and river, avoiding vehicles and crocodiles on the way.Frogger suggested that videogames could appeal to a wider demographic and this universal appeal saw conversions appear on virtually every home format over the next few years. Simple puzzling fun, Frogger was everything a game need be.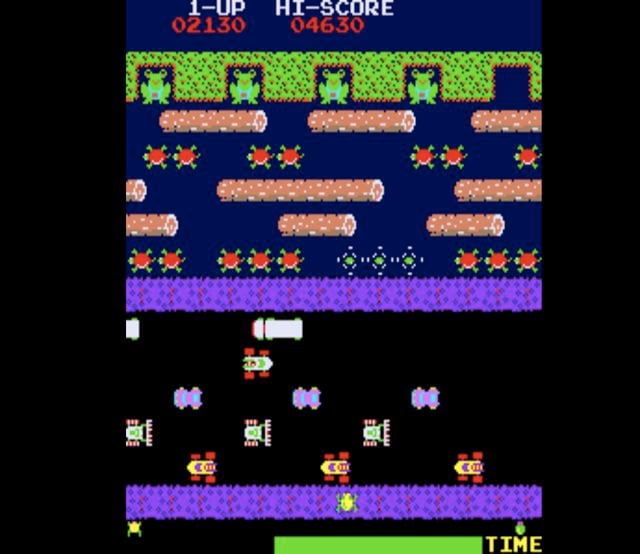 Release 1981
Publisher Konami
Dig Dug

It may have spawned a slew of imitators, both on home machines and in the arcade, but Dig Dug had such well-crafted levels and gameplay it was hard not to return with another ten pence piece. Enemies were despatched by inflating them to bursting point, or sneakily clearing earth so that rocks fell down and crushed them. Torture with a joyful cartoon twist!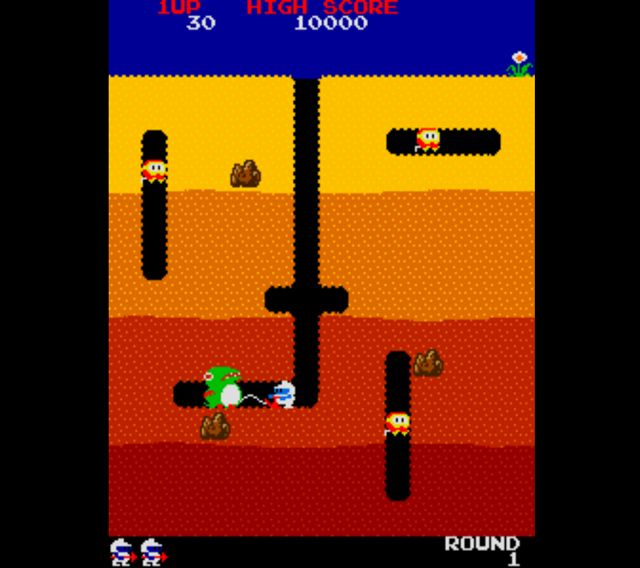 Release 1982
Publisher Namco
Ms. Pacman

The original icon of videogame culture received this female-oriented enhancement via American developer Midway. Featuring less-predictable ghost behaviours and more variable mazes, the title was widely considered to be a slightly better crack than the original. It featured different intermission scenes too, playing out the romance between Pac-man and his missus. Still, how the old 'happy-eater' roadside restaurant logo got mixed up in all this still baffles me. Anyone?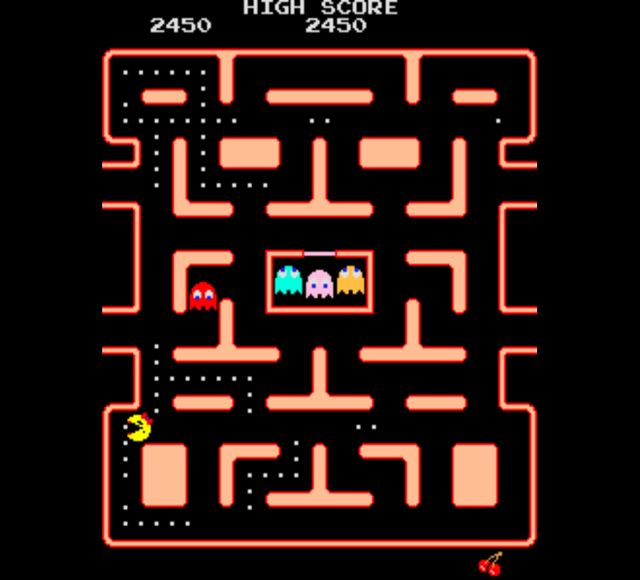 Release 1982
Publisher Midway
Q*Bert

This bizarre alien platform puzzler looked like a drug-addled dream, and when its developers decided to position the joystick 45 degrees off-centre, eyebrows must have been raised. Yet its addictive hop-around game board is a superb invention, alongside many amusing touches like badly synthesised speech and the swear-bubbles of death – all the more impressive considering its early release date.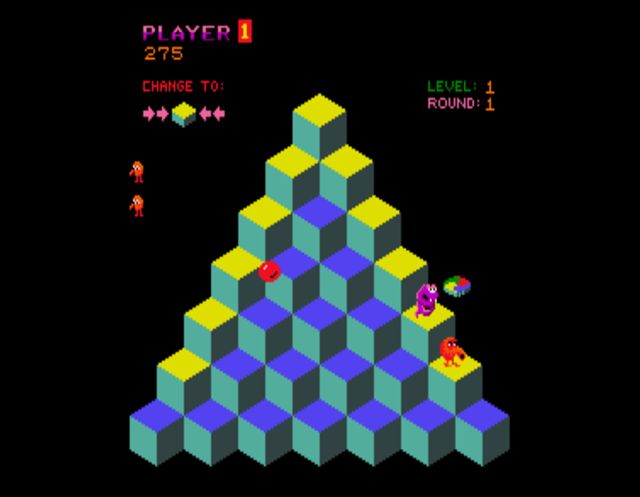 Release 1982
Publisher Gottlieb
Spy Hunter

The fact that Warner Brothers are still scrabbling around trying to make a film version of this 1980s videogame proves its latent worth. It hooked into Knight Rider fantasies of the time – with its on-the-road weapons truck – and the arcade cabinet's steering wheel and accelerator pedal set-up lent added realism to the experience. Drive through a boat shed and emerge in a speedboat? Cool as you like.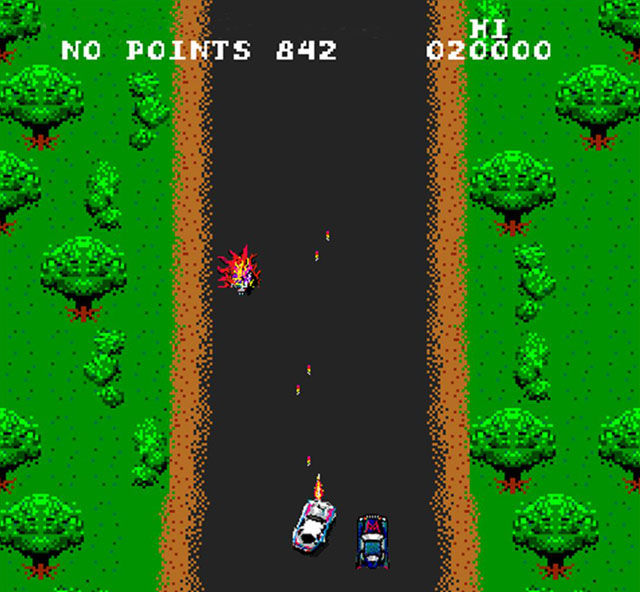 Release 1983
Publisher Midway
Star Wars

Surprisingly striking 3D vector graphics, seriously enhanced by the sit-down cabinet and faithful reproduction of both soundtrack and voice samples. Now, I thought those little plastic character models you could buy in woolies were good, but this was like being IN THE FILM. Three skill levels to choose from, the highest granting more points for that inevitable perspective scrolling high score table.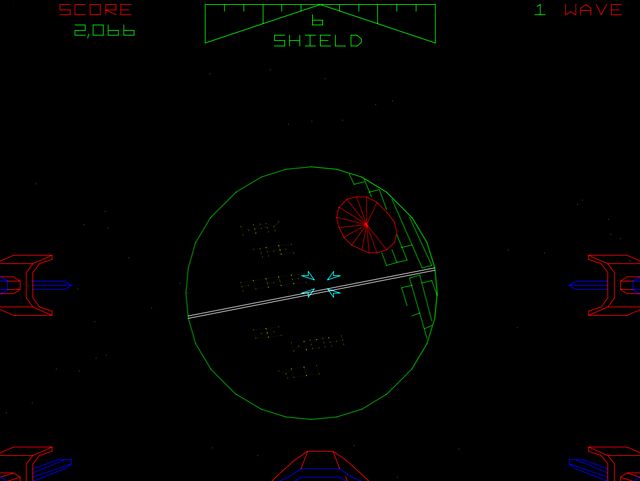 Release 1983
Publisher Atari
Track and Field

The original, never-to-be-forgotten innovator of that time-honoured gamers' pursuit: button-bashing. Atmospheric audio samples accompanied up to four players as they became sweaty wrecks in order to beat each others' athletics records. With buttons quickly smashed through underhand techniques such as the 't-shirt wrapped around fist swipe', or well-prepared 'ping-pong ball holder', later cabinets had shields placed around the vital switches to avoid abuse. Spoil-sports...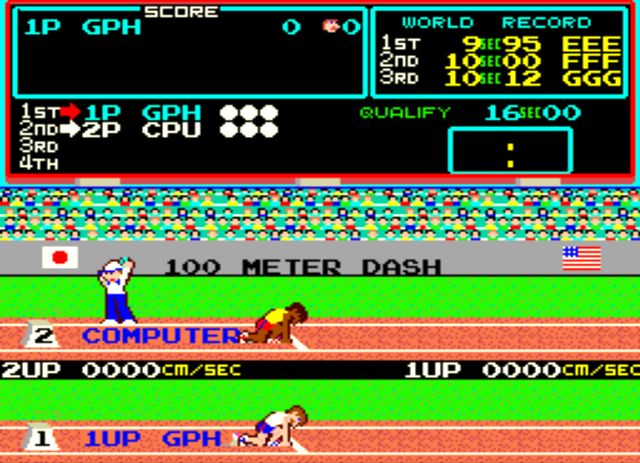 Release 1983
Publisher Konami
Paperboy
Forget joysticks... think bike: mutant, arcade-mounted push-bike. The Paperboy cabinet slotted in neatly to the world of real-life paperboys in the fashionable E.T. era. In tricky isometric 3D, you would frisbee papers conveniently at customers' houses, while trashing those residences that didn't subscribe with well-placed shots at windows and cars. A funky soundtrack and end-of-level stunt section topped off this thoroughly enjoyable title.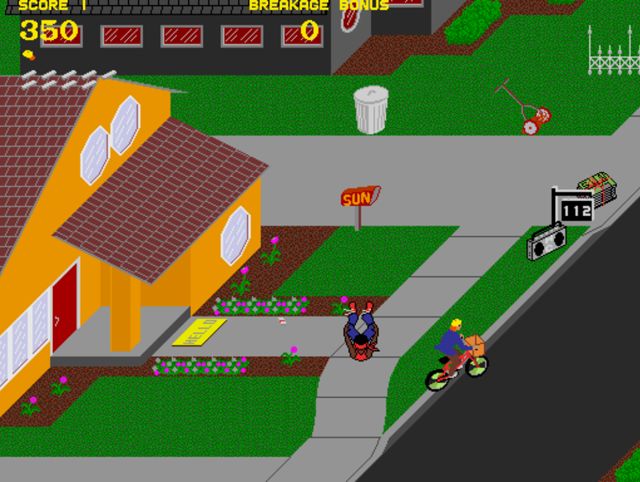 Release 1984
Publisher Atari
Gauntlet

Inventive, overhead dungeon roamer with impressive synthesised speech from the machine's Texas Instruments sound chip – which was also used on many of Atari's games of the time. One of the first coin-ops to feature four-player simultaneous play, characters needed to co-operate over keys, food and magic while taking on a breadth of enemies among the puzzling labyrinths.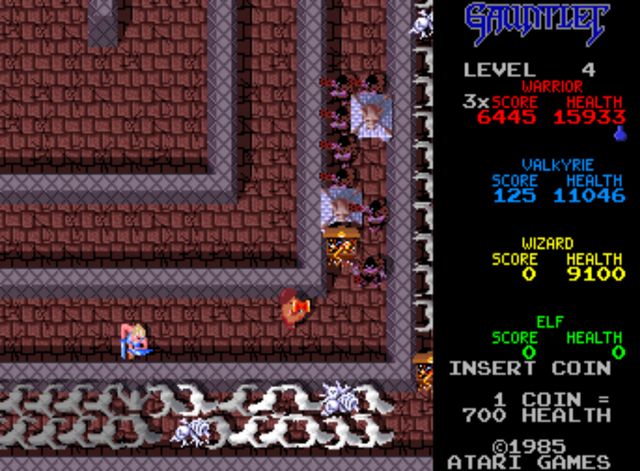 Release 1985
Publisher Atari
Yie Ar Kung Fu

The slimline grand-daddy of one-on-one brawlers, where would Streetfighter 2, Mortal Kombat and Tekken be without this pioneering title? Oolong, the main protagonist, could deliver up to 16 unique moves, on his journey past 11 different opponents, each with varying fighting characteristics.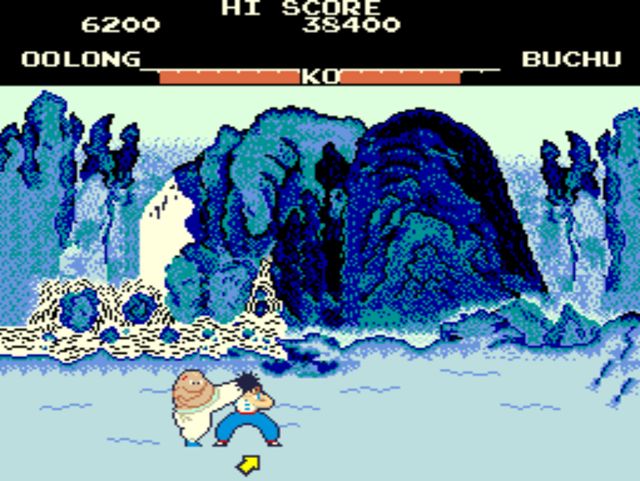 Release 1985
Publisher Konami
Operation Wolf

One of the first titles to provide players with a light-gun - this one swivel-mounted on the cabinet with innovative rumble feedback built-in. Wonderfully apolitically correct by today's standards, the game sees you shooting the Taliban's long-lost cousins as well as the odd farm animal – this replenishes ammunition supplies, obviously. Classically adored action with three sequels, and most home platforms of the day had a conversion.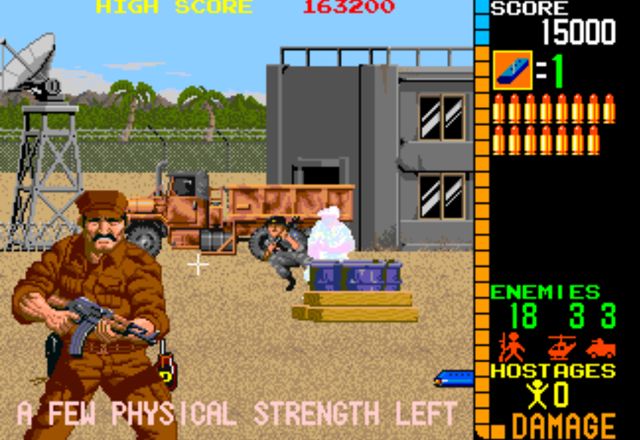 Release 1987
Publisher Taito
R-Type

Irem took plenty of graphical cues from Aliens, yet this side-scrolling shooter certainly innovated with its use of the R-9 spacecraft's 'force' pod. This handy little power-up could be mounted on the ship's stern or bow for improved firepower, or left to float around, shooting and clearing as it travelled. The R-9 could also 'brew-up' firepower with the shoot button held down, game mechanics that have been imitated ever since.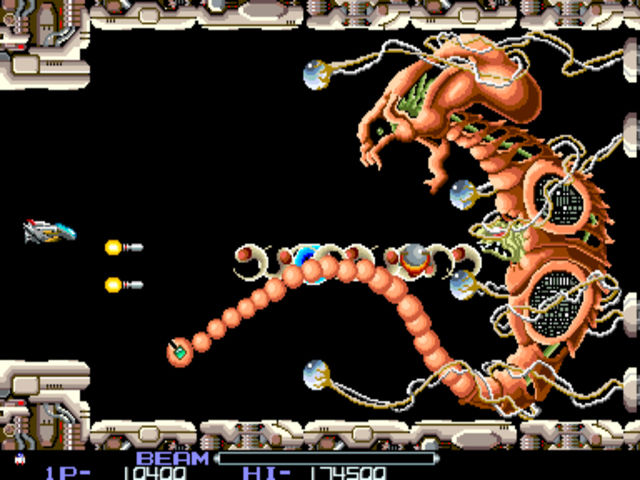 Release 1987
Publisher Irem
Chase HQ

Yes, Sega's Outrun could have taken this slot, but Taito took the concept and jazzed it up for a more enjoyable, and cooler, cult classic. Track down master criminals and do whatever you can to ram them off the road. Immense fun, especially with the added turbo boosts and Nancy on the radio dishing out orders. Grand Theft Auto inspiration, no doubt.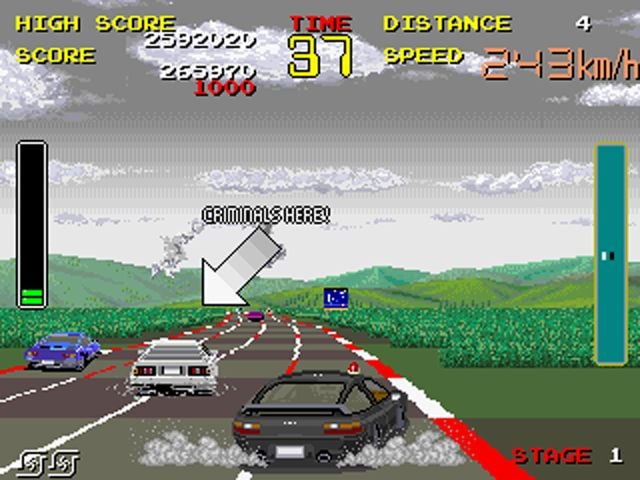 Release 1988
Publisher Taito
Final Fight

This one took the Double Dragon concept and gave it a protein shake of huge sprites – and huge numbers of them – beating seven shades out of each other. Two-player action, atmospheric ninja-style sound effects, with knives, samurai swords and crow-bars on offer. You even got to thrash a car to bits and watch its owner cry – what more could you want? The fact that Capcom ported this to iOS in 2011 speaks volumes.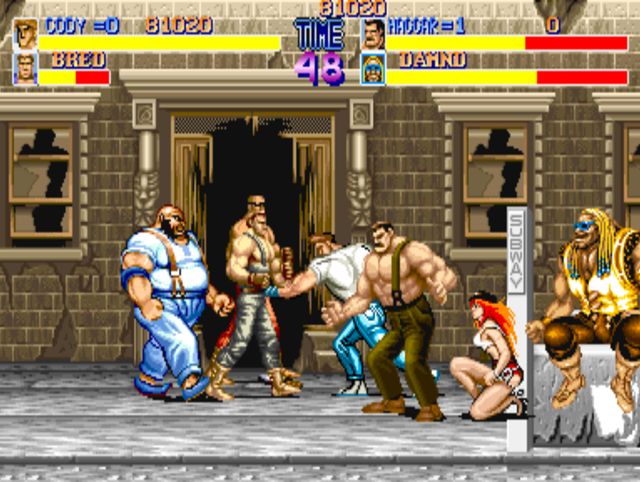 Release 1989
Publisher Capcom
Smash TV

Take the basic game mechanics of Robotron 2084, add more weapons and set everything in a futuristic, violent gameshow. Cheesy, superbly hammed-up audio samples of "Good luck, you'll need it!" and "I'd buy that for a dollar!" (nabbed from Robocop) would boom across arcade-rooms, sucking players in for the killing. This double-joystick beast was all about instant violence gratification, with endless joy in grabbing that grenade, rocket-launcher or invincibility power-up just in time to take out a gang of pursuing zombies. "Bingo!"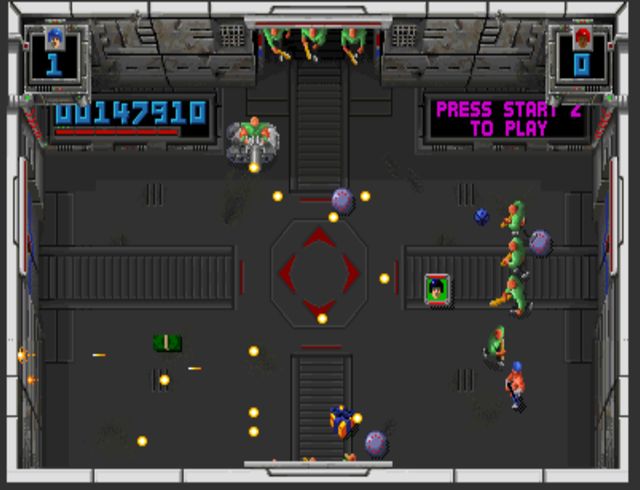 Release 1990
Publisher Williams
Streetfighter 2

I actually considered leaving this one out, having covered it in more detail last year. Then I had an epiphany about the torrent of abuse I'd suffer if it wasn't included, so let's all calm down and have a quick drool over its mythical six attack-button beauty and status as the most accomplished one-on-one fighter there has ever been.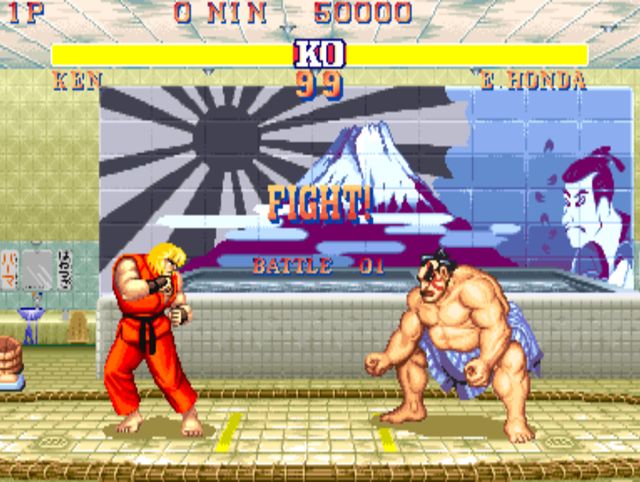 Release 1991
Publisher Capcom
Time Crisis

Introducing a foot pedal that ducks your player out of gunshot trouble, Time Crisis represents the mid-1990s generation of polygon-shunting arcade hardware well, and achieved considerable notoriety at the time. Subsequent releases allowed players to work in tandem, and modern arcade venues haven't looked back, with a constant stream of laser-gun titles available for punters. Namco has since revived the series for mobile platforms, aware that it achieved such a heavy following the first time round.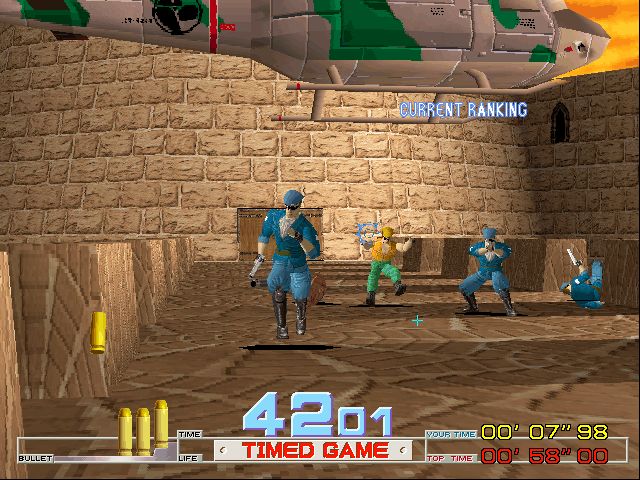 Release 1995
Publisher Namco