Original URL: https://www.theregister.co.uk/2013/03/04/idc_q4_2012_server_numbers/
Pricey mainframes, hyperscale boxes boost Q4 server sales
Unix machinery, er, not so much
Posted in The Channel, 4th March 2013 11:43 GMT
For the first time in five quarters, the server business saw an uptick in revenues in the final quarter of 2012, mostly thanks to burgeoning sales of dense boxes used by hyperscale web operators and a sharp appetite in IBM's mainframe shops for its new System zEnterprise EC12 boxes.
Windows and Linux boxes (about half of the mainframe capacity sold was for Linux, not z/OS or another mainframe operating system) plugged along, but sales of Unix-based systems fell across all of the major vendors.
In the fourth quarter ended in December, the boxcounters at IDC calculate that worldwide server unit shipments were actually down 3.9 per cent to 2.1 million units, but the huge premium that Big Blue gets for its mainframes helped lift the overall market, boosting server revenues across all types and in all geographies by 3.1 per cent to $14.63bn.
(To be precise, IDC counts server revenues at the factory level, not at the end user level. End user revenues include not just direct sales from vendors, but indirect sales through channel partners – with their markup, such as it is – on boxes they have in stock. These may already have been counted in the factory revenues in prior quarters.)
For the full year, IDC says vendors the world over bend metal around 8.1 million machines, for which the vendors were compensated $51.3bn. That represented a 1.5 per cent decline in shipments and a 1.9 per cent decline in revenues compared to 2011. Those figures include original design manufacturers (ODMs) like Synnex, Quanta, Wiwynn, and others. These original design cats are the ones who build custom machines for hyperscale data center operators such as Facebook, Rackspace Hosting, Google, Amazon, and dozens of others.
"Despite experiencing the first quarterly growth in factory revenue in over a year, the server market continued to show signs of lumpiness in the fourth quarter," explained Matt Eastwood, general manager of enterprise platforms at IDC, in a statement accompanying the server stats.
"IDC forecasted that server demand would begin to improve in the second half of 2012 following a number of critical product refreshes which occurred in the first half of the year. While this did happen in the fourth quarter, market demand was uneven with the US, Asia/Pacific, and Latin America all experiencing sharp growth, while demand in all other regions remained soft," Eastwood said.
"Average selling prices for servers increased sharply in the quarter as large and small enterprises continued to invest heavily in new server capacity to drive additional consolidation and virtualization initiatives."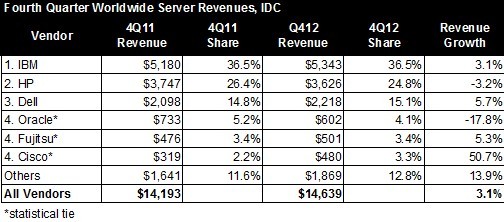 IBM rebounded in the fourth quarter thanks to mainframes, and Cisco, Oracle, and Fujitsu are in a tight race
I think it is safe to say that IBM's System z mainframes raised the class average while those hyperscale boxes, which have every unnecessary element ripped out them, helped lower the average. But with System z sales hitting $1.8bn in the quarter, up a staggering 55.6 per cent after more than a year of waning as customers were waiting for the zEnterprise EC12 boxes, it would be very hard for the cheap boxes to make a dent in average ASPs.
Mainframe boom won't last
In the coming quarters, as the appetite for mainframes diminishes, as it always does, and as these clouds get bigger and bigger and more companies think about taking the minimalist approach to servers, there is little doubt here at El Reg's systems desk that ASPs will continue their downward track again, with a boost from Unix system upgrades this year. When ARM comes to servers, we will see the aggregate server/switch combo start sliding too, since many ARM server chips have integrated networking.
The average IBM mainframe sale is probably on the order of millions of dollars in the fourth quarter. IDC reckons that the density-optimized machines, like those used at Google and Facebook, accounted for $705m in revenues and rose faster than even mainframes, up 66.4 per cent year on year. Approximately 192,000 of these machines were tailor-made for their users, a 44.2 per cent increase in unit shipments year-on-year. If you do the math, the ASP of one of these boxes was $3,672. Across the whole server base, the average machine cost just under $7,000. It is hard to imagine there is much margin in those hyperscale machines, so you have to have a lean operation to be in that racket and still get a paycheck.
IDC thinks that Dell still has more than half of this hyperscale server market (in terms of shipments), with IBM getting a 12.8 per cent slice (thanks to iDataPlex sales to supercomputer customers) and Hewlett-Packard getting a 9.1 per cent slice (thanks to the SL6500 machines and a smattering of Project Moonshot prototypes.)
Traditional enterprise-class blade servers, which have been passed over by hyperscale operators who do not need all of their redundancies - because they build redundancies in their software - are still plugging along. Blade server revenues rose by 3.3 per cent to $2.4bn in the fourth quarter. HP took 44.7 per cent of the blade revenue share, followed by IBM with 21.7 per cent and Cisco Systems with 15.3 per cent.
Speaking of server upstart Cisco Systems, IDC is declaring a three-way tie for the fourth spot in the top five rankings, although Oracle is still considerably larger than Cisco in terms of server revenues. (IDC calls it a tie whenever any two vendors are within a point of share of each other.)
Oracle shrank 17.8 per cent in the quarter, to $602m, while Fujitsu grew 5.3 per cent and hit $501m, barely ahead of Cisco's $480m in server sales. Cisco grew sales by 50.7 per cent in Q4, and was approaching a $2bn annual run rate.
Assuming Cisco continues to grow at the current rate – it could as it expands into Europe and Asia with its UCS blades machines and racks – the networker could exit this year with a server biz that rakes in $3bn a year. If Oracle and Fujitsu continue to drop, that would make Cisco the number four server seller worldwide, quite an accomplishment for a company that has only been in the market for four years.
If Cisco really wants to boost its growth in servers, what it could do is a reprise of the converged server-networking stack, but this time focusing on density-optimized machines (to use IDC's term) aimed at hyperscale data centers. That would give Cisco something to sell to the digital backbones instead of enterprise customers running VDI, basic server virtualization and clouds, and SAP ERP stacks. Not that the latter are not good businesses. It is going to be a long time, however, until Cisco can rival IBM, which had $15.75bn of server sales in 2012, or HP, which had $14.15bn. And even catching up with Dell, which had $8.17bn in server revenues in 2012, will be a nearly impossible task.
Chasing biz in growth markets like a border collie
One of the interesting set of statistics that IDC cooked up for this round of the quarterly server report card is one comparing and contrasting server revenue market share by vendor in the developed and emerging markets. As you can see below, IBM and HP perform better in the emerging markets in terms of share of revenue than Fujitsu and Cisco, which see their shares shrink in these fast-growing areas.
Oracle does about the same, oddly enough, with around 4 per cent share in the fourth quarter. IBM, meanwhile, has a 41.3 per cent share of sales in the emerging markets, where revenues are still growing at a fast pace and where its mainframe and Power Systems platforms are popular, compared to a 34.8 per cent share in the stodgy North American and Western European markets.
IBM said when it reported its fourth quarter results that mainframe sales were up 50 per cent in the developed markets. But they're up a whopping 65 per cent in the 30 growth markets it is chasing like a mad border collie.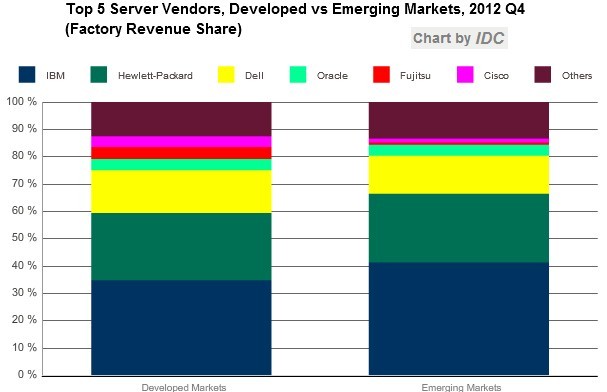 IBM, Hewlett-Packard, and Others have slightly higher share of the server pie in emerging markets
HP also does a bit better in the emerging markets, but not to the same degree. HP has 24.6 per cent share in the developed markets but 25.2 per cent share in the emerging markets. Other vendors, as a group, do a little bit better in the emerging markets than they do in the developed ones, thanks in large part to Lenovo, Inspur, and the ODMs in Asian markets.
One of the more interesting things that IDC does – and which causes a certain amount of grousing out there – is take a stab at projecting how the major operating systems are distributed on various iron. Yes, many machines ship barebones and companies put their own operating systems on them. Yes, the increase in server virtualization means some machines are actually running multiple flavors of operating system. But still, it is reasonable to make some assumptions about the way companies use servers and reckon what the OS distribution might be for the machines sold during the quarter.
To that end, Microsoft's Windows continued its dominance, with servers configured with that operating system accounting for $6.7bn in sales during the fourth quarter - up 3.2 per cent from the year-ago period.
The Unix collective - dominated by IBM, Oracle, and HP with a smattering from Fujitsu and Bull - generated $2.6bn, falling 24.8 per cent year-on-year. Linux, driven by burgeoning mainframe sales and hyperscale data centers on both ends of the system spectrum, jumped 12.7 per cent to account for $3bn in revenues. IBM said in its fourth quarter results that so-called specialty engines, variants of the System z motors that are only allowed to run Linux or to accelerate Java or DB2 routines, accounted for around half of the mainframe capacity shipped and helped boost Linux server revenues.
If you want to be generous and call Linux and Unix a hybrid Unix-oid platform, which is reasonable since Linux has been the logical successor in many cases to Unix, then this combined Unilinux market was down 8.5 per cent to $5.6bn.
If you do the math, then other servers accounted for $2.34bn, and if you subtract out the System z mainframes, then other platforms – so-called proprietary environments like IBM i on Power and OpenVMS and NonStop on Itanium, Unisys mainframes, and others – rose 27 per cent to $539m. This is the best quarter for other systems in a long, long time. ®