Original URL: http://www.theregister.co.uk/2013/02/27/nokiareal_world_search/
Nokia wants to build the Google of human behaviour - and share it
Really, really, really Big Data to work out who's doing what, when and why
Posted in Networks, 27th February 2013 10:36 GMT
Interview Nokia has a radical strategy to outflank some of the world's biggest technology companies, including Google, and it shared some of the details with El Reg in Barcelona this week.
According to Michael Halbherr, a key member of Nokia's top executive team and arguably number two to CEO Stephen Elop, location-based human behaviour information is the new Google search results – instead of web pages, it's "search results for the real world".
This is Nokia's plan. To make intelligent inferences, it needs lots of data: Really, Really Big Data. What certain kinds of people do at a given time, on a given day, in a particular place. And the system needs to scale. So Nokia is licensing its location-finding services to rival phone manufacturers in order to achieve this.
Apple has its own. Android and non-Android manufacturers are reluctant to become dumb waiters as this valuable information is collected by Google. Fine, use our platform, Nokia says to them, and you can keep it and use it too. Google and Apple are not sharing their 'behaviour platform' quite as freely, if at all.
Halbherr provided some fascinating new insights into the thinking behind the plan for the first time anywhere.
He said we're only at the beginning of what the technology can do. Mobile devices have maps – and in Nokia's case, very good maps – that are responsive, vector-based charts that work offline and cover just about every corner of the world. They can include related information – such as traffic or restaurant reviews. So why's it giving it all away?
Technology still doesn't provide the right information people need when they need it - and still makes things really complicated for a mobile user, thinks Halbherr. "Licensing Frommer's Travel Guide or Lonely Planet isn't enough anymore," he says.
"We think this is the next Google, only it's indexing the real world," said Halbherr. The platform learns about the individual and adds it to aggregate datasets, such as "what is there to do in Boston at 10pm after a football game".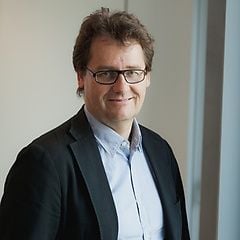 Nokia EVP of Location and Commerce
Michael Halbherr
"It's a large-scale machine-learning problem," he said.
Halbherr arrived at Nokia in 2006 with the acquisition of mapping company Gate5; he has an engineering PhD, so when he talks about AI it's in rather more grounded terms than what you might hear from other top tech execs.
If you think about how search engines started rating web pages – first by primitive keyword counts, then by Google-like page ranking – then it's a natural progression. But you need a lot of data to do this, said Halbherr: "Where do people go at 10pm after a movie? It's about building up these kinds of connections."
Nokia isn't alone in building these "placegraphs" or "human motion graphs" – but it is alone in seeking to share them with all-comers, which include rival handset makers. "Meaningful recommendations need deep analytics," he told us.
Before going on to the implications, let's clarify what Nokia is actually doing.
Answering the toughest question of them all: Where's the nearest decent pub?
In 2007 Nokia acquired US electronic navigation company Navteq for $8.1bn, and thus grabbed a profitable intellectual property licensing business. Early on, Nokia sold upgrades to its handset users for turn-by-turn driving navigation, but then Google offered this for free. Nokia touted downloadable global maps – and Google now offers this for free, too. It's a competitive business.
So how could Nokia realise some value from an asset that was being destroyed by commoditisation? By going horizontal. Halbherr sketches out a 3x3 grid for the HERE platform as it's now called – there's no Nokia branding anywhere on the technology.
In one corner is where Nokia keeps its "first and best" products. Everything else on the grid is licensed out; this includes things that were touted as Nokia-only unique mapping-based apps but will rapidly become platform features. CityLens is an example: it's now another HERE platform API called Livesight.
So the three tiers on the licensing grid are Nokia-only products, technology for Windows gear manufacturers, then things for all the other hardware companies.
"We look at the world through the eyes of an OEM [original equipment manufacturer]. We work with OEMs like HTC and Samsung, because an OEM controls the business model for the device," he said.
The platform will be OS-neutral, and firms making an Android or Mozilla OS phone will be able to use the same features. And they'll get the goodies that are Nokia's exclusives today – such as vector maps and offline data: "There is a price for the data and a price for the SDK [software development kit]", we're told.
Amazon is an SDK licensee, so programmers writing apps for the Kindle range are actually using Nokia's HERE maps – they just don't know it. The rebranding means apps formerly known as Nokia Maps, Nokia Drive and Nokia Transit (Transport in the UK) become the shouty-named HERE suite (and the equally shouty HERE Maps, HERE Drive and HERE Transit).
So a Nokia Lumia owner will get access to all the world's offline maps, but an OEM gets just a country licence, Halbherr explained.
What would the platform be able to do once it had all this really big data? One example was that people would get a tip on which bar they might like after a movie. However, the very last bar I'd want to go to after a film is the bar everyone else had been tipped to go to. It would be pretty crowded, for a start, and hard to get a drink.
But the system could provide nudging information, Halbherr said, such as advising some people to leave work early for a faster ride and tell some others to depart later. Didn't this risk running into the problems of behaviourism, I wondered?
The problem with this paternalistic approach is thatonce people realise they're being manipulated, they stop responding as the system "thinks" they should. In fact, they may respond very negatively. This was a potential issue, said Halbherr, just as privacy was an issue. There had to be a strong trust relationship and not one manufacturers or service providers could abuse.
He's certainly mindful of the pitfalls. Halbherr cited Frommer's as an example of something that pleased mathematicians more than users – it averaged the feedback it received, and lost personal and idiosyncratic touches. It didn't really give very good recommendations, in his opinion.
The mapping business at Nokia is doing very well today – bringing in €400m in the last quarter – making it a significant company in its own right, and growingly rapidly. But with "real world search", Europe's biggest tech company is launching the next epic industry battle, and Google is firmly in its sights. If it reaches even a significant fraction of Google's web-page search revenues, then Nokia will be a significant disruptor, and a major player in its own right.
Will manufacturers nibble? We can't help but notice the fastest growing smartphone OS in the world is "Android without Google" in China. This appeals because it's cheap, it's a no-name manufacturer running on a MediaTek hardware package. HERE costs money. But if Nokia can get the pricing right, who knows? ®
Bootnote
This is part one of our interview with Halbherr – part two follows later this week. Follow all our Mobile World Congress 2013 coverage here.