Original URL: https://www.theregister.co.uk/2013/02/27/mastercard_masterpass_drives_into_mobile_payments/
MasterCard tries to zap PayPal with own-brand mobe wallet
MasterPass eyes lead in pay-by-mobe race
Posted in Networks, 27th February 2013 12:17 GMT
Walk into any of Apple's 400 shops, pick up an accessory, boxed software or any one of the other items the Mac maker's stylish emporia have out on shelves, and, if you have an Apple ID and an iPhone, you can buy the products you want without having to interact with one of the firm's happy-clappy minions.
The system works with an app that taps into each shop's Wi-Fi network to link a phone camera scan of an item's barcode with Apple's pricing database and your Apple account details. Key in your Apple ID and password to confirm the purchase and you're ready to go.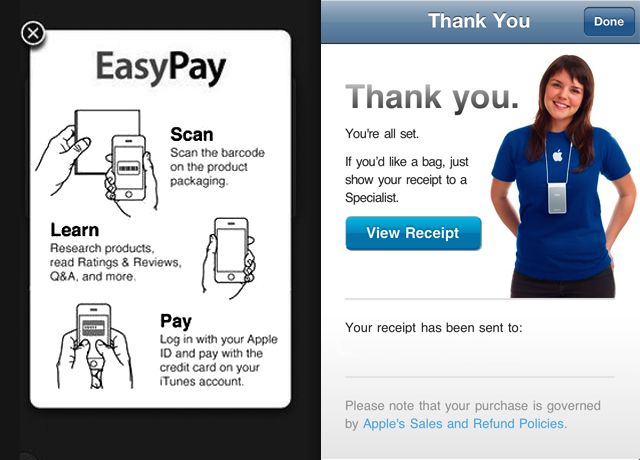 Apple's Apple Store app supports in-store payments - but there's still no escape from the blue shirts
You even get a virtual receipt you can show to overzealous store detectives as proof of purchase.
Avoiding paying shoppers being collared as shoplifters aside, it's a system MasterCard would very much like to see made more broadly available, and this week it announced MasterPass, a system it hopes will soon allow users to pay for any item, in any shop, by phone.
MasterCard comes late to e-payments. PayPal, the doyen of digital payment systems, was founded 15 years ago, in 1998, building its business on the back of internet users' fondness for bidding in sales hosted by eBay. The online auction site liked PayPal so much it bought the company, in 2002.
Like Apple's Apple ID system, PayPal hides a user's credit card details away behind a single log-in system, making sure the retailer - online or off - gets its money without having to view or store the customer's numbers. So do similar services from Google, WorldPay and others.
Give the credit card a hiding
That's very convenient for the buyer, but less appealing to the likes of MasterCard and Visa, and the banks whose cards tap into these firms' payment clearing systems, all of whose business depends on taking a small cut on each purchase. Tucking away the card at the end of the customer interaction chain subverts the brand recognition that MasterCard and Visa strive to build in order to promote usage and increase their revenue from all those transaction fees.
Existing online payment schemes were devised to allow users to buy goods online and pay for items through an intermediary who they trust to protect their financial details more than they do the vendor, the better to preserve the security of their financial information.
That's much less of an issue for high street purchases. In real shops, customers are happy to hand over the card they might want to obscure when shopping online. The change now taking place, thanks to initiatives like Apple's payment app and similar utitiles from other shops and suppliers, is consumers' growing desire to pay not with a card but their phone.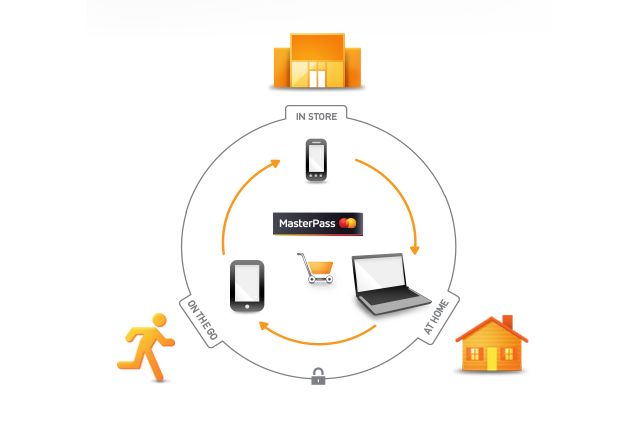 MasterCard's all-encompassing m-payment system, MasterPass
The Apple Store app uses barcode scans and Apple's own Apple ID system, originally created to allow fans to pay for music downloaded from the iTunes store but since rolled out across all of Apple's e-commerce outlets. Pizza Express, a restaurant chain, offers a similar app: your bill has a numeric code which can be tapped into the app and then paid for through PayPal.
With a smartphone in your pocket and a secure payment app installed on it, you might not even need to carry cards at all, calling into question the livelihood of the likes of MasterCard and Visa. If you don't need your credit card to buy things, only a PayPal account, why not link it direct to your bank account or PayPal's own credit facilities and cut out the go-between card altogether? PayPal and Apple don't yet offer credit, but all they need to do so is a suitable licence. In Europe, PayPal has one.
Phone-y payments
Apple's system is likely to remain limited to Apple's shops and online stores, though there's no reason why it shouldn't be expanded to support other retailers. Its Passbook app, introduced as a place to keep virtual tickets and vouchers, is a logical place to start extending the service. PayPal has already started, albeit in a small way. Its own app, PayPal InStore, allows gents to charge the cost of their new Thomas Pink shirts straight to their account. Ladies buying glad-rags from one of Aurora Fashion's Oasis, Coast, Warehouse and Karen Millen outlets can do the same. In the US, it numbers Home Depot among its retail partners. It's talking to other retailers too, the company says.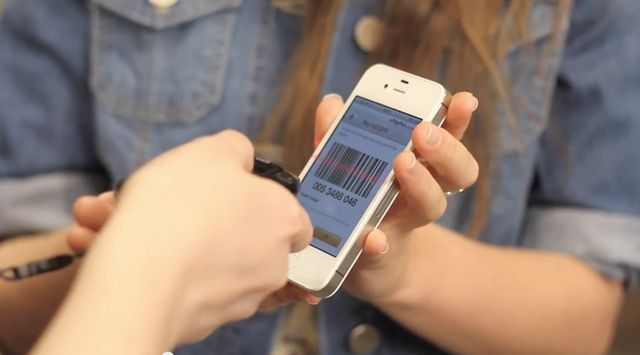 PayPal's InStore app allows you to pay for clobber by cellphone
PayPal's presence is small, but growing and, perhaps more importantly, has the brand recognition to become a big player in the mobile payments business. A recent survey of US consumers carried out by comScore, a pollster, found that 48 per cent of smartphone owning respondents who have used e-payment technology have done so using PayPal. Google, the nearest of PayPal's rivals, on the table was used by a mere eight per cent of respondents.
Google's Wallet app is geared more toward NFC-based tap-to-pay systems, an area in which MasterCard itself has already dabbled, with its PayPass system and a wallet app of its own. Number three on the comScore list, PayPass was used by only three per cent of respondents.
As Apple, PayPal and others have shown, paying for goods with a phone doesn't necessarily require near-field wireless communications, and MasterCard makes it clear that MasterPass, which is a kind of second-generation PayPass Wallet, can present on-screen QR-style codes that vendors' own systems can read and accept as payment. Apple's Passbook app uses QR codes for voucher payments; PayPal's uses barcodes.
Better latté than never
It's a method that is proving popular. Earlier this month, Starbucks, a coffee seller, said its mobile payments system now attracts 2.1 million transactions a week - about five per cent of all its sales transactions in US stores - as beverage buyers present their QR-style code-showing Android and iOS apps instead of loose change.
MasterPass is set to launch in the UK in the summer, with Argos and Boots already saying they will accept MasterPass payments. It says it expects all vendors who current accept MasterCard payments to be accepting MasterPass too by 2016. Banks Santander and Citi have given the service their approval, and are likely to be among the first UK card issuers to support it. MasterCard's list of MasterPass-backing banks doesn't yet include the UK's biggest high street retail banks, though punters are keener on retailer-issued credit cards these days. According to Datamonitor, a market watcher, 41 per cent of card holders on average report that they use their retailer-branded credit card "all of the time"; the equivalent figure for bank-branded cards is just 20 per cent.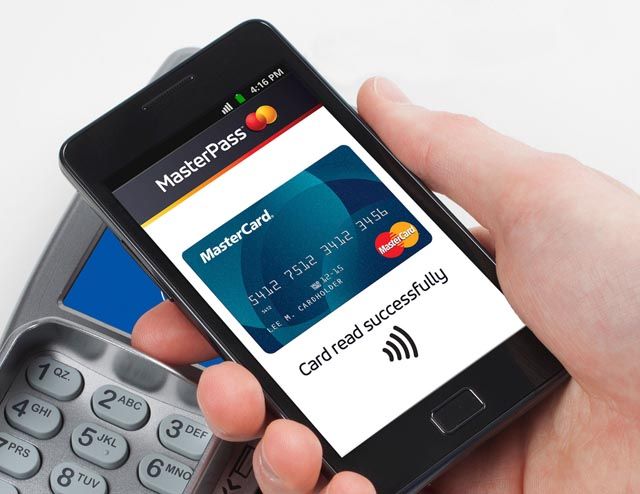 MasterPass will support NFC tap-to-pay technology as well as QR codes
Visa is also preparing a pay-by-phone service, called V.me, though its UK launch has been delayed from a planned autumn 2012 roll-out to the summer of 2013. Like MasterPass, V.me will be provided to users through card issuers' own wallet apps and should go beyond NFC, which it tackled with its Paywave initiative.
MasterCard says its wallet is "open" to allow users to include credit, debit and store cards affiliated to other networks, but it remains to be seen whether this will work in practice - will they suppport it? So far it has only mentioned Maestro, the debit card system it owns. A real wallet can contain cards from a variety of issuers tied to various networks. To do this with e-payment services requires the rigid definition and application of standards.
All of which perhaps favours firms like Apple, PayPal and Google who have no need to protect and present merchant and card issuer brands the way MasterCard and Visa do. For these services, the payment card is merely a means to an end not their raison d'etre. ®