Original URL: https://www.theregister.co.uk/2013/02/26/review_sony_vaio_duo_11_windows_8_ultrabook/
Review: Sony Vaio Duo 11 Ultrabook
Canny convertible computing - or too clever by half?
Posted in Personal Tech, 26th February 2013 13:29 GMT
The other day, a friend sent me a Picasa link to photos he'd taken at a recent vintage motorcycle show. It was a wide ranging display of classic engineering imagination put to work to power a rider on two wheels. Similarly, it's those variations on a theme that Windows 8 has spurred among mainstream computer makers, as they all have a stab at producing the quintessential convertible laptop. And much like the efforts of those early motorcycle pioneers, it seems that nobody's quite sure how you make a laptop and a tablet work together. After all, if they knew, they'd all be doing it the same way, surely?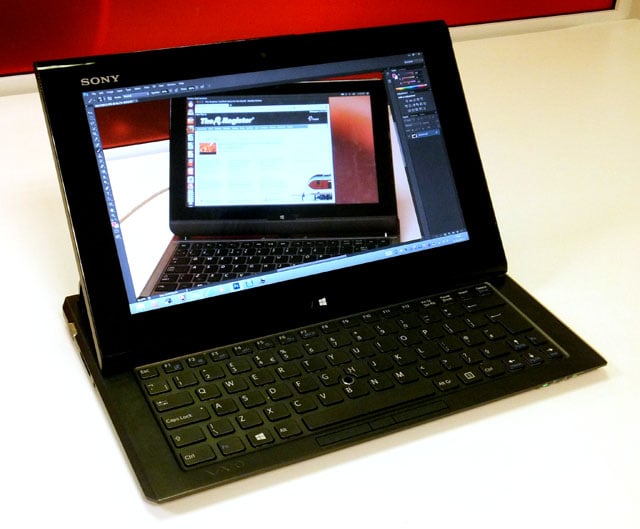 Slide rules? Sony's Vaio Duo Ultrabook
Sony's take with the Vaio Duo 11 is to have a screen that elevates as you slide it from tablet mode to reveal its dinky keyboard. There's no trackpad though, just an optical TrackPoint controller – think recent BlackBerrys – and a slither of buttons for left/centre/right clicks beneath the spacebar. Given the display is a touchscreen, Sony almost gets away with it, but having full HD 1920 x 1080 on an 11.6-inch screen demands some pretty accurate poking at times, so for good measure, a stylus is included too. Is this helpful or distracting? I'll get back to you on that.
The Sony Vaio Duo has three CPU options: a 1.9GHz Intel Core i3-3227U base model, a 1.7GHz Core i5-3317U (can boost to 2.6GHz) and a 1.9GHz Core i7-3517U (can boost to 3GHz) with 128GB, 256GB or even 512GB SSD storage, and 2GB, 4GB or 8GB of Ram. All systems rely on the Intel HD 4000 processor-integrated GPU. This combination of hi-def meets pointy tech gives the impression that Sony's Vaio Duo has one foot in the future and another rooted in the past. You even get a VGA port on the side, which gives some clues as to who is expected to buy it.

Unlike an ARM tablet, the Intel CPU needs vents
Is this the new exec must-have machine that can knock out a presentation on the boardroom projector and slum it as a slate in the coffee shop too? Sony must hope so, and as it's also equipped with two USB 3.0 ports, HDMI and an SD/Memory Stick slot, it can easily accommodate peripherals back at the office if the point and flick fiddle factor proves wearing. Oh, and what's this round the back? Gigabit Ethernet. Now you're talking.
Like all these convertibles, the power button is along the edge, which is all very well in tablet mode, but a bit of a grope when waking it up from sleep as a laptop. A design compromise shows itself early on when typing, as you realise that the screen angle is fixed. Again, Sony reminisces by including flip out feet that, like keyboards from a bygone era, raise the back of the machine altering the tilt of the keys and screen at the same time.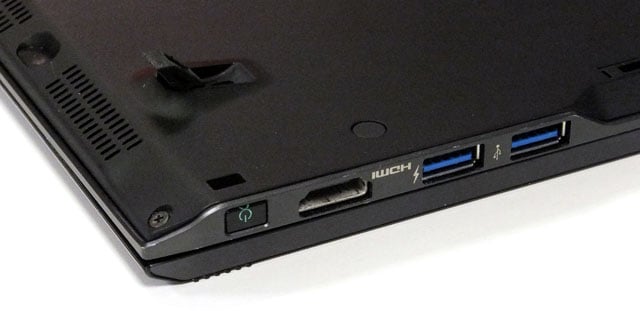 Adding feet to the base seems a bit of an afterthought
Being an 11.6-inch machine, the keyboard is a little cramped along its length, although there is a decent amount of space between the chiclet keys, which sport an auto sensing backlight. What you perhaps won't have bargained for is that the keyboard is also cramped from front to back, or at least it feels that way as there are no palm rests here. The space that would normally exist for such has been taken up by the deckchair prop stand arrangement keeping the screen upright.
As with all condensed keyboard configurations, spend any time on them and you get used to the quirks. The Vaio Duo 11's keys are comfortable enough, if a little on the wobbly side, but I spent a day typing solidly on this machine and, repeatedly, hit the arrow keys instead of the right shift key. I was tempted to plug in a mouse too, but persevered with the TrackPoint, frequently giving in and using the touchscreen instead – it's what it's there for, after all.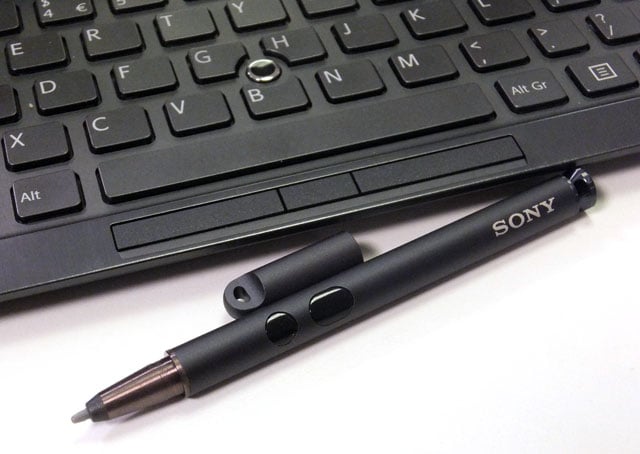 There's no trackpad so you've choices of stylus, TrackPoint and touchscreen, of course
The main problem for me was highlighting text to cut and paste in WordPad – your finger gets in the way for a start which makes it difficult to be specific. Beyond a click and TrackPoint trace, Sony's aid for its incumbent OS choice is to use its VGP-STD1 stylus – it even has left and right click controls, but this wireless device seems to have a mind of its own. There is some proximity sensing going on here, much like on the Samsung Galaxy Note, so you don't have to press on the screen for some tasks as you hover above with a pinpoint cursor, but it was so wayward when navigating the desktop, it was unuseable.
Pen pushing
Tests with the stylus using handwriting recognition on Windows 8 had problems too. A grey circle would appear from nowhere and the Computer desktop icon would be selected in the middle of writing – so the text app would become inactive in the background and not fill up with the words you'd scrawled. A flat battery perhaps? Unlikely, as it worked like a charm in the full screen FreshPaint sketching app. At first I thought it was buggy, but I wasn't scribbling hard enough – the stylus is pressure sensitive and in this domain, performs rather well, with acceptable latency.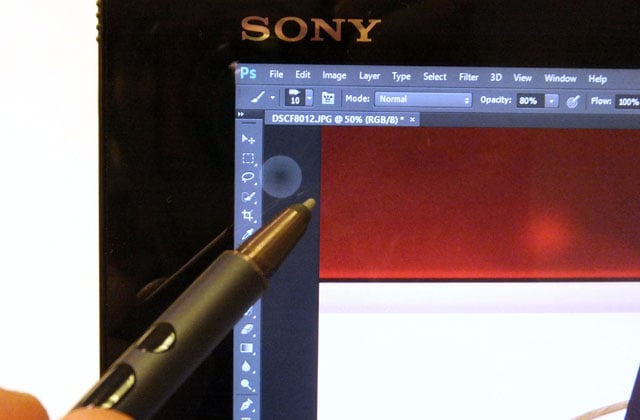 A mysterious grey blob appears randomly when the pen is in use and not even touching the screen
I gave the Adobe Photoshop CS6 trial a spin to see how the pen performed. Here, the latency doesn't appear too bad at first, it trails behind the most rapid strokes, and could sometimes get a bit tardy for no obvious reason, and this is the fully loaded Core i7 model. The latency might irk some people but not as much as finding out that the pen's pressure sensitivity doesn't work in Photoshop. An Adobe forum post highlights the issue which suggests somebody needs to grasp the nettle if this N-trig designed stylus is to be fully functional.
With all these input options, what is difficult to get used to is the simple fact that the round pen barrel easily rolls. Put it down and away it goes, and as the detachable cap can't be clipped to the back of the pen, away it goes too. There are lanyard holes at the end of the pen and cap but at £49 for a replacement, this sleek design lacks some basic practicalities that might help keep all the bits from getting lost.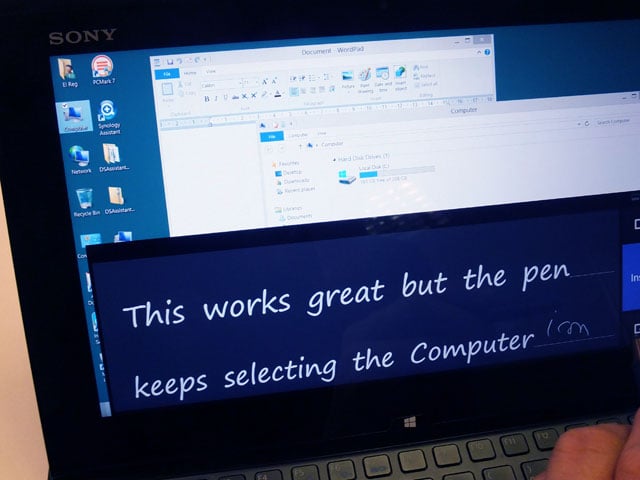 The pen repeatedly selects the Computer icon opening that window and obscuring WordPad for text entry
As a tablet, the Sony Vaio Duo 11 is a bit on the chunky side, measuring up at 320 x 199 x 18mm and weighing 1.3kg. As a result you don't get that chuck-it-on-the-bed confidence a dedicated tablet affords. However, it's small enough to stuff into a backpack although its primarily plastic construction, again, affects confidence. How well it would survive an accidental drop? That slide and tilt mechanism looks particularly vulnerable as the screen locks into place when upright. But then again, with a push, it slides down easily enough. Perhaps it's more likely to collapse into a tablet than suffer serious damage.
That reminds me, when I first came across the Vaio Duo at the IFA show last year, I couldn't figure out how to crack the thing open from tablet mode. You have to lift it up from the back, which is a two-handed affair and, unless I'm missing a trick, it's pretty much impossible to manage when flat on the desk. So no matter how much you polish the screen and its large black borders, you're almost always going to end up gazing at margins of fingerprints, but that's convertibles for you.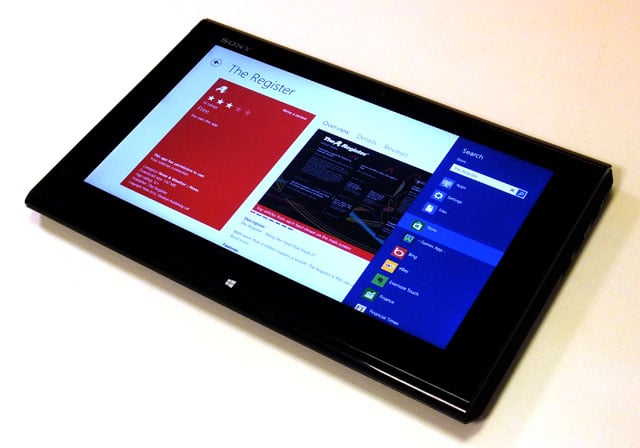 Slate mode
If you plumb in an external optical drive and run Ubuntu 12.10 from a live CD, you'll find the touchscreen doesn't work... well, it did for a moment, but as the Vaio settled from this boot-up, it never became active again. The good news is that Ubuntu could identify the Wi-Fi hardware and it worked without a hitch. Even if that had failed, having Ethernet on-board this convertible at least allows for some experimentation with different Linux flavours.
Talking of experimentation, the Core i7 model review sample needed a slew of updates which were dutifully applied and a nose around the Sony site also highlighted a firmware patch too. Getting to the BIOS/EFI section of the Vaio Duo is much like it is on the Lenovo Yoga – you enter it by engaging the restore partition boot up from the Assist button in the base. A number of options appear, including external drive booting, but this approach at least avoids frantic prodding of function keys to get to this level. I mention this because I tried to apply the update but it wouldn't take.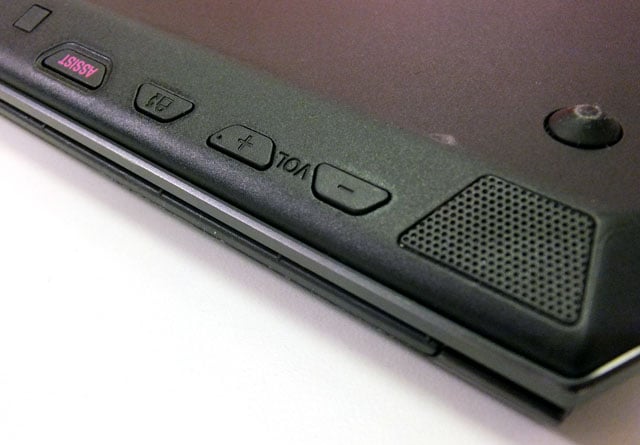 The Assist button enables a rescue partition boot up and the not so conveniently placed orientation lock is alongside
My guess was it was an early production sample or the folks at Sony had disabled changes at this level. I'd presumed the firmware tweak would deliver some advantages – perhaps the wayward stylus performance would improve? Also some of the Modern apps were refusing to update. Another, was the accelerometer which would flip into portrait mode with everyday handling and would stubbornly refuse to return to landscape without some vigorous encouragement – cursing is optional, but very likely. There is an orientation lock in the base, but fumbling for it will probably set things off.
Tweak and destroy
Anyway, a bit of fruitless fiddling around later and it still wouldn't bite. So this was followed up by some hapless fiddling around – the odd default reset here and there – and lo, I have a brick in the shape of a Vaio Duo. Oops, sorry Sony. So the next one arrived and the BIOS on this model was the same. In the interim, Sony's site had uploaded another "sustaining" update, so I tried again and again, no luck with either. Oh well. Just for the record, that accelerometer borders on unbearable at the best of times. Apparently it relies on a Microsoft driver, and hopefully there's a fix coming in some form or another.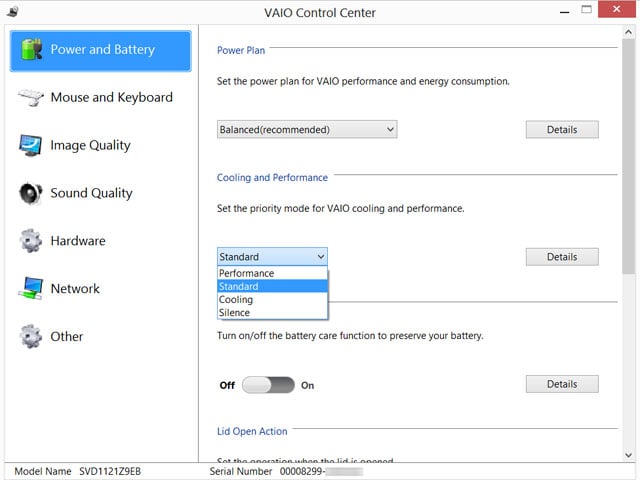 Speedy system tweak shortcuts courtesy of the Vaio Control Centre
The Vaio Duo features NFC, which I had no use for, and there's GPS too if you need it. Sony's Vaio Control Centre app provides speedy access to a range of commonly used features, and having scoured the keyboard for dedicated controls to alter the Duo's backlighting, I eventually found the functions here. Handy power and performance modes can be switched over too, without trawling through the Windows options. In balanced/standard mode, the Vaio Duo 11 clocked up a PCMark 7 score of 4731 with the best performance settings notching this up to 4893.
Incidentally, start-up is typical of a Windows 8 machine with an SSD, namely, pretty darned quick – about six second to the login screen. Sony doesn't give a battery life figure but you'd need to some pretty frugal power adjustments to manage five hours out of it and HD video will playback will deliver only half that. There's the VGP-BPSC31 sheet battery option too, that clips on the base which Sony claims doubles the duration and will set you back around £119.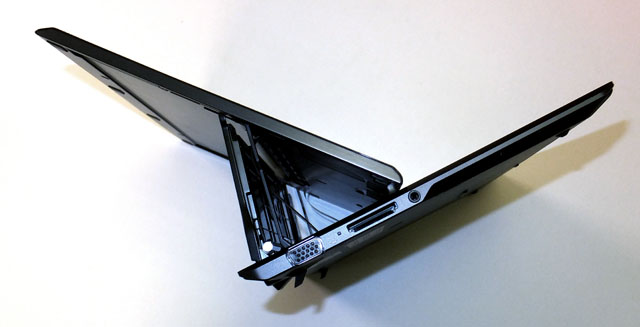 At least deckchairs allow for angle adjustment, the Vaio Duo has just one upright position
And so to bed. A true test of a laptop is surely lazing around watching a movie. OK, so we've got Dolby Home Theater V4 here with presets for music, movies and gaming which don't sound too bad actually. Not exactly booming, but spacious and not too harsh. And we've got that bright, crisp 1920 x 1080-pixel screen – what's not to like?
Well, what do you do when you recline? You change the screen angle to avoid image shading, right? Not on this baby as the viewing angle is fixed. It's absurd and those little feet don't do enough to compensate either, so you either need to prop it up at the back or use it in tablet mode with a stand. Is this a ruse to keep the business traveller glued to e-mail rather than unwinding with some light entertainment? What about on a plane or train? Tablet mode doesn't wash for serious work.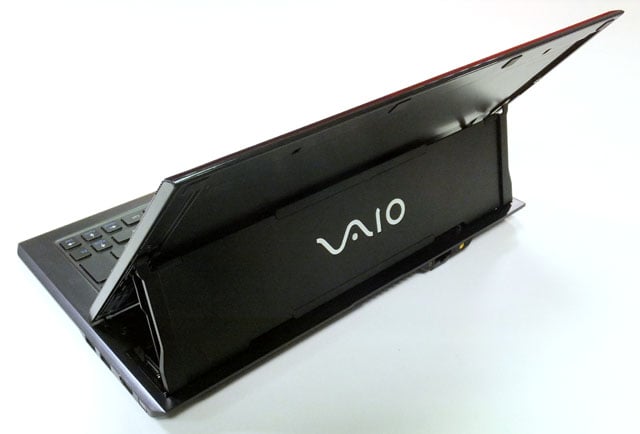 All the right connections, but a fair share of quirks too
The Reg Verdict
Despite all its functionality and inventiveness, the Vaio Duo 11 appears to be a product design that became so focused on touch tech that it lost sight of the screen. It's powerful, well connected and highly portable too, but in some basic areas, it's just not that usable. ®