Original URL: http://www.theregister.co.uk/2013/02/23/ubuntu_tablets_first_look/
Hands-on with Ubuntu's rudimentary phone and tablet OS
It's here, but there's not much you can do with it
Posted in Developer, 23rd February 2013 01:31 GMT
Pics Canonical says that Ubuntu 13.10 will include "a complete entry-level smartphone experience" when it ships in October. Anyone brave enough to try out the Ubuntu Touch Developer Preview, however, will quickly discover that the current incarnation of Ubuntu for phones and tablets offers considerably less than that.
When it shipped the source code and installation images for the Developer Preview on Thursday, Canonical made it quite clear that this first release isn't meant to replace production devices. That becomes even more plain once you install it, because in its present form it actually can't replace a production device – not for any purpose.
Installing it is the first hurdle. Doing so can be a little nerve-wracking, because it means erasing the Android OS that came on your original device. So I'll repeat the usual caveats here: if you do try to install it, it is possible to screw up, and you might end up with an inoperable device.
The truth, though, is that loading Ubuntu onto a supported Google Nexus device really isn't that complicated. If you're comfortable with things like rooting your device and installing custom Android firmwares, installing Ubuntu is really no different.
The easiest way to install it is to follow Canonical's installation instructions, which means you'll need a workstation running Ubuntu 12.04 or higher. Experienced Android developers will be able to find workarounds to get the job done using other platforms, but you'll save yourself some pain if you just do as you're told. Also, you'll need to be comfortable using the command line.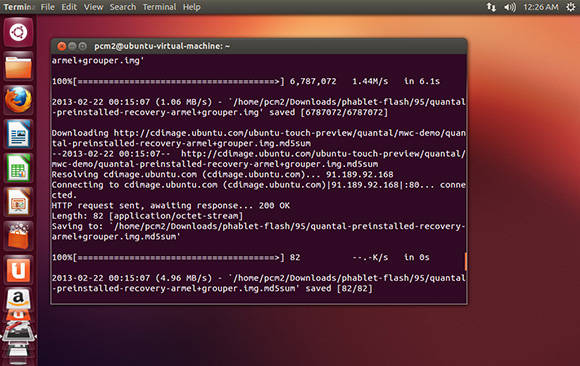 If you want to try installing Ubuntu on a Nexus phone or tablet, you'd better know what you're doing
If all goes according to plan, the whole process should take just a few minutes, after which the device will automatically reboot into Ubuntu. That's when you'll ask the obvious question: So now what? The answer, unfortunately, is "Not much."
Dummies, mock-ups, and placeholders
The first thing I noticed when my newly flashed Nexus 7 fondleslab booted was the lock screen, all decked out in Ubuntu's familiar purplish-brownish color scheme. Curiously, a large widget in the center of the screen informed me I had 14 new tweets, which was disconcerting, considering I hadn't even selected a Wi-Fi network yet.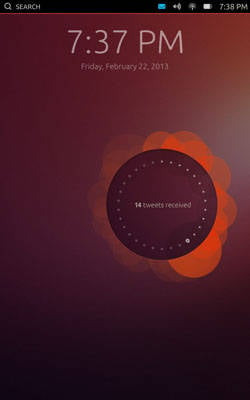 What Ubuntu's lock screen would look like, if it had one
Not to worry – I soon realized that this was just placeholder content. There was no way to get at these supposed tweets to see what they were about. And for that matter, the lock screen doesn't even lock. This was all just a conceptual mock-up of what the final Ubuntu tablet OS might look like, which I soon learned was true for much of the Developer Preview as a whole.
Navigating the OS took some getting used to. Unlike Android, Ubuntu offers no dedicated buttons for things such as Settings or the Home screen. Everything is about swiping and scrolling, which occasionally made it feel like Canonical's UI designers were bending over backwards to avoid more obvious controls.
Swiping the main screen brought me to a page of icons where I could launch apps. Swiping in from the left of the screen brought up a launcher bar containing many of the same icons. It wasn't clear why I would choose one method or the other, and bringing up the launcher bar on the main app screen was just redundant.
Here again, though, while there were lots of icons, most of them didn't do anything. Some just displayed static screens, with no interactivity or controls. Others were basically just browser bookmarks that launched the mobile versions of web apps such as Gmail.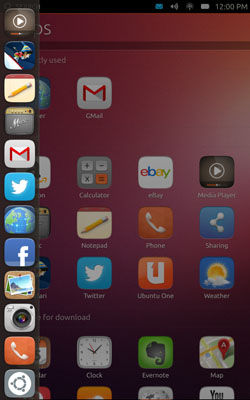 So many icons and launchers, but no apps
There were a few apps listed as "Available for Download" on the main Apps page, including such services as Evernote, Pinterest, Wikipedia, and YouTube, but tapping on those icons did nothing – they were just more placeholders.
The apps that did launch mostly didn't work, or didn't do much. The icon labeled "Media Player" brought up a totally black screen. I actually thought it had crashed the OS, until I realized I could just swipe to return to the launcher screen. Admittedly, this may be a problem with the Nexus 7 hardware.
Similarly, the cameras aren't working on the Nexus 7 yet (though they supposedly work on other devices), and neither was I able to try out the phone functions – the Nexus 7 not being a phone. From what I could see, though, Ubuntu's dialer and SMS capabilities are rudimentary, at best.
So is the web browser. I'm going to hazard a guess and say it's based on WebKit, but other than basic page rendering and navigation it seems to lack even the most basic browsing functions, such as bookmarks or history. The only controls I could find were a URL bar and a Back button, and I couldn't even get at those until I figured out which direction I was meant to swipe the screen – another strike against Canonical's button-free UI concept.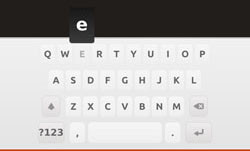 All that wasted space. You call this a keyboard?
Even typing text into the browser was awkward, because Ubuntu's onscreen keyboard is pretty shoddy. Its layout is cramped, despite lots of wasted space around the keys, and the keys are always rendered in uppercase, even when pressing one will yield a lowercase letter. Numbers, foreign characters, and symbols are spread across two additional screens, making entering URLs a particular chore.
A glimpse into Ubuntu's future
So there's really not much going on for regular smartphone users in the Ubuntu Touch Developer Preview, and you certainly can't get much "real work" done with it ... which is pretty much what Canonical told us to expect. So why would anyone – even an Ubuntu enthusiast – want to download it, especially when you have to wipe a perfectly good phone or tablet to do so?
Naturally, the primary audience for the Preview is developers who want to build apps for it. But even then, the Ubuntu SDK is still in alpha, and the initial release only supports building apps for phones, not tablets.
Still, one good reason to poke around the Developer Preview is that it gives you an idea of how Canonical envisions phones and tablets working. Given that Canonical founder Mark Shuttleworth says the long-term plan is for a single Ubuntu OS to be able to deliver phone, tablet, desktop, and TV user experiences depending on what hardware it's running on, it's worth taking a look at this early prototype to see where it might be headed.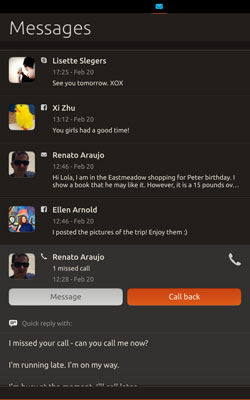 Ubuntu's Messages view takes a unified approach
Some of the UI controls are interesting choices – for example, the way contacts' headshots are magnified as you scroll through them, similar to the OS X application dock. Mind you, like so many other things in the Preview, for now this is just a visual effect with no actual function. But because Ubuntu is open source and community-driven, early users are able to give feedback on this and similar UI concepts to help shape what the eventual, mature version of Ubuntu for devices will look like.
Of particular interest is Ubuntu's messaging app. Based on the nonworking mock-up in the Developer Preview, the idea is to deliver all new-message notifications – including phone calls, SMS, email, Facebook messages, and more – into a single inbox, where they can be managed all at once. It's a very BlackBerry-like idea, but it isn't for everyone.
Media ... and money
Other screens show that Canonical is not ignoring the industry's current fascination with phones and fondleslabs as media-consumption devices.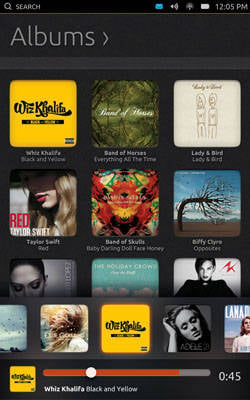 Canonical sees Ubuntu as a media platform
Although the music interface is just a bunch of scrollable album covers so far, Canonical clearly intends to allow Ubuntu users to browse streaming media via an integrated interface.
But perhaps the most telling screens are buried within the video-viewing UI. Here, tapping on some of the movie posters pulls up a screen that not only gives some information about the film's plot, cast, and crew, but also offers two buttons: one to buy the film at Amazon, and another to rent it via Ubuntu One, Canonical's own cloud service.
This clear hint at a commerce-friendly future for mobile Ubuntu is sure to further dismay the open source purists and privacy advocates who were outraged when Canonical added Amazon shopping results to Ubuntu's Dash universal search feature.
But tough luck. If there's anything more to this than just a hopeful glimmer in Mark Shuttleworth's eye, then Canonical is clearly seeing dollar, euro, and pound signs in its touch-enabled Ubuntu future, and Amazon is going to be coming along for the ride.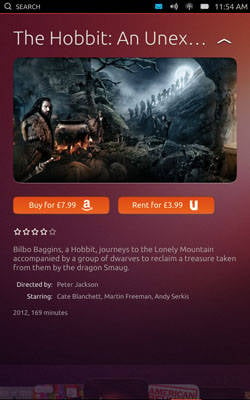 What Linux was made for: shopping!
Still, the number of features that are half-implemented or plain nonfunctional in the Ubuntu Touch Developer Preview serves to demonstrate just how ambitious this new vision of Ubuntu really is. It's hard to believe that Canonical will be able to deliver a smartphone interface that's anywhere near competitive with Android or iOS by Ubuntu 13.10's October ship date – or for that matter, by the following October.
What's more, Ubuntu isn't the only Linux-based mobile OS on the horizon. The Mozilla Foundation is taking a stab at it with Firefox OS, and Samsung is backing Tizen. Whether any of the three will be successful, even in developing markets where demand for low-cost smartphones is rising, is anyone's guess.
For now, the Ubuntu Touch Developer Preview is best seen as an experiment, rather than a serious bid for a significant share of the mobile market. In its present state, there's far too much work left to be done on it to judge it against existing competitors. Still, it's always exciting to see a new alternative emerge to challenge the status quo, and for that alone, Ubuntu on devices is sure to be one to watch. ®
Bootnote
​In case you're curious how I grabbed the screenshots for this hands-on, like most things with Ubuntu Touch Developer Preview, it wasn't exactly simple. While I couldn't find any button, control, or app built into the touch UI to let me capture the screen, it's possible to tell the device to do it using the command line and Android Debug Bridge (ADB). Specifically, with the ADB tools installed on a Linux workstation and the Ubuntu device plugged in via USB, you can use variations of this formula from a terminal window:
adb shell /system/bin/screencap -p /sdcard/screenshot.png
adb pull /sdcard/screenshot.png screenshot.png