Original URL: https://www.theregister.co.uk/2013/02/22/feature_antique_code_show_simcity/
SimCity Classic
Micromanage your own mock metropolis
Posted in Personal Tech, 22nd February 2013 10:28 GMT
Antique Code Show Doughnuts. Doughnuts are what I think of when someone mentions SimCity in my vicinity. Not because I used to cram them into my face, Homer Simpson-style, while I played, but rather because, back in my childhood, I was obsessed with arranging my own 'simmed' city in perfect concentric 'doughnuts'.
Squares in three-by-three formation of interweaved residential, commercial and industrial zones forming the very backbone of my every mock metropolis. And then, particularly when it came to residential areas, there was an added treat - the jam in the doughnut, if you will - usually in the shape of a police station or local park.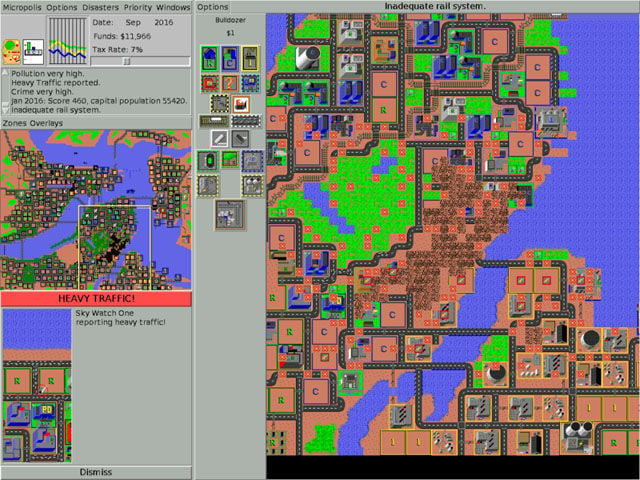 Mayor of your own micropolis: the original SimCity
To take the analogy still further, you might also say that the carefully constructed road network threaded around each block was tantamount to sprinkling hundreds and thousands on top.
Doughnut obsession wasn't my only consideration, either. Where to place industrial areas, versus living spaces, also presented an ever-challenging struggle. Too much industry and my Sims might choke on chimney fumes; too few and they'd be screaming for jobs and opportunities. Oh, the challenges of being a virtual mayor in a digital town.
Added flourishes came in the way you were able to micromanage your city's financial resources too, with the tax rate at your whim - and so key to your population's happiness. And even in the way you could lay mass transit, complete with its own moving trains.
While my ingenious doughnut formula might be a new concept for a great many SimCity players out there, so creative was Maxis' first foray into its idea of 'town building as fun' that I'm confident others have their own alternatives. Indeed, the vast majority of pleasure to be had from SimCity was derived from planning your bespoke town and laying it out exactly as you saw fit – whether the town in question be a dust bowl, or hive of industry.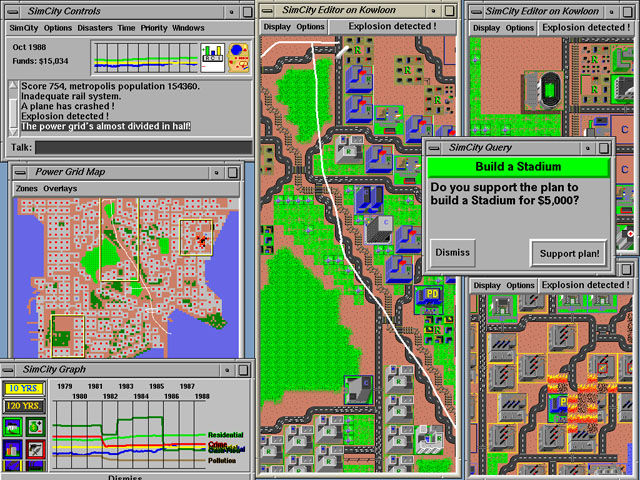 Don Hopkins ported SimCity to Unix in 1991
Such pleasures might never have been brought into the public eye at all, however, if, having hit upon the idea some years before its eventual release, designer Will Wright hadn't joined forces with Jeff Braun and Maxis. Before then, Wright had touted his Commodore 64 game to many a publisher but with no luck. In 1985, potential backers shyed away from what was something of a unique - and potentially unsellable - open-ended concept.
Of course, in the end, the lack of any real endgame made the 'Sword of Damocles' – the chance to call in numerous natural disasters to demolish your city – all the more compelling once you'd become bored with the status quo. Earthquakes and tornados, or even UFO and Godzilla attack, all might happen at random to derail your best-laid schemes. However, it was unleashing acts of God entirely purposely – and purely in a bid to watch your citizens tremble – that routinely led to the most amusement.
Sprawl for one and one for sprawl
If your love of any given city was such that seeing it turned to rubble was too much to abide, the game even offered set scenarios, each created to offer at least some kind of 'end' to at least a portion of the gameplay. The San Francisco earthquake of 1906 was replicated, for example, as players were subsequently challenged with fixing the city back up. Other scenarios predicted distant disasters, one such plot playing out the flooding of Rio de Janeiro in 2047 due to the effects of global warming.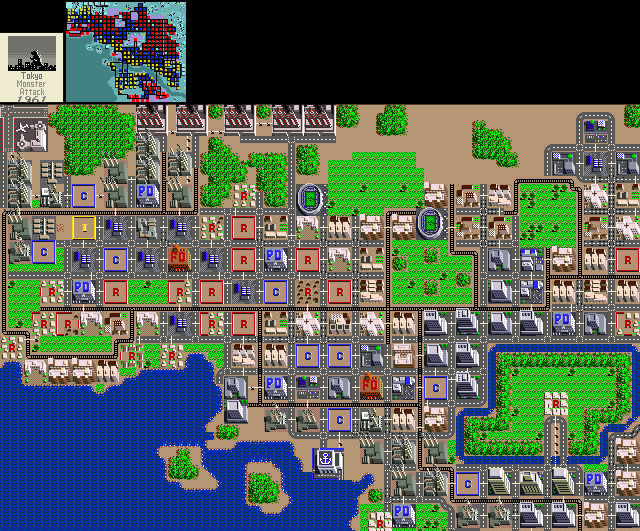 Unnatural disaster: play out a monster attack on Tokyo...
All things considered then, such breadth was no small feat for a game which first saw the light of day in 1989. SimCity debuting on the Amiga and Macintosh, before eventually being ported to just about every other format of the time - and indeed a great many that came after. In fact, it wasn't actually the home computer version that grabbed my attention at all, but rather the excellent Super Nintendo port, with its friendly interface and Dr. Wright cartoon assistant.
SimCity for Super Nintendo was not only one of the first PC-to-console conversions ever attempted, but surely one of the best executed, even to this day. Nintendo, having taken the chance to develop Maxis' title internally, used the opportunity to bring the game into its own world. So it included Bowser in lieu of Godzilla to wreak havoc on your unsuspecting conurbation. And, in true Nintendo style, a console-friendly front end every inch as good as its PC counterpart was created, with all the added fluffiness you'd expect of a console game.
The ports didn't stop there either, as the game eventually went open source in 2008, under its original working title, Micropolis, and as One Laptop Per Child (OLPC) SimCity. Since then willing participants have been able to tinker with the game to their heart's content, building all new scenarios, upgrading the visuals, modernising the interface and so on. It's a good example of a game giving something back to the very fans who made it a success in the first place. The move even came with the blessing of present day SimCity publisher EA in a rare show of generosity.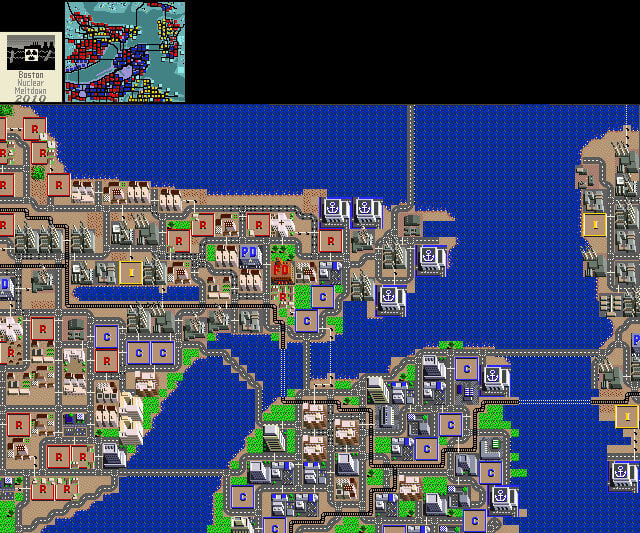 ...or a nuclear plant meltdown in Boston
Of course, the fact that SimCity spawned a cavalcade of sequels - more on those in Part Two - might have something to do with that. As might the development of The Sims, which has long been one of the most profitable games on the market, and of course owes its origination to the pixelated mean streets of SimCity.
Not that the 'Sim' tag has always been a licence to print money. Those of us to take on the doubtful SimIsle, SimSafari, SimLife and SimCopter will vouch for that.
Nevertheless, SimCity's success is one for the little guy, and a few missteps - sorry to all you SimCopter fans out there - can't change the fact that it stands testament to the idea that a simple idea can go on to conquer the world. ®
Release
1989
Developer
Will Wright
Publisher
Maxis
Platforms
Mac, Amiga, Sega, Nintendo, PC et al
Open Source Version
Micropolis