Original URL: https://www.theregister.co.uk/2013/02/21/dcig_bg_flash_arrays/
Buyer's Guide de-hassling flash array purchase
DCIG strikes again
Posted in Storage, 21st February 2013 23:03 GMT
Storage buying guides publisher DCIG has cast its beady eye across flash arrays and come up with the best of the bunch, not quite so good but still Recommended flashy boxes, and plain old Excellent, less plain Good and then the Basic category of suppliers.
DCIG specialises in publishing storage buyers' guides, using published suppliers' information to fill a questionnaire and creating a weighted ranking of the suppliers' info which is then added up to create an overall score. It's done this for backup appliances, deduplication appliances, and virtual server backup software.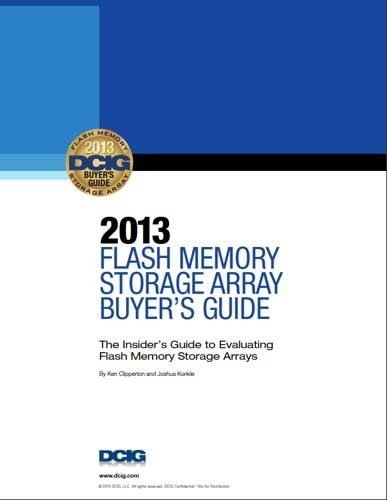 Now it's turned its attention to all-flash arrays and had a look at boxes from Astute, GreenBytes, Huawei, IBM's Texas Memory Systems, Kaminario, Nimbus, Violin and Whiptail.
Somewhat surprisingly it doesn't look at performance, and cost, saying;
- Performance will vary according to data centre environment, the data being stored and implementation decisions
- most arrays support multiple RAID options that affect both storage capacity and throughput
- [There are] too many products to try to test to produce a Buyer's Guide in a timely manner.
In summary:
DCIG recognizes that features like price and performance are relevant and even key considerations when buying a flash memory storage array. However it is also almost impossible for a third party like DCIG to objectively measure these features on a large scale. Therefore testing is a part of the buying process that that DCIG believes is still best left to end users.
This guide is only a start then, like help in creating an initial shortlist.
The headline results are:-
- Best in class - Tegile Zebi HA2800
- Recommended - four systems with the leader being PureStorage's FA 320, then the Nimbus S Class S1006M, E Class E6400M + R2000X, and S Class S505M
- Excellent - seven systems ranked with the Nimbus S Class S255M in front, followed by the E Class E6400M + E1000X, PureStorage's FA 310, then Violin Memory's 6232, 6212, and 6616, with the GreenBytes IO Offload Engine (5,000 VDI model) bringing up the rear
- Good - fourteen systems from Violin Memory, Huawei and Whiptail
- Basic - eight systems from Huawei, Astute Networks, Kaminario and Texas Memory Systems.
You can get a copy of the Flash Memory Storage array Buyer's Guide here after a name and e-mail address-type registration process. Check it out and see if its criteria and weightings are what you would use but, but, BUT, you do need to run your own evaluations on price and performance. Trust what the various suppliers say but, as Ronald Reagan said, verify.
After all, would you buy a car without a test drive? ®