Original URL: https://www.theregister.co.uk/2013/02/20/dell_dr4100/
Dell fattens disks in D2D backup product beef-up
Still struggling to pry shareholders' mitts off company
Posted in Storage, 20th February 2013 05:04 GMT
Dell has fattened up its DR4000 disk backup target array. The newer, bigger, fatter little brother is called the DR4100 and has bigger disks, more of them, plus faster server engines and more backup software certifications.
The DR4000 used Dell's acquired Ocarina deduplication and compression technology and was announced just over a year ago.
The DR4100 uses Dell's 12th generation PowerEdge servers to give it more performance and the base 2TB drive component has had its capacity upped to 3TB.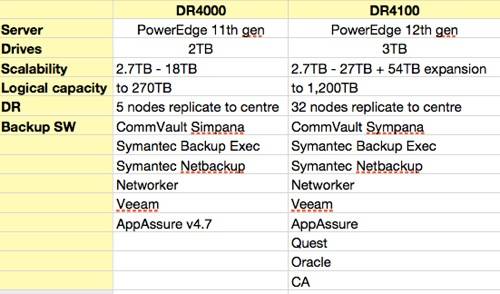 Dell DR4000 and DR4100 compared
After RAID 6 the capacity range for the DR4000 was 2.7TB to 18TB. That for the DR41000 is 2.7TB to 27TB plus up to two disk expansion shelves which can hold up to 27TB each, providing a maximum capacity of 81TB, a more than 4X increase. Logical capacity, after Ocarina software has worked its magic, goes up from the DR4000's 270TB to 1.2PB with the DR4100.
The set of certified backup software products supported has expanded to include CA, Oracle and Dell's acquired Quest. The number of remote sites that can have a central site act as a disaster recovery facility has increased from five to 32. The DR4000 could ingest data at up to 5.38TB/hour, but Dell has not provided any updated figure for the DR4100.
Quantum's latest DXi6802 can ingest data at up to 16.3TB/hour and have up to 156TB of raw capacity.
Dell is currently in the midst of a well-publicised attempt to go private but, while this goes on, new product development continues. ®