Original URL: https://www.theregister.co.uk/2013/02/19/feature_chromebooks_head_to_head/
Review: The ultimate Chromebook challenge
Google laptops from Acer and Samsung go head to head
Posted in Personal Tech, 19th February 2013 12:03 GMT
Too slow, too expensive, too limited. That was the verdict of most hacks and punters on the early Google Chromebook laptops.
Google has kept its shoulder to the wheel, though, and recently announced that 2000 schools are now using Chromebooks. Lenovo and HP have both recently jumped on the Chromebook bandwagon too, joining Samsung and Acer, which are also back for another crack at the market with a brace of new machines.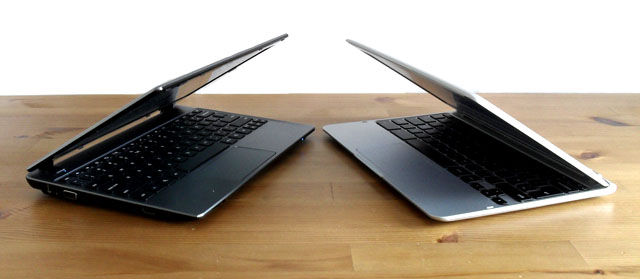 Chromebook contenders: Acer C7 (left) versus Samsung Series 3
The £229 Samsung Series 3 Chromebook and Acer's £199 C7 Chromebook are two variations on a theme. While sharing some important common ground - the operating system, 2GB of Ram and 11.6-inch, 1366 x 768 screens - they also harbour some very significant differences.
Most significantly, while the Samsung uses a 1.7GHz Exynos 5 dual-core processor based on ARM's Cortex A-15 architecture and includes a 16GB solid-state drive, the Acer packs a 1.1GHz dual-core Intel Celeron 847 chip and a 320GB hard disk. So here we have ARM vs x86 and SSD vs HDD.
Switch the two machines on and it's an easy first blood to Samsung. That 4200rpm HDD hampers the Acer's boot time. The C7 takes 22 seconds to start, the S3 just ten. I'd argue the 12 seconds difference is near irrelevant in the real world so it's more a case of capacity vs. jolt resistance.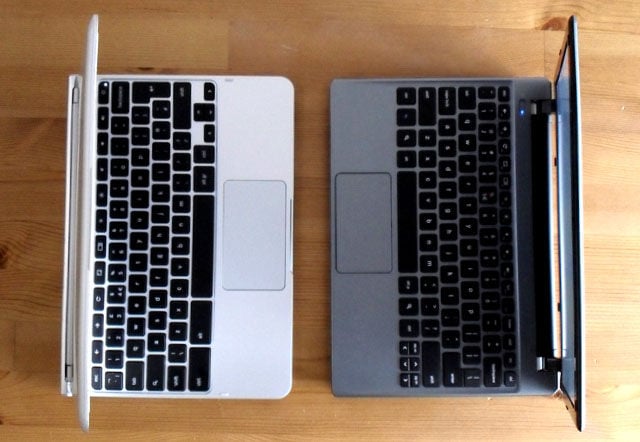 At 1.1kg, the Samsung is also the lighter of the two. The Acer weighs 1.4kg, though again I'll leave it up to you to decide how much difference 300g makes in the greater scheme of things.
In the 'Which Looks Coolest In Starbucks' steeplechase, the Samsung wins by a head. The Acer is smart enough but looks a little too generic: a small, cheap laptop alongside the more stylish Samsung. If you ignore the branding, the Samsung's keyboard area has something of a MacBook look to it. It's thinner too: no more than 20mm deep to the C7's 25mm.
The Samsung also sounds the better of the two. Its speakers are not only louder than the Acer's but they make a far less tinny and raucous noise. Of course, folk who use headphones in order to avoid inflicting their tunes on the rest of us may not care about speaker quality.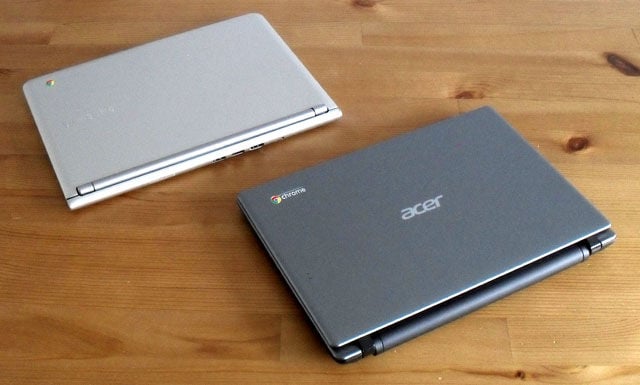 Both machines have chiclet keyboards as is the trend these days, but the Samsung's is the more solid of the two and has a crisper, more positive key action. It also has the larger trackpad, and one with a more satisfying action. All the C7's I've seen, including my review unit, use the US rather than UK keyboard layout which is a drawback.
In its first incarnation, Chrome was nothing more than a browser-based thin client to access Google's cloud services. And to be honest, despite some tweaks - Chrome OS is now at version 23 - that is pretty much what it still is. The new Windows-esque taskbar and desktop does make it look more mature, though, and make it a little easier to use.
The facility to automatically open web apps in a maximised window - so no tabs, bookmarks and tosh at the top - is a welcome addition that I don't recall seeing previously. Opened thus the integrated Google Play web apps like Books, Music and Movies look much tidier and have more room to present their content.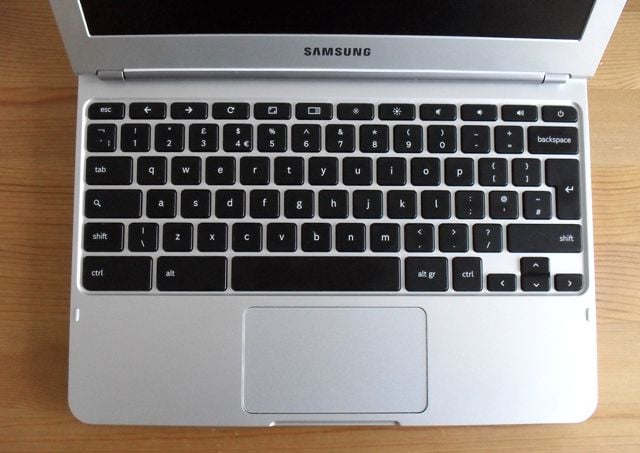 The Samsung has the better keyboard...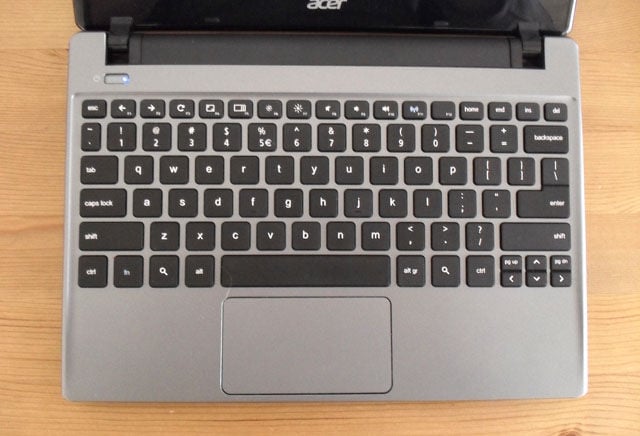 ...but the Acer has Caps Lock and Search keys
There are still a few Chromebook idiosyncrasies knocking about, though, like a right-click of the trackpad seldom actually doing anything. If you want to open a context menu to create a folder, change the desktop wallpaper or correct a misspelling in Docs, it's a two-fingered click on the trackpad you need. Right-clicking only works if you are using a USB mouse.
Cloud computing
On the subject of folders, a more advanced file browser still wouldn't go amiss. What you get from Chrome is functional but nothing more and doesn't even tell you how much free local storage space you have left. In line with Chrome's emphasis on the cloud, the file browser presents local and remote storage side-by-side in the same style.
To make remote storage more attractive both machines come with the offer of 100GB of Google Drive space free for two years to add to the 5GB every Google account holder gets. After those two years are up, maintaining your 100GB will cost you $4.99 (£3.16) a month at current rates.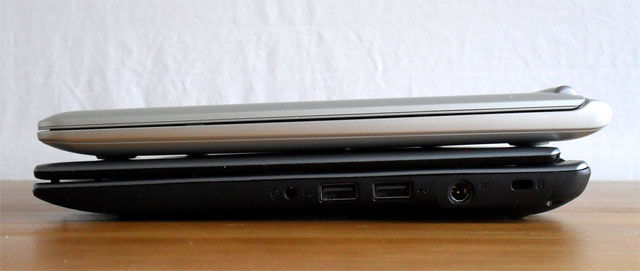 I've heard it said that a Chromebook with a conventional HDD is an exercise in pointlessness. I beg to differ. Running a cloud-oriented OS in no way detracts from the appeal of having enough local storage space to squirrel away a shed-load of video files.
As someone whose cloudy escapades occur largely on Google's servers I get along with Chrome's back-end - Google Drive, Picasa, Gmail, et al - just fine and really appreciate the one-shot Chromebook sign-in to all my Googly content. But if you have no truck with the Big G's services, the attraction diminishes massively.
Make no mistake, breaking away from Google is a hard and ultimately pointless task with a Chromebook. Fancy a video chat? If you are using Google+ Hangout you're in luck, it works brilliantly. But Skype is out of the question. You can use a browser-based IM client like IMO, but you can't video chat with that, nor can you with Facebook which of course uses Skype.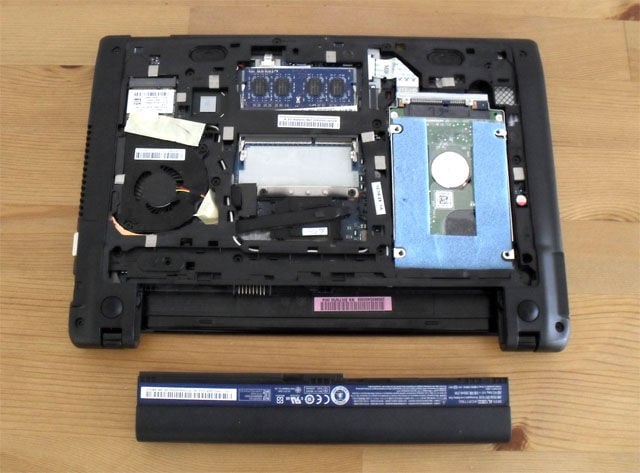 The Acer comes apart easily
Almost by definition a Chromebook only makes sense if it is permanently connected to the internet, but neither of these machines has the facility for 3G connectivity. In the US, $330 (£209 before taxes) gets you a 3G version of the Samsung but that option is not available in the UK yet.
That said, when it comes to cellular laptop connectivity I pray at the altar of Three's MiFi, or use my phone as a hotspot. So the lack of a Sim slot in a Chromebook isn't a killer. Since neither machine has the Chrome OS ModemManager packages installed there was no way - that I could find, at least - to get a traditional 3G USB dongle to work.
If you are cut off from the network, Chrome does now offer more in the way of offline support so you can at least use Gmail, Slides and Docs, and then sync your changes when you next connect. Usefully apps in the Chrome web store that work offline are marked with a grey lightning bolt.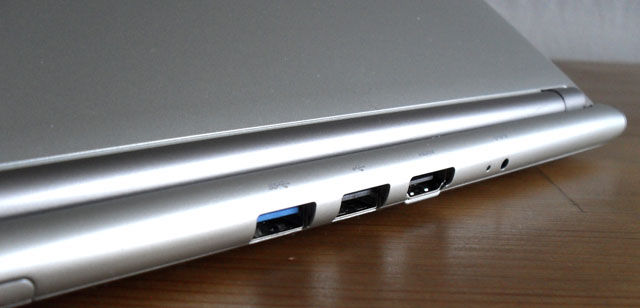 The Samsung's ports are all round the back
To print anything, you'll need to get to grips with Google's Cloud Print service, which while easy to use is still more aggro than simply plugging in a USB cable. Other USB peripherals like storage dongles, keyboards and mice work a treat, though. Sadly the ability to connect MTP devices like Android or Windows Phone 8 smartphones is still a work in progress.
Since Chrome relies on web rather than native apps I ran FutureMark's Peacekeeper, which rates HTML 5 performance, and SunSpider, which measures JavaScript speed, to get some benchmark numbers.
Numbers aside, there is actually little difference between the two machines when you are messing about in a browser. Pages load quickly and scroll smoothly even with multiple tabs open. If you fancy a little light gaming then the likes of Angry Birds and Bastion, both available in the web store, run perfectly.

Futuremark Peacekeeper results
Longer bars are better

Sunspider results
Shorter bars are better
Both machines also coped well with locally stored 1080p H.264 video and 1080p YouTube streams. Codec support by the stock video player is, however, dismal: MKV and WMV files won't play at all, and AVI support is patchy at best. On a side note, at the moment the Samsung won't play Netflix streams, something the Intel-driven Acer does with aplomb.
Best cheap Linux laptop?
Put the Acer under strain and the fan fires up and you can hear the HDD ticking away if you are working in absolute silence. The Samsung, being passively cooled and not having a moving drive platter is at all times as quiet as the grave. Thanks to the efficient ARM chippery, the underside of the Samsung never gets more than slightly warm.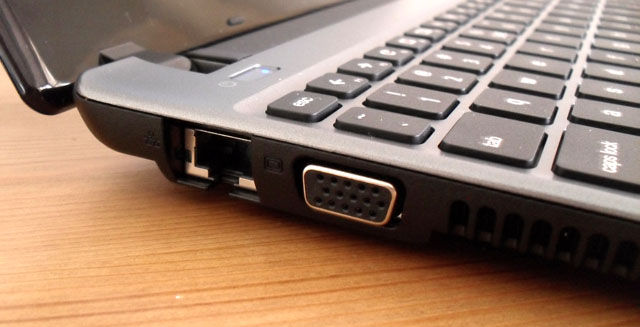 Acer sensibly locates ports on the side of the machine: on the left...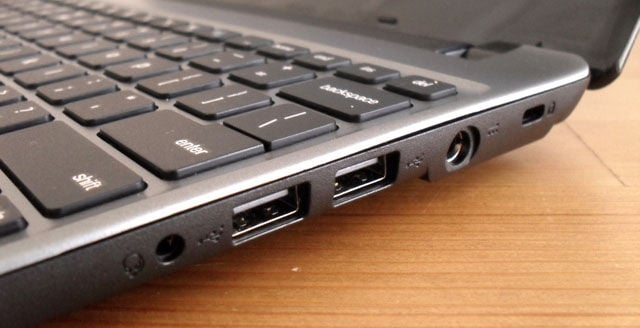 ...and on the right
Neither machine has a screen you could honestly describe as good. Colours are none too vivid and the viewing angles mediocre. There's not a lot of brightness about either. But the Acer's glossy screen - the Samsung's panel is matte - is the least worst of the two in all ways, unless you plan on being outdoors a lot, when reflection becomes an issue, as it does with all shiny panels.
The Acer is also the better connected, with three USB 2.0 ports, 10/100Mbps Ethernet, HDMI and VGA connectors against the Samsung's single USB 2.0, one USB 3.0 and HDMI. Both machines come with single-band 2.4GHz 802.11n Wi-Fi but without optical drives. Samsung gives you Bluetooth but Acer doesn't.
I'm not a fan of Samsung's positioning the USB and HDMI ports at the back. I prefer my ports, sockets and power jacks on the side where I can see the little buggers. Twice I folded the Samsung shut only to notice something I'd forgotten about sticking out the back as I made to shove it into my backpack.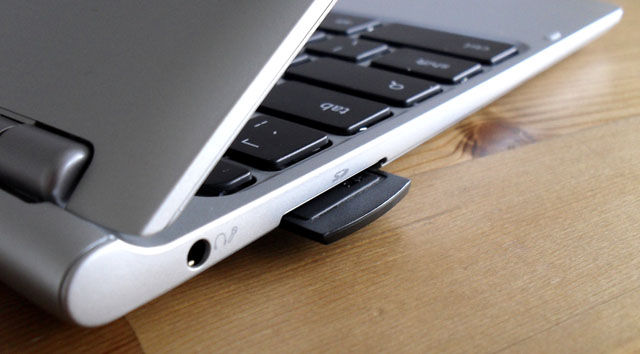 You've designed a bad SD card slot, Petey...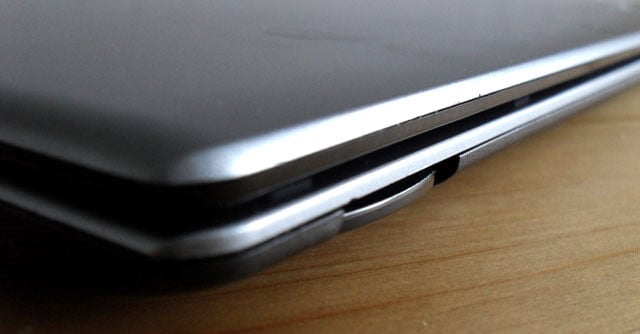 But Acer gets it right
On the subject of things sticking out, both machines have SD card slots. But when stuffed into the Samsung, a card sticks out to the tune of half its length, which is a truly catastrophic design failure.
I reckon nine out of ten punters will want to stick a 16GB or 32GB SD card into their S3 as the first order of business and leave it in there. After system requirements, you are left with less than 11GB of SSD space for files. Good luck with that.
Accessing the oily parts of the Acer is very straightforward: just remove one screw and the cover panel unclips. Prising the back of the Samsung off would have required more screwdriver-induced damage to the plastic case than I was prepared to inflict on a machine not mine to abuse. Even if it had been my machine I still might not have risked it.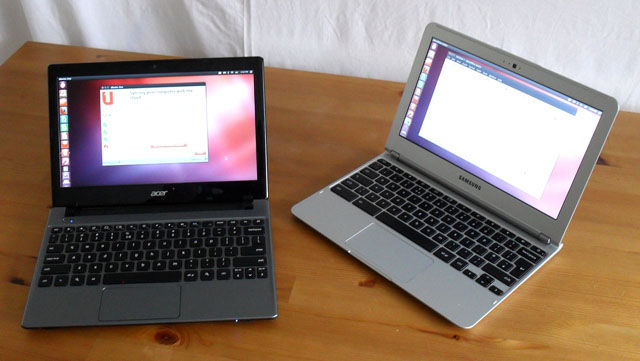 Both Chromebooks run Linux, but the Acer does so more stably - and with better support for the built-in devices
If the limitations inherent in Chrome as an operating system are just too much for you then you can jump ship to Linux. Installing on the Acer was by far the easier job and I had Ubuntu up and running in dual-boot in about an hour with everything working tickety-boo.
The Samsung was more of a problem. After several hours, much ranting, some raving, and even a bit of wailing and gnashing of teeth, I finally got it running but the trackpad and SD card reader refused to work, and the entire machine froze up on me several times. Not, on balance, a good use of time.

Battery life rundown results in minutes
Longer bars are better
Google's own wording gives you some idea what to expect when it comes to battery life. The C7's removable 2500mAh battery is good for "up to four hours". The S3's unrated and fixed battery will keep you working for "over 6.5 hours". Looping a 720p video turned in times of 3 hours 10 minutes and 4 hours 35 minutes, respectively. So in general use, you can expect a solid six hours from the Samsung and around four from the Acer.
The Reg Verdict
Has Google cracked the Chromebook second time around? Just about. Clearly you need to be in the market specifically for a cheap and smallish machine for day-to-day web surfing and some light media consumption, but assuming you are then both of these machines do a good job and the price is certainly right.
If I was buying one it would the Samsung because it's lighter, has the superior keyboard, is more resilient to knocks and drops, and has the longer battery life. That is what I want from a Chromebook, though the sticky-out SD card is a very big drawback.
The Acer counters with a better screen, an extra USB port, Ethernet and a proper hard drive plus a price tag that's £30 lower. Which is what my someone like my mum wants from a Chromebook. And it has much better (unofficial) Linux support.
In a nutshell, then, the Samsung is the purer Chromebook, but the Acer is the better cheap laptop. ®