Original URL: https://www.theregister.co.uk/2013/02/18/my_ideal_ceo/
What do YOU look for in a tech CEO: Smart, sales savvy, his own hair?
From Apotheker to Ballmer - our guide to who's in charge and who should be in charge
Posted in Business, 18th February 2013 13:48 GMT
Channel player would like to meet tech CEO with solid sales background, understanding of the IT distribution channel, and no commitment issues. Relaxed attitude to rebates an advantage. Smokers, short-arses and visionaries need not apply.
Is that too much to ask? Many industry veterans might tell you it is.
Most channel players will tell you what they do want is reliable products, consistent strategy and the sense that the vendor understands the importance of routes to market. This in turn implies that a vendor's CEO should have a deep and informed understanding of where a the market is going and can introduce changes that anticipate the future while understanding the needs of the present.
In this sense, a tech company's CEO is as important to the channel as its channel managers. For if the CEO takes a company in the wrong direction, the impact cascades all the way down to the channel and ultimately catastrophically affect sales.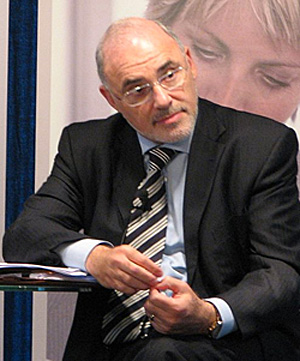 Leo Apotheker's decision to consider a spinoff or sale of HP's PC biz sent the channel into a tailspin.
Remember HP's short-lived CEO Leo Apotheker? He said the PC giant was going to become a software company. Shortly after his announcement some end-customers understandably abandoned multi-million pound HP hardware deals. Some resellers were truly left up the channel without a paddle. Apotheker is almost the definitive textbook example of a CEO appointment that has gone spectacularly wrong. HP's relatively new CEO, Meg Whitman, seems to have injected a new sense of purpose, and a rake of resellers claim to be happily profiting from the hardware titan's products.
But it hasn't always been like that and how it long it will remain so is a moot point. But a CEO who understands sales can certainly make a difference. In an earlier transition at HP, Mark Hurd replaced HP's Carly Fiorina in 2005, and applied his management skills to reduce costs and build a successful distribution system on the web, without dramatically undermining the established product channel.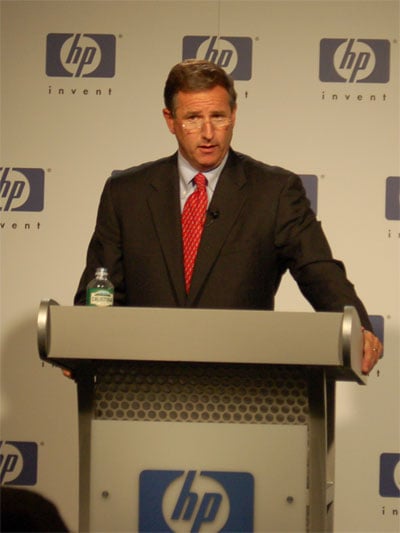 Mark Hurd used his tenure to build a
successful distribution channel for HP
At the time the channel was largely sceptical but as partner programmes were refined, support for enterprise product lines increased and the company listened to partners it became clear that the channel was still a priority.
Hurd was in a sense the classic technology CEO with a strong grounding in sales. Prior to taking up his role at HP he'd spent 25 years at NCR. He began as junior salesman working his way up through a series of roles in sales and marketing, general management and operations before spending two years as CEO and president. The sales route gave him with intimate knowledge of the "coalface".
But if sales experience was the only criteria for a successful CEO then why is Microsoft struggling?
Steve Ballmer is a textbook example of a salesman CEO. His jaunty bouncing and thrusting across the stage at conferences is legendary. It's classic, pumping-fists-in-the-air sales leadership. But while this may be great in conference venue, it's arguably a liability on YouTube.

Ballmer: The quintessential
salesman
It's not just about sales
But today what Microsoft needs is clear strategic vision. Its long-held monopoly is slowly but steadily eroding and its strategy seems to be based on repositioning itself in line with industry trends, such as delivering cloud-based software, and alienating legion channel players in the process.
Several channel players have pointed out that Microsoft is edging ever closer to a direct sales model by dropping products from the reseller roster and offering its software for direct download. Channel support for the launch of its major new operating system Windows 8 has also been scant with little beyond typical certification and accreditation programmes. Ironic, given Ballmer's historical understanding of the value of partnerships.
So, a career galvanised in the furnace of sales experience can light up a company's sales, but can also see it crash and burn.
One company in this mould, before it was gobbled up by Oracle, was Siebel. Its founder and CEO, Tom Siebel, was once one of Oracle's top salespeople. When he was at Oracle he came up with a new sales force automation app that eventually led to the birth of Siebel.
The company not only cornered the market, it created the impression that it actually owned it. Conferences and trade shows were splattered with Siebel-sponsored beer mats, doilies, cups, in fact just about anything that could be slapped with a logo. There was the sense that if you stood still for too long you'd end up with a Siebel tattoo on your forehead and a Siebel chip in your arm.
Its sales conference also had a slightly disturbing edge, more reminiscent of a political rally than a supposedly inspiring motivational event. For example, one event had flags draped from both sides of the hall displaying images of Tom Siebel. There were also legendary tales about his egotism, with one particular story claiming that every time he visited the UK office, pictures on the wall were lowered to his eye level.
While undoubtedly a software giant, Siebel was not a literal one. Customer relationship management (CRM) was a new technology market and Siebel certainly carved out its place, growing very big in a very short time. However, it was hit hard when enterprise-wide CRM projects began to fail on a grand scale. Many of the problems were attributed to a failure to address the business process and cultural change needed to successfully implement CRM. At the same time, many smaller CRM software companies were improving their user interfaces and introducing other refinements that made projects easier to handle. Siebel's decline was inevitable. It had grown too big and ponderous to respond quickly to shifting dynamics and in a sense had been a victim of its own success.
A 'driven' CEO will also need a high IQ, foresight and a bit of political knowhow
Professor Andrew Kakabadse of Cranfield University - who is a bit of an expert on what makes a good CEO - reckons companies like Siebel lack the strategic vision and foresight to survive: "Apart from a high IQ and being driven, a CEO needs a strong sense of vision and the practical ability to drive their changes through. They have to be able to see where the market is going and how the financial markets will respond to any changes they initiate. They also need an acute political sense to assess the political implications of any future moves."
Tom Siebel either didn't foresee the rapidly shifting market dynamics, or wasn't able to respond quickly enough to them, when the market began moving towards hosted CRM and a monthly licence rental model that customers wanted. But that said his grounding in sales did provide the foundation for its original stellar rise. For example, Siebel understood the importance of partners and at one point had over 700 partner alliances.
Certainly HP, in spite of its troubles, understands the value of partnerships and despite making some serious missteps in the past, hasn't lost its focus on the channel. From the partner perspective this bodes well for the company.
Loay Lawrence, sales and commercial director at Vokhus, says: "The channel is confident in a vendor if they understand the routes to market, how products go to market and who is contributing. The route to market has changed from the '90s and while some people complain about it, if resellers and distributors can see that a CEO understands the value of partners they will be on board whatever the CEO's background is. It's early days for Whitman at HP but she's clever. We have a wait-and-see approach but ultimately we think she'll deliver."
But even consistency at the board level is no guarantee of future success. Take Sun Microsystems for example. The company was once the belle de jour of the industry. Its product line included servers, workstations, Solaris operating system software for client server networks, its own microprocessors, Java Internet software and enterprise-wide support services. Between 1988 and 1998 its revenues grew on average a nice warm glowing 34 per cent every year. Everyone associated with the company benefited -including the channel. It seemed that Scott McNealy, its CEO, could do no wrong.

But then it started going awry. Sun was concentrating on its existing high-end customers rather than paying attention to the adoption of its core software assets at the low end. For partners this translated to poor marketing practices and a tendency to ignore marginal channel relationships rather than concentrating on developing new business through partners.
At one level it made sense. Most revenues were coming from long-standing customers so the company placed its focus there at the expense of building a new customer base. But this eventually led to its demise. When Scott McNealy handed over the CEO reins to Jonathan Schwartz in 2006, he'd acquired the distinction of being one of the few CEOs of a major corporation to hold onto his position for over 20 years. Perhaps it was this very long-termism that led to a blinkered approach.
Schwartz set about trying to plug the holes in a sinking ship and began a drive to promote the company's Solaris operating system and open source software. Sun also abandoned Solaris on Intel x86 computers, which ultimately undermined the hardware platforms it depended upon as x86 architectures became increasingly popular at the high end.
However, Sun's ultimate demise came from left-field developments: the global financial crisis kicked in during 2007 and with a third of its revenues coming from financial services - and with large customers going bankrupt, being taken over, or otherwise losing control of their IT spending - the firm had little choice but to seek a buyer.
As CEO, and based on Kakabadse's definitions of what makes a good CEO, it's arguable that Schwartz should have seen the gathering clouds of financial trouble brewing. But very few people did and those who did predict this particular storm were often considered to be mavericks. But it would seem fairly obvious to many people, even the baker down the road, that there is danger in relying on revenues from one source.
Howard Hall, managing director at HP Gold Partner DTP Group, reckons that if a CEO is surrounded by a good and strong team it inevitably inspires confidence in the channel. He concedes that a CEO who provides a clear sense of direction is critical but a competent and able team is just as important in galvanising operations. This also reflects Kakabadse's view that if the board isn't completely behind a CEO then he or she will ultimately fail.
You don't even need to be a techie...
When it comes to CEO stability, two vendors come to mind: Intel and IBM. Both have a history of promoting CEOs from inside who understand the business. However, this is not an exclusive policy. Big Blue's Lou Gerstner came from outside the company and was the first non-IBM lifer to assume the CEO mantle. He'd previously spent time at Nabisco, a manufacturer of cookies and snacks, and American Express. His appointment put paid to the view that tech CEOs need to understand technology. Gerstner made a virtue of his outsider status and was able to use it to positive and radical effect at Big Blue.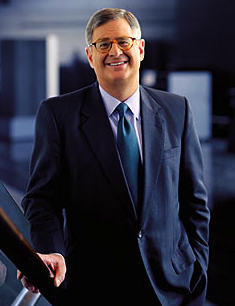 Sam Palmisano: From
salesman to president...
Despite its monolithic size, IBM was close to running out of cash when Gerstner took over. His first action was to make it solvent and he then launched a series of initiatives that turned it from inward navel-gazing to focusing on the needs of customers, in the process changing its culture. This in turn benefited the channel as customers, and consequently, partners took on increased importance again.
Gerstner's successor, Sam Palmisano rose through the ranks from salesman to become president of the enterprise systems and personal systems group. He also drove through an enormous change taking truly bold steps to move the company from hardware to software and services. The company's vision has certainly benefited the channel. IBM was familiar with the potential of Big Data before the wider industry knew what it meant. And its focus on cloud has placed partners well ahead of the field when it comes to delivering services.
Intel is another tech giant with a history of CEO stability, grooming its leaders from inside. Paul Otellini, its current CEO, joined the company in 1974 and rose to the heady heights in 2005 when he replaced Craig Barrett. He has overseen some major changes including a headcount cull of 10,500 as part of move to save $3bn a year. However, Otellini is now taking early retirement - something previously unheard of for an Intel CEO.
He tried to take it in a new direction away from its core legacy business of PCs towards mobile computing. Intel created an OEM architecture for Ultrabook thin and light computers, is now making belated moves into the smartphone market and recently acquired software security vendor McAfee in part of a wider drive to position itself as a security expert that fuses software security into the hardware level.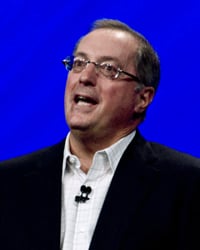 Intel CEO Paul Otellini
But for Otellini it's too little too late. The PC market is slowing down as smartphones and tablets become more popular and Microsoft, once a strong partner, has introduced WinRT, which runs on ARM-architecture chips. The new Intel CEO will need to measure success in terms of how rapidly it can gain market share in the mobile space. So: a solid sales background and coming up through the ranks is an almost essential attribute of the ideal tech CEO - except when it's a liability.
If there is one element that a tech CEO requires that can't be taught or acquired and that is luck. It might be argued that Steve Jobs at Apple had luck in bucketloads, er, at least in business. Before the launch of the iPhone Apple was a minor league company but Jobs' vision of how the iPhone should be marketed and manufactured has transformed the company into one of today's leading tech outfits. Jobs had the confidence in his vision and managed to bring together his experience in development with business acumen to create one of the worlds most popular, copied and ubiquitous devices. Contrast this with Microsoft, which in 2002 launched the world's first tablet computer via an OEM design. It went down like a lead balloon tied to a chunk of concrete. Yet here we are in world that is increasingly dominated by tablet computing in all its various guises.
The channel needs a sense of stability from vendors and this is often, but not always, provided by a CEO. Most channel players want a vendor they can rely on and one that understands the importance of channels to market. If a vendor acts from this understanding, the channel will embrace it whether the CEO comes with deep technical expertise or whether they've freshly arrived from a biscuit company. ®