Original URL: https://www.theregister.co.uk/2013/02/12/feature_what_the_best_solid_state_disk_configuration/
Cache 'n' carry: What's the best config for your SSD?
How to gain solid-state performance with out losing hard drive capacity
Posted in Personal Tech, 12th February 2013 12:04 GMT
Feature The idea of using a low-capacity SSD to store the most frequently accessed files or parts of files in order to access them more quickly than a mechanical hard drive can serve them up - a technique called SSD caching - has been around for some time, but it wasn't until the arrival of Intel's Smart Response Technology with the company's Z68 chipset, released in 2011, that the technology began to be implemented in personal machines rather than servers.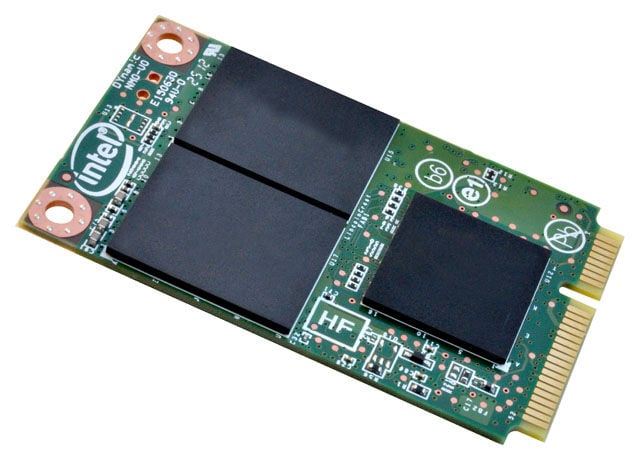 Cache in your chips
Intel's thinking was to get ordinary users into the SSD game by allowing then to put small, cheap solid-state drives into their systems alongside existing, large capacity HDDs rather than suggest they swap out the latter for a more expensive yet not as capacious SSD. The cache drive approach brings almost all of the benefits of SSD - fast boot times and file access - without having to break the bank to get a large storage space.
At the same time, Intel launched the 311, a 20GB capacity, 3Gb/s Sata SSD designed specifically to be used as a cache drive in Z68-based systems. Motherboard manufacturers were quick to take advantage of SRT, and a number of Z68 motherboards appeared sporting the connectors for an mSata drive. In certain Asus and Gigabyte boards, cache drives even came pre-installed.
However, what Intel and a great many others didn't see coming was the very competitive, a polite way of saying cutthroat, pricing war that SSD suppliers are now engaged in. That has brought down the prices of mid-size SSDs to the point when many users are willing to take a punt. That said, SSDs approaching the kind of capacities we've come to take for granted with HDDs are still incredibly pricey. You can now pick up a fairly fast performing 120/128GB SSD for well under a hundred pounds to hold the OS and all the apps you need, but if you have a lot of data on your system, trading capacity for performance isn't always attractive. Caching allows you to get the best of the both worlds.
At least, that's how it's being sold. But is it better? Let's find out.
Intel Smart Response Technology
Intel's Smart Response Technology (SRT) first appeared a couple of years ago in version 10.5 of the company's Rapid Storage Technology (RST) Raid software for the Sandy Bridge chipset, but it was initially only enabled on the Z68 desktop chipset and a couple of mobile products. SRT has since been supported on the more recent Z77, H77 and Q77 chipsets. SRT works by caching the I/O data blocks of the most frequently used applications. It is able to discriminate between high value or multi-use bytes, such as boot, application and user data, and low-value data used in background tasking. The low-value data is ignored and left out of the caching process.
To enable SRT, you have to enter the motherboard's Bios settings and switch the Sata controllers to Raid mode - SRT won't work in either ACHI or IDE modes. The technology uses no more than 64GB of space on the SSD. Any extra space left over remains untouched, so there's no point splashing out on a bigger drive. The SRT management software is an easy-to-use app which allows you to choose which of two types of caching you wish to employ.
The Two types are Enhanced (Write-Through) and Maximised (Write Back). In Enhanced mode, all the writes are sent to the SSD and HDD simultaneously which means the drives can be later separated without you having to worry about data preservation. However, there's a hit on performance as all the writes slow to the speed of the HDD. In Maximised mode, the majority of the host writes are captured by the SSD and asynchronously copied to the HDD when the system is idle. Once again, there are good aspects to this approach – you get faster performance than Enhanced mode - and bad: SRT must be disabled before any of the drives can be removed otherwise the next time you boot up you'll end up with the longest list of orphan files you're ever likely to see. Ask me how I know...
Cool Fusion
In 2012, Apple launched what it calls Fusion Drive technology on the latest incarnations of the iMac and the Mac Mini. Currently there are only two Fusion Drive options available, both using a 128GB MLC NAND SSD. The 1TB option is available for the latest Mac Mini or any new iMac, but the 3TB option is exclusively tied to the 27in iMac. Fusion Drive uses Mac OS X's Core Storage Logical Volume Manager, available in version 10.7 Lion and up, to present multiple drives as a one single volume. The technology doesn't behave in the same way as the usual SSD cache. Instead it moves data between the SSD and HDD and back again depending on how often the data is accessed and how much free space there is on any of the drives. The idea is to ensure that the most-read files are stored on the SSD, which is considered part of the host system's overall storage capacity rather than a separate, 'hidden' buffer. El Reg will be digging deeper into Fusion in a future article.
Dedicated cache drives
Probably the most useful alternatives to SRT are the solid-state cache drives offered by the likes of Corsair, Crucial and OCZ with their Accelerator, Adrenaline and Synapse products. These three and others use Nvelo's Dataplex caching software. The software works with AMD as well as Intel chipsets - so it's the obvious choice for folk with a dislike of Chipzilla products - but doesn't support chipsets produced by Nvidia. These cache drives have another distinct advantage over Intel's technology: you don't have to disturb your original setup. Just fit the cache drive, download and install the software, tell it which is the drive being cached, and off you go. To make sure that the Dataplex install has worked and the drive is in cache mode, there is a utility included to allow you to check all is well.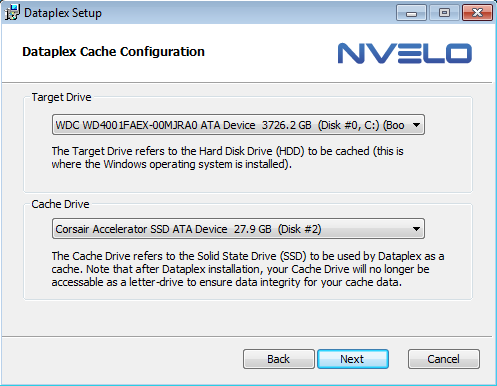 Setting up Nvelo's Dataplex cache operation software
That's all well and good, but what about laptop users who generally only have space for one drive in their machines? For these folk there is the hybrid drive: an HDD with a NAND Flash cache built in. Both Seagate and Samsung introduced hybrid drives a few years back and, it must be said, these early drives didn't set the world on fire. Undeterred by this reaction, Seagate kept on with the concept and in early 2010 launched the Momentus XT range, a 2.5in drive is available as a first-generation drive with a 3Gb/s Sata interface and 500GB capacity, and as a second-generation 750GB unit with a 6Gb/s interface. The two are priced at £84 and £99, respectively. Both come with a 7200rpm spin speed and 32MB of normal cache. The 500GB drive has 4GB of SLC NAND while the 750GB has 8GB. WD is expected to launch a hybrid drive soon.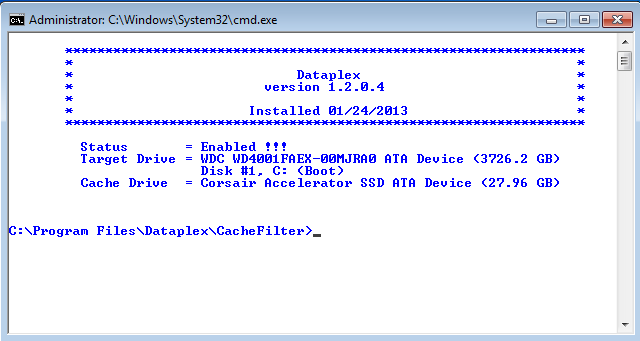 Dataplex comes with a quick-look status utility
Caching in Windows
In Windows 7, Microsoft turned off file defragmentation for SSDs, but with Windows 8 it's back, albeit in a different guise. The new Storage Optimizer utility handles different kinds of storage in different ways. If it sees a standard hard disk in the system, it will regularly defrag it in the normal way to ensure file data is kept in contiguous sectors. However, if it sees an SSD, it will send a complete set of Trim hints for the entire volume. To make sure that the OS knows what drives or what kinds are in the system you need to run the Windows Experience Index at least once.
Real-time Trim hints are sent to the drive when the file system moves or deletes files, but the drive may not be able to react to the hints if it's writing or erasing. The Storage Optimizer resends these hints when the system is in an idle state to make sure the SSD can react to them.
Testing
To explore the potential desktop performance benefits of Intel's SRT technology and of SSD cache drives over a standard large capacity hard drive, I used an Asus P8Z77-V Premium motherboard which, as well as supporting SRT, comes with a 32GB LiteOn mSATA SSD already installed. I also had to hand a 30GB Corsair Accelerator (£47) SSD cache drive, which also comes in 45GB (£55) and 60GB (£80) capacities. I've a Crucial Adrenaline (£60) which comes in just one flavour, 50GB, too. I used both this 2.5in drive and the 30GB, 2.5in Corsair as alternatives to Intel's technology. For the mechanical drive, I used one of Western Digital's latest 4TB Black drives, a fast performer with a 7200rpm spin speed and 64MB of cache. I then threw a 120GB Scandisk Extreme SSD into the mix, a reasonably fast drive which you can pick up for around the £75 mark if you shop around.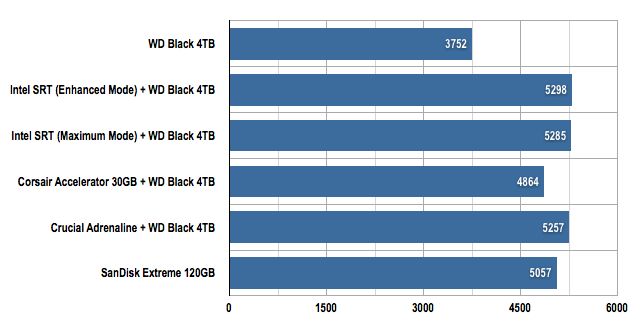 PCMark 07 Overall Results
Longer bars are better
To get a feel of how the various caching technologies would work in a real life situation, I used Futuremark's PCMark 07 benchmark suite. This provides various tests that mimic the kind of workloads a desktop or notebook PC might go through on a daily basis. The Gaming workload uses a trace of World of Warcraft being started up. Starting Apps is a trace of home and office productivity applications being started up, Importing Pictures uses a trace of 434MB of images being imported into Windows Live Photo Gallery, and the Windows Defender workload is a trace of the application running a quick scan of the system.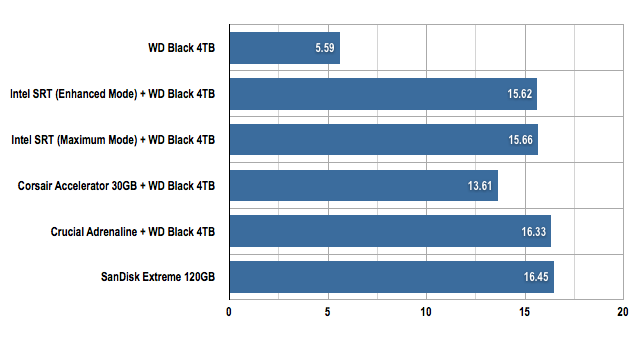 PCMark 07 'Gaming' Workload in megabytes per second (MB/s)
Longer bars are better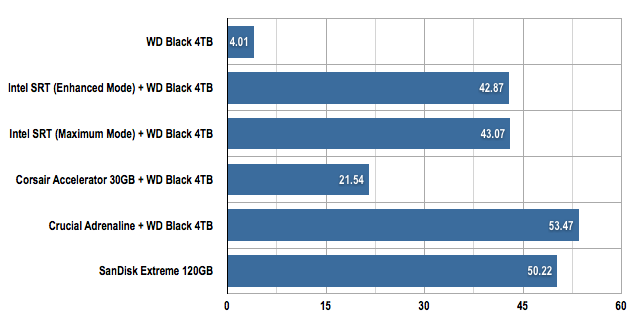 PCMark 07 'Starting Apps' Workload in megabytes per second (MB/s)
Longer bars are better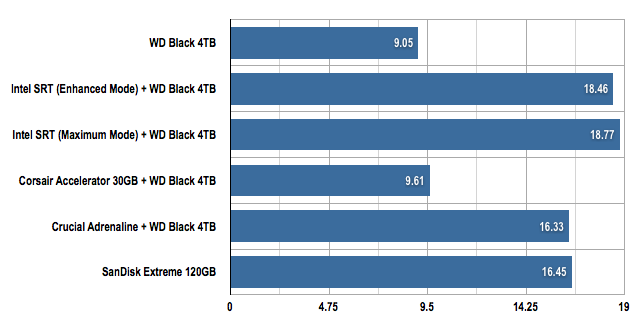 PCMark 07 'Importing Pics' Workload in megabytes per second (MB/s)
Longer bars are better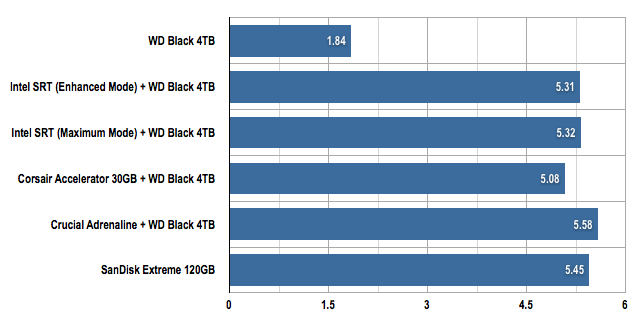 PCMark 07 'Windows Defender' Workload in megabytes per second (MB/s)
Longer bars are better
I ran the PCMark 07 benchmark four times to give the cache drive time to 'learn' which were the most accessed I/O blocks, and used the fourth run as the result to record.
Finally, to measure the boot time of the various combinations of SSD caching, I used the BootRacer application.
The Reg Verdict
As soon as any of the cache methods are used, the system boots up much more quickly than the standard mechanical drive alone, though that's no great surprise. The fact it's a 30-second improvement is very impressive.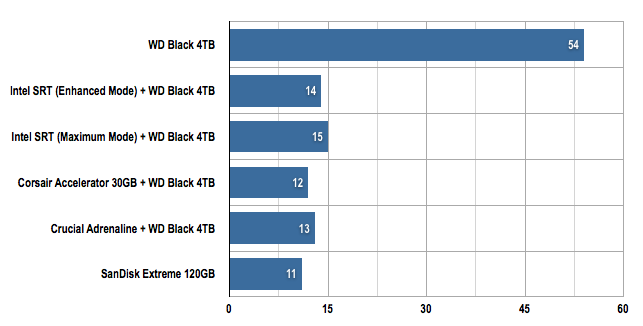 Boot time in seconds (s)
Shorter bars are better
Out of the two Cache SSDs I tested, Crucial's Adrenaline comes out on top. The drive is based on the company's m4 SSD, which uses the Marvell 88SS9174-BLD2 6Gb/s Sata controller chip. This gives the Crucial product a distinct advantage over Corsair's Accelerator drive, which is based on a 3Gb/s Sata LSI SandForce SF-2181 controller. The Marvell chip also gives the Adrenaline the edge over the SanDisk Extreme SSD, which has another LSI SandForce controller, this time using the more advanced SF-2281.
The difference between the two modes offered by Intel's Smart Response Technology is clearly show in CrystalDiskMark testing. Both modes show comparable read speeds - as they do in the various PCMark 07 tests, shown above. But it's a different story with disk writes. The Maximum mode delivers write speeds way in excess of Enhanced mode, which is held back by the need to write data to the hard drive simultaneously, though the quid pro quo is a more flexible set-up.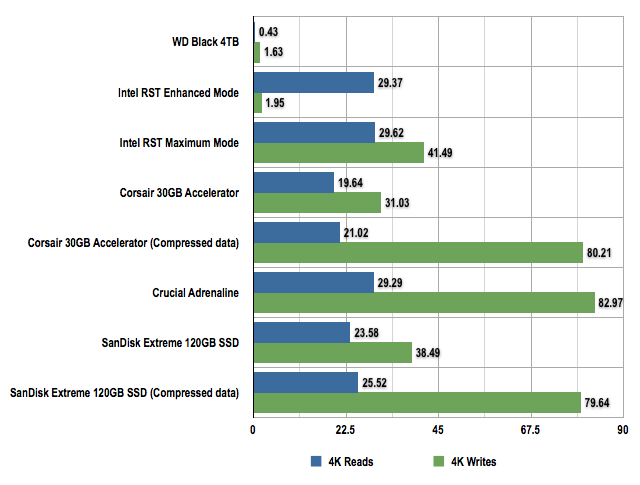 CrystalDiskMark results in megabytes per second (MB/s)
Longer bars are better
There are two sets of figures for the Corsair and SanDisk drives as they use a SandForce controller which hates incompressible data and likes compressible 1s and 0s.
So is SSD caching a viable option? If you're on a very limited budget or you just want to kick start your existing desktop system without the hassle of re-installing the OS or messing about with the Bios, then using a cache drive is undoubtedly the best way to go to get an instant performance boost without spending too much money or putting you to too much effort.
However, if you are building a system from scratch then the 120/128GB SSD for the OS and applications, and a separate high-capacity HDD for data makes more sense. This can still be a less expensive approach than a single, high-capacity SSD. If you're using a motherboard with a compatibly Intel chipset, SRT likewise is a good, easy option that's slightly slower than rival caches in some applications, slightly faster in others.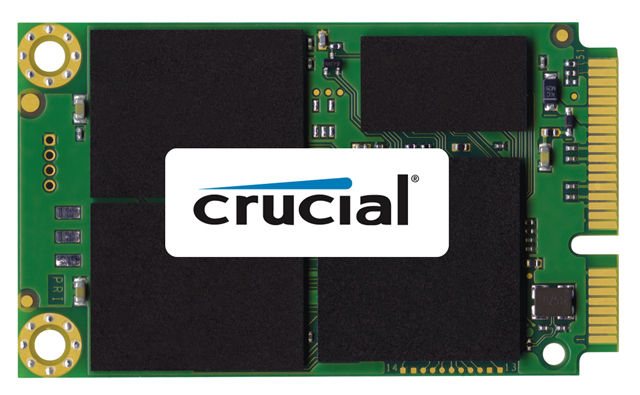 Crucial's m4 mSata solid-state drive
A 64GB mSata SSD such as Crucial's m4 will set you back a little more than £55, a tenner less than the 50GB Adrenaline cache drive, which is only warranted to work with Windows 7. Or rather the Dataplex software needed to make the the cache drives operate will only run under Windows 7. "If you wish to install Dataplex (in Windows 7 compatibility mode) on Windows 8, you do so at your own risk," warns Nvelo. It is working on a Windows 8 version, but is giving no hints as to when it might be released.
While you might think that SSD caching has had its day due to the relative cheapness of medium capacity drives, SSD drive manufacturers still think the concept has legs. In late 2012, for instance, Samsung acquired Nvelo. It clearly thinks there's mileage in caching, and when this approach so clearly brings the benefits of SSD speed and the capacity advantage of HDD technology, Samsung is almost certainly right. ®