Original URL: https://www.theregister.co.uk/2013/02/11/curiosity_first_drilling/
Curiosity raises mighty robotic fist, punches hole in Mars
Rover is first bot to drill into the Red Planet
Posted in Science, 11th February 2013 13:17 GMT
Pic NASA's nuclear Mars truck Curiosity has punched a hole in the planet for posterity with its robotic arm drill.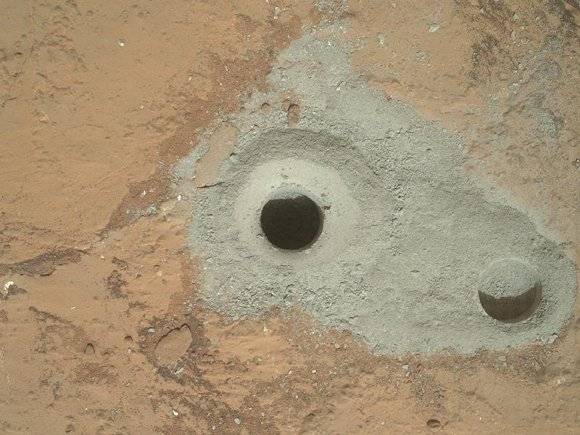 Curiosity's first sample drilling. The shallow indentation on the right was part of its preparations, NASA says. Credit: NASA/JPL-Caltech/MSSS
The rover bored into a flat, veiny rock to collect a sample from the Red Planet's interior, the first time that any robot has penetrated the Martian surface. The fresh indentation is just 1.6cm wide and 6.4cm deep into the sedimentary bedrock, which is believed to hold evidence of Mars' ancient wet environments.
Although the hole might not seem like much of an accomplishment, Curiosity engineers built eight different drills and bored more than 1,200 holes in 20 types of Earth rock to try to ensure that the rover's drill systems would work on the unpredictable rocks on Mars.
"The most advanced planetary robot ever designed is now a fully operating analytical laboratory on Mars," said John Grunsfeld, NASA associate administrator for the Science Mission Directorate.
"This is the biggest milestone accomplishment for the Curiosity team since the sky-crane landing last August, another proud day for America."
During the next few days, NASA controllers will get the rover to deliver bits of the sample that it has gathered to its various scientific instruments, including the Chemistry and Mineralogy (CheMin) instrument and the Sample Analysis at Mars (SAM).
To get the Martian rock dust ready, the powder will be vibrated over a sieve to get rid of any particles bigger than six-thousandths of an inch, or 150 microns, across. SAM and CheMin can then start detailed analysis. ®