Original URL: https://www.theregister.co.uk/2013/02/11/chromebook_pixel_could_be_real/
Chrome OS code suggests Chromebook Pixel could be real
Support for hi-res screens, LTE, fast CPUs in the works
Posted in Personal Tech, 11th February 2013 22:08 GMT
The video that leaked last week purportedly showing a new, high-resolution Google Chrome OS device called the Chromebook Pixel prompted lots of debate, with many skeptics decrying it as a hoax. But Reg reader Jan-Willem Aldershoff claims there's strong evidence that such a device may indeed be in the works, based on analysis of Google's source code.
In much the same way that Google's Chrome browser shares most of its code with an open source project called Chromium, Chrome OS derives most of its code from a separate open source project called Chromium OS.  According to Aldershoff, picking through that code reveals many interesting tidbits, including some that appear to substantiate claims made in the Chromebook Pixel video.
"The specifications are not officially confirmed but are based on research of the Chromium OS source code," Aldershoff wrote in a blog post on Monday. "We've thoroughly studied it and found many traces of a new Chromebook code referred to as 'Google Link'."
Note that the term is "Link",not "Pixel". But as Aldershoff points out, Google routinely uses codenames for hardware partners' Chromebook devices. The Acer C7 Chromebook is known by the codename "Parrot", for example, while the latest HP Pavilion Chromebook is known as "Butterfly".
It's entirely possible that Google could be using "Link" as the internal codename for what will eventually become the Chromebook Pixel. Or not – the Pixel designation could still be some hoaxster's fanciful speculation.
What's important, however, is that where Link is mentioned in the Chromium OS source code and its accompanying developer forums, it's often in connection with features that sound remarkably similar to those claimed for the Chromebook Pixel.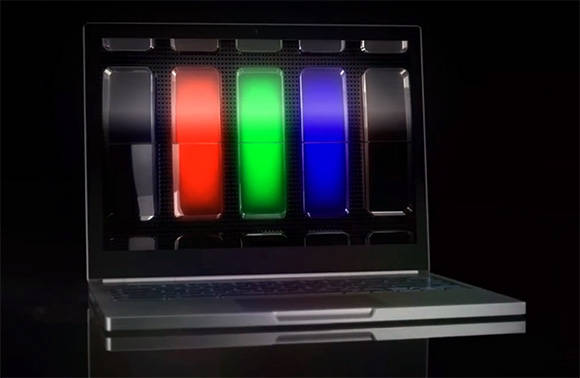 If the Chromebook Pixel isn't real, Google's Chrome OS developers are coding as if it is
For example, perhaps the most eye-opening feature claimed for the Chromebook Pixel was its high-DPI touchscreen, with resolution up to 2560 by 1700. Sure enough, Aldershoff points to one thread in the Chromium OS developer forums noting that the OS footprint had increased significantly due to the addition of "high-DPI resource paks" and asking that these resources be removed from builds for "all boards other than link," to conserve system resources.
Aldershoff says other "Link" references involve similarly high-end features, suggesting that this particular hardware configuration will be a cut above those of earlier, budget-conscious Chromebook models.
Judging by recent code changes – and assuming Google's developers wouldn't waste their time writing code to support hardware that won't actually ship – it looks like Link devices will also include backlit keyboards, 4G LTE modems in addition to Wi-Fi, and processors based on Intel's latest-generation Ivy Bridge architecture.
Of course, none of this answers the question of why Google would risk alienating its Chromebook hardware partners by releasing an own-branded model with specs more advanced than anything we've seen so far. But as Aldershoff points out, that wouldn't be entirely out of character.
"Google has a history of releasing state of the art devices under their own brand name," he writes. "The company has released Nexus tablets and phones which usually make use of the latest hardware available and come at an affordable price."
Whether Google is planning a similar strategy for Chrome OS is still anybody's guess. Since the Chromebook Pixel video first surfaced, the Chocolate Factory has said nary a peep about it, one way or the other. ®