Original URL: https://www.theregister.co.uk/2013/02/08/something_for_the_weekend_paper_computers/
Paper computers: Not mere pulp fiction
That's torn it
Posted in Personal Tech, 8th February 2013 11:10 GMT
Something for the Weekend, Sir? I love it when I read or hear the phrase "Print is dead". Idiocy is so enthralling. I am fascinated by people who can shamelessly proclaim their own ignorance in public with such determination.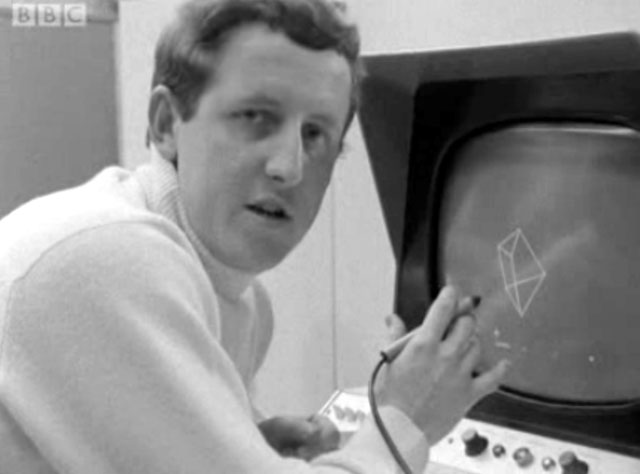 Future tech: Elliot light pen shown on Tomorrow's World in 1967
How many trees could you grow in that time?
Since I last commented on this issue in a column I wrote nearly 13 years ago, things have moved on dramatically in the field of touch and stylus-controlled display interfaces to replace clunky old tech such as physical buttons and fixed imaging. But a bigger challenge to my assertion that the world of 'print' actually covers anything from braille embossing to laser etching comes from the "Oh that's not really print" brigade.
I've read similar super-qualified arguments in other fields, such as "golf isn't really a sport" and "medicine isn't really science" – the implication being that brain surgery is nothing more than a performance art, a kind of slow-motion miniature knife-throwing act.
The fact is that print is here to stay, whether in 2D or 3D. I can't help it if some tech-heads are too thick to understand what print is. How the heck do you think they make printed circuits? Duh.
Another cliché I enjoy immensely is the one about print-on-paper being evil because paper manufacture is biologically unsustainable. Apparently, producing traditional 'dead-tree' versions of books, magazines and newspapers is an affront to Mother Nature and contributes to deforestation.
Except that Finland, from where practically all wood pulp for the European paper industry is sourced, has laws dictating that three new trees must be planted for every tree felled.
Sure, there are issues of forest management to account for, not least the rate of cutting versus speed of growing. But planting things that take at least 20 years to mature does not strike me as biologically unsustainable as, say, oh I dunno, building more nuclear power plants in order to keep our paper-free electronics recharged, leaving a toxic legacy measured not in decades but centuries.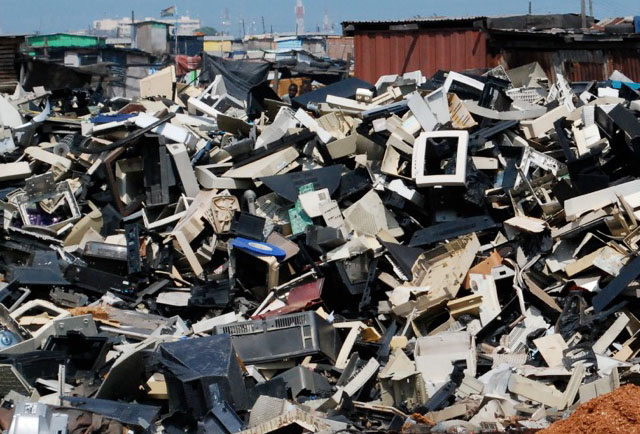 Paper recycling is a bit more manageable than this
If that wasn't bad enough, as any hippy watching you read an ebook on a train will bleat, an unwanted book is a damn sight easier to recycle than an unwanted plastic circuit board. Not only is our determination to burn up electricity out of control, so is our propensity to stuff the plastic bits of old computer kit into landfill. And by 'old', I mean '36 months after it came off the assembly line'.
IT printing
Now let's put these issues together – the evergreen potential of microscopic, high-resolution printing, the biological sustainability of managed (but unfarmed) plant life, and our increasing dependency upon short-life electronics whose components are largely unrecyclable.

21st century paper tech: El Reg's own space programme in 2010
To my typically confused mind, I think there may be a way of using embarrassingly obsolete technology such as print-on-paper to save the Earth. Instead of printing circuits onto plastic, print them onto paper.
According to research engineers in the Nanoelectronics Lab at the University of Cincinnati, paper has a lot going for it as a substrate for electronics: "It's lightweight, flexible and biodegradable, and it comes from a renewable resource." You can do a lot to customise the surface properties and strength of paper and, of course, it can be made stiff or flexible, as you wish.
Getting down to the detail, there are seemingly endless challenges to keep the manufacturing cost down, even though the material cost should be much lower than plastic. Another problem is trying to gain commercial backing for a concept that sounds like the kind of nutty idea you'd giggle at on Tomorrow's World: "Five years from now, we will be wearing paper pants and eating meals extracted from dragonfly buttocks."
Possibly the most obvious limitation of paper-based electronics – paper deteriorates quickly – is its most attractive proposition. Given that tablets, smartphones and other gadgets tend to get ditched and replaced in a nine-monthly cycle, built-in biodegradable obsolescence should be a boon to both manufacturers and consumers alike. Make use of organic materials to form the semiconductor 'ink' and you have the ultimate in recyclable, disposable electronics.
The only drawback is that it'll be difficult to sell the things on eBay when you're bored of them. By then, they won't be worth (he he) the paper they're printed on. ®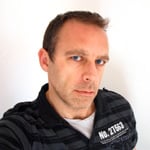 Alistair Dabbs is a freelance technology tart, juggling IT journalism, editorial training and digital publishing. He is worried that ten years from now we'll be laughing at how people who ought to have known better seriously believed that there was a big future for tablets – like William Woollard's paper pants.