Original URL: https://www.theregister.co.uk/2013/02/06/surface_pro_review/
Review: Living with Microsoft's new Surface Pro
Is it a tablet? Is it an Ultrabook? It's up to you
Posted in Personal Tech, 6th February 2013 02:03 GMT
While the Surface RT was aimed at Apple's iDevices, its posh Pro cousin is Microsoft's Windows 8 showcase in the PC space, and on midnight on February 9 the first units will go on sale. But we got one early, lived with it for a week, and have, ahem, surfaced to tell of our experience.
Microsoft is adamant that the Surface Pro is not just another consumer fondleslab that's to be used as a second-string consumption device, but is instead a fully functional Ultrabook in its own right. While the company has Pros in the field with engineers, it's most likely aimed at the executive who wants an exceptionally mobile laptop along with Windows and all its applications.
Redmond has been making private and public complaints about the lack of touch systems out there to support its latest operating system, and about OEMs' unwillingness to gamble on people willing to buy into Windows 8.
On a corporate level, Microsoft has no doubt seen how corporate types using iPads have insinuated Apple into the heart of what was once solid Windows territory, and Redmond is hoping the Surface Pro will bring management back to its core software stack.
The Surface Pro is Microsoft's attempt to show the rest of the manufacturing world how it's done, and for the last week The Register has had a unit to examine to see if they've succeeded. As well as poking and prodding the thing, we've done some usability testing to see if Surface can stand up as your primary system.
This isn't a review of Windows 8 per se, since the operating system has a few minor tweeks for the Surface Pro but is otherwise the same as you'd find on any new computer. Rather it's a look at the Surface itself, what's under the lid and, crucially, how easy it is to use in the real world.
The basics
The Surface Pro hardware is available in two standard fondleslabs, with 64GB or 128GB of solid state memory (more on that later), and priced at $899 and $999 respectively. Both come with a Wacom-based stylus.
The 128GB test unit Microsoft sent us is powered by a third-generation Intel Core i5-3317U running at 1.7GHz with 3MB of cache backed up by 4GB of dual-channel RAM. The processor started shipping around the middle of last year, and Microsoft says that newer processors will be added as they become available – presumably it's high on the list for Intel's forthcoming fourth-generation "Haswell" processors.
But with the i5's grunt comes a resulting heat penalty, and so the Surface has a cooling vent built into the top rim of the chassis. Inside the tablet, twin fans work in concert with the unit's internal sensors to determine where the top is at any given time and direct airflow upwards and outwards for maximum efficiency.
With no Ethernet, the Surface uses 802.11 a/b/g/n Wi-Fi with 2x2 MIMO antennas, and these are excellent at picking up strong signals over considerable distance. There's also Bluetooth 4.0 that can handle 3Mbps traffic, and crammed inside the case are an accelerometer, gyroscope, and compass, and an ambient light sensor to manage the display settings on the fly.
The Surface has a bonded 10.6-inch 1920-by-1080 pixel display capable of 10-point touch, which provides a 9.2inch viewing area. The Surface's Intel HD4000 graphics engine can also display 1440-by-1260 pixels on a conventional desktop monitor using the Mini DisplayPort connector in the bottom left of the tablet's case.
At the top of the screen there's a front-facing 720p camera for video calls with a rear-facing twin on the other side of the case for those annoying people who like to use a tablet as a camera. On the bottom bezel there's a touch-sensitive Windows button to bring up the home screen. It's not the greatest of cameras, as our test shot using the rear-facing camera shows, but it's good enough. No animals were harmed in our testing of the camera, but a small black cat was slightly peeved.
Microsoft is proud of its custom VaporMg magnesium-alloy case, in which the entire shell is injection-molded from liquid metal and then polished up. According to its engineers, the Surface has around 200 parts inside, 150 of which are custom-made, and Redmond says it has its own factory in China doing the assembly.
At two pounds it's weightier than many tablet-users would like, and the trapazoid-profile unit measures 10.81 x 6.81 x 0.53 inches at its tips. As with the RT unit, the Surface Pro has a kickstand for viewing or use with the keyboard. The screen viewing area is good enough, so you're reasonably flexible about where you sit when the kickstand is deployed, but using it with a keyboard in Cattle Class on an American airline could be problematic.
The power slot uses a magnetic connector similar to Apple's second-generation MagSafe power connector, and this doubles as a fixing point for the Surface Pro's stylus, which is built using Wacom technology and uses a pressure sensitive tip to act as a mouse, and has a button on top that can be programmed to erase doodles. The Surface is also heavy enough that you can use it as a graphics tablet without it sliding all over the table like lighter fondleslabs.
Built into the left side of the casing is a full-sized USB 3.0 port (very welcome and still ridiculously rare), a volume rocker, and 3.5mm headphone jack, with the power button and microphone on top. On the right is the Mini DisplayPort and power port, with a microSD card slot above – and you're going to need the latter given the size of the available storage space.
Our 128GB test unit came with 86GB of free space, so it's logical to assume the 64GB version will have a little over 20GB for buyers to play with. You can pick up a 32GB microSD card cheaply enough, 128GB versions are coming soon, and SanDisk say the technology will scale up to 2TB, so a card wallet is going to be a necessary accessory for power Surface users.
Accessorise, accessorise, accessorise
So that's what you get for the $999 our test unit cost – a very high-end x86 Windows tablet and a pen which amounts to something you could conceivably use as an office PC replacement, if you have the monitor as well as wireless and/or USB accessories.
To make it a functioning mobile Ultrabook you can use outside the office, you'll need to get some extra kit that will push the purchase cost over the one-grand price point, whichever model you buy. Your first port of call will be the keyboard.
The Surface Pro has with a choice of two types of keyboards; the Touch Cover for an extra $119.99 and the Type Cover for $129.99. Microsoft also touts three $129.99 Limited Edition Touch Covers for style-conscious individualists, laser-etched with patterns depicting either the Chinese Year of the Snake, a pattern of cartoon skulls, or some tastefully drawn flowers. El Reg would advise not using these in the office if you want to be taken seriously.
Since at this time there's no official third-party keyboard market, you're going to have to buy from Microsoft, and of the two types the Type Cover is the logical choice. It's slightly thicker than its cheaper counterpart, but our tests show it to be much more usable for anything other than casual use.
While comparing the Touch Cover to a Sinclair ZX81's keyboard is possibly a little harsh, it's still not a keyboard most people would want to use for serious amounts of typing. While there's some clever control software that makes the keyboard better than it looks, we manage around 60 words per minute on a standard keyboard, and could do barely half on the Touch Cover, even after a few days of practice.
Using the Type Cover, on the other hand, we quickly achieved near-normal typing speeds – it's as good as any low-profile keyboard on the market today. Its touchpad is surprisingly useful, and the whole unit is worth the extra $10 and two millimeters of thickness in order to get something usable.
Microsoft also sells a Wedge Touch Mouse Surface Edition for $69.95. It's a dainty little unit with a 2-by-2.375 inch footprint that has a touch-sensitive sloping top for clicking and scrolling, and that uses the same BlueTrack sensor as Microsoft's bendy Arc mouse, which works on most surfaces except glass.
While the mouse is stylish and easy to slip into a pocket, it's too small for long periods of operation. Most users's hands would be better served by a larger mouse or a trackball. Certainly extended sessions caused this hack's RSI to come back with a vengeance, but for the fashion victims out there it's a nifty little toy.
For those of you without a Mini DisplayPort monitor, Microsoft will sell you adapters for VGA or HD Digital AV connectors for $39.99 apiece, and there's also a smaller 24W Power Supply as a replacement or backup for the Surface Pro's boxed 48W unit.
Out in the field
So at the end of the day, does the entire package work in the real world? To find out we used the Surface as our main work machine for a week. With the Surface Pro costing as much as it does, this system really needs to justify itself as a primary PC, and it came through testing with some very strong points and a couple of niggles.
Firstly, in terms of build quality, this is one of the best tablets out there. Certainly it's heavier than most consumer fondleslabs, and using it one-handed quickly becomes tiring, but it feels solid and reliable, didn't throw a hissy fit at some rough handling, and the VaporMg case is very difficult to scratch. It's also very well balanced – Microsoft isn't releasing internal pictures, but assures us there's a large 42W battery in the dead center of the unit – and it feels like they are right
Microsoft is not releasing battery stats, but we got a reasonable score from the demanding PowerMark 1.2 test, three hours and 25 minutes. That compares to two hours 45 minutes for Lenovo's rival IdeaPad Yoga and three hours and five minutes for Dell's XPS 12 using the same testing suite
In standby mode it's likely you should get a full five days of power – we couldn't wait that long – and the unit powers up from dead in a couple of hours using the standard charger.
Overall it was helpful to keep the charge topped up, but getting more than a day's business use without the charger is perfectly possible if you're not silly about what you do and use power saving modes.
The display is very good indeed, and picture passwords on the touchscreen make life easier. Although the glass cover is fairly resistant to finger oils, it would be worth giving it an occasional scrub.
Screen resolution is excellent, colors are strong, and the Intel graphics can handle most business workloads without flinching, although it's not much good for hardcore gaming. In demos, Redmond showed off the speed with which it handled graphics work, but a workstation this isn't. Nevertheless it should run 90 per cent of the presentations out there – Michael Bay's not included.
The ambient light sensing is responsive and useful, and the Surface is readable in bright sunshine and has a wide viewing angle, which is handy for use with the kickstand. I'm not sure that everyone would use ten-point multitouch, but it's nice to have it, and if you like the Windows 8 user interface there may not be a better machine to have it on.
With regards to the operating system, there are some small changes such as integration of the handwriting recognition system and the software keyboard. Although this build of the OS didn't have it, Microsoft engineers showed us how it works, and it looks very handy, with a reasonably accurate handwriting-recognition capability.
In terms of processing grunt, the Surface Pro holds up well. There's none of the keyboard lag that some users found with the RT fondleslab, and it handles video well enough. There was some discussion at El Reg about whether using a Core i3 instead of the Surface's i5 would have been sufficient – and more power-friendly – but Microsoft wants this to be a powerful enough machine to handle big-boy workloads. It has succeeded, and the unit's cooling system appears to work well with the increased processing power.
And the verdict is ...
So the Surface Pro is certainly good enough to act as a system that can be plugged into a home or office setup and used as a primary computer. But is it a fully functioning laptop? Well, sort of.
As has been mentioned, you'll need a keyboard to use the Surface Pro to use it as a laptop, and the keyboard's magnetic mounting and flexible hinge is designed to keep the unit very light indeed. But that comes as at a serious design cost for the truly mobile worker.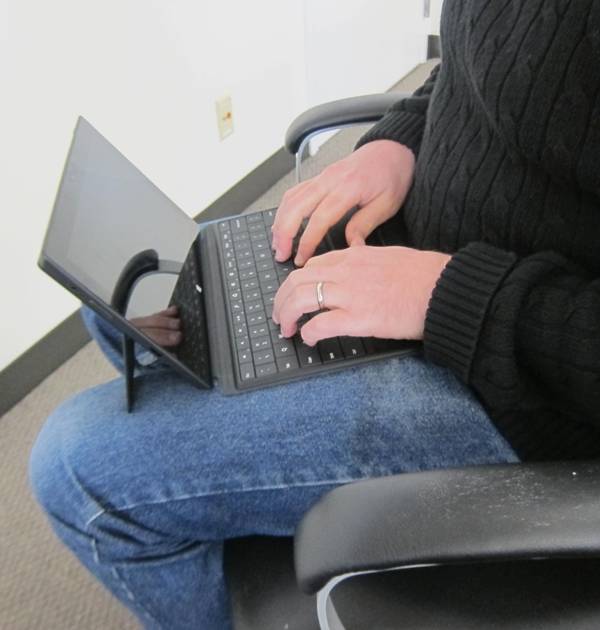 Usable, but only just
As a journalist I do a lot of writing on the move, usually by having a laptop on my knees in press conference chairs or on the train to and from meetings. While you can use the Surface in this way with the kickstand keeping the screen upright and the keyboard maintaining balance, it's an unwieldy solution, particularly if you're swiping across the screen a lot. So consider how the Surface design fits in with your working style.
While we're on the topic of design, Microsoft has made some very odd choices in port layout for the Surface Pro. The stylus, for example, clicks into the same magnetic lock as the power cord, meaning you can't have the pen mounted and keep the Surface powering up. That's not a major issue if you're sipping power as needed, but with the pen clipped in place you can't use the DisplayPort socket either.
Simply shifting the power port, and thus the stylus, a centimeter higher on the side would have eliminated this issue, but – presumably for internal space reasons – this wasn't done. In day-to-day use we found it was easier to remove the pen completely and stick it in a pocket, or just lob it onto the hinge of the machine. Getting a new one will cost you $29.99, and we expect Surface Pro owners will have to buy a fair few.
That magnetic mounting for the stylus is also not suitable for carrying the tablet around in a bag. The stylus invariably fell off when we put the unit into a rucksack, and the keyboard covers also became detached if the unit was thrust into a bag – although keeping it in a laptop pouch solved that problem.
The future of the Surface Pro
We've been having a lot of discussions with sources at Microsoft about the future of the Surface. Is the hardware just Microsoft trying to seed a market with Windows 8 machines, or is Microsoft making a serious play as a hardware vendor?
On the face of it, the Surface Pro has limited prospects. Despite ploughing billions into the Xbox and selling some very nice peripherals, Microsoft is still, in its heart, a software company. It probably always will be – some firms are just wired that way. But nevertheless, one gets the impression that Microsoft really is serious in making the Surface the go-to brand for Windows 8.
Redmond folks tell us that the company is gearing up for a whole new generation of Surface Pro devices, and Microsoft's move to buy into Dell could prove very handy if it's as serious about the Pro as it seems. That said, the Surface Pro isn't intended to become the number one Ultrabook and sell by the multi-millions – at least from what we can make out – but instead to be a showcase and a premium system that gets people used to paying more for premium PCs.
Given the price point and specifications, Microsoft has a toughish sell. Not including a keyboard in the Surface Pro bundle feels cheap and ensures that almost everyone who buys a unit will spend at least $1,000 on a functioning mobile system.
For that kind of money we're not going to see too many field engineers using them – not with with IT budgets beng as tight as they are. The Surface Pro looks more like an executive system based on the current price points and use cases. Even then, the small screen size is a concern – the Surface really needs an external display.
A reviewer has to ask themself, "Would I buy this if it were my money?" For the Surface Pro the answer is, for this hack, a firm "No." The tablet is lovely, a beautifully engineered bit of kit with an excellent touchscreen, but it's not stable enough for safe knee-top use with the kickstand. That said, if I were working in a Windows office and just wanted something I could occasionally use in transit, I'd be tempted.
While Intel can sound off about how Ultrabooks should be priced at around $699, the fact remains that they are not. To get a touchscreen model with a decent amount of power under the hood, you're going to pay around the same price as the Surface's base-unit prices without the accessories, but you'll get a bigger display.
Apple fans will tell you that the 128GB iPad is only $799, and thus gives better value for money, but that's not comparing like with like, and even comparisons with the MacBook Air are not totally fair. The Surface Pro is a fully functional PC that you can load up with whatever software or operating system you like, and you can dual-boot Linux on there as well, once you've disabled Secure Boot. Try that with an iPad and see how far you get.
But if you're stacking the Surface Pro up against other Ultrabooks, then the system's cost is within the bounds of sanity. If Windows is your thing and you're not often working on the go, it's worth taking a look at the Surface Pro. ®
All non-cat photography by Rik Myslewski