Original URL: https://www.theregister.co.uk/2013/02/06/dell_xps_10_windows_rt_tablet_and_keyboard_dock_review/
Review: Dell XPS 10 Windows RT tablet and dock
The convertible that Microsoft's Surface should have been?
Posted in Personal Tech, 6th February 2013 12:04 GMT
Windows RT: unholy fondleslab abomination or clever integration of a grown-up desktop and touch-friendly tablet UI? Opinions veer wildly and violently between one and the other extreme.
The newest and first non-Nvidia Tegra 3 receptacle for Microsoft's alleged problem child is Dell's Asus Transformer-esque XPS 10. On paper, and in the flesh, it looks like the pick of the current RT crop.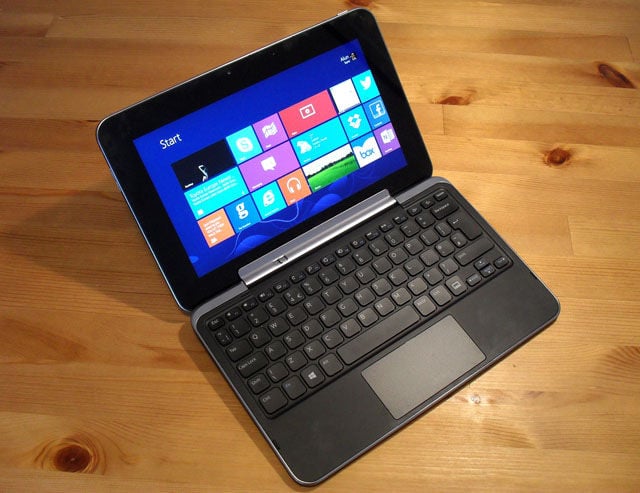 Dell's XPS 10: tablet, docked
Externally, the XPS 10 is a smart, solid and very well made if rather anonymous affair. The black and silver colour scheme gets a thumbs up as does the matte, rubberised coating on the back of the tablet, underside of the dock and the keyboard deck. It may start to look greasy rather easily but it makes for a warm, comfortable hold and a secure grip, which is more important.
Weighing in at 635g and measuring 275 x 177 x 9.2mm the tablet part of the package is near enough the same size and weight as Microsoft's Surface or any of Asus' Android-running Transformer offerings. Attach the dock and the weight increases to 1.3kg while the thickness doubles, but that doesn't take it beyond laptop proportions.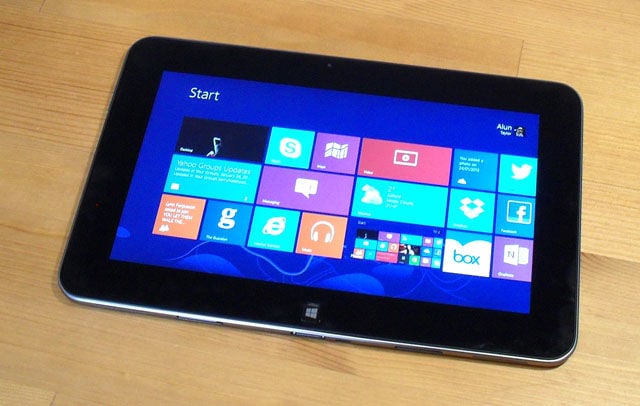 Tablet on its tod
A quick perusal reveals a decent array of connectivity. On the bottom, long edge of the tablet you'll find a micro USB port and dock connector-cum-charger, while the power and volume controls and a 3.5mm audio jack are dotted around the top and left side.
There is also a Micro SD slot on the top edge, tucked under a long, hard-to-open and none-too-solid flap. I'm guessing in due course a Sim card slot will appear under here too, hence the length. The box may say the XPS has a 64GB SSD but after Windows 8 and associated apps have grabbed their share, there's only 40GB free, so the memory card slot may come in useful.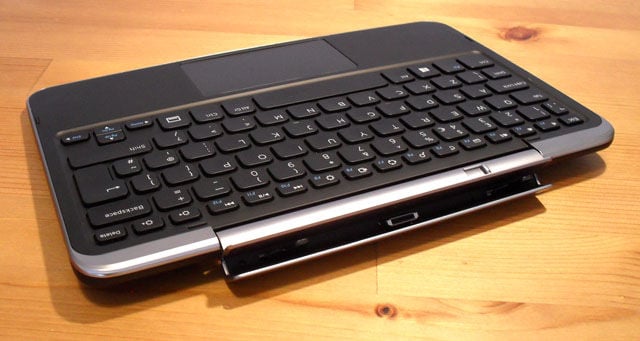 Dock alone
The dock adds two USB 2.0 sockets and a mini-HDMI port though when the tablet is docked you lose the micro USB connector because it's becomes hidden from view and access. Dell bundles micro USB-to-full USB and mini HDMI-to-full HDMI adapter cables, a move which deserves a round of applause. Wireless connectivity comes in the form of dual-band, 2.4GHz and 5GHz 802.11n Wi-Fi, and Bluetooth 4.0.
To dock the tablet you have to remove two plastic infills from the tablet then simply slip the two bits together until they literally click. I suspect the infills will be lost or discarded in short order - surely no one will keep putting them back after undocking the screen? Separating tablet from dock involves sliding a catch below the screen to release it. It's a solid and robust arrangement that should survive the test of time.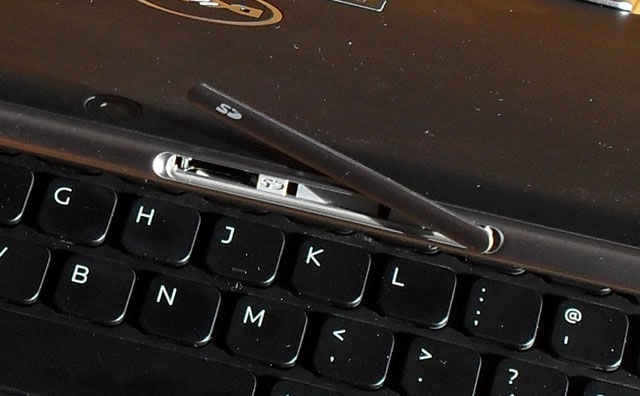 Room in there for Dell to add a Sim card slot in due course, you reckon?
The tablet's usefully loud loudspeakers fire out of the bottom of the frame safely away from accidental muffling by your hands. The dock obviously has a speaker or two of some description built into it because once docked sound quality goes from good to excellent.
If you are a compulsive webcam user or snapper you are well covered with a 5Mp main, rear-facing and 2Mp secondary, front-facing cameras. In terms of quality they are nothing to get excited about, but the resolution is a handy improvement over that offered by the Surface, both of which are sub-1Mp jobs.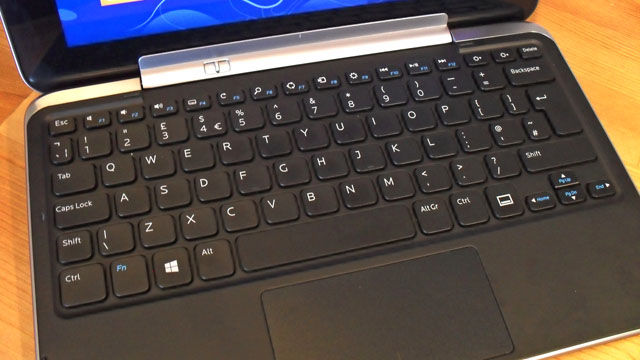 A decent notebook keyboard
The XPS 10's chiclet keyboard is a more impressive affair. Key travel is short but the action is precise and the base solid. All the expected keys are present, including the Windows Start and context menu buttons. There's even a Caps Lock light. Nothing wrong with the gesture-enabled touchpad, either, which is big and perfectly calibrated.
Unlike the Surface with its 10.6-inch panel, the XPS has a more traditional 10.1-inch IPS LCD screen, but the resolution is the same: 1366 x 768. The resulting 155dpi pixel density is mundane, to say the least, but the UI and its contents still look agreeably sharp and clear. It's not the brightest IPS panel I've seen but colour saturation is good and the viewing angles robust.
Krait balls of fire
Inside lurks a Qualcomm Snapdragon S4 1.5GHz dual-core Krait processor with 2GB of RAM. That's a combo which keeps the XPS 10 moving at a good canter. No matter how many windows I had open or what I was asking the system to do there was no sign of lag, stutter or hesitation.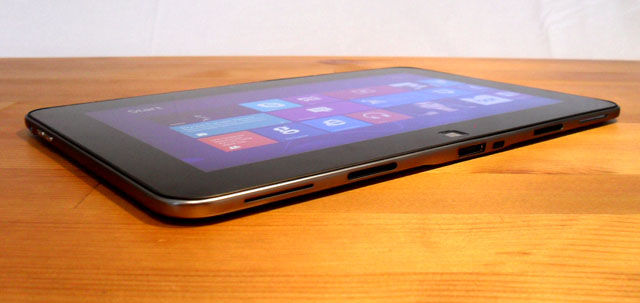 Making connections
There were no issues with 1080p video, either. Screen resolution notwithstanding, full HD content played cleanly whether locally hosted or streamed. File type support, however, is merely average. At the moment, the RT stock media players don't support MKV or Flac, and third-party alternatives are thin on the ground.
There aren't many benchmark options for Windows RT at the moment but the SunSpider JavaScript test threw up an impressive score of 953 which is better than either the Surface or Asus' VivoPad RT, both of which are Tegra 3-based devices. Even the iPad 4 only scores in the high 800s.
SunSpider JavaScript Test Results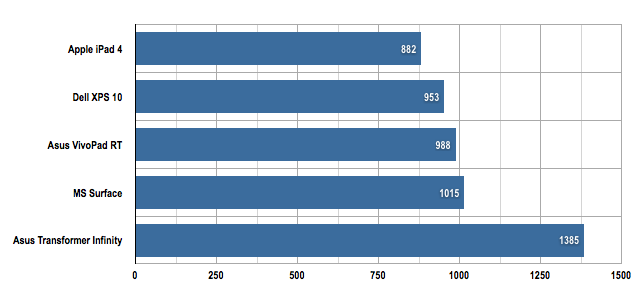 Longer bars are better
Both dock and tablet have the same battery in them, a fixed two-cell, 28Wh affair. Looping a 720p MP4 file I got over 18 hours from a full, combined charge. Even after an average of five hours' varied use each day, I only needed to find a wall socket every fourth day. That's pretty good in my book.
Strangely though it's the tablet battery that gets drained first. This means that if you watch nine hours of video and then undock the tablet, the tablet battery is flat. This is entirely counter-intuitive. The way Asus does it makes sense: drain the dock first and then the tablet. After all, you can use the tablet without the dock but not the dock without the tablet. That the XPS 10 doesn't do this is, for me, a major drawback. I can envisage users working away at home on their docked XPS, pulling out the tablet to head off somewhere... only to find they're out of battery and charger-less.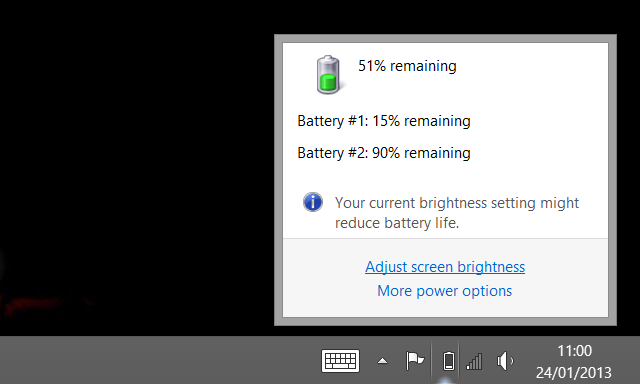 Docked, the tablet's battery drains first. Bonkers
This odd arrangement is somewhat ameliorated by the fact you can charge the tablet through the micro USB port if you find yourself without the traditional rat-and-tail 1.6A PSU.
Now to the elephant in the room, Windows RT. Bad points include no support for Windows desktop programs, a less than fully functional Office suite, a horrible lack of apps – though this might improve – and the abrupt transition from the tile-based what-was-once-called-Metro (WWOCM) interface to and from the familiar Windows desktop.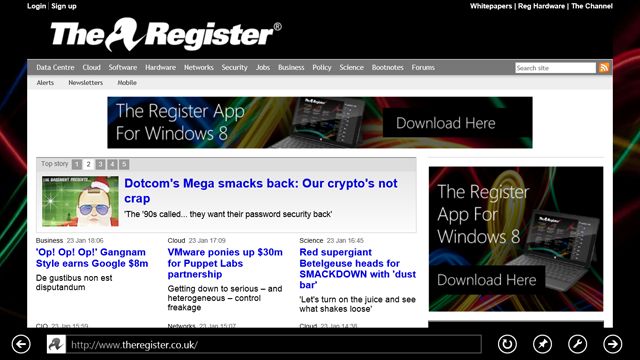 IE on RT is a fine mobile browser
The plus points? Having a desktop and the familiar Windows file explorer; the excellent web browser which negates the need for many of the missing apps; having SkyDrive-linked Office in any form; and the handy default WWOCM apps, including Messaging, Mail and Skype.
You'll notice some things fall into both categories, which is why I suspect RT causes people to get so bent out of shape and confused. There's no doubt that Windows 8 in any form takes some getting used to, but having a PC-like UI on a tablet is something I find myself becoming more and more well disposed towards.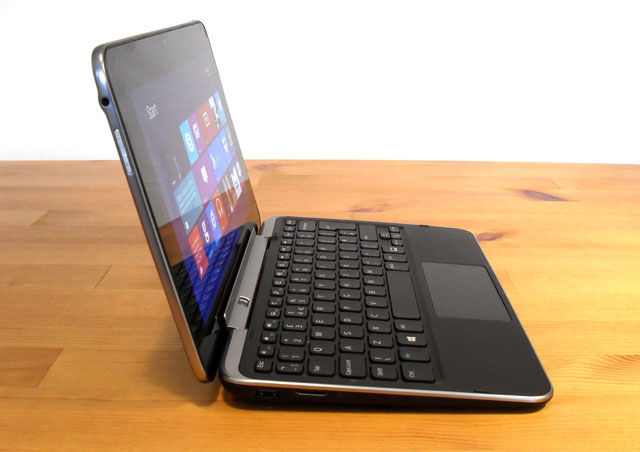 Edge-y?
I'm not saying Windows 8 RT is perfect. By no means. You could argue that it occupies a no man's land between tablet (read phone) opertaing systems like Android and iOS, and grown up desktop operating systems like Windows 8, Mac OS X or any good Linux distro. I admit I don't like Windows RT as much as I like Android, but I'm starting to I dislike it less than I do iOS 6.
The Reg Verdict
For £629 – the cost of a 64GB XPS 10 and the dock – you expect a very well made and powerful bit of kit, and the Dell doesn't disappoint. The screen performs better than the written specification would lead you to believe, but the bonkers battery arrangement will make for some moments of profound annoyance when you want your undocked tablet to work but it won't for lack of battery charged. The problem with Windows RT is that it doesn't offer anything that Windows 8 proper doesn't – quite the contrary – which makes me feel it should be rather cheaper than it is, even if the hardware feels up to the price point. I rather like the XPS 10, but I'd like a Windows 8 Pro version for the same price even more. ®