Original URL: https://www.theregister.co.uk/2013/02/05/feature_powerline_networking_the_next_generation/
Socket to 'em: It's the HomeGrid vs HomePlug powerline prizefight
Rival mains LAN standards go mano-a-mano for a place in your home network
Posted in Networks, 5th February 2013 12:04 GMT
Feature "Two standards, both alike in dignity,
In fair Vegas, where we lay our scene,
From ancient grudge break to new mutiny,
Where civil blood makes civil hands unclean."
The backers of rival next-generation in-home mains power networking standards may not have come to physical blows in defence of their favoured technologies, but each is no less dismissive of the other for that. Both camps - one in favour of the ITU-T standard, G.hn; the other siding by the HomePlug AV2 specification - claim they are in the ascendant and the natural choice not merely for the now established network bridge market but also for a new role as embedded networking in 'smart' devices.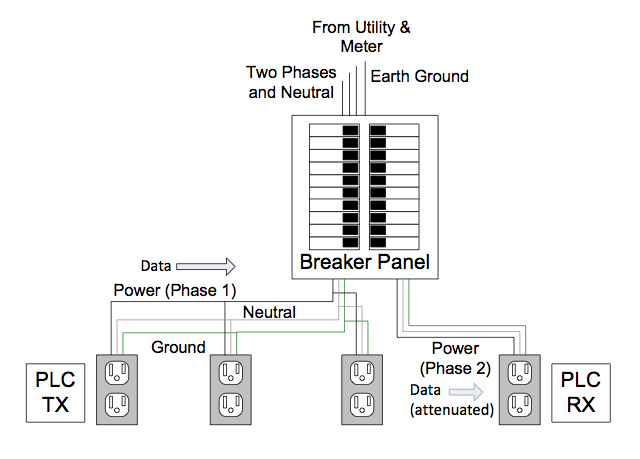 Powerline in the home
One of the two, G.hn, was finally fully approved by the International Telecommunications Union in June 2010; part of the standard, the PHY layer, had been ratified the year before. Thirty months on, G.hn has yet to arrive in products that people can actually buy and install. The organisation established to promote the standard and ensure interoperability between devices based upon it, the HomeGrid Forum, insists kit will be available in plenty of time for Christmas.
According to Forum President Matt Theall - who is also a Technology Strategist at Intel; the chip maker is very keen on HomeGrid technology - getting G.hn to market has been slowed by the accretion of new features since the standard's ratification. So, rather than release first-generation kit based in vanilla G.hn, chip makers held back - and, in turn, restrained adaptor makers. They waited for the additional, but optional technologies to come on stream first. A case in point: HomeGrid backer and silicon vendor Sigma Designs announced its first G.hn chipset back in October 2010; late last year, the Forum welcomed the company's second-generation offering, this one bringing on board the technologies introduced in the intervening period.
The most important of these is MIMO (Multiple Input, Multiple Output), a technique borrowed from the wireless world. It allows extra signals to be sent and received, in this case down the third power wire, Earth or Ground, if it's present. Current powerline technology uses single transmitters connected to the Live wires, with the Neutral line completing the circuit. G.hn MIMO adds a second transmitter/receiver pair, this one on the Earth wire, with the Neutral line common to both: two logical circuits on three wires.
Multiple Input, Multiple Output
The upshot is greater signal range and performance: a non-MIMO peak PHY rate might jump from 959.12Mb/s to 1918Mb.ps with MIMO turned on, HomeGrid supporters claim. It also gives G.hn adaptors the ability to cope with surge-protection devices, which usually considerably impede or, at worst, kill powerline signals. Surge protectors sit one the Live wire; if that's compromised, MIMO's use of the Earth link allows data to get through.
There's a benefit even when the MIMO-enabled kit is talking to a plain G.hn adaptor without the extra transmitters and receivers. The powerline signal sent out by the single input, single output (SISO) adaptor on one line is picked up and propagated by adjacent wires. The MIMO receiver can use these induced signals to better deal with with transmit errors, reducing the need for data to be re-sent, increasing the effective throughout.

MIMO, G.hn style
But G.hn's rival, HomePlug AV2, can take advantage of MIMO too. Like its opponent, AV2 also deliver better speeds than previous generations of powerline technology by extending the frequency range over which the data-bearing signals are modulated. In HomePlug AV2's case, that takes the theoretical maximum bit-rate from HomePlug AV's 200Mb/s - running in the 1.8-28MHz band - to 500Mb/s using extra frequencies made possible by an optional extension to the technology. The option, part of the IEEE 1901 standard, extends the operational bandwidth to 50MHz. HomePlug AV2 extends the frequency range further, right up to the FM band at 86.13MHz, to lift the theoretical PHY rate to 1Gb/s. The consequences of these higher frequencies we'll consider in a moment. MIMO raises AV2's peak speed from 1Gb/s to 2Gb/s. G.hn sees very similar gains for the same reasons.
In addition to Sigma Designs, there is G.hn silicon coming from Marvell, a big HomeGrid supporter. Marvell's latest, MIMO-enabled chipset, sampling now, was the first to be formally certified by the HomeGrid Forum. Taiwan's Metanoia has a chipset in the works that's due at the end of Q1 or early Q2. Israel-based Tangotec, a G.hn specialist, is working on a chipset too, as is China's Xingtera, a maker of silicon for ADSL products.
Silicon support
Then there's Broadcom. It hasn't formally announced a G.hn product but its 2012 acquisition of Gigle, a chip designer that was working on HomeGrid products, gives it the resources to do so. Certainly G.hn is one of the company's key areas of R&D investment, it says. So, though, is HomePlug AV2, and HomePlug cheerleader the HomePlug Alliance is keen to talk up Broadcom's enthusiasm for its latest technology. Indeed, during the time this article was being researched, Broadcom quietly airbrushed the word 'G.hn' out of its presentation, implying it's now all for AV2. So is Qualcomm's networking subsidiary, Atheros, which is also sampling its 500Mb/s AV2 QCA7450/AR1540 chipset ahead of mass production. Taiwan's Mstar is an AV2 supporter too.
While Broadcom appears to be shifting toward AV2, Sigma Designs seems to be moving in the opposite direction. It's a member of the the HomePlug Alliance and has developed and released HomePlug AV products. But since its G.hn chipsets are marketed as being "fully backward compatible" with HomePlug AV to ensure "every service provider who uses G.hn will have a smooth and seamless migration from these legacy deployments", it would seem to have hopped off the fence when it comes to which next-generation powerline technology it's going to back.
The two rival standards, then, both have big-name supporters who can punch out the chips that makers of network adaptors, home broadband routers, set-top boxes and even TVs can add to their own products. Both deliver essentially the same level of performance using similar frequency ranges: 1.8-80MHz for G.hn, 1.8-85MHz for AV2. And they both have the scope to boost throughput with MIMO and associated techniques if a given user's mains wiring can support it. Both incorporate Quality of Service (QoS) provision to favour streamed video content and have the bandwidth for multiple HD streams. Both have AES 128 encryption to secure the data flowing through the power cabling, and techniques to mitigate interference from other powerline LANs running on the same wiring - neighbours in apartment buildings with common cabling, for instance.
Given the close similarities, can either establish a clear lead over the other? Backers in each camp say they can. The HomeGrid Forum, for instance, claims G.hn has found favour with many of the world's communications service providers, big suppliers of powerline based kit to go with the broadband routers and set-top boxes they supply to subscribers. John Egan, the HomeGrid Forum's VP and also a Marvell executive, points out that the technology's developer, the ITU, is the organisation service providers look to for technology guidance and that many of those service providers were involved in defining G.hn as a standard.
Service provision
One in particular, he says, is already cracking the whip to encourage silicon vendors and kit makers to ensure their various offerings work harmoniously, the quicker it can begin conducting G.hn field trials in a programme Egan claims will take in "thousands of homes". He won't say who this service provider is, of course, but since the Forum's membership list reads like a who's who of the big names in global communications services, it's unlikely to be a nobody.
Of course, as Rob Ranck, President of the HomePlug Alliance, points out, there are a fair few service providers in the HomePlug camp too. Many of them have long been putting HomePlug kit into punters' hands through their home networking initiatives. For these folk, HomePlug AV2 represents a natural upgrade path from AV, or even older versions of the standard: the 14Mb/s HomePlug 1.0 and the 85Mb/s HomePlug Turbo. Let's not forget, he says, HomePlug AV, like G.hn, is a formal standard, this one set by the IEEE and called 1901.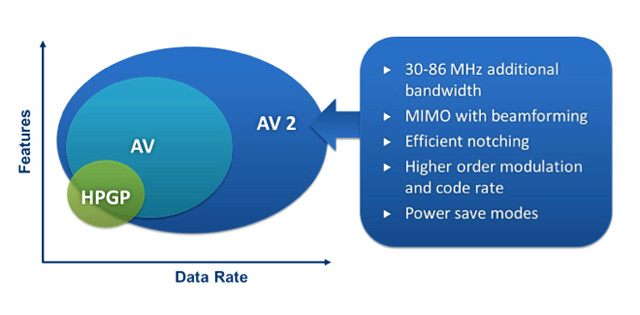 The benefits of HomePlug AV2 over AV
All the time the HomeGrid folk were extending their specification with MIMO and other additional features, HomePlug AV kit was getting into the marketplace. That was when G.hn had its chance, says Ranck: to come in and offer faster performance than AV. It didn't and now with AV2 imminent, it hasn't a chance, he insists. He also says HomePlug has the advantage when it comes to taking powerline to the next level: from being a network extension product to becoming a device-embedded alternative to Ethernet and Wi-Fi. At last month's Consumer Electronics Show (CES) in Las Vegas, the HomeGrid Forum demo'd a smart TV equipped with its favoured powerline technology. So did the HomePlug Alliance, in partnership with Chinese electronics company HiSense. The important difference: HiSense's TV is actually on sale - you can buy it China today.
To be fair, it uses HomePlug AV, not AV2. Kit based on the new technology won't be out until later this year, says Ranck, after the chips, many of which are sampling now, have gone into volume production and the products that use them undergo the Alliance's interoperability certification programme. So right about the time that G.hn kit comes to market, then. Ah-ha, he says, but our chipsets require fewer separate chips, so they'll be cheaper. Except Qualcomm Atheros' AV2 chipset is a two-part set, as is Sigma Designs' CG5200 series of G.hn chipsets. Marvell's 88LX3142/88LX2718 G.hn chipset too.
Signal to noise
Ranck's most important pitch, however, is that HomePlug has momentum that will carry AV2 forward, whether through consumers upgrading their existing HomePlug adaptors or with service providers who have already handed out HomePlug kit to their subscribers. The service providers aren't going to want to have to get their engineers up to speed on G.hn, he says, when they already know HomePlug for powerline, HomePNA for networking over phone cabling and the MoCA standard for the co-ax links that are popular in US homes.
But there is an advantage for HomeGrid here: G.hn can operate over all three of these media, all connectable through single PHY. Why worry about MoCA and other standards, asks the Forum's Matt Theall, when a G.hn-equipped box can be run over any or all of these wire types? The standard was designed not merely to operate over all of these, but to connect them together. One product can connect to any ord all the wires in a house, proponents say. That's one of the reasons why many service providers are so keen on G.hn, he says. Rather a lot of them are members of the Broadband Forum, yet another industry association charged with overseeing standards; it too has given G.hn the thumbs up.
But not so the world's radio hams, who disapprove of powerline technology period, claiming it is a source of electromagnetic pollution in the bands they and others favour, and fear the impact of the next-generation technologies even on FM transmissions. To avoid the FM band, HomeGrid cuts out at 80MHz rather than 86MHz, where HomePlug AV2 draws the line. To obtain HomeGrid certification, a product must not intrude into the FM band at all, though this is a widespread regulatory requirement in any case. G.hn also follows Comité International Spécial des Perturbations Radioélectriques (CISPR) recommendations for notching frequencies to prevent powerline noise affecting ham and other bands, and - as does HomePlug - provides the tools product makers need to ensure their kit doesn't contravene local EMC regulations.
Where you notching is one thing, how well you do it another matter entirely. In Europe, the EN50561-1:2012 standard put in place by European electronics regulator CENELEC (Comité Européen de Normalisation Electrotechnique) is intended to deal with this kind of powerline interference issue, though some hams say the standard is tainted because some members of the Working Group that defined it have close connections with the powerline industry.
It's certainly a compromise to allow powerline kit to get away with not meeting the EN55022 baseline EMC standard. Powerline proponents say that doesn't apply to their technology - hams say it does. The argument isn't going to go away, but neither is powerline. "Significant protection is provided [in EN50561-1] for the Amateur HF bands, as the standard specifies fixed notching for these and other safety of life bands, reducing conducted emissions from PLC devices to the levels of EN55022," says the Radio Society of Great Britain (RSGB). So that's as good as it gets until there's more consistent, more replicable evidence than a few YouTube videos, or tests of specific adaptors - blame the brand not the technology? - for tougher action to be taken.
Shaky truce
For its part, the HomePlug Alliance says: "We think EN50561-1 represents a decent compromise amongst the various stakeholders." But that's no consolation to stakeholders who fear the impact of kit that hasn't passed HomePlug or HomeGrid certification, or who question the efficacy of the mandated notching. HomeGrid numbers show that notching the FM band and the ham radio frequencies reduces G.hn's peak PHY data rates from 959.12Mb/s to 475.12Mb/s (SISO) and from 1.9Gb/s to 807.7Mb/s (MIMO), so there's a strong incentive for vendorsto push out kit that's not notched. How much further these numbers fall in real-world usage - as fall they will - will remain an unknown factor until adaptors are released for independent testing.
HomeGrid and HomePlug say its not the job of standards bodies like the ITU-T and IEEE to enforce good neighbourliness in a world of different territories with different radio regulations. It's for local regulators to set suitable standards, they say, and to police them. That task isn't going to become any easier as the number of devices that make use of the technology increases, and the installed base expands, on the back of vendors pushing the connected home concept and multi-technology networks.
Both HomeGrid and HomePlug unsurprisingly each suggest their favoured standard is better at noise reduction, though with no kit available to buy, the EMC credentials of G.hn and AV2 will again not be certain until independent tests can be taken. Device makers have three years' grace period before they can be taken to task for not meeting the specifications of EN50561-1.
In the meantime, G.hn and AV2 will be slugging it out for the hearts and minds of service providers, of users keen to shift more HD content around their homes, and of set-top box, media streamer and TV makers looking for easy home networking beyond Wi-Fi. Both standards are evenly matched, but one must emerge as the leader if equipment makers are to be able to implement the technology safe in the knowledge that their smart TVs will talk to other vendors' routers and content stores. If they don't, and implement Ethernet to be fed by whatever powerline adaptor the user has in place, the fight will be set go on for a long time indeed. ®