Original URL: https://www.theregister.co.uk/2013/02/01/space_shuttle_columbia_disaster_10_years_on/
Space Shuttle Columbia disaster remembered 10 years on
What really happened to the mission that grounded NASA's orbiter fleet?
Posted in Science, 1st February 2013 12:00 GMT
Feature On February 1st, 2003 at 08:00 CST residents of Texas witnessed the once mighty Space Shuttle Columbia disintegrate into a 12,000mph fireball. Almost 17 years to the day since the Challenger disaster, President G. W. Bush delivered the news to the world, "The Columbia is lost. There are no survivors."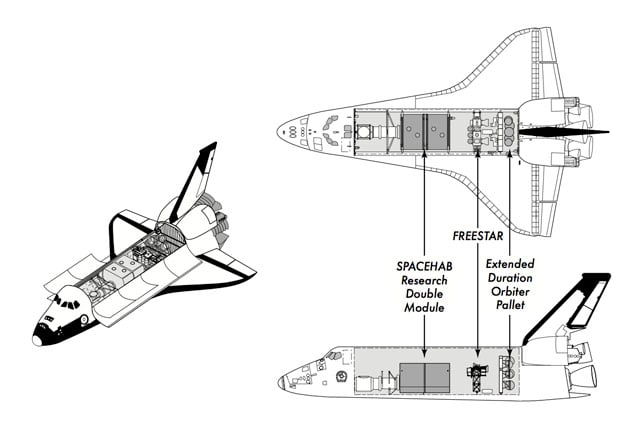 STS-107 payload bay configuration
Following its 255-orbit mission, Columbia was now strewn across two thousand square miles of the southern United States – bringing the end to a 28-flight career spanning 22 years.
Although it will predominantly be remembered for its tragic end, STS-107 was an extensive and successful scientific mission. Space Shuttle Columbia carried a module called SPACEHAB in its cargo bay – which expanded the habitable area for performing experiments – rather than the satellites and supplies for the ISS carried by its sister ships.
Originally STS-107 had been slated to carry an Earth observation satellite known as Triana, but delays in its development saw it replaced with FREESTAR (Fast Reaction Experiments Enabling Science, Technology, Applications and Research). Also on-board was the joint US/Israeli experimental module MEIDEX (Mediterranean-Israeli Dust Experiment).
Mission accomplished: Kalpana Chawla working in the SPACEHAB module
These experiments completed the majority of the desired objectives, with only MEIDEX falling short due to climate conditions. Unfortunately, some aspects of FREESTAR and MEIDEX were lost with Columbia, but large amounts of data were successfully sent back to Earth, as well as being recovered from the debris.
STS-107 was commanded by Rick Husband, a US Air Force Colonel embarking on his second spaceflight, having previously piloted STS-96 in 1999. Filling the role of pilot was Commander William C. McCool whose credentials included serving as a US Navy test pilot on the EA-6B Prowler program.
The three mission specialists included; Kalpana Chawla - an aerospace engineer who had flown on STS-87, David M. Brown – US Navy Captain and flight surgeon and Laurel B. Clark – also a US Navy flight surgeon on her first spaceflight.
Payload management responsibility fell to Michael P. Anderson, an Air Force Lieutenant Colonel who flew to the Mir Space Station as a mission specialist on STS-89. In charge of the MEIDEX experiment was payload specialist Ilan Ramon, the first Israeli in space and a fighter pilot for his home nation.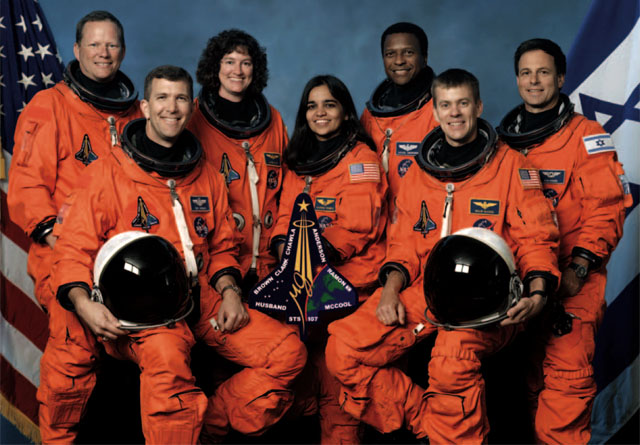 Shuttle crew, left to right: David Borwn, Rick Husband, Laurel Clark, Kalpana Chawla, Michael Anderson, William McCool, Ilan Ramon
Lift-off
It was a cool 65°F morning following heavy rain when at 10:39 EST STS-107 was cleared for launch and the solid rocket boosters were ignited. Weather in the upper atmosphere had been deemed nominally calm by balloons and Doppler sounding. All in all, a good day for spaceflight.
Two minutes and four seconds after lift-off, the solid rocket boosters separated as the Shuttle accelerated past 7,300mph. After a further 8mins 16secs, the main engine cut off command was issued at an orbital velocity of 17,600mph. As far as was apparent to the NASA controllers, the launch was nothing short of ordinary.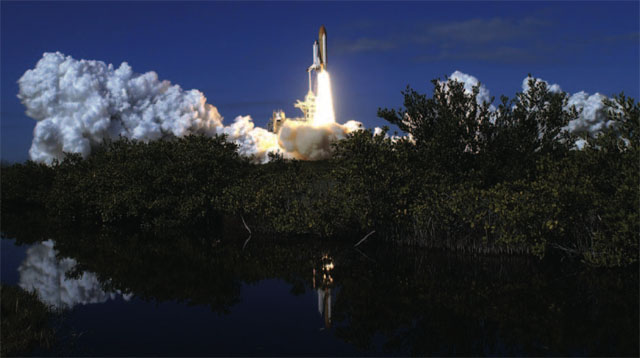 January 16th, 2003: STS-107 launch
Foam, not far removed from the expanding stuff used to fill wall cavities, is sprayed over the entirety of the external fuel tank to insulate the cryogenic fuel tanks. Unfortunately, this foam has a tendency to flake off in chunks and cause damage to the heat shield tiles on the underside of the orbiter.
Studies of flights and tile damage assessment have shown that Shuttles have been struck by foam thousands of times. In the past this has required the replacement of tiles before subsequent re-launch, but there had never been a breach of the thermal protection system. A bit of background on this essential aspect of the Shuttle's make-up highlights vulnerabilities the accident investigation would uncover.
Taking the heat
The familiar black and white motif that has adorned the Space Shuttle fleet is not so much for styling, but a consequence of the three types of thermal protection materials employed to protect it from the immense heat of re-entry. White tiles are a low density silica material known as LRSI (Low-temperature Reusable Surface Insulation) which can withstand temperatures up to about 1200°F. The black tiles on the underbelly of the orbiter are dubbed HRSI – you guessed it, High-temperature Reusable Surface Insulation – and are made of a similar voided silica compound.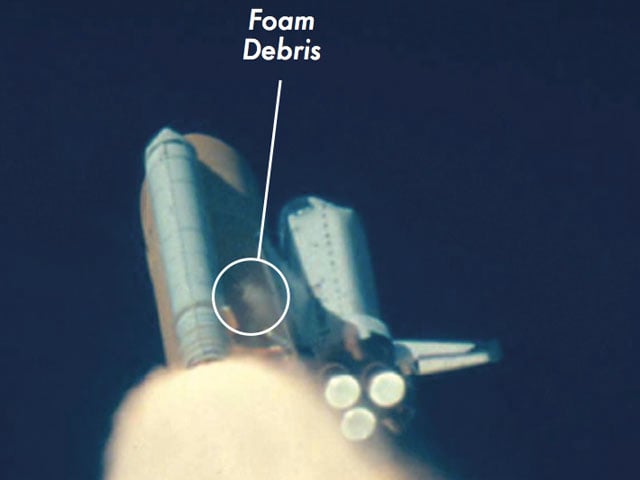 Blink and you'll miss it: Debris disintegration on Columbia.
Credit: NASA [page 34 of the Columbia Accident Investigation Board's report (Volume 1, PDF)]
These tiles are unique in that not only do they insulate the vehicle, but they also reject heat absorbed by radiation through emission in a different wavelength. This makes them very effective on most of the outer skin, but they cannot survive the extreme temperatures on the leading edges. HRSI tiles reach their limit of stability at 2300°F, and as such the wing edges need the protection of RCC panels (Reinforced Carbon-Carbon). This is a carbon-ceramic material, similar to that used in Formula 1 braking systems.
At T+81.7 seconds, video footage showed that a chunk of foam parted ways with the external tank support and collided with the left wing. Measuring at 21-27in long and 12-18in wide, its impact at around 500mph left a lasting and ultimately fatal impression. However, the foam strike was not observed in real-time and was only discovered during review of the launch footage, as the Columbia mission continued. Given that no abnormal readings were reported by any of the on-board sensors, it could have easily gone unnoticed.
Spacewalks, spysats and telescopes
Analysis of the tapes suggested that the impact occurred on the underside of the wing and if any damage was sustained, it would be to the black HRSI tiles. The NASA guidelines for such a situation mandated simulation of the event with the Crater analysis program. Crater was developed as the result of a series of tests performed in 1999 following the conclusion of reports on extensive tile damage in previous flights. Inputting data gathered from the video generated a result from Crater that this would not result in a safety of flight issue. Columbia would sustain re-entry.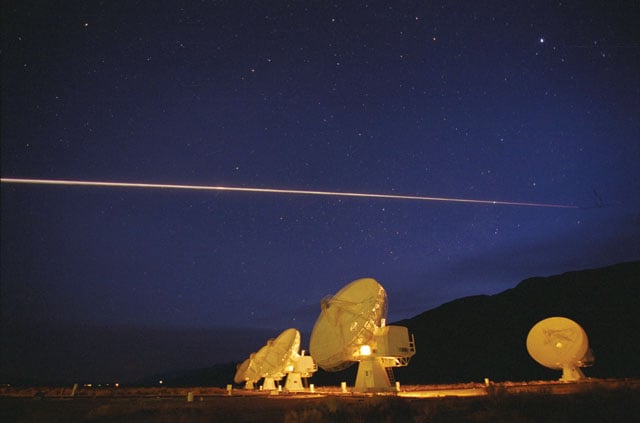 Columbia streaks past the Very Large Array radio telescope in Socorro, New Mexico
Not everyone was convinced with the Crater result though. A NASA engineer is quoted from an email exchange as writing:
"As a reference if the debris was 1.211kg... the kinetic energy would have been equivalent to a 500lb safe impacting at 75mph. If the debris was 28.7kg, that would be the equivalent of a 500lb safe hitting the wing at 365mph. If the wing is off.. or has a big hole in it you're not going to make the runway. Any more activity today on the tile damage or, are people just relegated to just crossing their fingers and hoping for the best?"
Options for further observations were suggested, but summarily dismissed by bureaucrats and bean counters, as too costly and unnecessary given the Crater analysis findings. A spacewalk was an obvious solution, but not something that was planned for the mission, thus given the associated risks it was not deemed favourable. Also on the cards were remote observations using ground based telescopes or US Navy spy satellites, but access to these systems was also refused on a cost basis.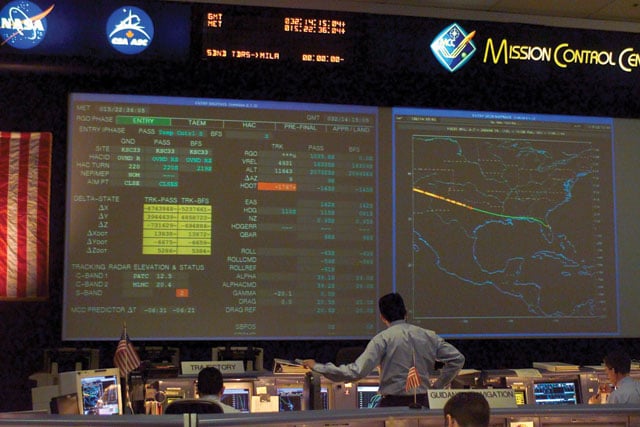 Mission Control monitors Columbia's fated flightpath
February 1st, 2003: De-orbit
16 days after launch saw the successful completion of all mission objectives and at 08:10 EST Houston issued the GO command for Columbia to begin de-orbit procedures. Following a 2mins 38secs burn and roll manoeuvre the Shuttle crossed the 400,000 feet atmospheric entry point at 08:44. Careening across California at Mach 23 (15,000mph at 230,000 feet) the orbiter passed through the point of peak heating, with wing temperatures exceeding 2800°F at the leading edge.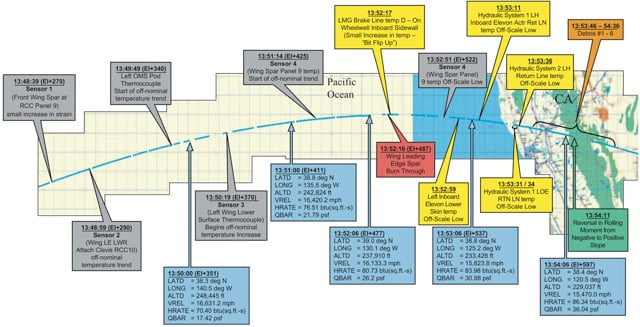 Re-entry path timeline composite showing data recovered from the flight recorder
Click for a larger image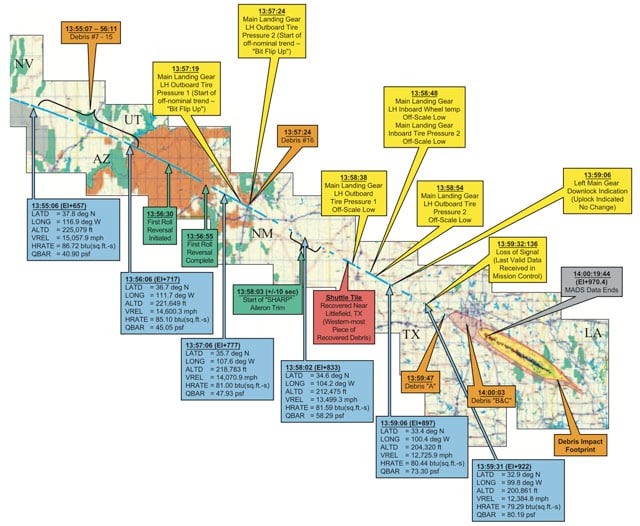 Re-entry path timeline composite from first off-nominal event to loss of signal
Click for a larger image
Public observations indicated that the first debris separation was sighted at 08:53:46 EST, but re-entry appeared entirely routine at Mission Control until 08:54:24. At this point four hydraulic sensors in the left wing reported off-scale low readings, indicating failure. Five minutes later total loss of landing gear tyre pressure was reported. The crew's response to this news was truncated at 08:59:32 and the vehicle is known to have been disintegrating as of 09:00:18, as witnessed by ground observers.

Columbia is lost: Visual confirmation from both sides
Twelve minutes passed while NASA attempted to regain contact with Columbia until visual confirmation was received that the craft had been lost. At this point, Flight Director Leroy Cain issued the command to seal the facility and preserve all data, documents and communications for the impending investigation.
The Investigation
CAIB (Columbia Accident Investigation Board) initially found it incredible to believe that a foam strike could have caused the tragedy. The results from CRATER simply wouldn't allow for such a scenario to be possible. It was only after the board looked into the development of Crater itself, that startling information was uncovered. Not all of the experimental results had been entered into the database. In fact, tests with large foam impactors caused such extensive damage to tiles that it could not be measured.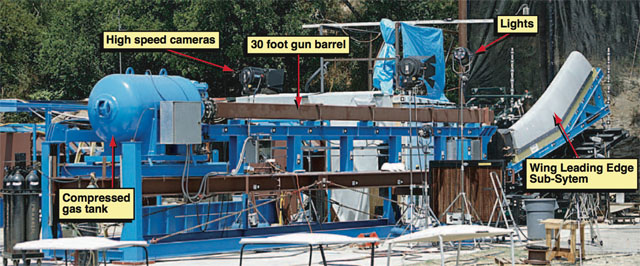 Nitrogen gun used to fire foam at the RCC test rig
CAIB concluded that Crater was only suitable for use with small foam debris, some seven hundred times smaller than the chunk that hit Columbia. Although it was now known that the foam could have damaged the tiles, it was not accepted that damage to the HRSI tiles would have resulted in total loss. Further details of the strike were needed.
Enhanced video investigation methods revealed that the foam did not actually strike the HRSI tiles, but actually hit the leading edge RCC panels considered "indestructible" that had been overlooked previously. Following this revelation, NASA engineers set about building a mock up of Columbia's wing from spare RCC panels. Using a nitrogen cannon to fire foam blocks at the rig, showed that foam impacts could cause catastrophic failures.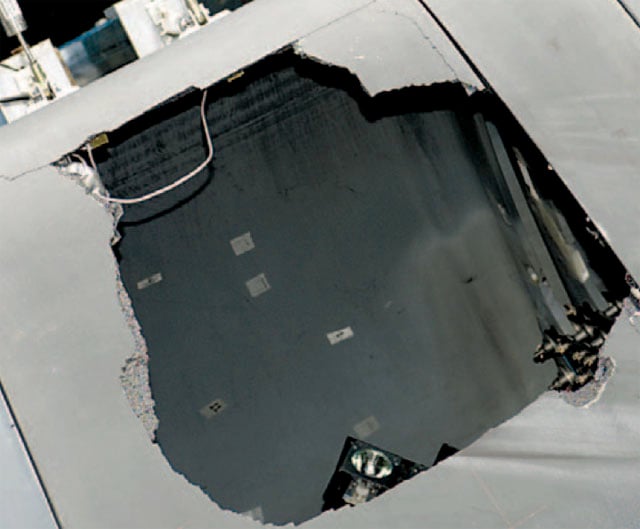 RCC panel damaged in foam impact test
Having finally determined the truly deadly nature of high velocity foam, CAIB found that the damaged RCC panels would have allowed superheated air to pass through the thermal protection system and enter the wing cavity. Once inside the wing structure, temperatures exceeding 3000°F would have made short work of the aluminium framework, explaining the loss of sensors within the wing and destruction of the landing gear. Once the wing was breached Columbia didn't stand a chance and the entire vehicle soon succumbed to the intense heat.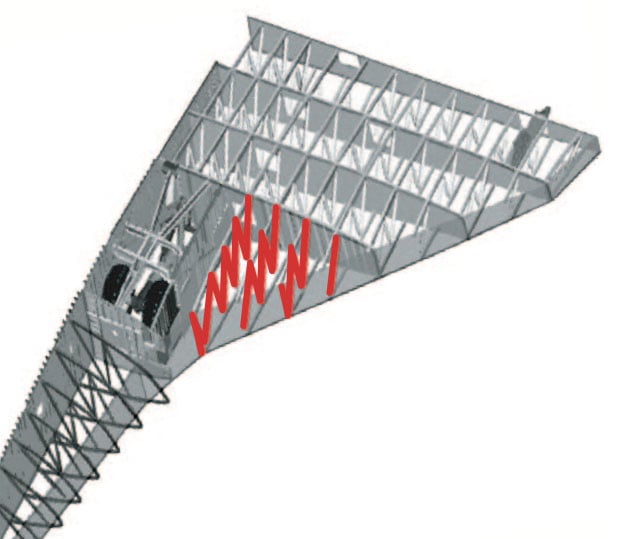 Columbia wing section indicating area exposed to hot gas in red
Columbia's doom was ultimately spelled out by lack of communication and refusal to acknowledge the present danger highlighted by those who were in the know. If this sounds familiar, then you are most likely remembering Challenger when it exploded shortly after launch in 1986; very much the victim of the same attitudes.
Descent proposals
Had the peril been recognised, NASA had several options to explore – it would have been entirely possible to rescue the crew, if not Columbia itself. Since the incident, experts have suggested that an alternate re-entry trajectory may have been able to at least get the crew below 40,000 feet at which they could parachute to safety. Such a plan involves a "crabbing" entry, shuffling the Shuttle sideways, exposing the right wing to higher heat loads but preserving the damaged left.
Other options included performing repairs on-orbit and waiting for a rendezvous rescue by Space Shuttle Atlantis, which was on the launch pad at the time. These two options would have required a resupply to keep the crew alive, but this would be entirely feasible with one of many available launch vehicles. While these options would have been incredibly costly, such a rescue would have brought NASA much needed positive publicity in a similar manner to Apollo 13.
Had appropriate action been taken, STS-107 could have been remembered as a triumph, rather than a tragedy. ®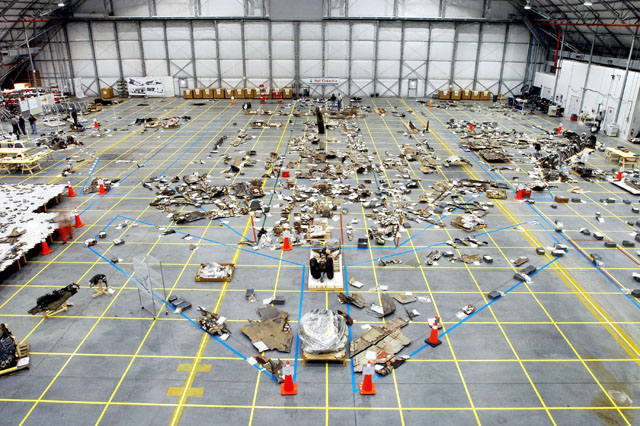 Debris outline collection hangar in 2003: 78,760 pieces identified at the time with over 84,000 pieces recovered later
The full CAIB report from August 2003 can be found as PDFs here.