Original URL: https://www.theregister.co.uk/2013/01/30/office_2013_vs_office_365_review/
Microsoft Office 2013 vs. Office 365: Is either right for you?
Microsoft is dangling the bait. Should you bite?
Posted in Software, 30th January 2013 23:19 GMT
Review Now that Microsoft has kicked off its gradual, rolling launch of Office 2013 and the accompanying refresh of the subscription-based Office 365, the time has come to ask the hard questions: Do I upgrade? And if so, which version is right for me?
All but lost in all the hype and hoopla over Office 365 Home Premium during Tuesday's launch event was the announcement that the retail versions of Office 2013 have finally shipped. Although they were released to manufacturing in October, Microsoft took its sweet time bringing them to market.
Redmond reps now tell El Reg that as of Tuesday, the Home & Student, Home & Business, and Professional editions of Office 2013 are all available through more than 450 retailers worldwide – you can buy them today.
The thing is, however, you may want to hold off.
Bait to switch
We took the Office 2013 applications out for a spin in the first part of our review of the suite in November, and what we found was a mixed bag.
The update brings the usual grab bag of tweaks and minor new features, but nothing truly groundbreaking. The touch-enabled UI is a plus for tablets, but tablets don't really make for the best content-creation devices. And while Microsoft has taken great pains to integrate the suite with its online services, it's still not clear that a cloud-centric Office is really something most customers want.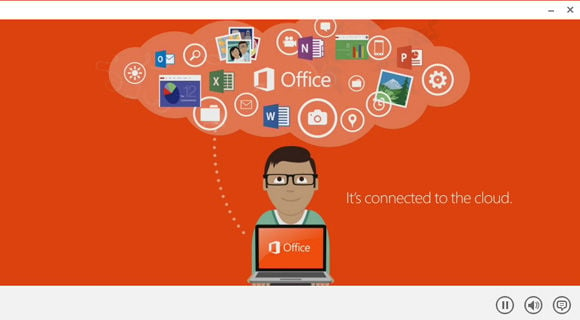 An always-connected version of Office isn't everybody's idea of a dream
The real game-changer for this latest Office refresh, however, is the updated Office 365. Beginning on Tuesday, you can now subscribe to Office desktop software delivered entirely over the internet. No DVDs. No License keys. Just a nice, regular check you write to Microsoft.
It's no secret that Redmond would love its customers to switch to the subscription model. To that end, it's been dangling a variety of unique incentives for Office 365 converts, ranging from extra online storage to exclusive feature updates.
But if Microsoft is so desperate for customers to switch, it must be because it's planning to make out like a bandit, right? Can the subscription model possibly make sense from a customer's perspective? The answer, surprisingly enough, is maybe – and that's where we'll focus for this second dive into the new Office.
Will a subscription save me money?
Naturally, the first question on everybody's minds will be how much the subscription version of Office will cost compared to the traditional, perpetual-license version. So let's cut to the chase: Signing up for Office 365 will probably mean you'll be sending more money Redmond's way than you did before.
A retail copy of Office 2013 Professional – the all-inclusive version of the suite – costs $399.99. The various Office 365 subscriptions offer the same software bundle for a monthly or yearly fee (yearly is a bit cheaper). The important part, however, is that to keep using the Office 365 version, you have to keep paying the fee. If you don't, the applications will become feature-limited and eventually stop working.
Microsoft puts out a new version of Office about every three years. It quit offering upgrade discounts as of Office 2010, so everyone who buys the newest version of each edition pays the same price. Assuming the list price doesn't go up, then, if you buy the retail Office 2013 Professional today, in three years' time you'll pay another $399.99 to get the next version.
Office 365 Home Premium, on the other hand, costs just $99.99 per year. If you go that route, you'll be able to use the same set of Office apps over the same three-year span, but you'll pay only $300. Better still, you'll pay in installments instead of all at once.
So far, so good.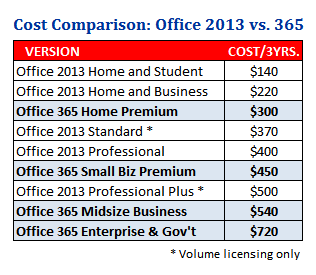 If cost is your top concern, Office 365 may not be your best bet
But wait, there's more – money, that is
But hold on; this cost analysis relies on two false assumptions. First, it assumes the typical Office customer upgrades immediately to each new version of the suite, like clockwork, when in fact most do nothing of the sort. Many wait to upgrade, stretching out the value of their licenses, and some skip whole revisions altogether.
Second, it assumes that every customer needs or wants Office Professional. Many home users will never have any use for more business-oriented components of the suite such as Access, Outlook, or even PowerPoint. For them, a better bet might be Office 2013 Home & Business at $219.99, or even the Home & Student edition for just $139.99 – each significantly cheaper than a 3-year Office 365 subscription.
Things look even worse for business customers, because their subscriptions cost more. Three years of Office 365 Small Business Premium will cost $450 per head – already more than the list price of Office 2013 Professional. Office 365 Midsized Business costs $540 per head over the same period.
Enterprises have it worst of all. Microsoft says the Volume Licensing version of Office 2013 Professional Plus that big businesses might normally buy typically costs $500 per head. Three years of an equivalent Office 365 Enterprise & Government subscription run a whopping $720 per head – a 44 per cent premium over the perpetual-license model.
So why would anyone bother? As it turns out, Office 365 has a number of benefits. Some are natural consequences of the software as a service (SaaS) business model, while others are artificial – meaning Microsoft is throwing you a bone.
You get more than you pay for (or need?)
One important difference between the retail version of Office and the subscription version is that a retail copy of Office 2013 can only be installed on one Mac or PC. An Office 365 license allows you to install the suite on up to five devices – which means Macs and PCs for now, but hopefully will include Android and iOS devices later. You can even move the licenses around at will, deactivating the suite on one machine and reinstalling it on another.
Office 365 Home Premium subscribers get the best deal here. With that package, the five devices can belong to any members of a household. Mom, dad, and three kids can each have their own laptops with the full Office 2013 suite installed, for just slightly more than the cost of two copies of the retail Home & Student edition, assuming they stay subscribed for three years.
The value for business customers isn't quite as clear-cut. For all of the other Office 365 packages, the five devices must all belong to a single user. So five Small Business Premium licenses will allow a company to install Office on up to 25 machines, but only five employees are allowed to use it. That's less compelling than the genuine bargain of the Home Premium version, but it could still save some cash if employees really need Office on multiple devices.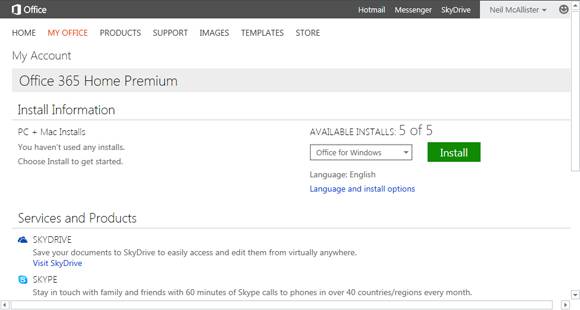 Each Office 365 license allows you to install the software on up to five devices – if you really need all that
Goodies galore
That said, Microsoft has piled on the goodies to make Office 365 seem more attractive than the retail Office, even if it does cost more in some cases.
One neat bonus is Office OnDemand, which allows Office 365 subscribers to install a temporary copy of the suite onto any PC – for example, at a library or an internet café – allowing them to get the full Office 2013 experience anywhere they go. These are full-featured, single-use versions of the apps that erase themselves once they're closed. It's a clever feature, and one that retail Office 2013 customers don't get.
In addition to the Office apps themselves, the Office 365 Home Premium package includes 20GB of storage on Redmond's SkyDrive cloud service, which gets added to the 7GB you got when you first signed up for your Microsoft account. It also bundles 60 free minutes of Skype world calling per month, to help rope customers into another Microsoft-owned service.
The Small Business Premium edition offers 10GB of "professional grade" cloudy storage (whatever that means) for the organization, plus another 500MB per user. It also gives each user a 25GB Outlook mailbox with shared calendar, contacts, and scheduling, and it allows users to host online meetings complete with HD video. Finally, it allows the organization to setup a free public-facing website, in case it never thought of having one before.
Microsoft hasn't said what additional goodies Midsized Business and Enterprise customers will get – and none of the business versions of the new Office 365 will be available until February 27 – but in the past, they have included things like Active Directory integration, administration tools, VoIP calling, and enhanced support.
But the most important Office 365 bonus just might turn out to be the updates Microsoft says are coming for the Office applications themselves. Redmond says it plans to roll out new features "multiple times per year" that will be exclusive to Office 365 subscribers; customers who bought the retail Office 2013 version won't get them.
Lacking any actual examples, however, it's hard to judge what these promised updates might really be worth. But Microsoft's planned approach does seem to suggest that Office might soon switch to a "rolling release" model that does away with major version launches altogether. If so, customers who get onboard with Office 365 now will be ahead of the curve.
The business case for Office 365
Aside from the features of the Office software itself, Office 365 does offer a number of genuine benefits – particularly for business customers – owing to its subscription model and the unique technologies Microsoft has developed in support of it.
For starters, the subscription version of Office uses a new, internet-based installer that's different from the retail one. It's based on Microsoft's Click to Run application streaming technology, so it installs quickly. More importantly, the installation process is completely hands-free; there's no DVD, and once it's running it needs no further input from the user – not even a Product Key. With Office 365, new employees could feasibly install the suite themselves, with no help from tech support.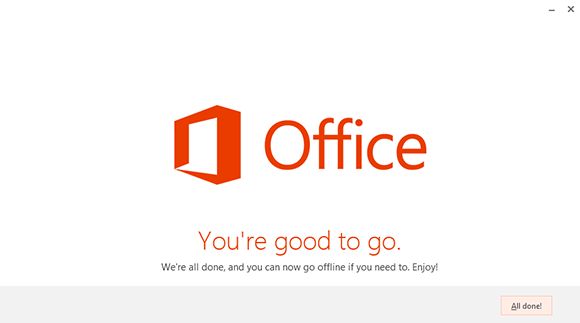 When it's streamed from the Office 365 servers, Office 2013 practically installs itself
Once the subscription Office apps are loaded, they also require almost zero administration. Not only are bug fixes and security patches applied automatically, but even major new features can be streamed from Redmond's servers without user intervention.
For IT managers, this could be a godsend. No more installing new versions of Office onto hundreds of desktops every three years. No more pushing out Service Packs and patches. Instead, you install Office 365 once, and from there on out, the applications keep themselves up to date.
That's likely a big part of why an Office 365 Enterprise subscription costs so much; the savings in IT support costs could easily make up for the price. Eliminating the need for IT staff could be a huge boon for small businesses, too.
The SaaS model also offers benefits from the CFO's perspective. Before, software purchases were capital expenditures, and writing a check for Office upgrades for a few thousand employees could be a bitter pill to swallow. But software purchased on a subscription basis becomes more of an operating expenditure, and the regular fees help reduce pressure on cash flow, to boot.
And don't forget, you can always cancel your subscription if you choose, after a year or even after just one month. If it turns out that the new Office really isn't for you, with Office 365 you only have to pay for the time you actually used it. With the retail model, you've already paid for all three years up front.
And then, more downsides
Ultimately, whether an Office 365 subscription is worth the price will largely depend on how much you'll really use what it gives you. You may well end up using less than you think you will.
As mentioned earlier, Office 365 gives each user access to the full suite of Office 2013 applications, but almost nobody needs all of them. Similarly, if you're not going to use the various add-ons that come bundled with the subscription, then they add no value.
Mac users, in particular, don't gain much with Office 365. They get the Office suite, but it's the older, 2011 version. They don't get the benefits of the new streaming, hands-free installer, and Office OnDemand doesn't work on Macs, either. Plus, Microsoft's online services don't integrate as well with OS X as they do with Windows.
An Office 365 subscription also gives you free access to Microsoft's online services, such as SkyDrive and hosted email – but what if you don't need them? What if you already have a busy, in-house email system, and migrating users' inboxes would be too disruptive? What if you use a private cloud for your file storage, or some kind of document-management system? What if there are regulations that govern where you can store your data, such as HIPAA?
But perhaps the biggest drawback of Office 365, for many customers, is actually something Microsoft advertises as one of its strengths. Office 365 requires you to always remain on the leading edge of the Office product offering – and where business software is concerned, change isn't always good.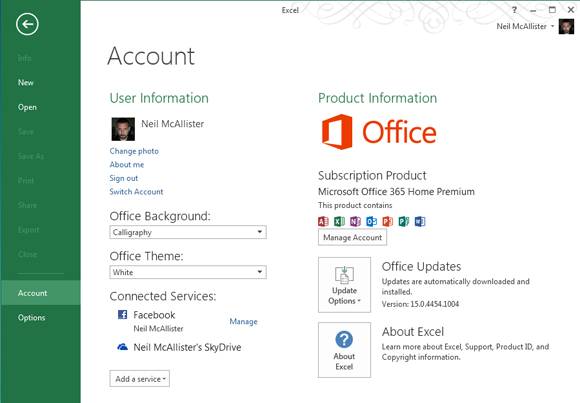 The new Office logo doesn't include the year, and Office 365 updates are automatic – which can be both good and bad
A lot of customers had a strong negative reaction to the major UI change that came with Office 2007. Office 2010 brought still more changes, and more controversy. Office 2013 alters the interface yet again, and it's guaranteed to upset some customers.
Existing Office 365 customers can stick with the Office 2010 apps for now, if they prefer, but the service will stop offering that version after April 8, 2014. And as explained earlier, the subscription version of Office 2013 installs its own updates automatically, including new features. That could turn off users who prefer the "if it ain't broke, don't fix it" approach.
Consider, also, that Office 2013 requires Windows 7 or later – unlike Office 2010, which ran on all versions back to XP. By steadily increasing its system requirements in this way, Office 365 could be another subtle way for Microsoft to drive its Windows upgrade cycle, which could end up being one helluva hidden gotcha for some customers.
It's not right for everyone, but it may be inevitable
All in all, Microsoft has made a bold move with this latest refresh of Office 365 and Office 2013. It's clearly trying to offer the subscription-based purchasing model of a service like Google Docs, coupled with the power of the kind of full-featured desktop applications that have long been Redmond's forte.
It would be wishful thinking, however, for Microsoft to expect a grand slam. The idea of desktop software that operates like a utility, where it stops working if you forget to pay the bill, is too alien of a concept to take off right away, particularly among consumers.
But Office 365 does offer some real advantages, especially given the flexible licensing options of the Home Premium edition. Startups and mom 'n' pop shops could also benefit from the Small Business Premium version, particularly if they don't want to manage their own mail, storage, and other IT resources.
Office 365 will be a harder sell for larger, more established businesses, however. Its low administration cost is probably its most attractive feature, but if a company retains IT support staff for other purposes – such as re-imaging laptops, handling malware outbreaks, or maintaining other desktop software – then eliminating Office support calls might not actually reduce overhead all that much.
Perhaps the strongest selling point of Office 365, given all of the ambiguities, is that it's easy to try it out for yourself. The first month of Office 365 Home Premium is free; if you decide you don't like it, or you don't use it as much as you thought you would, you can cancel before the 30 days are up and pay nothing.
We won't know the full terms of the refreshed business editions of Office 365 until they launch on February 27, but Microsoft has offered similar trial periods for business customers in the past, including a free 90-day test run for the Small Business edition.
It might be worth checking out even if you think you're dead set against it. The subscription model is simply too attractive a revenue stream for big software companies like Adobe and Microsoft to pass up. Redmond probably won't win over the majority of its Office customer base with this edition of Office 365, but you can bet it will keep trying.
In fact, though you may not think so now, if you're an Office customer, a subscription-based version is probably inevitable – like it or not. Here's your chance to see what the future will look like. ®