Original URL: https://www.theregister.co.uk/2013/01/30/feature_bt_openreach_windows_8_/
So: 6,500 Win 8 laptops later, how are BT's field engineers coping?
Life on the go with Redmond's fondle-tech
Posted in The Channel, 30th January 2013 09:00 GMT
Feature An unheard-of decline in PC sales figures since launch, a grumbling press and a user base that struggles without a touchscreen: Windows 8 is easy to take a swipe at. Yet BT announced in November last year it was deploying 5,900 Win 8 Panasonic Toughbooks for its "last mile" Openreach division – the engineers who walk the line from telephone exchange up to customer's premises.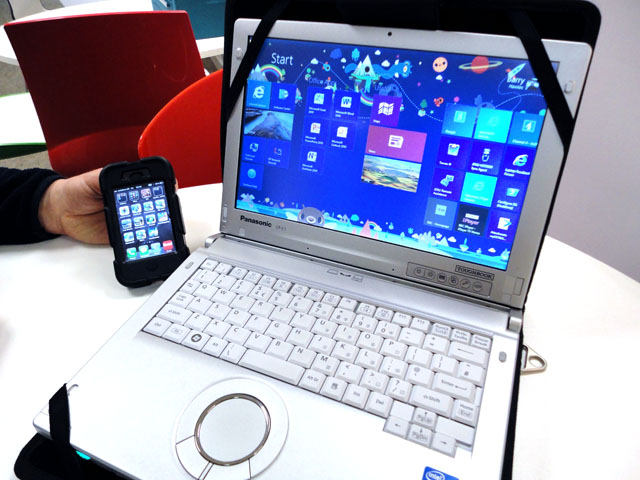 Well connected: iPhones and new Toughbooks are becoming a feature in the Openreach fleet
Kevin Norton, BT Openreach director of transformation oversaw this procurement – "one of the biggest investments we've made to date" – and gave us the inside story on the various options, trials and tests it went through. With many of its field devices needing to run legacy apps, just how were the BT engineers getting on with Redmond's touchy tech?
"It has been a big adjustment for them. The vast majority of the people put on to these machines have actually moved from Windows XP direct to Windows 8. It's been quite a fundamental shift for them in terms of the OS they're using," says Norton
The agony and the ecstasy
No doubt all users of Windows 8 would identify with that and many have found it painful, but the Panasonic Toughbook CF-C1 is a convertible laptop that can be used as a traditional clamshell laptop or have its touchscreen reconfigured to function as a tablet. For most, the touchscreen option is essential to navigate Windows 8 and the Openreach engineers get the best of both worlds. Even so, Norton remarks that most still use the device in clamshell mode, "because there's an adjustment period until they get used to a new way of working and operating it in a slate form".
Apparently, many take advantage of the stylus for tablet work which has other uses too for signature capture – a new capability these Toughbooks allow.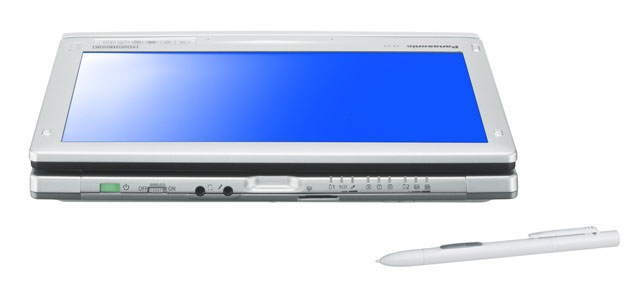 Stylus available...
When monitoring the rollout, Openreach noticed an impact on results and compensating factors too. As Norton explains:
"It's fair to say we see a slight dip in their productivity output in the first month after they've got the machine whilst they get used to the new form factor and the OS. But we soon see that recaptured through the improved performance of the device versus what they had before, and some of the new capabilities."
Indeed, new capabilities are part of the driving force behind the adoption of touchscreen technology at Openreach. This BT division has made a sizeable investment in iPhones – around 3,600 now and another 3,000 due by April – and has seen how well the convenience of this platform works in the field: from photographing and reporting damage on-site to swift processing of parking fines. Moreover, frames engineers would previously work off a laptop in the exchange to follow jumpering details – going to and fro from laptop to frame - now they just carry an iPhone.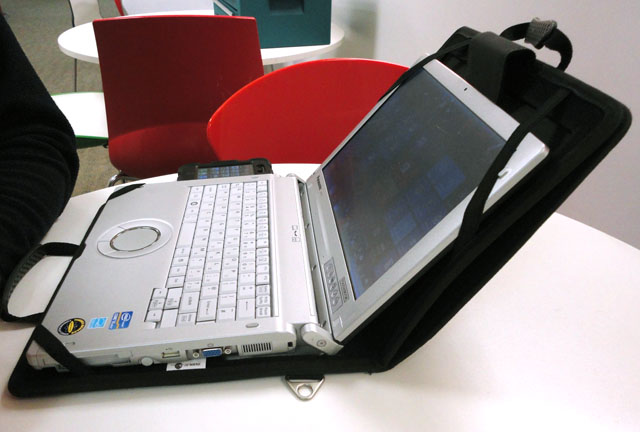 ...but clamshell preferred
"So we've built a very well laid-out app that details their frame's jumpering tasks – a neatly formatted note with all the routing details that they need to carry out," Norton enthuses.
"We've seen some really good productivity gains and although the screen is small on the iPhone, when we target it at the right part of the business process, it has been shown to deliver a benefit for us - and some of those capabilities we're also porting onto the new laptops."
Software development has been a significant aspect of the Toughbook deployment as it has provided the opportunity to remove Windows XP from the Openreach estate, along with the worst performing and oldest laptops. One of the reasons Windows XP had remained active in the field was to support the TaskForce field client, a legacy application (with its roots dating back to the 1990s) that plays an essential role in job management. Unsurprisingly Norton's team had to make some changes to run it on Windows 8 – an ongoing process of refinement TaskForce needs with each OS uplift.
It's worth the effort. As Norton remarks:
"This deployment has allowed us to slim down the number of versions of TaskForce that we maintain. So now we're down to a Vista version and one that works on Win 8 within Openreach. Which is great for us, we've managed to remove the XP client from the business – good for support and ongoing costs."
TaskForce has been around for decades and is costly to upgrade – app development work is ongoing for the new field tech
While this approach deals with an application support issue in the short term, Norton has a longer term strategy in mind which sees a greater emphasis on in-house development of bespoke applications for BT field devices:
"One of the objectives in investing new technology, though, is to ultimately move away from the TaskForce field client. One of our objectives as a business is to move to a platform that is quicker and cheaper for us to change and adapt to changing customer product demands. At the moment, being a legacy app and having been in the business for such a long period of time, when you lift up the bonnet to make a change on TaskForce there's a very rigorous set of test phases we need to work through; quite a significant piece of work to really make fundamental changes to the engineering workflow.
"What we're building at the moment – both on the laptop estate and the iPhone estate – is exposing a set of capabilities from TaskForce and rendering those in a kind of modern app. And one of the benefits that gives us is much greater flexibility and the ability to change, trial and test new ways working within the engineering work force – for example, the Frames app."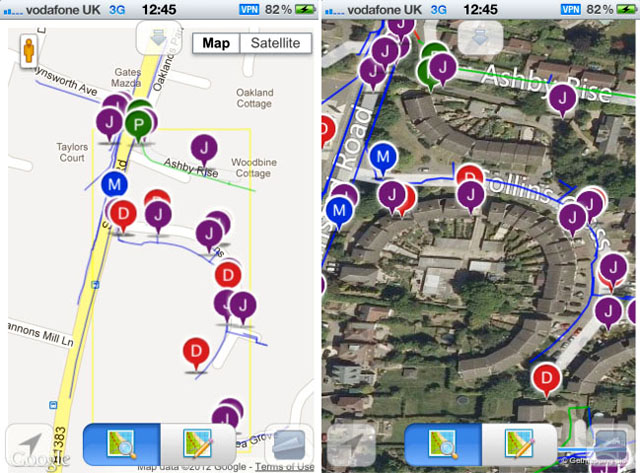 The Plant Mapping app shows cabinets, manholes, poles and the like which can be overlaid onto Google Maps or satellite images
The strategy is quite simply to find the right tools for the job. New capabilities in hardware are being matched by Openreach developing custom software and, bit-by-bit, migrating engineers off legacy systems and into a next generation set of applications. Windows 8 is a part of this move and so is iOS. For the moment those are the only two platforms engaged in this development strategy - Linux and Android don't even get a look-in.
Going native
Norton states that at this stage the thinking is based around the different level of capability and functionality that's offered from a native versus a non-native application:
"What we've seen on the journey we've been on so far is that building in a native application on the iPhone has been easier to integrate with some of the built-in capabilities of the phone, such as taking images, the GPS etc. It's not quite as easy to leverage those capabilities when we're building in a non-native form. That's something that our design teams within the technology organisation at BT are helping us to solve."
Network Records works well with touchscreen navigation. This essential resource details every line and socket in the country
While Openreach strives for a fast and flexible response to a changing workflow and product portfolio in software, it still has to shop around for hardware. This involved more than a flick through the Argos catalogue. Tablets were considered in quite some depth but at the time, the spec didn't match requirements. Indeed, the decision making process took on board the views on the engineers who'd be using them.
"We ran a series of market stall events," explains Norton. "We invited a whole range of vendors to bring a selection of devices to those events and we took our engineers and got their feedback around what worked best for them. We then followed that up with a survey that went out to over 5,000 engineers, once we got down to a shortlist of devices."
That's a lot of viewpoints to consider and although tablets were in that debate, at the time there wasn't a Win 8 rugged tablet available with the spec they were looking for. That said, recent tablet hardware suggests the situation many change to meet the needs of the Openreach field surveyors who expressed a preference for tablets.
Done deals
Now, 5,900 Toughbooks at a streetprice of around £2k apiece is getting on for £11.8m. Needless to say, a deal was done. The CF-C1 isn't the latest model, it runs a 2.5GHz Intel Core i5-2520M Sandy Bridge CPU which first appeared back in 2011, but having an SSD on-board too keeps things nifty. However, the fleet is not 100 per cent Panasonic: in addition, there are 600 Lenovo X230Ts deployed too – ruggedised, convertible laptops with a more recent Ivy Bridge CPU compared to the Toughbook CF-C1. Besides having an alternative device that could be assessed properly, at scale, in the field, using Lenovo convertibles would also galvanise minds at Panasonic over price. Openreach has been a Panasonic customer for many years, but business is business.
Openreach is involved in Microsoft's First Wave programme, and was given access to Windows 8 in the latter part of 2011. The team properly got going with work required to bring the legacy apps on board in March-April 2012 with three or four months development effort and testing. The first pilot uses began, June-July last summer with the scaled roll out starting in August and completed in December 2012.
"The transition and the testing and development work to get our legacy stack running on Windows 8 was nowhere near as painful as I'd envisaged it being," says Norton. "In terms of the volume of defects we had to work through or the issues we had to engage Microsoft on before we were ready to launch, they were minimal, they really were minimal."
However he admits there were concerns.
"We feared the worst in terms of how long it would take engineers up to speed and get comfortable with the devices. But actually, as soon as they started to hit the field the feedback was very, very strong right from the beginning, with people talking about it changing their lives in terms of performance, particularly resuming from sleep which is exceptionally good and the start up times are substantially better than previous kit."
This will be a factor that the on-board SSD makes a large contribution to.
Welcome to the machine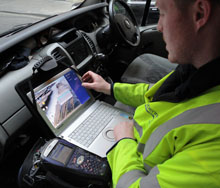 The BT Openreach Tools Transformation programme sounds impressive given the numbers involved – 6500 laptops and 6600 iPhones and that's just for starters – but when you talk to an actual field engineer, this deployment is put in perspective. Barry Hawkes was among the first in the fleet to have a new CF-C1 Toughbook and took part in iPhone trials for the company.
Until recently, he'd been running BT apps on a Panasonic CF-29 - a Windows XP laptop he'd been working on for around six years which he describes as "woefully underpowered". Yet there are 22,000 Openreach field engineers out there and if Hawkes' experience is anything to go by, the tools transformation can't come soon enough.
"At first, like every big company, there were a load trials that most engineers didn't even know about. So we're all sitting there, still with our old laptops thinking: is this ever going to change?"
For some engineers with old kit, the Network Records database is accessed from CD, which is sluggish - rather than wirelessly from the Openreach portal. Also casting a long shadow over the Openreach estate is the need to run TaskForce. With its 20-odd years of updates, the application's demands have steadily increased, impacting on the performance of the ageing field equipment.
"In the end the laptop sits there and says no. I might have been rebooting for up to 90 minutes a day [in total] probably rebooting five or six times just to send a job back and pick another job up."
He describes the scenario of walking into customer's home with a seven year old laptop and they're on the new fibre broadband expecting 80Mb/s downloads which his equipment can't even handle. The Wi-Fi on the CF-29 was "pretty poor" and it could take 25mins to reboot the machine to demonstrate the connection was OK.
"Understandably, customers lose confidence and since I've had this [CF-C1], I don't feel embarrassed as before, saying: sorry about the laptop but it does work... They see Windows 8 too, which not many have come across and my life has been made massively easier, as it's now four minutes instead of forty to send a job back."
The line of least resistance
The field engineers get half a day's training on Windows 8 and Hawkes has not been involved in the testing of any of the new apps in development for the platform. He looks forward to using them, as his iPhone experience has made him very aware of how long-winded tasks can be condensed and simplified with bespoke apps. Currently, he's still working on the old Openreach suite of software and, consequently, Desktop mode is where he and colleagues stay.
For him, the Metro tiles offer neat shortcuts for tests such as running the BBC iPlayer in HD to demonstrate line integrity to customers. He admits Windows 8 was "extremely frustrating at first" experiencing difficulties in killing off programs and resorting to ALT F4 when swipes wouldn't appear to deliver. He likes the Metro Media player, but not the Back button.
"You can be in it for work – some kind of training video – and then you press the back button thinking that's going to take you back out to the display listing all the other videos but it takes you to another section that's got XBox Live and the like and you think: I don't know how to get out of here now. So you have to close the program down and start over again. I've not experienced a newly developed system that's that difficult to watch a video and then go back and watch others."
No doubt there are tricks to learn, but surely the thinking behind of Windows 8 was to be intuitive. Until the new apps appear, he says that most engineers just go back to what they know. Windows 8 may have potential in the field, which is work in progress for Openreach, but for now, a substantial number of its engineers are feeling the benefit of nifty new PC hardware rather than touchy feely software.
Measuring success
A problem dogging the old kit was integration with the handheld tester that engineers use to perform a line quality test, as proof that there's a good service being delivered to the customer. The test results are then Bluetoothed from the handheld tester to the laptop, and the laptop, as part of closing a job, will send those test results back to a central database.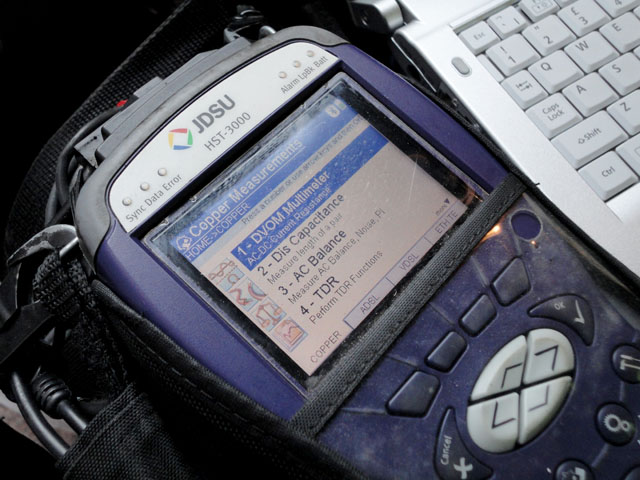 The JDSU HST-3000 emulates routers and performs essential signal trace analysis, Exfo alternatives are also used
"It's an absolutely critical part of our business process" says Norton. "In the past when we've had an OS uplift there have been problems in that area in terms of getting that sync'ing software to work. But this time round, we updated it to Windows 8 and it was fine."
A huge relief but while the technical problems were relatively few and far between, there has been a more difficult aspect to remedy among users, as Norton explains.
"Expectations were high in that I get a new laptop and immediately I'm going to get fantastic performance when I'm working with it mobile. In feedback to date, the recurrent theme has been how it performs in very low signal areas. We've put out a new Ericsson 3G driver resolving some issues regarding signal strength that was being shown to the end engineer and also fixed some issues around devices coming out of sleep. Pretty minor stuff; tuning the device as you'd expect in any kind of large rollout. But we've done some side-by-side testing and it performs better than the old machines they had. The fact of the matter is, there are still constraints of network coverage, no matter how good the device is."
It seems almost fitting that it should be the wireless communications that the Openreach engineers complain about as they manage the last mile of wired telecommunications. The engineers rely on an Ericsson F5521gw HSPA+ module, but mobile misgivings aside, the way the field engineers work with their portable technology is changing in leaps and bounds. There are context sensitive pick lists built into touchscreen apps to simplify tasks as well as automated tasks to dial up remote tests. Add to that, Network Records can be integrated into the journey, and overlaid onto a range of different map types, so the engineer can see the routing and move around using gestures on the touchscreen interface.
Windows 8 might not be a hit on the high street, but it's certainly causing a stir in big white vans across the country. ®