Original URL: https://www.theregister.co.uk/2013/01/28/sandisk_q4_2012/
SanDisk revived by Apple juice after first half bloodbath
Embedded mobile products help boost revenues and profits
Posted in Storage, 28th January 2013 11:39 GMT
SanDisk is continuing its climb back to health after the first half horror show, with revenues and profits both recovering well.
The numbers: revenues for the final 2012 quarter were $1.54bn, just 2.3 per cent down on the last 2011 quarter but a satisfying 21 per cent up on the third 2012 quarter - cue big sighs of relief. Profits recovered too: at $214m they were 24 per cent down on the year-ago figure but 80 per cent up on the third quarter. Management seemed pleased with its own performance, with CEO Sanjay Mehotra saying: "We drove solid sequential growth in our embedded mobile products and continued to execute well in our retail business. We believe that our broadening customer engagements and expanding product portfolio position us well for strong profitability in 2013."
He also name-checked the niche SSD business for which Sandisk has high hopes: "SanDisk ended 2012 with strong momentum in our SSD business, which contributed 10 per cent of our Q4 revenue. We are now supplying client SSDs to 10 leading PC OEMs and our enterprise SSDs are qualified at a fourth storage OEM."
The full year 2012 numbers didn't look so good compared to 2011 because of the effects of the first half stumble. Revenues were $5.05bn compared to 2011's $5.66bn. Profits were $417m, less than half the profits of 2011 - where the company netted $987m. Maybe 2013 will be better on that front.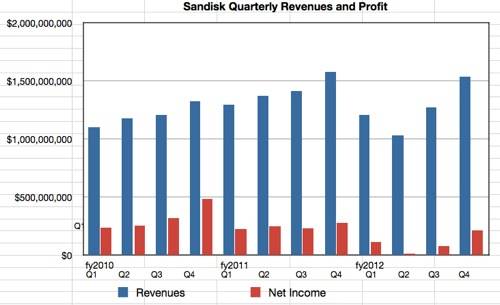 Sore eyes? Click on chart for larger image.
Earnings call
Mehotra elaborated in the earnings call: "Our solid execution in light of changing market dynamics allowed us to rebound and drive significant growth in the second half of the year, offsetting a difficult first half of 2012, which was impacted by weak pricing, card debundling among handset OEMs and embedded product transitions with mobile OEMs."
CFO Judy Bruner added: "We are regaining share in the mobile embedded market and growing our share in the SSD market while managing the secular decline in the bundled card market."
Turning to SSDs, Mehotra said: "On a year-over-year basis, our full-year SSD sales almost tripled and represented 9 per cent of our 2012 revenue. We expect to grow our SSD revenue sequentially in Q1 2013 both in dollar terms and as a percentage of our overall revenue and we remain on track to drive 25 per cent of our company revenue from SSDs in 2014." He added: "In 2013, I would expect our SSD contribution for the full-year to be above 15 per cent." A quarter of its revenues coming from SSDs? That's around $1.4bn, very ambitious...
He noted: "We have begun shipping what we believe to be the industry's highest capacity 1.6 terabyte SAS drives." These would be the Lightning Read-Intensive 2.5-inch SSD with a 6Gbit/s SAS interface, 87,000 random read IOPS and 410MB/sec sequential read performance.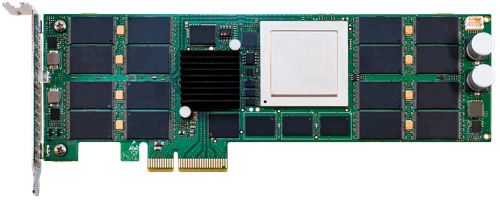 SanDisk Lightning PCIe flash card
SanDisk has FlashSoft caching software, and Mehotra said of this: "We achieved good progress on the software front with the adoption of our FlashSoft offerings by [a] large storage OEM for distribution and future bundling with their servers." A large storage OEM with servers? That could be Dell, HDS, HP or IBM.
Tossing a bone to the channel
He said SanDisk "launched a new initiative to offer a broad range of OEM-grade Client and Enterprise Solutions to value-added resellers, system integrators and direct market resellers. This new distribution channel delivers SanDisk SSD technology to small and medium-sized businesses." SanDisk is also engaging directly with cloud customers and both channels are getting resources added to drive more business.
Bruner said: "The highest growth area for us in 2013 will be the SSD segments, both the Client and the Enterprise." Mobile embedded is the next highest growth area.
The message is that SanDisk is "serious" about its SSD intentions, though who knows if it can achieve its very optimistic predictions.
The retail side was also solid, with record unit sales of USB thumb drives in the fourth quarter.
Still behind MLC, cautious on TLC
On the technology front SanDisk is still supplying 24nm flash to OEM customers but continuing its transition to 19nm flash - which made up most of the production output in the fourth quarter, more than two-thirds in fact. Get this: "We expect to begin the 1Y-nanometer transition in the second half of this year" (the third quarter). That means a process geometry in the 15nm-10nm area, significantly smaller than 19nm and enabling higher yields from flash wafers if all goes well.
Toshiba and SanDisk have a joint foundry interest and we're seeing here that Toshiba will have 1Ynm flash chips in the second half, suggesting interesting Toshiba SSD announcements will be forthcoming, possibly in the fourth quarter and certainly in 2014.
SanDisk is not yet optimistic about 3-bit or triple layer cell (TLC or X3) flash in client and enterprise systems, with Mehotra saying: " In 2013, we plan to be supplying our client SSD demand, as well as our enterprise SSD demand with X2 memory. Of course, we constantly assess X3 memory application for the SSDs but it's not in our 2013 roadmap."
X2 memory is MLC or 2-bit flash and Mehotra sees OEMs preferring this for smartphones and tablets, rejecting TLC.
Where is TLC used then? "In the mobile segment, mobile embedded segment, we will continue to support that with X2. Although there is some element of X3 memory, particularly in our iNAND products, that will continue to do well as well. And of course, on the card side, our cards are built with X3 memory. So Judy said that X3 as a total percentage of our business will be around 40 per cent in 2013. Will be coming down from 50 per cent to 40 per cent due to the growth in embedded and SSDs. But we believe that we will have a very strong lead over the rest of the competition in 2013 with our X3 memory."
Demand
The things driving demand were described next: "We expect the Client and Enterprise SSD markets to fuel additional demand for NAND flash as an increasing proportion of PCs sold will include solid-state storage and the prevalence of cloud-based services continues to drive flash accelerated data centres. In addition, we expect the mobile market to remain a strong growth engine for the NAND flash industry in 2013 with the launch of many new smartphones and tablet models keeping the mobile market vibrant."
Analysts are predicting "unit shipments of smartphones are expected to exceed those of feature phones in 2013," and "we see an increasing number of high definition TV models shipping with not just embedded flash storage, but even with higher capacity SSDs to enable set-top box and media centre functionalities." Altogether Mehotra sees a "significant growth opportunity for flash memory storage."
Apple
Bruner revealed that Apple accounted for more than 10 percent of SanDisk revenues in the fourth quarter and for the year, 13 per cent for all of 2012. No other customer accounted for more than 9 per cent of its revenues. She said two customers, with Apple being one, accounted for 22 per cent of the 2012 revenues.
So customer number two accounted for 9 per cent of SanDisk's 2012 revenues. Who could that be? ®