Original URL: https://www.theregister.co.uk/2013/01/25/something_for_the_weekend_shiny_vs_matte/
Shiny, shiny! The window's behind me...
Has the matte-screen lobby finally given up?
Posted in Personal Tech, 25th January 2013 10:23 GMT
Something for the Weekend, Sir? For reasons too mundane to express, the location at which I have been currently working comprises two adjacent but separate open-plan areas conjoined by a small office occupied by the departmental boss.
The easiest and quickest way to get from one open-plan area to the other is to pass through the little office. In fact, it's a tiny office, not at all ostentatious. So you can appreciate that the boss is not keen on suffering the constant traffic of staff parading back and forth through his personal space, interrupting meetings, knocking things off his shelves and wafting sheets from his desk by the repetitive opening and closing of the two doors.
It's not his fault, and everyone likes him, so we have all agreed to do the right thing. The rule is that you can only take the office shortcut when he's not sitting in it, otherwise you have to leave your current open-plan area by its main entrance, traipse down a few corridors around the outside and then enter the other open-plan area by its main entrance on the opposite side.
It's not a major imposition and it's only a 30-second detour but for some staff it does feel funny spending half a minute to get to a GPS location 15 feet away from where they started.
As an outsider, I've noticed a couple of things about these two separated open-plan areas. Although everyone works for the same department, one of the areas is significantly quieter than the other with respect to chat and banter. More exceptional still is the fact that the quieter area is kitted out with matte-screen computer displays while the noisy area has only shiny-screen displays.
Forgive me, but I want to revive a debate that was doing the rounds in 2009. It's that old chestnut about glossy screens versus matte screens.
Sorry, I know I ought to concentrate on the latest technology or some gossipy titbit planted in my psyche by a skilled PR operative. Yes, I appreciate that, as an IT journalist, I should flit from one passing fad to the next, forget about the past, and never, ever revisit lingering issues that continue to plague users over a number of years.
Like iOS vs Android or Mac vs Windows, it's an unwinnable and frankly pointless debate - Linux dudes, you know what I'm talking about. Matte screens are not better than shiny ones, but let me assure you that shiny screens are no better than matte ones either. Ignoring human susceptability to marketing suggestion - shiny is so modern! - the preference for one over the other is about how you use a computer and in what kind of working environment.
Me, I'm in the shiny camp, but you knew that already. How did I know you knew? Easy - because you, reading this, are in the matte camp. I can't be bothered to explain how I know this, I just do.
I prefer shiny displays because they offer me what I perceive to be clearer definition. When I take the occasional roll of film for processing - some of us still exist - I always request glossy stock. It may be an optical illusion but I feel I can see better through a glossy surface.
Matte proud
To my possibly muddled brain, glass surfaces that have been fuzzed with acid or an anti-glare coating are harder to see through. I wouldn't have this done to the windows in my house, the windscreen in my car nor the spectacles sitting on my nose. Doing so would make everything on the other side harder to see.
What shiny surfaces are best at, though, is reflectivity. Light sources or brightly lit objects situated behind you reflect readily in shiny computer displays, especially in dark areas of the screen. The image gets obscured and it becomes hard work just to see anything at all.
Sure, dickheads can go to silly extremes just to make a point, such as deliberately positioning their computers so that massive, bright windows are directly behind them and then go complaining that shiny screens and voices made them do it. Please, if you've done this yourself, go read Meddlesome Ratbag in Viz comic because that's the kind of nobend you are turning into.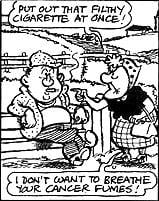 Source: Viz/Dennis Publishing
I work with two monitors side by side. One happens to be shiny, the other matte. Both are unusable if I sit with bright windows, kitchen spots, blinking Chistmas lights, a smelting factory or the core of the sun directly behind me... so I don't do any of those things. When I look at my watch and I can't read the time because of a reflection on the glass, I gently adjust the angle of my wrist so that the reflection goes away. When I work at my notebook and its angled shiny screen tends to pick up ceiling lighting, I adjust the display angle.
But all of this is irrelevant. If you want a matte display, you should damn well be able to get one. Back in 2009, all that the matte camp - and there are millions of you - was asking was to have a choice. Yet as far as I can see, the situation has worsened: every bloody computer, notebook, smartphone and TV set has gone glossy whether you like it or not. Despite apparent massive demand for matte screens, we're all expected to be shiny happy people holding hands in this glossy new world built for us by industrial product designers.
I've been told that shiny "is what most people want" but I'm not sure that's true. I've heard reasons that involve everything from manufacting processes to stock control. "What is it you do to keep your displays all shiny?" I want to ask, Decembrist-stylee. "And tell me why you lied!"
Forget Apple: they don't do choice, so you're wasting your time there. Instead, I think it's time to reload this debate and put new pressure on other manufacturers to offer matte-screen options. My matte display, by the way, is a Samsung. They know a thing or two about making screens, I hear.
What's really starting to bother me is that perhaps people who work at matte-screen displays really do find it easier to concentrate. That might explain why their open-plan area is quiet and the shiny area isn't: they're getting more work done.
No chance!
Oh, and just for anyone in their 40s, this is what you've been humming since reading the headline: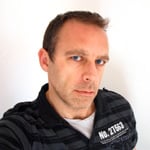 Alistair Dabbs is a freelance technology tart, juggling IT journalism, editorial training and digital publishing. The worst matte-screen device he has ever tested was the View Quest BookBox e-reader. Lovely people, admirable company, but it was like trying to read through a layer of coarsely granulated sugar.