Original URL: https://www.theregister.co.uk/2013/01/21/armstrong_reclassified/
Oz library finds Lance Armstrong books a new home: The fiction section
Literary quippery reclassifies disgraced cyclist
Posted in Bootnotes, 21st January 2013 10:42 GMT
An Australian library has announced it will reclassify books by Lance Armstrong as fiction, the Sydney Morning Herald reports.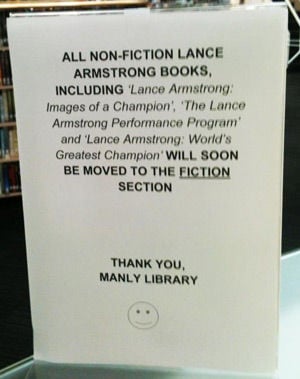 Book browsers at Manly Library in Sydney wishing to draw inspiration from Lance Armstrong: World's Greatest Champion and other titles by the disgraced cyclist were pointed in the right direction by a helpful sign, a photo of which appeared online over the weekend and quickly proved a web hit.
Sadly, the whole thing turned out to be "a bit of a joke" by a university student whole works part-time at the library, according to Wendy Ford, who goes under the improbable job title of "community liaison librarian".
She clarified: "This person just works a few hours on the weekend and he didn't have any authority to make a statement on behalf of the library."
The reclassification of Armstrong was a matter for Libraries Australia, Ford added, meaning that for the time being at least, the performance-drug-fuelled pedalist's literary creations will remain in the non-fiction domain.
Judging by the media hysteria surrounding the fallen idol's confessional chat with Oprah Winfrey this month, they'll soon be joined by Lance Armstrong: The Interview Which Shook The World, chronicling just how the planet momentarily stopped spinning on its axis as the cyclist admitted he'd been doped to the eyeballs for years. ®