Original URL: https://www.theregister.co.uk/2013/01/17/fedora_18_review/
The Spherical Cow lands, spits out Anaconda
Fedora's Linux distro no slick alternative to Ubuntu - yet
Posted in Software, 17th January 2013 10:02 GMT
Review Fedora 18, Spherical Cow, is here. Finally. The Fedora Project has never been one for precision roadmaps, but previously it has managed to stay pretty close to its official May and October release schedule. Spherical Cow, however, proved to be a difficult beast - it is nearly three months late.
The numerous delays can be chalked up to the new version of the Anaconda installer that ships with Fedora 18. The delays due to the revamped installer are understandable. Installers are one place you really don't want bugs.
The new installer is part of Fedora's effort to make the distro more appealing to newcomers and it does indeed show a bit more polish in the various configuration screens, but the very fact that it has several configuration screens will likely be Anaconda's biggest problem for newcomers.
It's not hard to see where Fedora is aiming with Anaconda, essentially a single screen with buttons to customise your installation if you like, but which do not require the Linux newbie to dive too deep. It also bears more than a passing resemblance to the proposed GNOME OS, which gives it a nice, fully integrated feeling similar to what Ubuntu offers in its installer.
It all looks good on paper, but sadly Anaconda just isn't there yet and installing Fedora is still a bit more trouble - or at least it requires you to answer a few more questions - than say Mint or Ubuntu. Anaconda is also on the slow side, which only annoys you once, but doesn't bode well given that speed was purportedly one of the things Fedora has been working on.
The net result of the new installer is that Fedora 18 is easier to install than previous releases, but still not as polished or simple as what Ubuntu and Mint offer.
Fedora 18 ships with GNOME 3.6 and the usual slew of GNOME application updates but given Fedora is several months behind schedule, GNOME 3.6 is largely old news at this point. In fact, the next update, GNOME 3.8, is due in just a couple of months.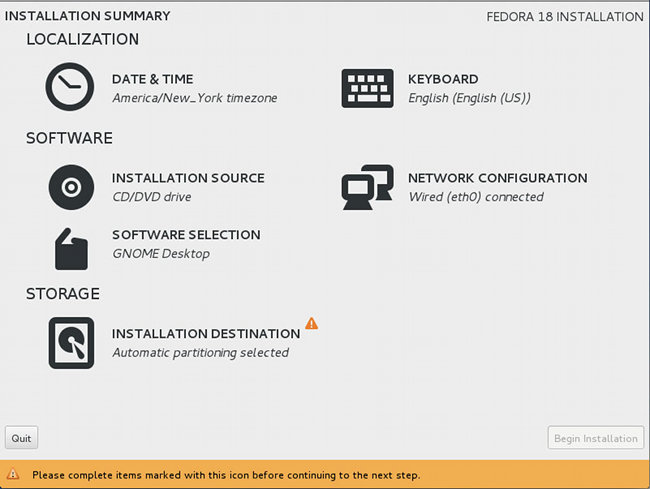 The Anaconda installer: The look is simple enough, but the actual installation process is another matter.
But for those who haven't updated to the new version of GNOME there are a couple of noteworthy changes, including a revamped notification system that uses larger icons and now offers a Close button so that you can quickly dismissing notices.
The most fundamental UI change is that now when you click the "Activities" menu the GNOME Shell defaults to showing your open windows (in the manner of the Expose feature popularised by Apple). To see your applications - formerly what happened when you clicked "Activities" - you need to click the new grid icon at the bottom of the sidebar. Naturally the position of that icon isn't customisable without installing a third-party "tweak" tool of some kind.
The GNOME 3 team has also given the Nautilus file browser some attention in this release. Whether or not that's a good thing depends on how closely your vision of the desktop aligns with that of the GNOME 3 developers.
There are a couple of nice new features, like the streamlined appearance and the "recent" sidebar item that lists things you've recently opened. But, as is common with GNOME 3, for every two steps forward there are three steps back.
In GNOME 3.6 that means removing the dual pane view from Nautilus, eliminating the search-as-you-type and killing off the search box entirely in favour of an icon that you'll now need to click every time you want to search. Which you shouldn't be doing, because you should be searching in the Shell, you see.
GNOME 3 is the IE of desktop environments, MATE
If you like GNOME 3 more power to you, but for me it has become like Internet Explorer web browser on Windows - it's the interface you have to use to download and install something that's actually useful.
Part of the reason I was looking forward to Fedora 18 is that Fedora now officially supports the MATE desktop (it also unofficially supports Cinnamon). That should mean you can just install MATE and skip the whole GNOME debacle entirely. Unfortunately, while it looks like in the future there will be a pre-packaged Fedora MATE spin available, I had to install the MATE packages myself using Yum.
Fedora 18 is shipping with MATE 1.5, which dispenses with many of the GNOME 2 dependencies. Under the hood MATE now largely uses GNOME 3's toolset - but with its own, more traditional desktop interface on top of it.
If Fedora is really interested in bringing Linux newcomers into the fold, it should make MATE the default desktop. Offering a familiar - call it old-fashioned, if you'd like - desktop paradigm in a world of Windows 8, Unity and GNOME Shells will no doubt find an audience.
There is one other weak spot in Fedora from a newcomer's perspective, it's that it lacks a good software centre. The Yum package manager generally works well enough, though in my experience dependency problems crop up more frequently than they do with Aptitude.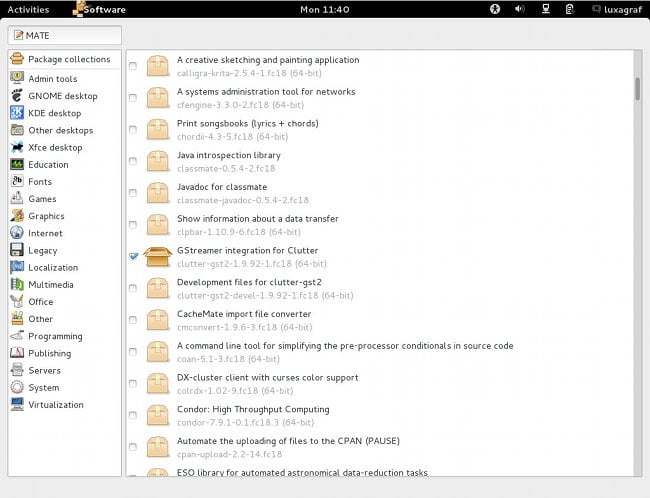 Fedora 18's weak spot: its software centre...
But beyond the underlying tools, the Fedora's software centre interface just feels creaky. Search is laughably bad and given that Fedora does not ship with multimedia codecs, Flash or hardware drivers that newcomers would likely want, the software centre is probably the first place most people will head.
Fedora looks to be in the process of improving the software install situation under the hood. Fedora 18 ships with support for DNF, a Yum alternative, which just might replace Yum one day. But at the time of writing there do not appear to be any plans to revamp the graphical interface. That's too bad because it consigns Fedora to the niche of more experienced Linux users.
As the more experienced users have come to expect, Fedora 18 ships with a number of bells and whistles aimed at developers and sysadmins. Fedora 18 ships with Perl 5.16 and Python 3.3, as well as the latest version of Haskell and D. Ruby on Rails developers will be happy to note that Rails has been updated to version 3.2.
For those working in mixed OS environments, Fedora 18 offers Samba 4, which should play more nicely with the Active Directory. The cloud-powering OpenStack has been updated as well.
A sea change in distro popularity seems to be underway, as GNOME 3 and Ubuntu have sent users looking for alternatives. The Fedora community has an opportunity to pick up some new users, but whether or not that actually happens remains to be seen.
Whatever effort Fedora has been making to smooth over its rough edges in hopes of attracting some new users hasn't had a negative impact on its developer-friendly focus. While that's good news for Fedora's core audience, it doesn't change the fact that Fedora 18 is still not as user-friendly as other distros.
Should you jump ship from Ubuntu if the Amazon Lens fiasco has you doubting the Shuttleworthian future? For most, Mint will likely be the better choice, but if you don't mind jumping through a few extra hoops and dealing with the somewhat antiquated software centre, Fedora 18 does, at the end of the day, make a perfectly usable and stable desktop. ®