Original URL: http://www.theregister.co.uk/2013/01/14/google_nexus_4_android_jelly_bean_smartphone_review/
Review: Google Nexus 4
At last, we got one
Posted in Personal Tech, 14th January 2013 12:02 GMT
There are two numbers you need to keep in mind as you read this review. Firstly, 239, the remarkably small number of beer tokens Google wants in return for an unlocked, Sim-free 8GB example of the latest Nexus phone. And 2, which is the number of months it has taken me to actually get hold of one for a long-term test.
The second number is also the number of months the Nexus 4 has been out of stock at Google's Play Store in Britain. I should know, I'm one of the poor sods that tried - and failed - to buy one. In the end I gave up, cancelled my order and bought a Motorola Razr i.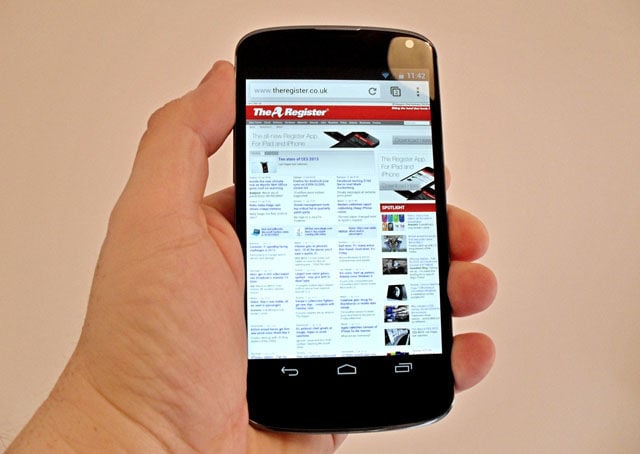 So, for £280 less than Apple wants for the lowest priced iPhone 5 what do you get? Quite a lot as it happens. A 4.7-inch, 1280 x 768 320ppi IPS LCD screen; a quad-core CPU; 2GB of RAM; 8Mp and 1.3Mp cameras; and the very latest version of the Android operating system, Jelly Bean 4.2, in virginal form. On paper, it's a very good deal indeed.
It looks good too. You'd have to be visually illiterate to deny that the new Nexus is a sleek and modern looking bit of kit. Front and back it's faced with Corning's second-generation Gorilla Glass, and the screen is ever so slightly domed across the short axis to make thumb-swipes more satisfying.
Thanks to the chamfered plastic and metal edging that holds everything together, the Nexus 4 should prove durable, but I'd still advise against dropping it: glass can and does shatter. In fact, I wouldn't recommend treating a Nexus 4 with the same casual disregard I subject my splash-resistant Kevlar and aluminium Razr to.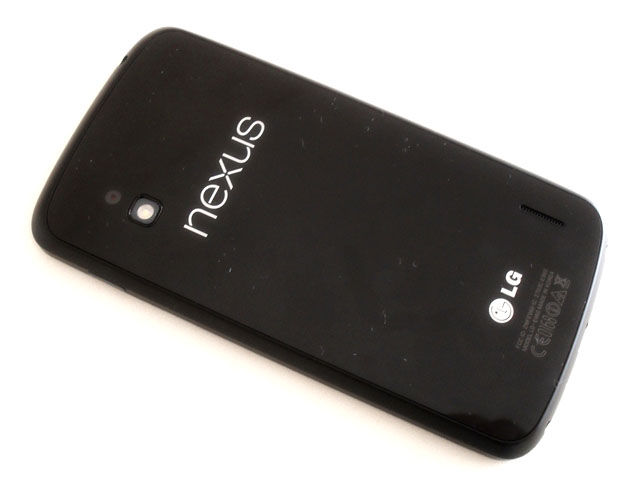 Still, opting for a slippery and potentially vulnerable design has served Apple well over the years when flogging iPhones, so why should it not do the same for LG and Google? Like the iPhone, the Nexus 4 lacks a dedicated camera button, which is a negative mark in my view.
Compared to the HTC One X and Samsung Galaxy S III, the Nexus 4 is either just a little bit lighter or heavier, shorter or taller depending on which comparison you are making. At 9.1mm front to back, the Nexus is a gnat's todger thicker than either but also narrower thanks to a slender side bezel, which makes it easier to use using single-handedly.
The 1.5GHz quad-core Qualcomm S4 Pro APQ8064 chip that hauls the coal may not feature the new ARM Cortex-A15 architecture used in the Nexus 10 tablet's Samsung-made 1.7GHz Exynos CPU, but it's no less a corker. This thing is powerful and fast in a very impressive way, and makes for a supremely fluid user interface.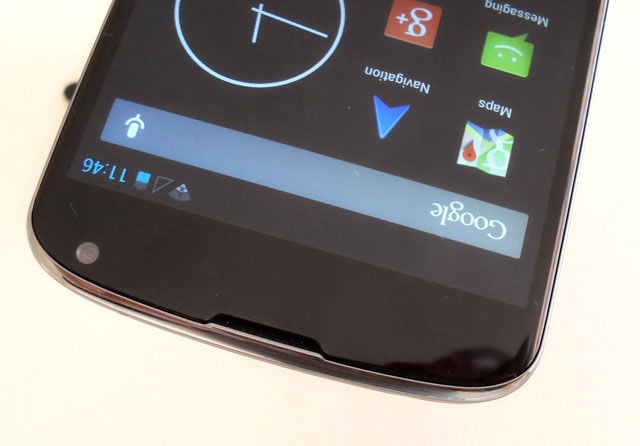 Android untarnished
As for how the rest of the Nexus 4's hardware does what it does, well for a non-OLED panel the screen is reasonably bright and vivid, the cameras both do a solid if unspectacular job, and call quality - thanks to active noise cancellation - and cellular reception gave no cause for complaint. Neither did its Wi-Fi operation.
On the software front, the camera app has a new party trick thanks to Jelly Bean's Photo Sphere feature, which lets you wave your camera about and capture a 360° view which is then automatically stitched together to form the ultimate panorama.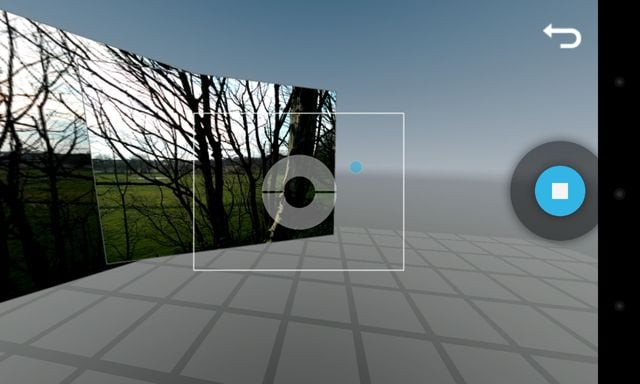 Photo Sphere knits these together into a 360 panorama
Thankfully this doesn't involving moving your device around in painfully slow motion, nor does it constantly stall and insist you start your image capture again though you do look a bit of a spanner while using it in public. While I was taking the test shot, a passer-by actually stopped and asked if I was feeling OK.
Photo Sphere draws on the technology Google developed to record Street View so you can share your images on Google Maps or any other app using the Google Maps API and generate your own pseudo-Street View images.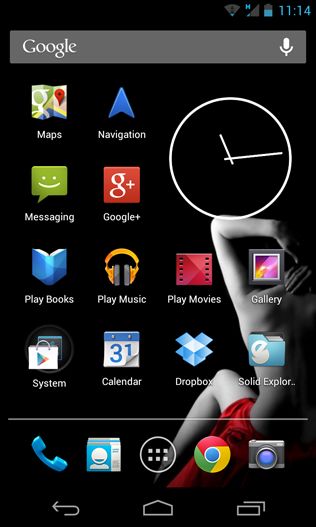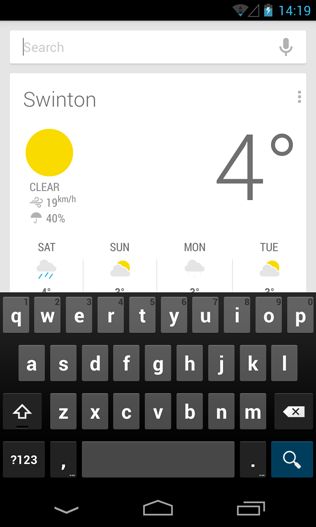 The new Android keyboard looks like the old one but comes with trace input
Another advance is the new virtual keyboard, which now features trace input. This lets you drag your finger over the keyboard from character to character while the system works out what it is you are trying to type.
This is nothing new - the Swype keyboard has been offering the service for years - and to be honest it's not a system of text input I have much truck with. That said, the new stock implementation is very good and certainly seemed to predict what it is I was trying to type more accurately than any other similar keyboard I've used.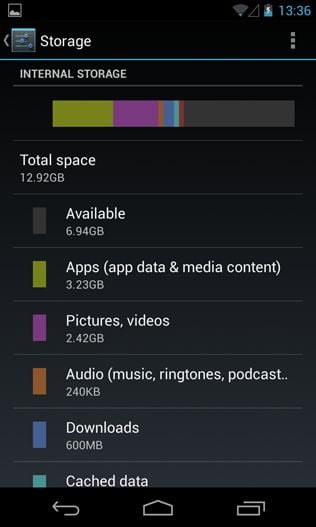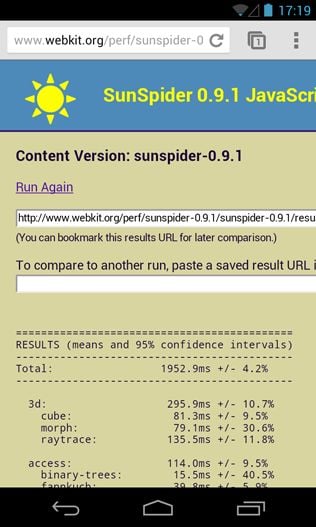 Storage is not a Nexus 4 strong point
Not that the Nexus 4 is without niggles. The first big drawback is the absence of storage expansion. You can argue that it's silly to moan about too loudly about this limitation in an phone that costs only £239 without network subsidy, but with the 8GB device only having 5.4GB free after the system puts its towel on the deck chairs, you really should cough for the 16GB model, meaning you'll fork out £279.
Antuntu Benchmark Scores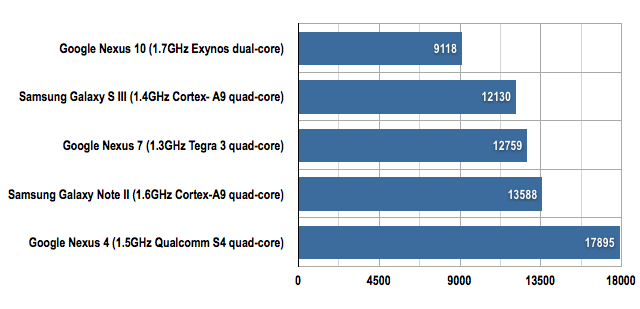 Longer bars are better
Fast runner, hot runner
I am guessing that adding a Micro SD card slot and/or more storage would have started to tread on the toes of Google's hardware partners and Google is of course keen to promote the cloud as an alternative to on-board storage. Either way, if you want more than 16GB of local storage, you'll have to buy a different device.
The second major Nexus 4 drawback is battery life. With considerate use the 2100mAh fixed battery will get you through a ten-hour working day but absolutely no longer. Spend an hour gaming or watching a video and you'll be charging the handset far more frequently. This is the downside of having a powerful quad-core processor and big screen and it's not really good enough.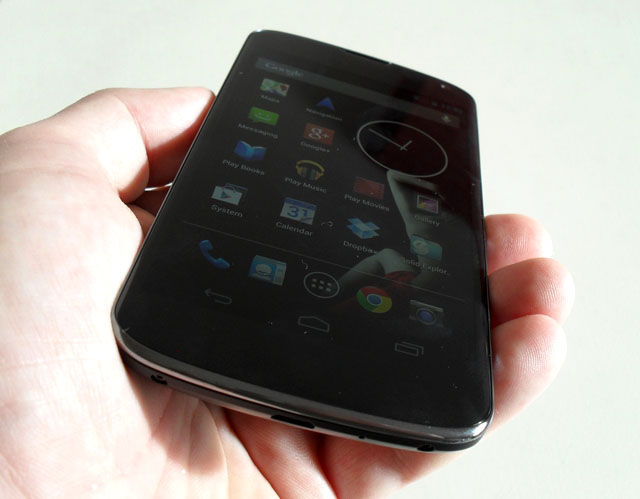 On the subject of gaming, after I spent 45 minutes playing NOVA 3, the back of the Nexus 4 got surprisingly hot, much hotter than a One X or Galaxy S III given the same work out. Something else to bear in mind if you use your smartphone for this kind of entertainment.
Incidentally, the Nexus 4 supports inductive wireless charging and eventually you will be able to buy a charger-cum-stand which looks a lot like the old Palm TouchStone charger. The TouchStone was such a clever idea I'm surprised it's taken this long for someone to copy... er... reimagine it.
At the moment the Nexus 4 doesn't officially support 4G/LTE, though the hardware is there. However, until the numerous power drain, data cap and cost issues are resolved that's no big loss in my book. The very latest incarnation of 3G, 42Mb/s DC-HSPA+, is supported provided your network can handle it too. Here in the UK, Three, for one, is rolling this out.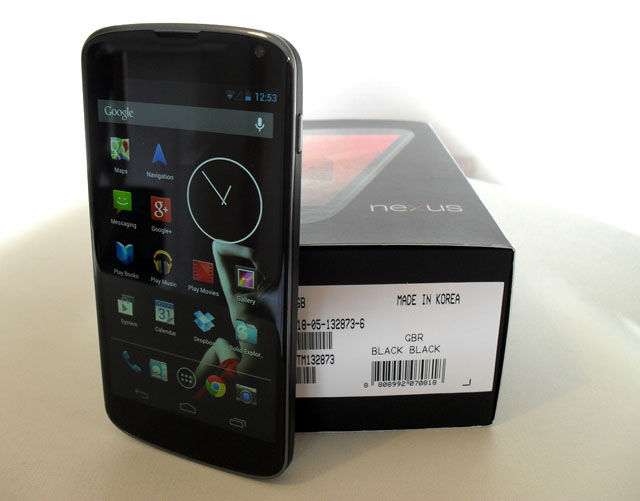 The Reg Verdict
Should you buy a Nexus 4, assuming you actually can? Today, little else comes close to the Nexus 4's quality:price ratio, but the limited storage options, poor battery life, potential fragility and the fact you can't actually buy the thing direct from Google at the time of writing - the Sold Out sign looks ominously permanent to me - may make you look elsewhere.
If you are after an unlocked, Sim-free handset then the Nexus 4 is a very attractive option. If, on the other hand, you are buying on contract, you'll be able to find something better more cheaply - the Samsung Galaxy S III, for instance. Then again, the 'pure' Android UI on the Nexus 4, free of phone vendor and operator add-ons, may raise the Nexus 4's appeal to you.
But don't forget all the five-inch or bigger 1080p devices with 12Mp cameras and LTE trumpeted at this year's Consumer Electronics Show (CES) in Las Vegas from the likes of Sony, Huawei and even budget device wallahs like Alcatel. Suddenly, 720p, 4.7-inch devices are looking just a bit ordinary. ®