Original URL: https://www.theregister.co.uk/2013/01/11/ten_stars_of_ces_2013/
Ten stars of CES 2013: Who made the biggest splash?
Las Vegas eye-catchers
Posted in Personal Tech, 11th January 2013 10:22 GMT
CES 2013 As the 2013 Consumer Electronics Shows (CES) wraps up in Las Vegas, we're left to ponder whether it as was a good show this time round. In 2012, IT vendors, buoyed by Intel encouragement and marketing money, were keen to show off their first Ultrabooks. A year on, and the chip giant's skinny laptop brand has largely failed to capture the public's imagination, not least because of the high price attached to the machines it's stamped upon. Windows 8 may yet push the platform forward, but many of the novel machines it has led to were unveiled well before CES.
TV makers this year admitted that they can't sell 3D, at least not as a sole driver of new TV sales. It's one feature among many, not a reason to buy in its own right. No wonder, then, that 3D was barely mentioned, vendors preferring to begin laying the groundwork for Ultra HD, the 4K x 2K resolution that, very expensive now, should have fallen in price to more sensible levels in three or four years time - around about the time many consumers who recently made the move to LCD will be looking to refresh their ageing set, or to upgrade to a larger screen.
There might be some content then, too, though Ultra HD sets will upscale existing HD material. And the higher resolution will make these TVs' UIs much sharper.
Samsung and LG made a big deal out of OLED HDTVs last year - in 2013, Sony and Panasonic got involved too, pitching Ultra HDTVs using OLED technology. Samsung and LG showed off gently concave OLED panels. But OLED remains very hard to turn into a large format TV, and it seems likely that LCD will adapt to 4K x 2K faster than OLED will.
The elephant in the room, making is presence felt more than the inevitable monster TVs, was Apple. The TV industry is still waiting nervously to see whether the Cupertino company will indeed have spotted something they missed and shake up the telly business as it did with the phone industry.
Just as TV is on the verge of a new wave of product driven by the new, higher resolution, so wireless tech is about to evolve, first with 802.11ac accelerating 802.11n Wi-Fi to gigabit speeds but then with WiGig 802.11ad 60GHz to deliver very high local data rates but, more importantly perhaps, at long last a viable wireless alternative to USB 3.0, DisplayPort and HDMI. These are early days for both: ac routers are here, but computer and tablet makers need to get it into their products before it will truly take off. Since internal ac adaptors are now just starting to be combined with ad chips, WiGig may come in at the same time.
On the gadget side, smartphone-linked watches drew much attention at CES, and there was no shortage of tech toys and tat - Android-running rice cookers, and e-cutlery to make sure you're not eating too quickly, indeed; fork off...
Car makers showed off slightly more advanced in-car systems tech, but nothing radically beyond what we've seen before. Perhaps we'll see more interesting advances at next week's Detroit motor show. Likewise, February's Mobile World Congress (MWC) will play host to a greater number of smartphone-related launches than CES. Intel may have talked up its next-generation CPU platform, Haswell, but until it's out, vendors aren't able to show the kit they'll be able to offer based on this powerful yet power miserly processor.
Desktop, meet tablet: Asus Transformer AiO

Now that many Windows 8 laptops sport tablet modes, either with folding-back screens or slide-away keyboards, it was inevitable that desktops would go the same way. The impact of the iPad and the pressure of Windows 8 means the PC world is going tablet, whether we like it or not. Asus showed off its take on the notion, the Transformer AiO, a Intel Core i3-based all-in-one desktop running Windows 8 on an 18.4-inch, 1920 x 1080 IPS LCD touchscreen. The novel part: said screen slips out of a dock to become an independently operating Android 4.1 Jelly Bean tablet.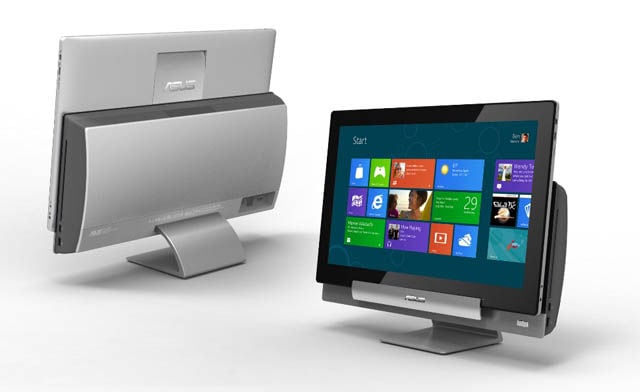 The tablet part contains its own Nvidia Tegra 3 chip, memory, storage and a battery that's good, Asus claims, for five hours' runtime. Not that you have to run the Android UI - Asus is bundling Splashtop software to let you view and interact with the Windows 8 session running on the base unit over a Wi-Fi link.
If there's a flaw here, it's that maybe 18.4 inches is more tablet than you really need, and you're effectively paying for two machines: desktop and tablet. Still Asus reckons the basic model will ship Stateside for a not-unreasonable $1199 (£745), only a little more than a fixed-screen AIO. It's a bit of a chunky AIO PC too, but does that really matter for a desktop? Not really.
Panorama's on tonight: curved OLED TVs

With Samsung and LG, it's a case, as the old song goes, of 'anything you can do, I can do better. I can do anything better than you'. LG had a curved OLED TV on display, and - surprise, surprise - so did Samsung. Both claimed to have come up with the idea first.
The real irony, perhaps, is that having spent so long trying to persuade us to ditch CRT for LCD because flat is better than curved, these two vendors are now saying curved was the way to go all along. There's one, crucial difference this time: these screens are concave rather than convex.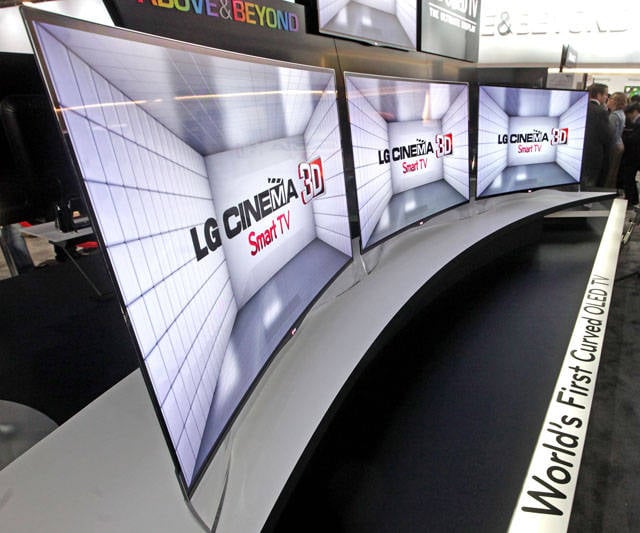 This, they say, "provides depth to the content displayed for a more life-like viewing experience... consumers will enjoy the Curved OLED TV for its immersive panorama effect, which is currently not possible with conventional flat-panel TVs. When watching captivating content such as vast landscapes and scenes from nature on the Curved OLED TV, they will feel like they are surrounded by the beautiful scenery."
Sweeping vistas and arty photos do look good, it's true, but enough to justify the camber? Not really, and of course neither company demo'd their sets showing ordinary telly programmes. LG, as you can see, even put a line of them side-by-side, the better to enhance the impact. Still, points to both for trying ever harder to show they can build screens better than everyone else. And each other.
Slim, smart time: E Ink watches

Well, with fewer and fewer folk favouring monochrome e-readers over colour tablets, E Ink has had to find other roles for its low-power displays. It's now finding a home in timepieces, two of which stood out at CES this year. First, Central Standard Timing's CST-01 is, the company claims, the world's thinnest watch: it's less than a millimetre front to back, including the battery and Seiko controller chip. When it ships in September, the 12g metal band will come with a magnetic charger unit.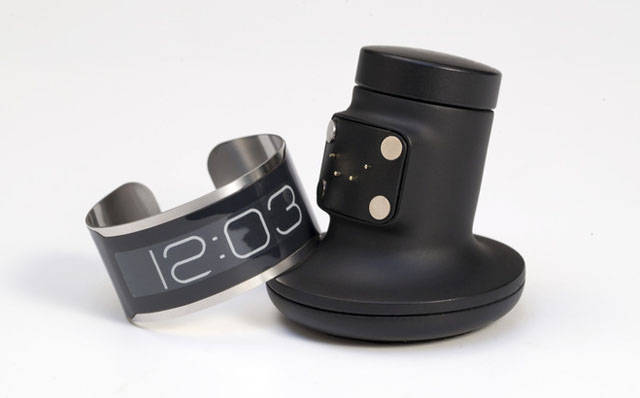 For CST, E Ink allows its watch to be very thin indeed; for Pebble the appeal is the display's adaptability: it can be used to show pretty much any kind of information, not just the time. Pebble's E Ink "smartwatch" taps into your smartphone over Bluetooth to be a handy secondary notification display, to relay GPS information and to operate as a remote control for music player apps and such.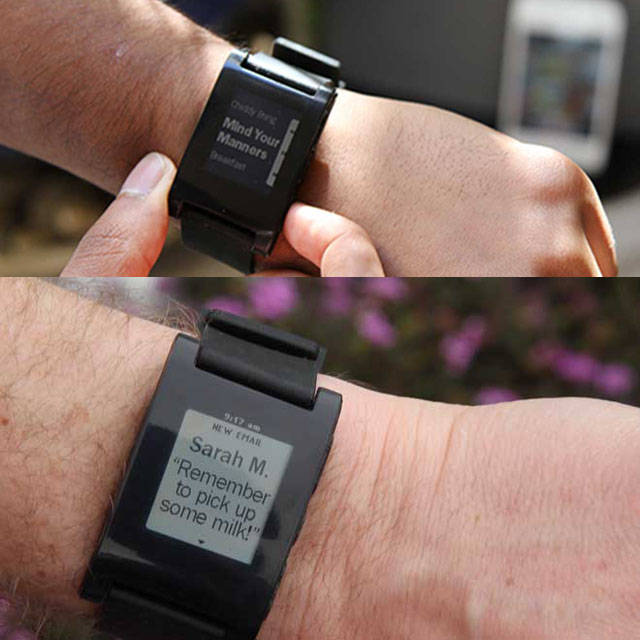 Pebble may be the darling of bloggers and crowdfunding fans, but it's idea isn't new - Sony Ericsson was offering Bluetooth-connected phone-linked watches back in 2007 and Microsoft's Smart Personal Object Technology (SPOT) watch line was launched in 2003. But maybe the time's now right for the tech: in addition to Pebble, Italian offering i'm Watch updated its £400 Android-based smartwatch, and both impressed CES visitors.
Table computing: Lenovo IdeaCentre Horizon

At least Lenovo didn't try and pitch its 27-inch touchscreen as a tablet. No, this boy is a 28mm-thick "table PC" - it's intended to be laid flat and used in much the same way as Microsoft's original, pre-tablet Surface was, though it also has a kickstand if you want to put it upright for regular apps. The screen has a 1920 x 1080 resolution, which is poor for a panel as large as this, and I hope the 39-inch prototype it also showed off will sport a considerably higher resolution than Full HD when it finally arrives.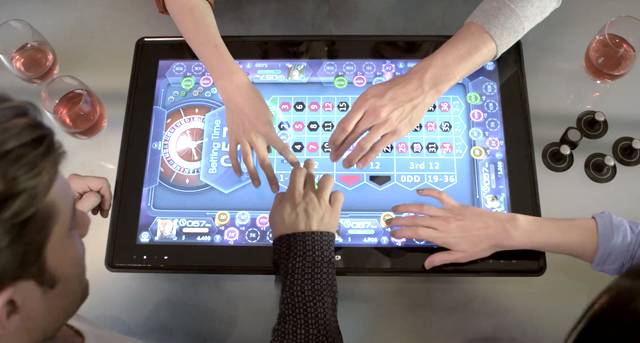 Not that the Horizon 27 will be out any time soon: "early summer", said Lenovo, though it has said it will price the entry-level version at $1699 (£1058). That will get you a Core i3 CPU, but pay more and you can have a Core i7, an Nvidia GeForce GT 260M graphics chip and a terabyte of on-board storage.
Lenovo sees the Horizon as the modern answer to the boardgame - it demo'd the machine running Monopoly of all things - and said Electronics Arts and Ubisoft are busily converting titles to run on the Horizon's touchscreen.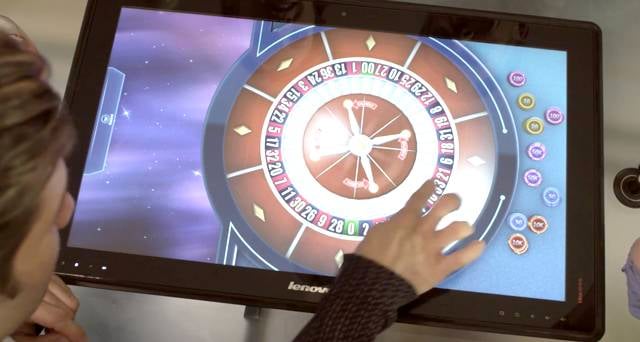 Mobile powerhouse: Nvidia Tegra 4

The Tegra 4 was codenamed 'Wayne', not after Harry Enfield's slobby character but for the billionaire behind the bat mask. The new chip will, however, make its predecessor seem something of a lardy layabout. Based on ARM's quad-core A15 architecture, the Tegra 4 delivers a modest CPU performance increases over its rivals and predecessors. But with a 72-core custom GPU on board, Nvidia claims it will deliver considerably smoother, better graphics, good not just for phone and tablet gaming but for working with all the photos these gadgets are increasingly being used to take.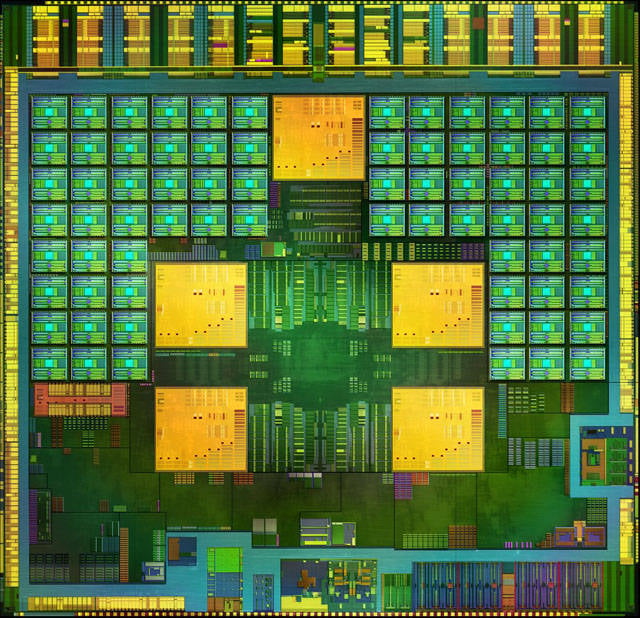 Yet the lithe Tegra 4 consumes 45 per cent less energy than the Tegra 3 does, Nvidia claims. Like its predecessor, the Tegra 4 has a fifth, "battery save core" on board to run routine tasks when the A15's cores aren't needed. These burst into life on demand and are then throttled right back to saver power. Have your cake and eat it too? It looks like you'll be able to with the new Tegra.
Your flexible friend: Samsung bendy OLEDs

Samsung has been showing off foldable, bendy OLED panels at CES for the past four or five years, but now it's actually preparing to commercialise them. "We're so confident about the market potential for flexible OLEDs we're creating an entire new line of them," said a company executive this week. It's even going so far as to give them a brandname of their own: Youm. Well, they've got to call them something. Maybe it makes sense in Korean...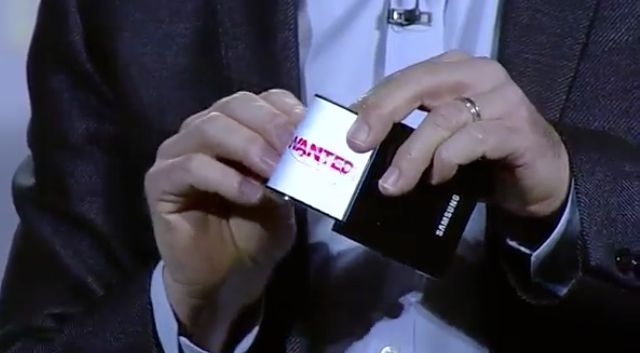 Samsung staff showed off a device with a slide-out flexible screen and a phone-like gadget with a display that wraps over one edge and down the side to form an at-a-glance notification readout. Of course, it's easy for a company of Samsung's resources to churn out working concept devices and new form-factors like these - the real test is turning them into real products and putting them on sale at prices consumers will accept.
That's a challenge that even Samsung has yet to pass, but on the basis of what it was showing at CES this year, it's in a position to try to do so.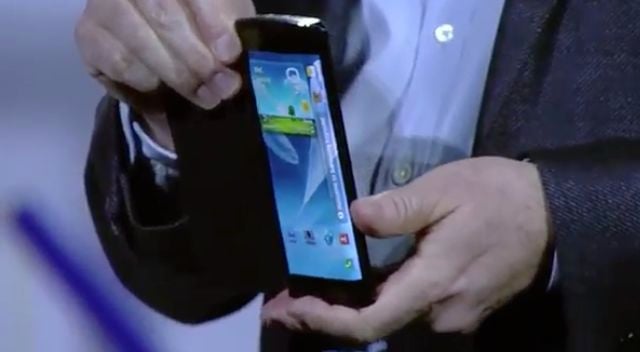 Tri-band wireless wonder: Qualcomm Atheros AR9004TB

Qualcomm's AR9004TB doesn't look much - it's just a mini PCI wireless adaptor - but it's the acme of wireless connectivity. The Atheros chip comes from Qualcomm's Wi-Fi subsidiary and delivers 2.4GHz and 5GHz 802.11ac, the gigabit-capable beamforming-based successor to 802.11n. The Wilocity silicon next to it adds support for the just-published 802.11ad standard, allowing the card to route network traffic at up to 7Gb/s in the 60GHz band. That means you'll eventually be able to do really fast wireless downloads from your Nas when you're close to your router, but still work wirelessly when you move to another room, into which the 60GHz signals won't penetrate.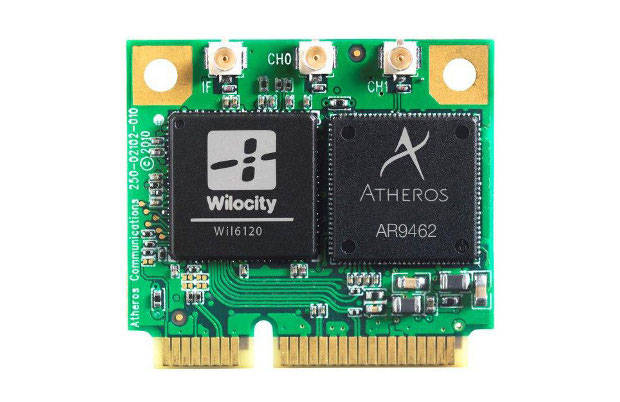 Since the Wilocity supports the built-on-802.11ad WiGig standard, it also paves the way for wireless USB, HDMI, DisplayPort and PCI, so you'll be able to rid yourself of peripheral wires too if you wish.
Of course, all this requires 802.11ac and 802.11ad at the router - and in keyboards, monitors etc. for the cord cutting component - and it remains to be seen how transparently the card hardware and drivers handle switching over from ad to ac as the 60GHz signal tails off. Still it's early days yet - the truly wireless future beckons and this is the first step toward it.
On-the-go media storage: Seagate Wireless Plus

Seagate's GoFlex Satellite was a rather chunky hard drive, bulked out because it contained a wireless unit, a server module and a battery to keep the whole lot running. This week, Seagate took the wraps off a second-generation model, this one with a terabyte of (raw) storage capacity and a slimmer, tougher casing. As before, it's a USB 3.0 device and continues to use Seagate's GoFlex tech so the port is removable and can be replaced with Firewire or Thunderbolt. Fill up your drive then leave the cable and adaptor behind to save space in your pack.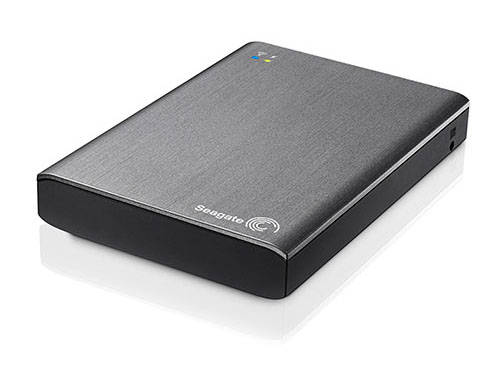 Loaded up, the Wireless Plus is ready to share its content with up to eight phones, tablets and computers over Wi-Fi. It has DLNA and Apple AirPlay streaming tech on board, or you can download files for local playback and to conserve the drive's battery life - which runs to ten hours, Seagate claims. The $200 (£125) gadget is available in the States now; UK availability is TBC.
Wet'n'wild smartphone: Sony Xperia Z

It's not the first waterproof Android smartphone, but Sony's latest handset impresses with its spec - quad-core 1.5GHz Qualcomm Snapdragon S4 Pro chip, 4G LTE connectivity, 2GB Ram, Micro SD storage, NFC, HDMI via MHL, 7.9mmm thickness and 13Mp camera with high dynamic range video shooting, a "world's first" - and a rather gorgeous 5in, 1080 x 1920, 440ppi display. It will run Android 4.1 Jelly Bean.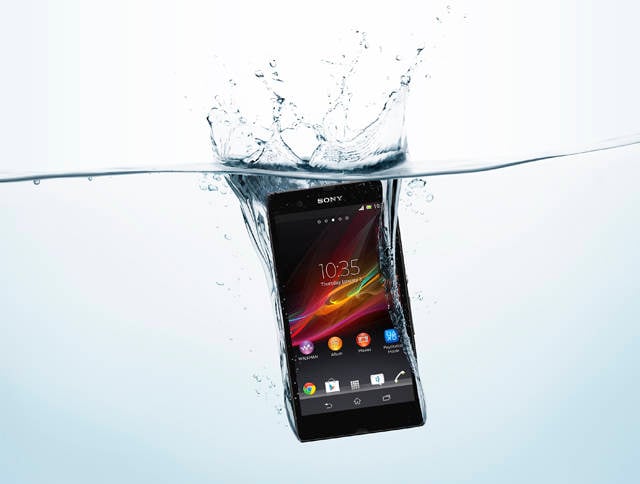 If you're worried - not unreasonably - that the 4G support means the Z's battery life will suck, Sony insisted you shouldn't be concerned: the phone has a Stamina mode that cleverly freezes battery-sapping apps when the screen is turned off and automatically revives them when the backlight comes back on. This trick, the company claimed, "improves your standby time by at least four times". Sony quotes a standby life of between 510 and 550 hours, depending on the kind of cellular network the phone's attached to.
The Xperia Z will go on sale worldwide later this quarter.
Incidentally, a special mention should also go to Huawei's Ascend Mate, a 6.in, 1280 x 800 'phablet' intended to bridge the gap between 5-inch smartphones and devices like the Samsung Galaxy Note II, and 7-inch tablets like the Nexus 7.
Pin-sharp viewing: Ultra HD TVs

The world's TV makers were expected to make a big deal of 4K x 2K resolution Ultra HD at CES, and indeed they did. Most showed off LCD panels running to 3840 x 2160, but Sony and Panasonic both demo'd OLED UHDTVs of 56 inches in size. Of course, Ultra HD is ridiculously expensive right now and likely to remain so for some years yet, not least because it's arguably pointless on tellies that are smaller than 50 inches in the diagonal - or you want to sit really close to your screen. But it's impressive technology nonetheless.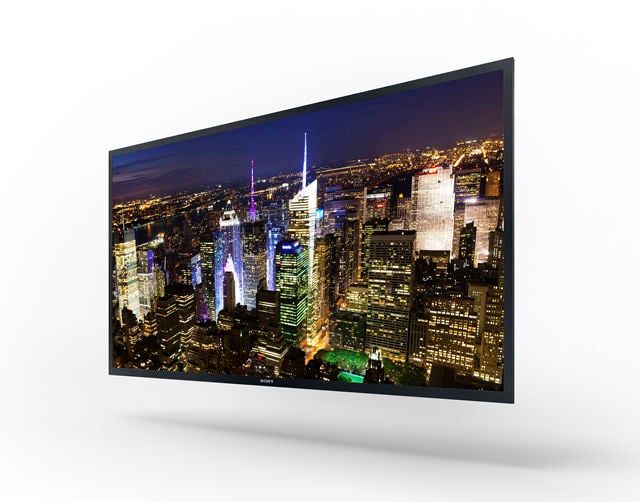 Native content will only be available in limited quantities for some time, but don't discount these sets' ability to upscale 1080p imagery to 4K. And don't forget that even if upscaling video doesn't improve it, that much higher resolution is going to make these sets' UIs, apps and associated applications - web browsing, say - so much crisper. Even on a 1080p set, text can look fuzzy - Ultra HD should give you a hi-res monitor experience. Imagine the detail in next-gen games... ®